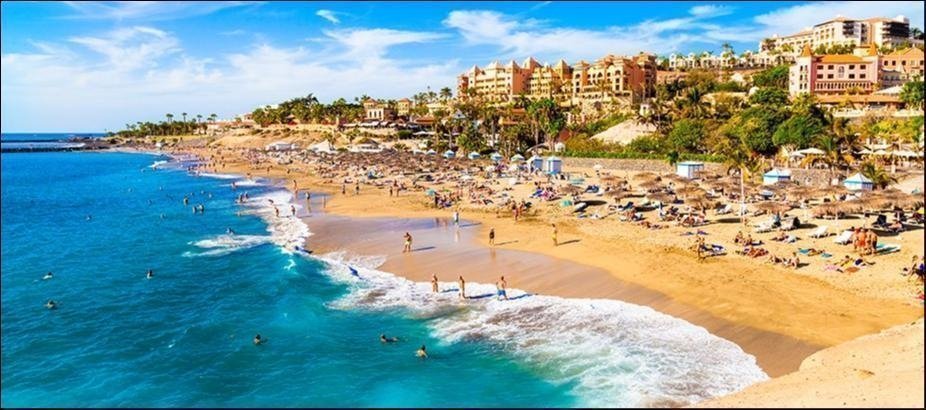 ---
Costa Adeje Things to Do - The Ultimate Travel Guide
---
Ali Jennings
-
-
Aug 12, 2019
Located in the south of Tenerife, Costa Adeje is widely considered to be the jewel of the island. With its year-round sunshine, beautiful stretches of sandy beaches, an amazing selection of restaurants and nightlife options, and an abundance of opportunities for water sports, it is no wonder that thousands flock to this part of Tenerife for their vacations year after year. As Costa Adeje is almost solely dedicated to the tourism industry, there are plenty of things to see and do here which guarantee a fantastic holiday. Here is the ultimate travel guide to Costa Adeje things to do.
Beaches of Costa Adeje
Of course, the beaches are the main reason why people head to Costa Adeje on their vacation and it is easy to see why. Not only are the beaches here stunningly beautiful with their golden sand and turquoise waters, but they also have a variety of facilities and amenities to make your visit a fun and pleasant one. There are many beaches to choose from, but here is a list of some of the best which you should definitely consider as part of your list of Costa Adeje things to do.
Playa del Duque
As a beach with Blue Flag status, Playa del Duque promises not only a clean beach but also excellent water quality and a high standard of infrastructure.
The beach here comprises of native volcanic sand mixed with white sand imported from the Sahara, creating one of the island's best beaches. It is considered to be one of the more luxurious of the Costa Adeje beaches, with services such as on-beach massages, excellent quality sun loungers, and top quality restaurants and cafes. Just be aware that this extra quality comes at an extra price.
Playa de Fanabe and Torviscas
Known as the 'golden beach', Playa de Fanabe and its nearby neighbor Playa de Torviscas nearby the marina Puerto Colon are two of the best beaches for enjoying the multitude of water sports which are on offer in Tenerife and are generally considered to be two of the more active beaches.
As they are also Blue Flag beaches, you will find plenty of amenities here to make your visit a perfect one, such as several restaurants and fast-food outlets as well as a number of shopping centers.
Playa del Bobo
Playa del Bobo is the ideal beach if you are looking for somewhere a bit quieter. While the beach itself may still get quite a number of visitors each day, as there are no water sports allowed here it tends to not get the same crowds like the other beaches. This makes it a great place to enjoy swimming as you are not having to keep an eye out for passing jet skis and banana boats.
The lack of water sports here means the beach is highly recommended for those traveling with small children.
Water Sports
As Tenerife is an island, water sports are obviously one of the main Costa Adeje things to do. Particularly popular is bodyboarding; in fact, professional bodyboarder and two-time world champion Alexandra Rinder was born on the island. If you are new to bodyboarding, Costa Adeje is a good place to learn as the waves are generally not so high. Surfing is also extremely popular, with many now flocking to Tenerife to take part in the sport here due to rising costs in more well-known surfing destinations.
However, these are just a couple of the multitude of water sports that are on offer at Costa Adeje. Here you can take your pick from jet skiing, banana boating, parasailing, boating, and flyboarding. There are also some fantastic dive sites for those who either enjoying scuba diving or want to learn; there are many dive schools who are happy to provide the tuition. Snorkeling trips are available for those who do not have their PADI qualification and are not planning on taking it. There are also plenty of sailing schools if you prefer to stay above the water.
Golf Costa Adeje
If you enjoy a game on the green, Golf Costa Adeje is certainly one of the best Costa Adeje things to do for you.
This sophisticated golf club boasts an 18-hole course of par 72 and a 9-hole course of par 33, both of them surrounded by the stunning nature of Tenerife, including the imposing form of Mount Teide, beautiful sea views and six lakes. There is also the possibility to take classes, an upscale restaurant, and a pro shop.
Siam Park
As Europe's largest water park, Siam Park is certainly one of the best Costa Adeje things to do. Built along a Thai-inspired theme, it is easy to forget that you are in Tenerife and not in Thailand itself. Here you can enjoy delicious Thai dishes and shop at the Thai floating market. However, it is, of course, the slides and rides which people come to Siam Park for and they certainly do not disappoint. As the park is built on a hill, this allows the slides to follow the park's terrain in a similar way to terrain roller coasters, which in turn promises some seriously exciting slide fun.
Those looking for excitement from their visit to Siam Park should check out: the Mekong Rapids, a four-person family raft ride; The Dragon, a magnificent vertical drop slide with a huge dragon peering over the drop; the Tower of Power, a slide which reaches speeds of up to 80 kilometres per hour and sends its riders through an aquarium filled with sharks, rays and fish; the Vulcano, a slide for up to four people who ride through a completely dark water slide before falling down into a volcano complete with a laser light show; and Singha, the newest slide at Siam Park which is actually more of a water roller coaster with high speed curves and 14 direction changes.
But Siam Park is not just for thrill-seekers. There is plenty for families with young children to enjoy, such as: the Jungle Snake, which will take you on a journey through the jungle; the Wave Palace, which has the biggest artificial waves in the world; and the Lost City, the only pool designed for babies in the whole of the Canary Islands. There is also lots to do for those who just want to relax. Siam Beach is exclusive to Siam Park and has the whitest and brightest sand of any in the Canary Islands. You can also watch sea lions at Sea Lion Island and take a leisurely ride down the Mai Tai River, the world's longest lazy river.
Aqualand Costa Adeje
Another Costa Adeje aqua park, this massive open-air complex consists of a variety of slides, rides, and pools, perfect on those hot Tenerife days. The thrilling adrenaline slides make Aqualand one of the most exciting Costa Adeje things to do. The two newest ones are Tsunami, which stands at over 21 meters high and takes you down an extremely steep drop towards a boomerang of 11 meters high, and Cyclones, where bowls of 12 meters in diameter mix with 360 degree turns and lighting effects. You can also try out Tornado, which features many changes in water speed, rhythm and strength, Rapids, a high-speed experience with unpredictable twists and turns, and Flying Boats, made up of two slides which spiral and drop within each other over four different levels.
If you are visiting Aqualand Costa Adeje with children, the KidzWorld section will occupy them for hours. Here you will find Pirates Port with its variety of slides, steps, tunnels, water taps and hiding places, the kids pool which offers all the fun of a standard pool but with added security, Adventure Island, decorated to represent scenes from different pirate movies, and Family Adventureland which boasts five slides of different shapes, sizes and speeds. Other attractions at Aqualand Costa Adeje include the family and child wave pool, lava river and jacuzzi.
The huge advantage Aqualand has over other aqua parks of its type is its dolphinarium. As well as giving an astounding show which displays their numerous talents and skills, it is possible to arrange an encounter with the bottlenose dolphins that live at Aqualand. The park offers different interaction programs designed to help you learn more about these amazing creatures, including how they live, how they relate to one another, what they eat and anything else that you would like to know. As one of the most interesting and unique Costa Adeje things to do, booking one of these interactions is well worth it.
Barranco del Infierno
A holiday to Tenerife does not just have to be about laying on the beach and relaxing. The island is home to some of the most breathtaking scenery in the entire world and there is no better place to enjoy some of this than Barranco del Infierno. Translating as 'Hell's Canyon', Barranco del Infierno is a ravine located in the town of Adeje and is one of the many popular Costa Adeje things to do. Hellish only in name, this three-hour hike will take you through the ravine, past a rich variety of fauna including dragon trees, wild jasmine, and palm trees, before leading you to the highest waterfall in Tenerife. Whilst on the hike you will be treated to some of the best views across the south of the island.
To protect this amazing natural place, only 300 people are allowed to hike Barranco del Infierno every day. It is therefore advisable to book in advance; check the canyon's website to check availability. As the hike is classed as low-medium difficulty, you should make sure you have suitable footwear which is good for the slippery and stony ground. You should also take plenty of bottled water with you.
Whale and Dolphin Watching
Tenerife is known for having one of the biggest populations of pilot whales in the entire world as well as being home to a huge number of bottlenose dolphins. In addition to this, plenty of other marine species can be found here, such as sea turtles, sperm whales, spotted dolphins and a wide variety of sea birds. What better way can there be to see these wonderful creatures in their natural habitat than by taking one of the many whale and dolphin watching trips that are on offer as part of the many Costa Adeje things to do?
There are many kinds of whale and dolphin watching trips available from tour operators in Costa Adeje, from fun short sails on a replica pirate ship to longer trips on luxury yachts. TripsPoint offers plenty of whale and dolphin watching tours with a variety of options. Read more about Whale Watching Tenerife to prepare your trip.
Jungle Park
Located just five minutes away from Los Cristianos, Jungle Park gives visitors an amazing immersive experience with its numerous walks comprised of tunnels, bridges, waterfalls, lagoons, and caves which will allow you to observe a large number of animals that are housed here. But Jungle Park is not just for strolling around; the park put on a vast array of shows for you to enjoy as well as having plenty of attractions to keep you busy the entire day.
Those who love birds will not be disappointed by a visit to Jungle Park. Here you can find colorful birds from all around the globe, such as falcons, vultures, swans, flamingos, parrots, vultures, and many more. You can also get to see some of these magnificent birds in action in two of the daily shows. The Bird of Prey Show gives you the chance to see the world's fiercest birds in free flight at very close range. Similarly spectacular is the Exotic Bird Show, where you can watch intelligent birds such as macaws and hornbills interacting with their human trainers and showing off their amazing skills.
Jungle Park also has an array of other animals for you to see, such as capuchins, orangutans, lemurs, jaguars, leopards, meerkats and raccoons. Two of the most visited attractions at Jungle Park are the Humboldt penguin feeding time, which takes place at 12:45 pm every day, and the Sea Lion Show, where the family of eight sea lions performs a wide variety of tricks and stunts for your entertainment.
Possibly Jungle Park's most unique attraction is Bob, an 800-meter high-speed bobsled track which takes you through the entire jungle.
Shopping
As the island's most exclusive area, shopping is an absolute must on a list of Costa Adeje things to do. There are four main shopping centers: Siam Mall, El Mirador, Gran Sur, and Plaza del Duque. Those who love to splash the cash and enjoy their luxuries in life should head to Plaza del Duque; it is the only high-end shopping center in the whole of the Canary Islands. Housed in a spectacularly modern building, here you will find all the best designer brands, including Prada, Givenchy, and Cartier. There is also a great selection of restaurants if all that retail therapy builds up an appetite.
El Mirador is for those who are looking for something a little bit different from their shopping experience. Its design is based on a typical village in the Canary Islands, with traditional buildings, narrow streets and enclosed squares. The majority of the stores are independently-owned and deliver a high quality of goods. As part of the village theme, an artisan market takes place every other Sunday.
If you prefer your products and goods more mainstream, head to Gran Sur. This shopping center is filled with high-street brands as well as a plethora of entertainment options, such as a multiplex cinema with seven screens; English-language films are shown daily.
Take a Private Tour to see Tenerife
Costa Adeje offers a lot of mass attractions, but to really see the island of Tenerife, you have the choice to go on a cheap bus tour that will stop at the most touristy spots or, alternatively, take more expensive, but so much more interesting and comfortable private tour to discover different climates, landscapes and hidden gems of Tenerife.
There are the best private tours in Tenerife are easily bookable at TripsPoint like Tenerife in the Sky Private Tour or Teide Private Tour and many others. If you can afford to take a private tour, Costa Adeje things to do are not complete with one of these amazing tours.
Take a Tuk Tuk Tour
One of the more unique Costa Adeje things to do, a tuk-tuk tour is a great way of discovering Costa Adeje from a different perspective. These tours will take you to all the highlights that Costa Adeje has to offer, including the local markets, the beautiful churches and, of course, the beaches. Best of all, these tours are much more eco-friendly than taking a regular taxi, so you will also be doing your bit for the environment.
Take a Helicopter Tour
If tuk-tuks are just a little bit too sedate for you, you can opt for a helicopter tour instead. One of the most extravagant Costa Adeje things to do, on these tours you will take to the sky and view the stunning Tenerife coastline from above. There are quite a few types of a trip to choose from, including a quick 10-minute ride over the beaches, bays, canyons, and resorts of the south coast to trips in a VIP helicopter over the magnificent Teide National Park and Tenerife volcano Teide. TripsPoint offers helicopter tours through local operators; take a look at our website for more details.
Take a Wine Tasting Tour
Wine tasting might not seem to be the most obvious of Costa Adeje things to do, but winemaking actually has a long history on the island of Tenerife. Dating all the way back to the 15th century, there is a good reason why Tenerife wine does not appear to be a feature in many international supermarkets: the local demand for the wine in Tenerife is so great that very few of the wines get exported off the island. This means that a visit to Costa Adeje is a wonderful chance to sample some of these delicious wines.
Wine tasting tours are now extremely popular in Costa Adeje. As well as being able to try some of the local produce, a wine tasting tour will take you on a visit to different wineries where you can learn about both traditional and modern methods of wine production, accompanied by an expert guide. For more information on wine tasting tours in Costa Adeje, check out TripsPoint.
Sample Some Delicious Cuisine on a Tapas Trekking Tour
Tenerife has some fantastic cuisine and there is no better way to find out what the island has to offer than on one of the tapas tours. Available from wherever you are staying in Costa Adeje, you will be driven 45 minutes to a peaceful agricultural area where you can fully experience the local culture, history and culinary delights of the south of Tenerife. You will do a light trek through a small village where you can see how the locals used to live; your guide will take you to an old laundry and show you ovens where Canarians used to produce roof tiles.
At the end of the trek, you will then have a wonderful meal of the local tapas as well as being able to enjoy a glass of the local wine. As this tour is out in the countryside, you will also get the chance to see the amazing array of flora and fauna that can be found here. This tour is called Tapas Tour and it can also be booked through TripsPoint.
There Are So Many Costa Adeje Things to Do
As you can see, there is plenty in Costa Adeje to keep everyone entertained with things to do in Costa Adeje. So whether you are looking for a relaxing holiday lazing on the beach, want a more exciting adventure with lots of adrenaline sports, or if you fancy discovering some of the more unique activities Tenerife has to offer, you can be sure that Costa Adeje will have something for you.