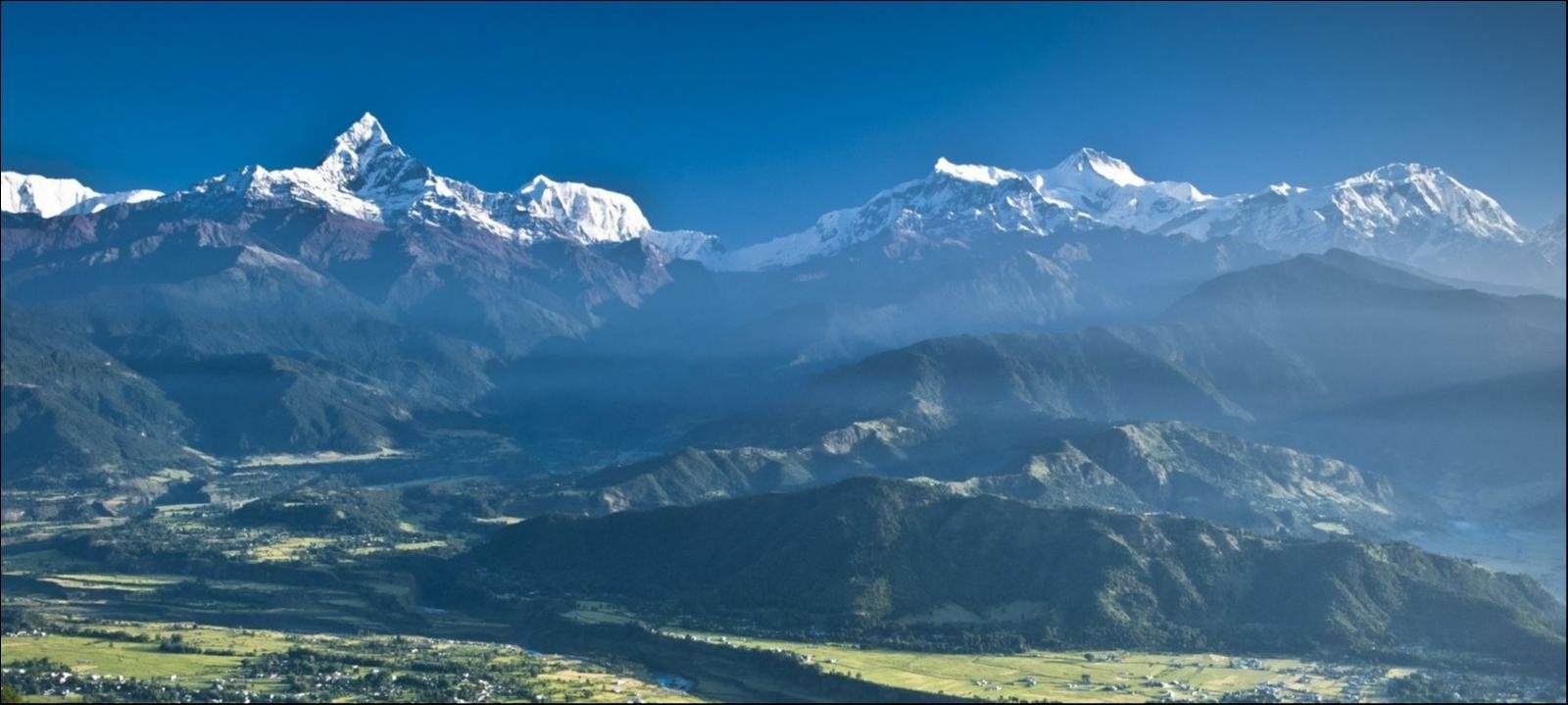 ---
Travel Guide to the Things to Do in Nepal
---
Often overlooked in favour of its bigger neighbour India, Nepal actually offers just as much as a holiday destination for the intrepid traveller. With so many interesting cities and things to do in Nepal, it is no wonder that tourist numbers have been increasing year on year for the last couple of years. Most people travel to Nepal for its stunning landscapes; as well as being home to some of the world's highest peaks, including Mount Everest, you will also find beautiful lakes, rivers, and valleys to explore. It is also a country with a rich history and culture, which enchants everyone who makes a journey there.
Where to go in Nepal
Kathmandu
As Nepal's capital, Kathmandu is usually the first stop on anyone's visit to the country. Considered to be one of the most historical cities in the world, there are seven UNESCO World Heritage Sites to discover, including the Hindu temples of Changu Narayan and Pashupati, and the Buddhist stupas of Swayambhu and Bauddhanath. Swayambu – also known as Monkey Temple – is one of the most sacred sites in the entire country and has many beautiful carvings as well as offering some of the best views over the city.
Durbar Square is the heart of the city and is packed full with palaces and temples for visitors to enjoy. Despite being the capital, Kathmandu is one of the most affordable cities in the world.
Pokhara
Pokhara is Nepal's second city, a scenic lakeside town and the jumping off point for those wanting to hike the Annapurna Circuit. The atmosphere and pace of life here is significantly calmer and slower than that of Kathmandu, which is part of the reason why travellers are being drawn here, along with the amazing scenery, a great culinary scene and a surprisingly cool live music scene.
Pokhara is also where travellers go to participate in a plethora of adventure sports; paragliding, bungee jumping, skydiving, rafting and ultralight flights are all on offer here.
Annapurna
Located in the west of Nepal, the Annapurna region is where most of the popular hiking trails are. While the Himalayas have higher mountains, the Annapurna Circuit is far more accessible, making it a better option for those who aren't highly experienced mountain trekkers.
People come from all around the world to hike the Annapurna Circuit, so it is a great opportunity to meet people from cultures you may not have experienced before.
Namche
A Sherpa settlement, Namche is a popular stopping off point for those heading for Everest Base Camp and is a good place to spend a day or two to get acclimatized to the altitude. The town is full name is Namche Bazaar for its well-known market; every Saturday morning, sherpas from the surrounding area travel into the town to sell their wares.
Although tourists on their way to Everest may not be too interested in what they have to sell, wandering through the market is a great way to experience local Nepali life.
Bhaktapur
Situated a mere 12 kilometres from Kathmandu, this incredibly significant ancient city was once an important stop on the trade route between Nepal and Tibet. Although it is extremely close to Kathmandu, in the past it was a relatively remote town, meaning it developed its own culture and focused on the Hindu religion rather than Buddhism.
The whole city is a UNESCO World Heritage Site with many historical sights to see, such as the royal palace and several temples. It is also the centre of Nepali pottery, so a visit here is a good chance to purchase some.
Patan
Located just across the Bagmati River from Kathmandu, Patan is one of the largest cities in Nepal and is notable for its must-see attraction, the Patan Museum. Considered to be one of the best museums in South Asia, you can see all kinds of artefacts spanning Nepal's cultural history, including some incredibly rare objects.
Patan also has a Durbar Square that is home to many temples, palaces and historical buildings; although the square was badly damaged during the 2015 earthquake, extensive reconstruction has taken place and it is beginning to look more like it did in the past. Patan is also known as an important centre of Nepali handicrafts, making it a great place to buy traditional masks, jewellery, and Buddha statues.
Lumbini
The birthplace of Buddha, Lumbini holds great importance to the Nepali people. The Ashokan Pillar stands exactly on the spot of Buddha's birth; the inscription on the pillar is one of the oldest in Nepal. There are also many other sites to see, such as many temples, the Japan Peace Stupa, Lumbini Museum and the Golden Temple of Myanmar.
Due to its importance in the Buddhist religion and its peaceful surroundings, Lumbini is a great place to visit if you are interested in meditation.
Ilam
If you love tea then you have to head to Ilam, Nepal's tea district. The town itself is charmingly quaint and receives relatively few visitors, so you can have a more traditional Nepali experience. Tea is obviously the main reason to visit Ilam; there are tea tours you can take where you can learn about the production of this popular product and the tea culture of the country.
However, it's not the only thing to do here. The area is also excellent for hiking and bird-watching, or you could just relax and enjoy the spectacular views while enjoying a cup of tea from one of the many tea houses.
Things to do in Nepal
Hiking and Trekking
Of all the things to do in Nepal, this is the main reason why people come here. The main routes that people choose to trek are the Annapurna Circuit and the Everest Base Camp, but there are plenty of other trails to choose from. For those who are looking for easy hikes, you will want to consider what has become known as 'teahouse trekking'; on the popular routes, teahouses are well-developed and have excellent facilities and amenities. If you are trekking the Annapurna region or Everest Base Camp, it is highly recommended that you join a tour with a guide and porters, such as our Annapurna Base Camp and Everest Base Camp tours; the price includes all your trekking permits, meals and accommodation during your trip.
Anther popular hiking area is the Langtang region, home to the Langtang National Park and offering quieter trails than Annapurna and Everest, despite its close proximity to the capital. If you would prefer to do a lesser-known trek, we also offer tours of Island Peak and the Manaslu Circuit.
Ethno- and cultural tourism
Cultural tourism is becoming increasingly popular throughout the whole world, and for good reason; it is the perfect way to learn about the country you are visiting and the people who live there. But it is not just about what you can experience. Cultural tourism and ethno tours mean that your money is going towards smaller communities and not into the pockets of corporate businesses, and also helps to minimize the negative impacts of mass tourism on the environment and local people, making it one of the best things to do in Nepal.
There are a number of ethno tours you can do in Nepal. One which comes highly recommended is Numbur Cheese Circuit in the Everest region, taking you through deep river gorges, rice fields, Sherpa villages and forests, and gives you the chance to visit one of Nepal's cheese factories.
City Tours
If you want to get the most out of your time in the city of Kathmandu, you should consider taking a Kathmandu city tour. These tours give you the chance to discover and explore the magnificent sights with the added bonus of learning more about the history and culture of the sights and the city itself.
And if you think that taking a private city tour is expensive, you would be wrong; because this is Nepal, these tours are excellently priced and great value for money.
Rafting and kayaking
With some of the most exciting rapids in the highest mountain range in the world, Nepal offers excellent rafting and kayaking opportunities. Most tours run from Kathmandu and Pokhara, so it is an easy trip to take for the majority of travellers.
Although there are half-day and day trips available, it is highly recommended to take a multi-day tour so you can enjoy your time on the river during the day, and then spend the evenings camping under the stars.
Mountain biking
If you prefer to experience mountains on two wheels rather than your feet, Nepal is a great place to do so. There are a number of bike routes in operation, one of the most popular being the one from Kathmandu to Pokhara, taking you through Naubise and Mugling.
However, it is also possible to bike the Annapruna Circuit, and there are plenty of downhill biking trails to experience an exhilarating ride.
Jungle Safari
Chitwan National Park is Nepal's first national park and one of the most popular due to the amount of activities that are on offer here. You can choose from the following kinds of safari: elephant safari, where you ride on the back of one of these magnificent animals, allowing you to see for miles; jungle safari, a walking tour; jeep safari; and motorbike safari. All of these tours give you the opportunity to spot elephants, monkeys, wild boar, deer, rhino, and many species of bird.
Bear in mind that if you decide to take a jeep or motorbike safari, the noise of the motor may disturb the animals, reducing your chances of seeing wildlife. There is also a crocodile breeding centre, the chance to bathe elephants, and any of the safaris can end with a swim in the Rapti river.
If you are planning on visiting Chitwan in order to see tigers, be mindful that tigers hunt at night when the park is closed, so any advertising you see that promises a glimpse of these elusive beasts should be taken with a pinch of salt. Consider Katmandu Chitwan Pokhara tour package to discover these place deeply in one multi-day tour.
Yoga and meditation
Yoga and meditation are important activities to many Asian cultures, and Nepal is no different. There are many retreats dotted around the country catering for all levels and budgets.
Here at TripsPoint, we offer two tours where you can immerse yourself in relaxation and contemplation. Our 15-day tour takes you to several sacred sites in Nepal as well as Bhutan, and our 17-day tour is a pilgrimage journey beginning in Nepal and taking you into Tibet.
Where to stay in Nepal
Nepal has a wide variety of accommodation options, so whatever your taste and budget, you will find something to suit you. The major tourist centres of Kathmandu and Pokhara have the biggest choice; you can choose anything from 5-star luxury to basic hostels. When hiking and trekking in the mountains, including the Annapurna Circuit and the Everest Base Camp, the accommodation options tend to be of the basic variety, such as trekking lodges and teahouses. If you are travelling off the beaten trek, your options may be limited to homestays and guest houses, but this is no bad thing; it gives you the opportunity to see the more traditional side of the country.
Unless you are staying in luxury accommodation, Nepal accommodation options are extremely affordable. Prices in the popular cities will be slightly more expensive than in others, but you will also find slightly better facilities. Obviously, rural guest houses and homestays will be very basic and rudimentary, but this is reflected in the price.
How to get around Nepal
Nepal has plenty of options to get around the country. Air travel is considered to be the fastest way of getting around, but you should also factor in that weather conditions can have an effect; it is not uncommon to experience cancellations and delays. Bus travel is the most popular option with most travellers as there are many options to choose from, from basic public buses to modern tourist buses with air conditioning and WiFi. Motorcycles, rickshaws and taxis are also viable options.
Although it may be cheaper to travel around Nepal by bus, it has to be noted that road conditions are pretty poor and, even though distances are relatively short, the time it takes the buses to get to their destinations can be very long, cutting into your vacation time. Considering this, it is worth either hiring a private car or joining a tour to get the most of your holiday; private vehicles are more comfortable, convenient, and take less time to travel on the roads between destinations, meaning you will have more time to enjoy the different things to do in Nepal rather than sitting for hours on a bus.
Nepal is a wonderful destination for those who are seeking a combination of history, culture and adventure from their vacation. With lots to see and things to do in Nepal, you can guarantee a trip here with be the trip of a lifetime.