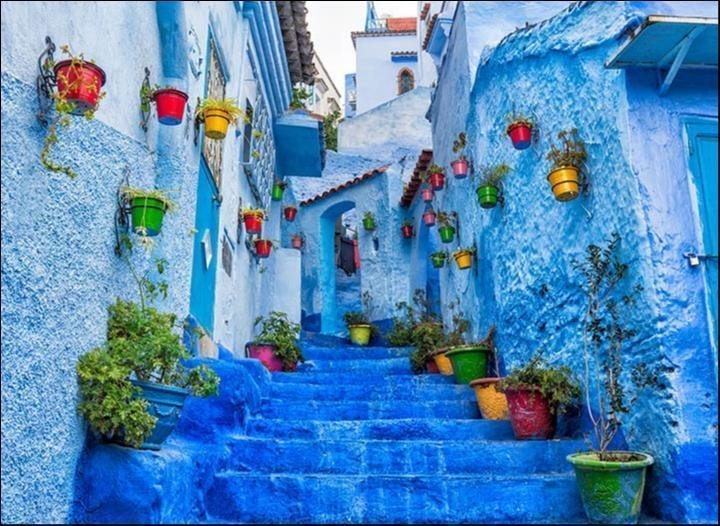 ---
Things to Do in Morocco, One of the World's Most Magical Destinations
---
Ali Jennings
-
-
Feb 12, 2020
One of the most popular destinations in Africa, Morocco has the huge advantage of being an exotic choice for a vacation while still being relatively close to Europe to make it an easy destination to get to; from many parts of Europe, the flight does not take much longer than a few hours, depending on where you are flying from. Once you arrive, there are definitely many things to do in Morocco which will suit every traveler, from exploring ancient cities and learning about the local culture to trying out a variety of activities, both leisurely and challenging. To help you plan that perfect trip, take a look at this guide to things to do in Morocco.
Sightseeing Things to Do in Morocco
Marrakesh Walking Tour
Marrakesh is easily the most visited place in Morocco, so it would be hard to imagine it not featuring on your Morocco itinerary, even if it is just for a couple of days. If you are short on time, this Marrakesh Walking Tour – available through TripsPoint.com – is perfect for you. Taking approximately two-and-a-half hours, you will begin your visit to the famous 12th century Koutoubia Mosque and the Mellah quarters, known for their exceptional architecture. You will then move on to the popular souks of Marrakesh and the medina, where you will be astonished by the colorful complexity of the labyrinthine marketplaces and amazed by the wonderful techniques of the local artisan craftsmen. During the next part of the tour, you will make your way down to Koubba Almoravid, the Ben Youssef Madrasa, and the Musee de Marrakesh before finishing the tour in the well-known square of Jama el Fna.
While you do not enter any of the monuments you visit on the route, this tour is a great way of getting your bearings and figuring out where you would like to visit later on in your stay.
Private Sightseeing Shore Excursion of Casablanca
Morocco has increasingly found itself welcoming guests from passenger cruises, and if the vast majority of your holiday is on board such a vessel, you may be interested in this Private Sightseeing Shore Excursion of Casablanca so you can discover what this wonderful city has to offer. You will be met off your cruise ship at Casablanca Port by your guide who will then take you on an enjoyable walk of the colorful Habous district where you will see the mix of modern urban planning and the maze-like streets of the ancient medina. You will then continue on to United Nations Place and the majestic Mohammed V Square before heading to the lively Central Market and the surrounding Royal Palace. To experience two contrasting religious epicenters of the city, you will also visit the Notre Dame de Lourdes Cathedral and the Hassan II mosque. You will end your walking tour in the residential district of Anfa and shop in the new Morocco Mall by the seafront.
If you do not have much time to spend in Casablanca, this tour can help you see everything worthy of visiting.
Full-Day Private Tour from Tangier to Chefchaouen
Chefchaouen, located in the Rif Mountains, is considered to be one of the prettiest cities in Morocco. With its unusual blue buildings, rich history, and laid-back vibe, Chefchaouen makes a lovely day trip for those seeking out Morocco's intriguing cities but who want to experience a place not so hectic. The city is easily reached from Tangier – being just 82 kilometers away – and if you want to enjoy a day trip there in complete comfort, get yourself booked onto this Full-Day Private Tour from Tangier to Chefchaouen through TripsPoint.com.
After being picked up from your hotel in Tangier or from the port if you are disembarking from a cruise ship, you will make the journey to Chefchaouen with a small tea break along the way. Once in Chefchaouen, you will have a guided tour of the walled medina, with its 18th-century kasbah, central mosque, and plentiful cafes. After a traditional Moroccan lunch, you will then have some free time to wander around the souks and pick up some bargains before heading back to Tangier. Of all the destinations in the country, Chefchaouen is definitely one of the best things to do in Morocco.
Volubilis
Morocco is a feast of a destination for history lovers, and you cannot get more of an amazing historical and archaeological site than Volubilis. Considered to be Morocco's number one Roman ruin, Volubilis was once – it is believed, anyway – to have been the capital of Mauritania and was also one of the most remote cities of the Roman Empire. Nowadays, the ruins have been extremely well-preserved and it is easy to imagine how life would have been here as you walk around the crumbling temples and columns. As well as marveling at the magnificent remains, Volubilis's hilltop location gives you amazing views over the surrounding landscapes; head up to the Capitol and the Forum for the best views.
Volubilis is an easy day trip from either Fez or Meknes, so if you are going to be visiting one of these cities, you should definitely add the fascinating Roman ruins to your list of things to do in Morocco.
Tanneries of Fez
Another of the imperial cities, Fez has much to attract visitors. As the medieval capital of Morocco, here you will find historical sights and museums aplenty, the largest and oldest medina in the world, the largest mosque in North Africa, and even the oldest university on the planet. One of the biggest draws of Fez, though, is that it is home to the largest open-air tannery in Morocco which produces the city's famous leather products. Established more than 1,000 years ago, the best time to visit the Chaouwara Tanneries is early morning when the tanners are hard at work. If you head up to the leather shops in the galleries above the tannery's central courtyard, you will be able to see the numerous vats filled with colored dye and the skins being laid out to dry. While it is free to stand on the shop balconies and watch, the shopkeepers may then expect you to purchase something as a way of payment.
Alternatively, it is possible to hang around near the tannery entrance and wait for someone to approach you and offer to take you on a tour. Technically, this is free, but they will be expecting a small tip. Do not try and enter the tanneries by yourself; be prepared for verbal abuse if you do so. Also be aware that the smell from the tanneries is not so pleasant, so if you have a weak stomach, take a couple of mint leaves to sniff.
Active Things to Do in Morocco
Atlas Mountains - one of the must-do things to do in Morocco
Morocco may conjure up images of imperial cities and swathes of desert, but when it comes to landscapes there is actually quite a lot of diversity in the country. Morocco's most popular destination for active travelers, the Atlas Mountains offers a huge amount of hiking opportunities for all levels of walker. Easily accessible from Marrakesh, the Atlas Mountains – split into three sections, the High, Middle and Anti Atlas – can be done as a day trip or for longer, depending on your preference.
If you are planning to add the Atlas Mountains to your list of things to do in Morocco, there are plenty of tours through TripsPoint.com which can help you organize this part of your trip. The Ourika Valley Day Trip from Marrakesh is perfect if you want a gentle introduction to the mountains and also to learn about the rural culture of the local people; as well as getting to see some breathtakingly beautiful scenery, you will visit a Berber family in their home, a women's cooperative producing argan oil, and even get the chance to visit a local market, depending on the day you take the tour. If you want something a little bit more challenging, you could opt for this Atlas Mountain Trek Challenging Hiking tour or the Mount Toubkal Trek, a hike to the highest peak in the Atlas Mountains.
Surfing
In recent years, Morocco has managed to fix itself firmly on the map of excellent surf destinations. In addition to being a cheaper alternative to many other hot surf spots around the world, Morocco has excellent break conditions throughout the year and the instructors in the different surf villages and towns have amazing knowledge on where to go to get the best waves. But surfing in Morocco is not just about hitting the waves, it is about the downtime too. Here, surf accommodation is second to none and there are loads of fun and relaxing activities to participate in when you are back from the beach.
There are a few places that make great destinations for Morocco surfing holidays, but some of the most popular include Taghazout and Essaouira.
Camel Riding
Due to its place in African culture, camel riding is one of those things to do in Morocco that simply has to be on your holiday itinerary. Pretty much wherever you go in the country, you will find tour operators advertising camel riding trips, ranging from a couple of hours to more extensive trips. One such trip is this Three-Day Desert Tour from Marrakesh to Merzouga, available through TripsPoint.com.
This tour will see you ride on the back of a majestic beast through the Sahara Desert, Dades Valley, and the Atlas Mountains, giving you the chance to experience how the nomadic people of Morocco have lived for centuries while also having the benefit of staying in a luxury campsite.
Skiing
It may not be the first activity that you think of when you consider things to do in Morocco, but it is actually completely possible to go skiing here. If you are expecting slopes of the same standard as those in more popular ski destinations such as Switzerland and France, then you will be disappointed. However, if you are more bothered about the novelty of skiing in such a country as Morocco, get yourself over to Oukaimeden. The country's biggest ski resort, Oukaimeden is located in the Atlas Mountains and offers snow-covered trails on the nearby Jebel Attar mountain in the winter months of December and January. Facilities and amenities at the resort include five downhill runs, chairlifts, a nursery slope, and a ski school.
Other ski resorts in Morocco include Michlifen and Jebel Hebri, although these are not as well-facilitated as Oukaimeden.
Fun Things to Do in Morocco
Pottery Classes in Rabat
One of the best things to do in Morocco is immersing yourself in the local culture in Rabat, and what better way of doing that than taking a class in traditional handicraft. Through TripsPoint.com, you can book a Pottery Class in Rabat which will allow you to learn all the local techniques for making Moroccan ceramics. The class is run by a local citizen named Khalid who will give you an overview of all the products made within the complex before instructing you on how to make a simple pot and then decorate it.
Through Khalid's expertise and guidance, you will be able to take home the perfect souvenir. This tour is a really great way of adding a completely different activity to your itinerary.
Cooking Classes
Another way of understanding the local culture better is to take part in a cooking class, and Morocco offers many opportunities to do this. While the vast majority of these classes take place in Marrakesh, there are also opportunities to experience one in another city or town, such as Tangier, Fez, Essaouira or Casablanca. Cooking classes typically consist of a visit to a local market to procure the ingredients you will need to make a two- or three-course Moroccan meal. Dishes will vary depending on where you do your course, but popular ones include tagine, couscous, and pastilla, as well as different kinds of pastries. In addition to the cooking class, your chosen school may offer a range of other cultural experiences, such as learning how to paint henna tattoos and language classes.
The schools within the country are extremely diverse, so it is advisable that you do some research on the cooking classes available and what you get for your money. However, what is guaranteed is that this is definitely one of the most fun things to do in Morocco.
Immerse Yourself in Moroccan Arts
There is a long tradition of the arts in Morocco, so whether you are interested in art or music, you will be sure to find something for you. One of the easiest things to do in Morocco to appreciate the wonderful decorative arts here admires the architecture; many of the buildings, especially in the major cities, are intricately and beautifully decorated or carved, so be sure to check out the colorful tile work, wooden carvings, and detailed plasterwork wherever you go. For more information on Moroccan art, there are plenty of museums which you can visit. The Museum of Marrakesh is possibly the most famous, with its huge collections of artifacts as well as the most extensive collection of art in the whole country. The building a work of art in itself is a prime example of 19th-century classical Andalusian architecture.
If you are interested in traditional Moroccan music, you will find it easy to listen to many examples; music plays an integral role in Moroccan culture and you will hear it pretty much everywhere you go, such as in taxis and local stores. For live music, you may want to time your vacation to coincide with one of the many festivals which happen throughout the year. Popular festivals include the Marrakesh Popular Arts Festival and the Fez Festival of World Sacred Music.
Shopping
Even if you are not such a big fan of shopping, it would be impossible to travel to Morocco and not visit one of the many souks which the country is so famous for. Both magical and chaotic at the same time, Morocco's souks will bombard all of your senses with all the dazzling sights, hypnotic sounds, and enticing smells. As the country's most popular destination, Marrakesh's souks are easily the most famous, and you will find everything here from clothing and accessories through home furnishings to herbs and spices. Be warned; it is extremely easy to get lost among the narrow alleyways of the souks here. If it is your first time to the Marrakesh souks and you are worried about losing your way, you may want to consider hiring a guide to help you out.
You will find souks in pretty much all of the major cities in Morocco, such as Casablanca, Agadir, Tangier, and Fez. However, shopping opportunities are not just limited to big places. Wherever you go in Morocco, even in the rural villages of the Atlas Mountains, there will be souks, and these may provide you will a more authentic experience than the ones which expect to receive a fair amount of tourists.
Morocco is a dream destination for many, and after seeing this list of things to do in Morocco, you can probably understand why. Here you can take your pick from sightseeing, fun activities, and getting active, and all for a budget price.