Day Trip to Essaouira from Marrakech - Private Tour
On the tour page:
Duration - 10 hours

Private Tours

What's this? After you book the Tour or Activity we send you your Tour Voucher.
The Voucher is your booking confirmation and tour providers can accept e-Voucher, printed Voucher or both Voucher types.

e-Voucher means that's enough, if you save received Voucher to your phone and show on the tour beginning.

Printed Voucher means after receiving the Voucher you have to print it and take with you to give it printed to the tour provovider at the tour beginning.

e-Voucher, Printed Voucher

Cancellation Policy Standard Cancellation Policy means that:

If you cancel this tour booking at least 14 days in advance of the scheduled departure, there is no cancellation fee.

If you cancel between 13 and 3 days in advance of the scheduled departure, there is a 50 percent cancellation fee charged from the paid deposit.

If you cancel within 2 day(s) of the scheduled departure, or don't show up at the meeting point on time there is a 100 percent cancellation fee charged from the paid deposit.

Standard

Guide options If the tour is guided here you can see available tour languages. Usually it means along the tour you have a professional tour guide guiding the tour in one or a few specified languages.

Some tours or Activities doesn't require the guide and have a pilots, instructors or simply provider's team member who take care of you along the tour. In this case it's marked as "Not Guided" tour, because it doesn't require a professional tour guide.

Language: English

Train station
---
The Day Trip to Essaouira from Marrakech is a perfect private tour for travelers who wish to take a slow, meditative approach to photography, and learn to appreciate the act of taking a picture as much as the end result and it will help you to develop your capacity for mindful presence.
---
Have a seafood, fish lunch in a local restaurant with local people!
Stroll in the old town 'Medina' of Essaouira - a UNESCO world heritage site!
Photograph the rare climbing goats of Argan!
Experience mindful walking and relax on the beach!
Enjoy Moroccan mint tea facing the Atlantic ocean!
Visit Portuguese fortifications where Game of Thrones movie were shot!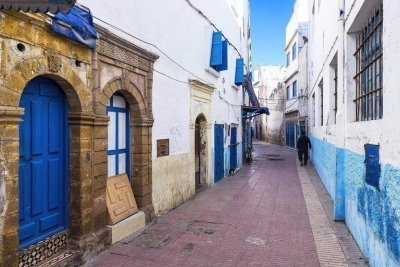 ---
Day Trip to Essaouira from Marrakech
The Day Trip to Essaouira from Marrakech is without a doubt the most appreciated day tour by our clients. Many of them discover that hidden gem for the 1st time and decide right away they will come again for sure to a short break in the relaxed town. The trip starts at 10:00 AM with pick-up from our meeting point or our tour guide pick you up directly from your accommodation in Marrakech and returns back to Marrakech at 8:00 PM, so you have to prepare for the long exciting day. Through the trip to Essaouira, you will even have the ability to delight in unique landscapes in the surrounding countryside.
Essaouira lies 175 km away from Marrakech and this is a beachfront medieval city. The drive will take us about 2 hours and a half with a possible 30 min stops. In the Day Trip to Essaouira from Marrakech, we will drive via the local villages, enjoying the natural beauty of rural areas.
We will stop at Ounagha, providing stunning scenery, an area well-known for the Argan trees. At our first stop, we'll have the possibility to photograph the unusual climbing goats of Argan. The Argan tree - a relict species of the tertiary age. It is extremely well adapted to the drought and to the challenging environmental conditions of Morocco's southwest. While at risk of extinction, it is currently protected by UNESCO.
At our upcoming stop, we'll have the chance to photograph the excellent scenic view of Essaouira prior to going into this beautiful city, its a charming and artistic blue and white match the old city and ocean. After approximately ten minutes drive, we will enter into the city, as you come by the last stretch of road from Marrakech to Essaouira, the city and the Atlantic Ocean opens out before your eyes.
You may smell the salt in the air and feel the sea breeze. It's really a fantastic feeling that boost your mood and energy instantly. In the city, you will have a short walk throughout the town till the Skala fishing harbor that provides spectacular views over the Portuguese ramparts. You will find a market in which both sellers and buyers make deals or purchases on the boats. Very early in the morning, boats loaded with fish several seaside provinces will be anchored along the banks of a seaport for about 100m, providing different kinds of fishes at the stalls that line the seawall in the historic, fortified harbor to attract customers for buying with them. This is a common and unique sign you only discover in the historic port area of Essaouira.
We will share a mindful eating experience, we will be able to select exactly what we would like to eat and see it cooked right before our eyes, but equally unforgettable to be able to share a meal with local people. Usually, we buy Sardines and take them to the local restaurant around 10 min walk and have them cooked at little make-shift grills. We will sit at a table covered simply with some white paper and served with a variety of olives, Moroccan tomato, and onion salad, as well as a spicy sauce and bread. Bread comes as standard with nearly every Moroccan meal, to accompany our freshly grilled lunch. If you are vegetarian we can buy vegetables at the local market and we can make a good tasty Moroccan salad with the help of cook at the local restaurant.
After having a lunch break, we are getting a Moroccan mint tea an hour later and we commence our mindful photography walk from Medina. Take a stroll in its amusing labyrinth of narrows streets that look like a maze, discovering the small charming streets are full of artists and artisans, making and selling their craftwork. The lifestyle here is peaceful and relaxed. During this walking trip, you will discover and shoot in the most lively and picturesque part of Essaouira. The atmosphere of this interesting walk is exciting as you discover for yourself the old Portuguese fortifications in which Game of Thrones movie was filmed (Season 3).
Before finishing your Day Trip to Essaouira from Marrakech and returning to Marrakech City, we may opt for a walk barefoot on the beach and take a look at the waves, the endless ocean, the sand, the scenery, the blue sky, etc this activity is designed to master your photography skills at the time of sunset, its even wake up your creativity. Additionally, by stepping in the sand of the beach you will be delighting in a beautiful landscape, you will be more relaxed, and it will refresh your mind and your spirit.
Back on the land, we travel back to Marrakech City and as long as leaning back you have time to remember an unforgettable day full of colorful impressions. Your private tour guide will drop off right at your hotel at about 8:00 PM and here your Day Trip to Essaouira from Marrakech ends.
Inclusions:
Tea and water. A bottle of mineral water 1.5 L provided for free and traditional Moroccan mint tea is included.
Lunch.
Private transport from Marrakech to Essaouira.
Guide.
Visited Places:
Please, read the description of the Day Trip to Essaouira from Marrakech to understand clearly itinerary of this private day tour.
Frequently Asked Questions
---
How much time does the Day Trip to Essaouira from Marrakech - Private Tour take?
How many days in advance I must book Day Trip to Essaouira from Marrakech - Private Tour?