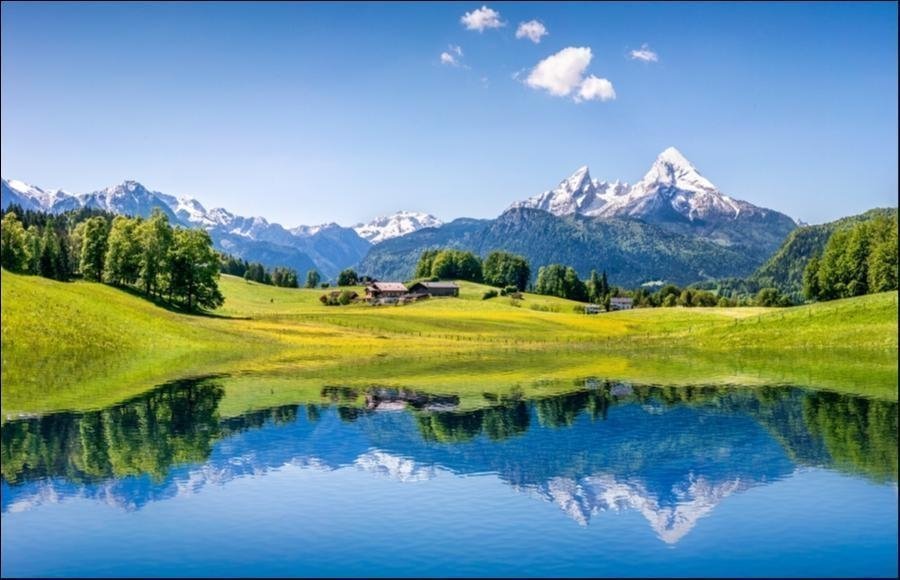 ---
Things to Do in Switzerland
---
Ali Jennings
-
-
Feb 7, 2020
Switzerland is a country with many claims to fame: watches, chocolate, breathtaking scenery, amazing opportunities for adventure sports… this list goes on. While many people are put off visiting Switzerland due to the large expense – Switzerland is known for being one of the most expensive countries on the planet – those that do make it there sing its praises. For such a small country, Switzerland actually has plenty to offer visitors, so if you are considering seeing for yourself how wonderful it is, here is a guide to the best things to do in Switzerland.
Sightseeing Things to Do in Switzerland
Best Taste of Zurich City Tour
When it comes to Swiss cities, Zurich is one which receives a larger proportion of tourists, and for very good reason. It has some of the most elegant architecture in the whole country and a very specific atmosphere which is not replicated anywhere. As you can imagine, there is much to see here, so if you want to make sure you do not miss anything, get yourself along to this Best Taste of Zurich City Tour, available through TripsPoint. This tour is designed for small groups of up to ten people, so you can be sure that you will have your guide's full attention.
During your three-hour tour, your guide will take you around some of Zurich's most popular sightseeing spots, including Bahnhofstrasse, Zurich's main street; Paradeplatz, one of the world's most expensive and exclusive shopping avenues; Lindenhof and Roman Baths, the historical site of a Roman castle; the four main churches in the Old Town, including St. Peter's Church and Fraumunster; and the house where Lenin lived when he was resident in Zurich. At the end of your tour, your guide will also be happy to give you more suggestions for your time in Zurich and further afield.
CERN
Located on the outskirts of Geneva, CERN is the world-famous home of the Large Hadron Collider, the largest and most powerful particular accelerator which is used as part of the facility's research into particle physics. There are two permanent exhibitions at CERN: the Microcosm, a museum on particle physics and the history of CERN, and the Universe of Particles, an in-depth look into what particles are and how their behaviour is governed. There is also the possibility to take a guided tour, which includes a film introduction to the facility, a visit to the historic area of CERN, and the operations centre of one of the experiments. The guided tours are free of charge, but you will need to book your place as far in advance as possible as they are extremely popular. When it comes to sightseeing, a visit to CERN is definitely one of the best things to do in Switzerland.
Please note that if the Large Hadron Collider is switched on, it is not possible to visit CERN, so keep an eye on their website to check opening times.
Visit Jungfraujoch, the Highest Point in Europe
Situated in the Bernese Oberland, Jungfraujoch is a saddle connecting the two peaks of Jungfrau and Monch, sitting at almost 3,500 metres above sea level. The only way to arrive at the top is by cogwheel train, with many chances to board the train along the way; once you reach your destination, you will disembark at Europe's highest train station. As you can imagine, the views you get at the top are absolutely stunning, but there are also plenty of activities here to keep you busy for a few hours.
For those who want to get even higher views, you can take a lift up to the Sphinx observatory where you can enjoy panoramic views both from the terrace and the observatory building. Leading from the observatory is the Alpine Sensation, a moving walkway with lights, music, and images, which ends at the Ice Palace, where you can marvel at the exquisite ice sculptures here. If you are visiting in the summer, there is an all-year snow park where you can go sledging, skiing and snowboarding. If you visit when the weather is good, you can hike across the glacier to the Monchsjoch hut; the trail takes around an hour, but it is vital that you only attempt the hike with proper hiking gear and that you do not leave the marked trail.
If you are planning to spend a few days in the region, a great place to base yourself is Grindelwald. This glacier village sits at the bottom of the mountains and has long been a popular resort. As well as the Jungfraujoch, there are many other scenic spots to explore and a whole host of activities, such as skiing, snowboarding, and mountain biking. In the village, itself is the Grindelwald Museum, where you can learn all about the heritage of the village, how the tourism industry here began to develop in the 18th century, and see traditional Bernese Alps handicrafts. There are also a few spas here if you want to spend part of your trip in complete relaxation.
Chateau de Chillon
If you fancy adding a Swiss castle to your holiday itinerary, you should definitely pick Chateau de Chillon. Located on the banks of Lake Geneva close to Montreux, the castle's original construction dates back to the 10th century, although there is evidence that the site was occupied by military forces before this. However, it was during the 12th and 13th centuries that it was significantly expanded and became the magnificent stronghold we see today. Over the years, the Chateau de Chillon has inspired many artists and writers of significant fame, such as Victor Hugo and Lord Byron, both by its buildings and the surrounding scenery.
The complex comprises of 25 buildings flanking three courtyards and there are many highlights to see, including the Great Halls which overlook the dramatic lake, the Chapel and its 14th-century paintings, the Camera Domini, the bedroom of the Duke of Savoy, and the Gothic underground rooms.
Old Town of Bern
Zurich is the city which receives the largest proportion of tourists travelling to Switzerland, and because of this many assume that it is the capital. However, this is actually incorrect and the capital is the fifth biggest city in the country, Bern. Although Bern is often missed off many travellers' itineraries, there is much here to delight you. Bern's biggest attraction is its attractive old town, known for its perfect uniformity. In the early 15th century, a great fire spread across the city destroying all the wooden houses which were originally here; they were subsequently replaced with tall buildings of sandstone built in arcades totalling six kilometres. As you walk down the cobbled streets, you will find all kinds of shops, cafes, restaurants, and bars housed within the buildings, but there are also other sights to spot. There are 11 Renaissance fountains within the old town, each of them boasting a statue of a figure of importance to Bern's past, plus you should also check out the city's famous clock tower.
Just a short walk away from the old town is the Bear Park. Bern has kept bears in the city since the 16th century – the animal has been the symbol of the city for nearly a millennium – and was moved to their current location in the mid-19th century. Since the park was expanded in 2009, the three bears which live there currently have much more space to move around and can even take a dip in the River Aare. There are many viewing points and walking paths where you can see these amazing creatures, and the views back across to the city are also fantastic from this spot.
Jet d'Eau
Geneva's most famous landmark, the Jet d'Eau is an impressive fountain which shoots an astonishing 140 metres into the air, meaning it can be seen from miles away. Sitting where Lake Geneva meets the River Rhone, if you stand on the nearby pier, you may find yourself utterly splashed! The fountain is operated daily throughout the year, although you may find that if you are visiting on a day with strong winds or frost, the fountain could be switched off.
While the Jet d'Eau is astounding to see at any time, in spring and autumn it is switched on in the evenings and often lit up with coloured lights, creating a wonderful effect. Of all the sights you can see, the Jet d'Eau is one of the most magnificent things to do in Switzerland.
Active Things to Do in Switzerland
Snow Sports
With a country with such mountainous terrain, snow sports are one of the things that most travellers head to Switzerland for. In fact, skiing and snowboarding in the Swiss Alps are top of the list for many snow sports enthusiasts around the world. You might think that the slopes here are just for advanced skiers, but there are plenty of resorts which cater to beginner and intermediate skiers too. On top of exciting skiing and snowboarding opportunities, you get amazing scenery, dependable weather and snow conditions, and resorts which have the highest quality of facilities and infrastructure.
There are, of course, many ski resorts to choose from, but some of the best include Zermatt, St. Moritz, Verbier, and Grindelwald.
Hiking
When the winter season ends and the snow melts on the mountains, Switzerland becomes a prime destination for hiking. The country is literally filled with impressive trails, from the well-known and popular to the hidden and off-the-beaten-path, from the easy and relaxed to the challenging and exerting.
Thanks to Switzerland's efficiency, all of the trails in the country are well-marked, easy to navigate, and are served by an excellent infrastructure, so hiking here is not only enjoyable, but it is also incredibly simple.
Water Sports
While Switzerland is more famous for its skiing opportunities, if your idea of getting active is to take to the water, you will not be short of ideas for activities to do. The country has many lakes and rivers which are perfect for participating in a wide variety of water sports. Those on offer around the country include kayaking, canoeing, jet-skiing, speed boating, surf ski paddling, stand up paddling, rafting, and windsurfing.
Most areas with bodies of water offer most, if not all, of these activities, although you should be aware that some of them will be dependent on weather conditions.
Culinary Things to Do in Switzerland
Learn All About Cheese Making
As a country with over 450 types of cheese, Switzerland is a great place to come if you need to get a daily fix. One of the most popular cheeses here is La Gruyère, named after the town where it is made.
If you head to Gruyères, you can visit the cheese factory and learn all about the cheese-making process, and then sample some of their products yourself. Gruyères itself is a delightful town, so you should also spend some time exploring its cobbled streets and taking some time to try another speciality of the town, traditional meringue and Gruyère cream.
Taste Some of the World's Best Chocolate
Everyone loves Swiss chocolate and you should certainly indulge when you are on a trip there, but there are so many other things to do in Switzerland you can do related to chocolate than just eat it. There are many chocolate factories around the country where you can see the chocolate-making process, learn about the history of our favourite sweet, and even have a tasting session.
Lindt is probably the most famous of the Swiss chocolate brands internationally, and you can book tastings and workshops at their Chocolateria in Kilchberg to get an insight into this world-renowned company. Other great factories to visit include the interactive chocolate tour at Maison Cailler in Broc, the oldest of the Swiss chocolate brands; Maestrani's Chocolarium in Flawil, which produces a wide variety of sweet treats along with its traditional chocolate; and Funky Chocolate Club in Interlaken, which has an all-you-can-eat chocolate workshop.
Wine Tasting
Swiss wine may not be the most famous in the world, but if you are a fan of wine, adding a wine tasting session to your trip is a fun thing to do. The canton which is most well-known for its wine is Vaud, with the Lavaux vineyards being particularly popular. The vineyards here can be traced right back to the 11th century and sit along the banks of Lake Geneva, so you can taste these superb wines while enjoying the fabulous scenery.
All of the wine-growing regions in Switzerland offer open tasting days throughout the year, and there are also open cellars which give you the opportunity to taste these wines in a more informal setting without the pressure to purchase an expensive bottle.
Seasonal Things to Do in Switzerland
Check Out Some of the Country's Festivals
Switzerland might not be the first place you think of when it comes to festivals, but the country certainly knows how to hold a good one. Possibly the most famous of all the festivals is the International Balloon Festival, held in January of every year. Taking place in Chateau-d'Oex, this nine-day festivity features hot air balloon pilots from all over the world taking to the skies, creating a beautiful, multi-coloured scene. Do not forget to go and watch the balloons at night when they are lit up by the flames of their burners.
If music festivals are more your thing, you will definitely be spoiled for choice here. Paleo, taking place in Nyon in July, is Switzerland's largest open-air festival and plays host to some big names; past acts have included the Red Hot Chili Peppers, Oasis, and Tracy Chapman. If jazz is more your thing, Montreux Jazz Festival is Europe's biggest, showcasing a mix of famous jazz musicians and up-and-coming newbies. There are both ticketed events and free shows, so it is a wonderful festival for travellers of all budgets.
Other cool festivals to check out in Switzerland are Festichoc, a celebration of chocolate in Versoix; the Geneva International Motor Show, described as the 'world's best catwalk for cars'; and Basler Fasnacht, the country's biggest carnival.
Visit the Christmas Markets
While not as famous as Germany's or Austria's, Switzerland is also a fantastic place to visit a Christmas market during the festive period. They can be found in pretty much every Swiss city and are generally much smaller than those in countries more well-known for their markets, but this actually works in Switzerland's favour as this results in a more intimate and cosy atmosphere. The best markets are considered to be in Zurich, Bern, Basel, Geneva, and Montreux. Montreux's is particularly famous; its main market sits on the banks of Lake Geneva, plus there is a medieval market in the Chateau de Chillon. Zurich's takes place inside the main train station and is thought to be the largest indoor Christmas market in Europe.
If you happen to be travelling to Switzerland in December, this is one of the most festive things to do in Switzerland.
There really is nothing that Switzerland does not do well; whether you are hoping to spend your vacation living the high life in its sophisticated cities or indulge in your adventurous side with some exciting activities, with all these things to do in Switzerland, you are sure to tailor the perfect holiday for you.