The Best Taste Of Zurich City Tour - Walking Tour in a Small Group
The Best Taste Of Zurich City Tour - Walking Tour in a Small Group
On the tour page:
Duration - 3 hours

City Tours

What's this? After you book the Tour or Activity we send you your Tour Voucher or a Ticket(s).
The Voucher is your booking confirmation and tour providers can accept e-Voucher, printed Voucher or both Voucher types.

e-Voucher means that's enough, if you save received Voucher to your phone and show on the tour beginning.

Printed Voucher means after receiving the Voucher you have to print it and take with you to give it printed to the tour provovider at the tour beginning.

e-Voucher, Printed Voucher

Cancellation Policy Standard Cancellation Policy means that:

If you cancel this tour booking at least 14 days in advance of the scheduled departure, there is no cancellation fee.

If you cancel between 13 and 3 days in advance of the scheduled departure, there is a 50 percent cancellation fee charged from the paid deposit.

If you cancel within 2 day(s) of the scheduled departure, or don't show up at the meeting point on time there is a 100 percent cancellation fee charged from the paid deposit.

Standard

Guide options If the tour is guided here you can see available tour languages. Usually it means along the tour you have a professional tour guide guiding the tour in one or a few specified languages.

Some tours or Activities doesn't require the guide and have a pilots, instructors or simply provider's team member who take care of you along the tour. In this case it's marked as "Not Guided" tour, because it doesn't require a professional tour guide.

Language: English

Front side of Swiss National Museum (LANDESMUSEUM) next to the vertical panel 'Landesmuseum - Musee National - Museo Nazionale' located at Museumstrasse 2, 8001 Zurich. The guide will hold an iPad with your name on it.
---
Explore Zurich's most notable sites and enjoy some breathtaking panoramic views in the heart of the city on the Best Taste of Zurich City Tour - walking tour in old town. The tour is designed for very small groups up to 10 participants to ensure you have the guide's full attention.
---
Forget the guidebook with insights provided by your guide!
Enjoy panoramic city views from the iconic Lindenhof and Polyterasse!
Receive personalized tips and suggestions for the rest of your stay!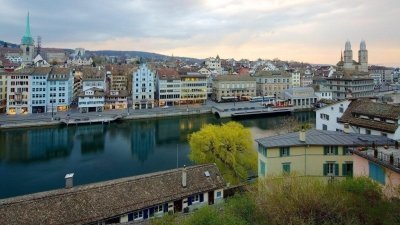 ---
The Best Taste Of Zurich City Tour
There is no better way to get THE BEST TASTE OF ZURICH CITY TOUR than by walking and in a very small group. Choose this tour to enrich your knowledge about Switzerland's business and cultural capital while listening to your guide pointing out the highlights of this unique town.
While strolling around, your guide will make sure that you will not miss:
- The Bahnhofstrasse and Paradeplatz - Zurich's main downtown street and one of the world's most expensive and exclusive shopping avenue;
- Limmatquai - a vibrant, historical shopping, dining and hotel area with many interesting buildings dating from the days of the rich Guilds that governed Zurich;
- Lindenhof and Roman Baths - the historical site of a Roman castle situated on a hillside;
- St Peter Church - one of the four main churches in Old Town whose clock face is the largest in all of Europe;
- Fraumünster (Church of Our Lady) - world famousfor it's Chagall Windows;
- Grossmünster Church - the icon of Zurich, where you can later admire impressive panoramic views over the city right from it's heart;
- Swiss Federal Institute of Technology (ETH) - whose most famous former student and professor was Albert Einstein and other 20 Nobel Prize winners;
- Bars and Restaurant where famous painters as Picasso, Chagall, Giacometti used to pay sometimes for the food with their own paintings;
- The house where Lenin was living before returning to Russia for leading the revolution and overtaking the power.
At the end of The Best Taste Of Zurich City Tour, get some tips and suggestions from your private tour guide to discover on your own some other hidden faces of Zurich or just enjoy a lovely cruise on the crystal clear Lake Zurich or a train ride to our 'little mountain - Uetliberg' for amazing views from the top of Zurich.
Inclusions:
Local guide in a small group walking tour.
Ticket for a short funicular ride.
Great spots to take the best pictures.
Exclusions:
Food and drinks.
Souvenirs.
Visited Places:
The tour duration is 3 hours and together with our guide you'll visit more that 10 Highlights of the city. Departure time is at 10:00 AM from the front side of Swiss National Museum (LANDESMUSEUM).
Frequently Asked Questions
---
How much time does the The Best Taste Of Zurich City Tour - Walking Tour in a Small Group take?
How many days in advance I must book The Best Taste Of Zurich City Tour - Walking Tour in a Small Group?