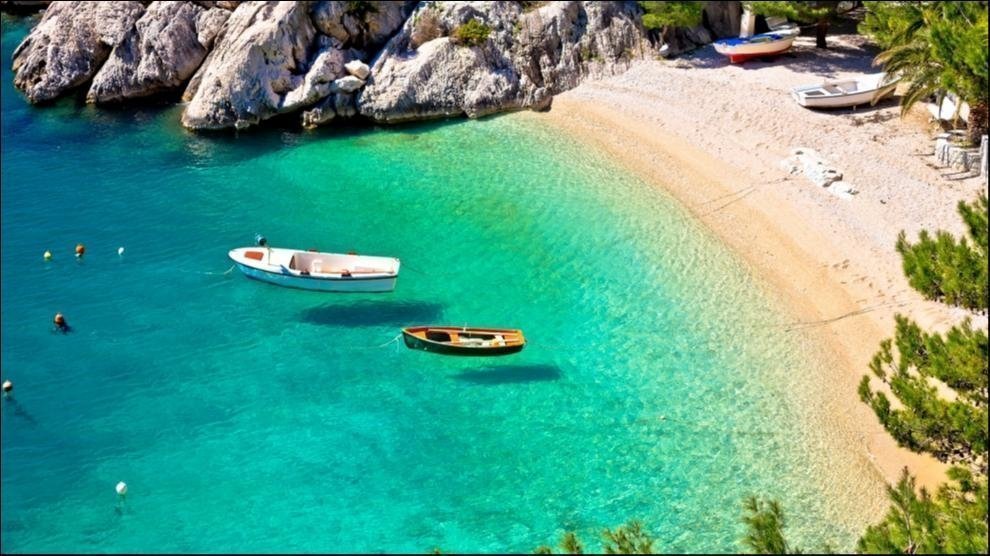 ---
Things to Do in Croatia - Eastern Europe's Riviera
---
Croatia has spent the best part of two decades reinventing itself as the perfect European destination, and in recent years this image has been helped along by the country's appearance in hit TV series Game of Thrones. But even if you are not a fan of the fantasy show, there are still plenty of reasons why choosing Croatia as your next holiday destination. The country is home to some of the best beaches Europe has to offer, there is an abundance of activities to take part in, and the historical sights here rival those of the major European cities. So if you are thinking of booking a trip to this wonderful country, here is a guide to the top things to do in Croatia, Eastern Europe's Riviera.
Sightseeing Things to Do in Croatia
Walls of Dubrovnik
Possibly the most famous of all of Croatia's attractions, especially since appearing in Game of Thrones, the Walls of Dubrovnik are one of the most impressive things to do in Croatia. Surrounding the old town, the walls run for almost two kilometres and incorporate six fortresses along the way as well as towers and cannons. If it is your first time in Dubrovnik, a walk along the city walls is a great way to get acquainted with the old town. Once you have done that, you can explore the beautiful old town itself, entering through the magnificent 16th century Pile Gate; if you head to the top, you will be rewarded with splendid views of the city and of the sparkling Adriatic Sea.
Other highlights of Dubrovnik's old town include the cathedral, the Square of the Loggia, and the Sradun, the city's famous pedestrian street filled with cafes, restaurants and boutiques.
Rijeka
Often overlooked by travellers in favour of the more popular Croatian destinations such as Hvar and Split, Rijeka is nevertheless a fantastic city to add to your Croatian vacation. Rijeka's old town is easily as pretty as Dubrovnik's but without all the crowds, meaning you can enjoy your sightseeing at a much more relaxed pace.
Rijeka's crowning jewel is Trsat Castle, which sits upon a hill overlooking the city. The building is semi-ruined, but it is still a magnificent structure to visit. Within the mausoleum is a gallery and there are also exhibitions held in the former dungeon.
During summer, many events are held within the castle complex, such as concerts, theatre performances and fashion shows, plus there is also an open-air cafe-bar which gives you the chance to enjoy a drink while taking in the splendid views. Back down in the main part of the city, you can visit a number of interesting and beautiful sights, including St. Vitus Cathedral, the Governor's Palace, and the City Tower.
Diocletian's Palace in Split
As Croatia's second-largest city, Split gets its fair share of visitors and not without good reason. Located on the beautiful Dalmatian Coast, Split offers travellers everything from amazing sightseeing opportunities and pretty beaches to vibrant cafe culture and cool nightlife. One of the main reasons why so many heads to Split is to visit the Diocletian's Palace, an impressive 4th-century Roman building which resembles a fortress more than a palace; it has been given the name palace due to its intended use as the retirement home of the Roman Emperor Diocletian.
Nowadays, the palace forms part of the historic centre of the city and you will find most of Split's retail and nightlife opportunities right here. The palace itself is incredibly well-preserved, with four monumental gates and beautiful examples of Roman architecture as well as Renaissance and Gothic add-ons. In addition to wandering around the complex, you can also explore the excavated remains of the basement.
Hvar
The trendiest of all the Dalmatian Islands, Hvar has been a popular spot with tourists and celebrities for quite a long time. Boasting a number of luxury accommodation options, Hvar may come across as a place where people go to relax by the sea and enjoy the abundance of delicious fresh seafood, but there is also much sightseeing to be done here too; in fact, Hvar has the biggest number of UNESCO World Heritage Sites than anywhere else in Croatia. In Hvar Town itself, you can visit St. Stephen's Square – the largest square in Dalmatia – with the impressive St. Stephen's Cathedral, famed for its bell tower. The town of Stari Grad is the oldest in Croatia and has lots of old buildings to discover, such as the Church of St. John – parts of which date back to the 6th century – and the Tvrdalj, built by local writer Petar Hektorovic.
As well as visiting all the historical sights, there are many other kinds of sightseeing trips available on Hvar. The island is particularly well-known for its lavender, and a trip to the lavender fields is definitely one of the loveliest things to do in Croatia. It is also possible to take a tour of the local islands, plus if you are interested in water sports, there are many companies which offer kayaking and sailing.
Roman Amphitheatre in Pula
Set beside the beautiful Adriatic Sea, Pula receives many visitors throughout the year as it is a destination which manages to combine a beach holiday with urban city sightseeing. Its most impressive sight is the Roman Amphitheatre, the most complete of its kind in the world. During the later Roman era, Pula was an important town and its colosseum is testament to that. Constructed in the 1st century BC, it is the only Roman amphitheatre with its outer walls completely intact. The entrance fee includes both the arena and the caverns beneath it, but entering as a tourist is not the only way to visit this amazing structure. The arena plays host to a variety of events throughout the year, including concerts, sports evening, food markets, and even mock gladiator fights, which take place once a month.
As well as the Roman amphitheatre, Pula has a number of other interesting sightseeing spots to add to your itinerary, including the Forum, the main square of the city built upon the remains of a Roman forum, and the 17th-century castle.
Outdoor Things to Do in Croatia
Plitvice Lakes National Park
World-renowned for their outstanding natural beauty, Plitvice Lakes National Park is the most popular attraction in Croatia aside from the beachside resorts. The first national park to be formed in Croatia, Plitvice is famous for its pristine lakes, dramatic waterfalls, and dense forests. The park is also home to a vast array of wildlife, including bears, wolves, wild boar, lynx, eagles, owls, and numerous insect and reptile species. Plitvice Lakes National Park is known for the amazing opportunities to observe fish and other water species due to the crystal clear water within the lakes. A number of wooden bridges and footpaths criss-cross their way across the park, and your entrance ticket also includes boat trips across the lakes.
If you do not fancy making your own way to Plitvice Lakes National Park, you can take the Day Tour to Plitvice Lakes from Zagreb, available through TripsPoint.com. This tour leaves from the capital Zagreb and includes your transportation to and from the park. Plitvice Lakes National Park is one of the best things to do in Croatia, so it should definitely be on your itinerary.
Krka National Park
While Plitvice Lakes National Park gets most of the attention, Krka National Park is also worthy of being added to your list of things to do in Croatia. The biggest highlight of a visit here is Skradinski Buk waterfalls, a group of 17 waterfalls which crash into a huge natural pool and cascade out the other end. Another famous group of waterfalls is Roski Slap, consisting of 12 waterfalls. Wildlife spotting is also a top activity here; over 200 bird species make their home in Krka National Park, as well as 18 species of bat and a wide variety of reptiles and amphibians.
Krka National Park is also the location of one of the most important religious sites in the Serbian Orthodox faith. Krka Monastery is surrounded by picturesque nature and is a wonderful spot to visit regardless of the monastery itself. However, if you love Byzantine and Mediterranean architecture, you will be enchanted by this attractive religious building. There are also plenty of old religious artefacts to see here, such as silverware, embroideries, and ancient books. Another religious site located within Krka National Park includes Visovac Monastery, located on an island in the middle of a lake.
Zip Lining
In recent years, zip lining has become a hot activity all around the world and Croatia is no exception, so if you fancy adding a bit of excitement to your vacation, this is a great way to do it. Considered to be the best zip line in the country, the one in Omis can reach speeds of 65 kilometres an hour, but it is not just the exhilaration which makes this zip line thrilling. As you whiz along with the cables, you will get absolutely stunning views over a dramatic canyon and fast-flowing river.
Omis is not the only place you can go zip lining in Croatia. You can also take part in this amazing activity in Sibenik, Pazin, Split, and Krk Island, along with a few others.
Culinary Things to Do in Croatia
Check Out Zagreb's Craft Beer Scene
Zagreb might not get as many tourists as those destinations on Croatia's coastline, but if you do have time to spend in the country's capital, it definitely is worth taking a couple of days there. One of the things that Zagreb is famed for is its vibrant nightlife. It has long been known that Croatia produces pretty good wine, but in Zagreb, it is the craft beer scene which is all the rage at the moment. While the scene here may not be as developed as in other European capitals, it is definitely one of the most up-and-coming.
Due to the popularity of the craft beer scene here, a number of craft pubs have popped up all around the old town, so you should have no difficulty finding a great place to have a beer or three. If you do need a bit of help deciding on which pubs to choose, you can opt to take a craft beer tour; as the scene is relatively new, there is not so much of a choice when it comes to choosing your tour at the moment, but you can bet that this will change as the craft beer movement gathers momentum.
Food Tours and Cooking Classes
As well as the burgeoning craft beer scene, Croatia has a strong culinary tradition, so what better way to discover it than to take a food tour while you are in the country. Despite being a relatively small country, Croatia has a wide variety of dishes to try depending on which part of the country you are visiting. Of course, seafood is popular by the sea, with brudet – a fish stew – being a particular favourite of many. Other tasty Croatian dishes include Pag cheese and Croatian cured ham, black risotto, and pasta with truffles. To experience the best food Croatia has to offer, it is highly recommended that you take a food tour.
You should have no problems finding one; as they are so popular with travellers, you should be able to find a company which runs them wherever you travel in Croatia.
In addition to taking a food tour, you could also take a cooking class where you can learn how to make these marvellous dishes yourself, perfect for impressing your friends and family when you get back home. Again, these classes are relatively popular, so you should have no issues finding one in your chosen destination.
Unusual Things to Do in Croatia
Military Tunnels of Vis
Not too long ago, Croatia was part of the larger country of Yugoslavia and for 50 years after the Second World War, the island of Vis was the biggest civil, military and political authority in the whole country. It was during this time that the communist leader of the time, Josip Broz Tito, had some subterranean tunnels and an entire underground military base dug and built in order to protect the island from nuclear attack. The Yugoslav army left the base in 1992, leaving behind the ghostly remains of both the underground labyrinth and those buildings on the surface.
Nowadays, it is possible to explore these tunnels where many military campaigns would have been plotted. If you are a fan of urban exploration, this is one of the most exciting things to do in Croatia.
Museum of Broken Relationships
When it comes to sightseeing in Croatia, most people's thoughts turn to history, archaeology, and architecture. However, there are a number of intriguing and unusual museums to be found, including the Museum of Broken Relationships. Located in Zagreb, the museum is made up of a series of rooms displaying objects which have been donated by people all over the world. Each one has a story attached to it so you can understand how it relates to someone's relationship. The stories range from the funny and light-hearted to the heartbreaking and moving. It is an interesting look at the human condition and how relationships can turn in an instant.
The Museum of Broken Relationships covers a subject which all of us can relate to, therefore making it interesting to everyone and one of the must-see things to do in Croatia.
Multi-Day Things to Do in Croatia
Croatia Tour Packages
Sometimes it is much easier to take a package tour of a destination rather than travel by yourself. After all, with many tour packages, you get your accommodation and transport included, making for a much less stressful and more enjoyable trip. If you think that you would prefer this kind of trip, TripsPoint.com has many options available to you, ranging from five to seven days. If you are looking to see the best of what Croatia has to offer, the Best of Croatia Tour Package, which sees you travel from Zagreb to Dubrovnik via Plitvice Lakes National Park, Zadar, and Split, and even includes a short trip to the outstandingly pretty town of Mostar in Bosnia Herzegovina.
Other fantastic multi-day trips which you can book through TripsPoint.com include the Croatia National Parks Holiday Package and the Best Croatian Island Hopping tour.
Excursions from Croatia
Day Tour from Zagreb to Ljubljana and Bled
If you are on an extended trip to Croatia and fancy taking a day trip, this Day tour to Slovenia – available through TripsPoint.com – is a great choice. From Croatia's capital Zagreb, it takes less than two hours to reach the capital of neighbouring Slovenia, Ljubljana. On this day tour, you will be taken by private vehicle to Ljubljana where you will explore its historical centre and see Ljubljana Castle, the Dragon Bridge, the Central Market, and much more.
After a spot of lunch, you will then head to Bled, the famous lakeside town and discover its castle and beautiful lake. The tour makes a wonderful excursion and is certainly one of the things to do in Croatia that you should consider.
If you have not done so already, Croatia is the perfect place to book your next vacation. It has everything from fascinating historical sights to breathtakingly beautiful natural scenery. And with so many amazing things to do in Croatia, there really is no reason not to check out flight prices right now.