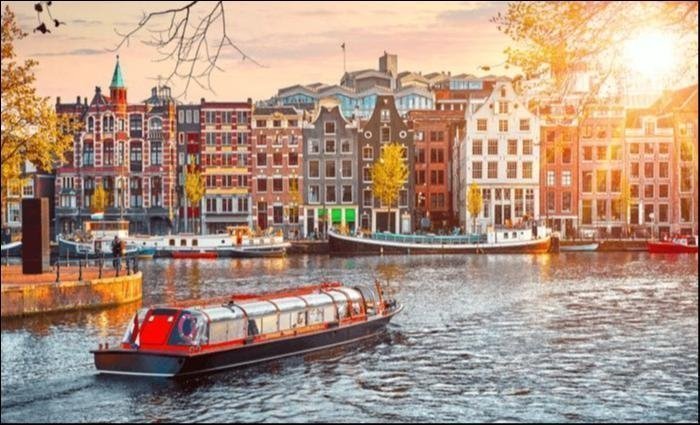 ---
Things to Do in Amsterdam
---
Ali Jennings
-
-
Jan 19, 2020
Amsterdam has long been a favourite of travellers all over the globe. A city of great historical and cultural importance, Amsterdam has lots to offer tourists, from fascinating museums and fun attractions to a variety of shopping and active opportunities. The city also has a reputation for being a party destination, so it is a great place to combine a traditional city break with painting the town red. Most people come to Amsterdam for a weekend, but there is certainly lots here to warrant a stay much longer. It is this huge amount of things to do in Amsterdam that make planning a trip here quite difficult as there is so much to do you will not know where to start. To give you a head start, take a look at this article of things to do in Amsterdam so you can plan that perfect Amsterdam itinerary.
Sightseeing Things to Do in Amsterdam
Royal Palace of Amsterdam
Located on the west side of Dam Square, the Royal Palace of Amsterdam is one of three palaces belonging to the monarchy in the Netherlands and is a stunning example of Dutch Golden Age architecture. It was originally built to be the city hall but was converted into a palace when Louis Napoleon – brother of Napoleon Bonaparte – was made king of Holland in the early 19th century. The palace is still used for official royal engagements, such as receiving heads of state, but it is also open to the public for the majority of the year; just keep an eye on opening days and hours in case it is closed for private events.
It is highly recommended that you take a guided tour of the palace; as well as being able to see some of the exquisite interiors, including that of the Central Hall with its marble floor and map murals, you will get to learn more about the history of this fine building.
Dam Square
The Royal Palace of Amsterdam is only one thing you can see when visiting Dam Square. Next to the Royal Palace is the 15th century Nieuwe Kerk – New Church in English – which, as well as being a beautiful building, hosts a number of art exhibitions throughout the year. Dam Square is also where you can see the National Monument, a huge obelisk surrounded by a number of statues of people and animals which commemorates World War II and Dutch fallen soldiers. The square is also the location of Madame Tussauds, the world-famous waxwork museum.
Shoppers will also find something for them in Dam Square. De Bijenkorf – the Beehive – is considered to be one of the country's best department stores and sells all kinds of products, from designer clothing and accessories to cosmetics and home furnishings. Even if you are not a fan of shopping, a visit here is thought to be one of the quintessential things to do in Amsterdam, so it is worth popping in just for a quick look.
Red Lights District
One of the most famous – or infamous, depending on how you look at it – things to do in Amsterdam is the Red Lights District. Amsterdam, and indeed the Netherlands, is well-known for its relaxed stance on prostitution and it is this area where those travellers looking for these services will go. However, if this sounds off-putting, it should not; it is not as seedy as it sounds and a wander down here can be rather illuminating to this side of Amsterdam culture. The red light district is located in one of the oldest areas of the city and is particularly beautiful with its traditional Dutch architecture and narrow cobbled stone streets. In addition to the shops, cafes, and clubs, you can also find a number of museums down the main strip, including the Museum of Prostitution, the Museum of Eroticism, and the Museum of Cannabis.
If you are concerned about the ethicalness of visiting the red light district, there is no need to worry. Prostitutes in Amsterdam are completely protected by Dutch law, have access to medical care, and their working conditions are regulated and monitored.
Canal Tour
Of course, Amsterdam is well-known for its myriad of canals, making a canal tour one of the quintessential things to do in Amsterdam. Nowadays, these waterways are considered to be a picturesque part of the city, but they were once an important means of transportation back in the 17th century. While the boats which take you up and down the canals now are somewhat different to what people would have travelled on back in the past, it is still a fantastic way to see the city from the water and imagine what life would have been like back then. The tours take in much of the beautiful architecture that fills Amsterdam and make a good introduction if it is your first time to the city. But even if you have been in the city a few days, it is still a relaxing way to spend a couple of hours.
There are many tour operators who offer this kind of trip, so you should have no problems finding one when on your vacation.
Museums in Amsterdam
Anne Frank House
Anne Frank is one of the most recognisable figures of World War II. Born into a Jewish family in Frankfurt am Main in 1929, the Frank family moved to Amsterdam to escape both persecution and the poor economic situation in Germany. As World War II progressed, the Nazis invaded the Netherlands in 1940 and began to introduce laws which made life unbearable for the Jewish community there. When Anne's sister Margot was called up to report to a 'labour camp' in 1942, the family were suspicious and they made the decision to go into hiding. Anne's father, Otto, furnished a hiding place in the annex of his business premises and it was here that they hid for around two years. These two years were documented by Anne in her now world-famous diary, which she had received as a gift for her thirteenth birthday. Unfortunately, the family were exposed and the house was raided by the Nazis, leading to them being sent to concentration camps.
The Anne Frank House stands as a memorial to the girl who lost her life in the Bergen-Belsen concentration camp and whose diary, posthumously published, gave the world a fascinating insight into the mind of a child living in terrible times. Inside you can see the rooms which the Frank family and others hid during the Nazi occupation as well as a sombre exhibition of historical documents, photographs, films, and artefacts which help to recreate the atmosphere of their period spend in hiding. As one of the most famous people in the city's history, the Anne Frank House is definitely one of the must-see things to do in Amsterdam.
Rijksmuseum
One of the most popular things to do in Amsterdam, it is worth visiting the Rijksmuseum just for the building itself. Sitting imposingly on Museumstraat, the Rijksmuseum was designed by renowned Dutch architect P. J. H. Cuypers and was the largest museum in the Netherlands when it opened in 1885. Inside is one of the most important collections in the entire country, amassing over 8,000 objects from art and history. While there is obviously much here to see, there are some highlights which you should definitely make an effort to see.
These include:
The Night Watch, Rembrandt's best-known masterpiece;
The Milkmaid by Vermeer;
A collection of dolls' houses which realistically show 17th century Dutch life.
Van Gogh Museum
Another of the best things to do in Amsterdam, the Van Gogh Museum is located not too far away from the Rijksmuseum and houses the largest collection of works by famous Dutch artist Van Gogh, including over 200 paintings, 500 drawings and 700 letters. Here you can see a number of his greatest works, such as Sunflowers, The Bedroom, The Potato Eaters, and The Yellow House. But a visit here is not just a chance to see his work. The museum is a great place to learn more about Van Gogh's life and how he worked, as well as the opportunity to get an insight into conservation work.
In addition to Van Gogh's works, you can also see a number of paintings by some of his contemporaries, such as Gauguin, Manet, and Monet.
Rembrandt House Museum
Van Gogh is not the only famous Dutch painter to capture the world's heart. Rembrandt, a 17th century visual arts genius, spent around half of his life living in the Dutch capital, residing for a considerable amount of years in a property on Jodenbreestraat. It is this house that has been converted into the Rembrandt House Museum, whose interior has been renovated to look how it did when Rembrandt lived there. Connected to the house is a modern building displaying a number of his works, predominantly etchings but also a collection of items belonging to the artist.
If you are interested in Rembrandt's work or how people lived during the Dutch Golden Age, the Rembrandt House Museum is one of the most fascinating things to do in Amsterdam.
Heineken Experience Amsterdam
If you are a beer lover, a visit to the Heineken Experience should be at the top of your list of things to do in Amsterdam. Housed in a former Heineken factory, the famous beer company decided to turn it into a museum once the building was no longer deemed bug enough for production. Here you will find exhibits on the entire production process, from brewing to bottling, as well as learn about how this brewery turned from a small business to a major world player in the brewing industry.
Once you have finished the self-guided tour – helped by knowledgable members of staff along the way – you can sit on the rooftop terrace and sample one of the breweries many beers.
Fun Things to Do in Amsterdam
Take a Bike Tour
Amsterdam is one of the most bikeable cities in the entire world – in fact, bicycles are more common in the city than cars – so why not get involved in the local culture and get on a saddle yourself? Bike rental shops can be found all around the city and tourist information centres even have Amsterdam by Bike maps so you can find the perfect route.
Just be warned that Amsterdammers take no prisoners when it comes to cycling; they ride fast and confidently, so if you are not used to riding a bike, you may want to get some experience in before taking to Amsterdam's streets on two wheels.
Amsterdam Dungeon
Everyone loves to be scared every now and then, and there is no better place to do this than Amsterdam Dungeon. Part of a large chain of attractions, the Amsterdam Dungeon delves into the city's dark and murky past where you will be entertained by a variety of actors re-enacting eleven scenes from history, including the Plague, medieval torture, and witch burning. These eleven shows are performed in near complete darkness, illuminated only by light effects along with sounds and smells, helping to create an eerie atmosphere and a thrill of the unknown.
If it is the darker side of history which fascinates you, this is one of the best things to do in Amsterdam.
Admire the View from Europe's Highest Swing
Definitely not for the faint of heart, the A'DAM Lookout is an observation deck with a difference. From here you can see Amsterdam's cityscape, including its historic buildings, winding canals, and busy port, but if you really want to get a thrill, take a ride on Over the Edge, Europe's highest swing. You will swing 100 metres above the ground, back and forth over the edge with Amsterdam below your feet. It really is one of the most exciting things to do in Amsterdam and makes a change from the usual observation tower experience.
Even if the swing is not to your liking, you can hang out on the sky deck, have lunch or a couple of drinks in the sky bar and restaurant, and check out the interactive exhibition on Amsterdam's culture and history.
Seek Out the Iamsterdam Letters
One of Amsterdam's most iconic sights, the Iamsterdam letters once roamed the city before settling in Museumsplein. However, the letters were removed in 2018 due to the vast numbers of travellers congregating in what is already a relatively small space. Once again, they are now moving around the city and the surrounding area so it is still possible to get that selfie with them. Currently, there are two sets in the city, one permanent set at Schiphol Airport, and the other temporary one at Sloterplas Lake.
Obviously, the second set moves about, so keep an eye on the Iamsterdam website to see where they are when you travel.
Make Some Furry Friends on the Cat Boat
Of course, being a city of canals, you would expect to find some houseboats in Amsterdam. But did you know that there is a cat sanctuary here? In fact, it is the only floating animal sanctuary in the world! The Cat Boat – De Poezenboot in Dutch – is free to enter, so if you love cats and fancy a break from the bustling city centre, it is a great place to come and just chill out with your new furry friends.
It is open to the public and, despite being free to enter, as it is a charity, donations, however small, are always welcome.
Festivals in Amsterdam
King's Day Amsterdam
The Netherlands may not be known for its festivities, but if you do want to experience what the Dutch get up to on their biggest and most colourful celebration of the year, head to Amsterdam for King's Day. Taking place in April, King's Day is held to celebrate the birthday of the monarch and is a fun, orange-themed spectacular. Festivities include DJs and bands in the streets, a city-wide flea market, and party boats jamming the city's famous canals. To get the most out of your King's Day Amsterdam trip, it is best to book a King's Day Amsterdam Package Tour, such as the one available through TripsPoint.com.
Run by one of Europe's festival specialists, this three-day tour helps you enjoy King's Day without worrying about all the finer details – everything is arranged for you. You will arrive on April 25th and the rest of the day is yours to enjoy; you could take in one of the many excellent museums Amsterdam has to offer, or simply relax in one of the many cafes and bars here. April 26th is known as King's Night and this is the day when the revelries begin. A huge party takes place in the streets of the city for most of the day and night, so you will definitely need the hot breakfast you get served the next morning! April 27th is also full of fun and partying, although on this day it winds down around 7 pm.
Included in the price of this tour are your accommodation in a twin tent, daily breakfast, welcome drinks, guides, access to the street parties, and an Amsterdam pub crawl. There are also some optional extras you can add to your trip, such as entry to a King's Day boat party and a solo tent upgrade. Out of all the festivals in the Netherlands, this is one of the most fun things to do in Amsterdam.
Amsterdam may have a reputation for appealing to party animals and stag and hen parties, but there really is much more to this historic city. Whether you are interested in history and culture, fun activities, or are simply looking for a destination where you can relax, there are many things to do in Amsterdam for you to enjoy.