King's Day Amsterdam
On the tour page:
Duration - 3 days

Multi-Day Tours & Cruises

What's this? After you book the Tour or Activity we send you your Tour Voucher or a Ticket(s).
The Voucher is your booking confirmation and tour providers can accept e-Voucher, printed Voucher or both Voucher types.

e-Voucher means that's enough, if you save received Voucher to your phone and show on the tour beginning.

Printed Voucher means after receiving the Voucher you have to print it and take with you to give it printed to the tour provovider at the tour beginning.

e-Voucher, Printed Voucher

Cancellation Policy Standard Cancellation Policy means that:

If you cancel this tour booking at least 14 days in advance of the scheduled departure, there is no cancellation fee.

If you cancel between 13 and 3 days in advance of the scheduled departure, there is a 50 percent cancellation fee charged from the paid deposit.

If you cancel within 2 day(s) of the scheduled departure, or don't show up at the meeting point on time there is a 100 percent cancellation fee charged from the paid deposit.

Standard

Guide options If the tour is guided here you can see available tour languages. Usually it means along the tour you have a professional tour guide guiding the tour in one or a few specified languages.

Some tours or Activities doesn't require the guide and have a pilots, instructors or simply provider's team member who take care of you along the tour. In this case it's marked as "Not Guided" tour, because it doesn't require a professional tour guide.

Language: English

We meet at the Camping Vliegenbos Amsterdam, Meeuwenlaan 138 Amsterdam, The Netherlands
---
Party on King's night and then do it all over again on King's Day. Cruise the canals on a King's Day boat party and join our pub crawl on the Saturday night. This is the biggest party of the year in the Netherlands, and Stoke will be celebrating it in Amsterdam.
---
Experience King's Day in Amsterdam in full!
Visit the Dutch capital of canals, history, tulips, cannabis and red lights!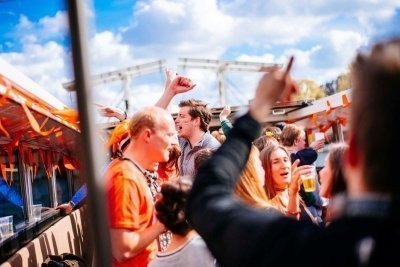 ---
King's Day Amsterdam
KINGS DAY, LET'S DO IT DUTCH STYLE
We do it Dutch in 2020 when we hit up the famous streets, canals, and parks of Amsterdam for the Netherlands biggest party of the year, King's Day. The night of April 26, the celebrations kick off with a massive party in the city with live music playing in all the main squares. The music ends around 11pm and we'd recommend resting up for tomorrow as it's a huge day of celebration.
The usually liberal and loose Dutchies go wild celebrating the King's birthday with DJs and bands in the streets, a city-wide flea market with food and drink stalls will keep you fed and hydrated while the canals are jammed with boats and barges full of revellers ready to party. Make sure to reserve your spot on our King's Day party boat, that's the additional cost of €50.
STAYING WITH US FOR KING'S DAY FESTIVAL
We're Europe's festival specialists, so King's Day was a no-brainer for us. We'll make sure that you're comfortable and that there's plenty of fun going around with like-minded travellers from all over the world. We'll feed you a cooked breakfast every morning that you stay with us, then guide you into the party madness of Amsterdam.
VISIT THE FAMOUS AMSTERDAM WITH US
This city is one of the world's greats and has to be high on the bucket list for any traveller with hedonistic tendencies. The historic city is covered with canals, narrow cobbled streets, Dutch people on bikes, and plenty of parks. Despite all this, most tourists come for the more exciting attractions such as the red light district and the coffee shops that rather than selling coffee, sell the best weed from around the world that you can smoke in a comfortable and safe environment.
When you're staying with us in Amsterdam you can add canal boat parties to your stay, bike tours through the city, a visit to the Anne Frank museum or an Amsterdam pub crawl. Oh, and if you want a real Amsterdam experience, consider checking out one of the infamous sex shows, that are more hilarious than they are erotic. Amsterdam is our kind of town, so why not come and see it with us!
Inclusions:
Twin-share camping accommodation with pre-erected tent, mattress and sleeping bag.
Daily breakfast.
Welcome drinks.
Our guides.
Massive Dutch street parties.
Amsterdam pub crawl.
Exclusions:
King's Day boat party - extra 50€ per person.
Bike tour.
ESN Festival - extra 25€ per person.
Solo tent upgrade - extra 20€ per person.
Unlimited hour of booze, 5€ per day.
Visited Places:
APRIL 25 - 2:00 PM onwards - start the trip with a beer and get ready to celebrate! - You've got the afternoon and night to go out and explore what Amsterdam has to offer… Might we suggest a nice coffee shop, or if you're feeling adventurous, the red light district. APRIL 26 - Have a slow morning, but make sure you've got a drink in your hand. - 10:00 AM onwards - we'll be kick-starting the party. - 6:00 PM - tonight is King's Night, most say even bigger than King's Day, with a massive party in the streets and the main squares of Amsterdam. We will depart camp at 6 pm and the party ends around 11 pm. - 11:00 PM - we'd recommend resting up to prepare yourself for the antics of tomorrow but feel free to keep the party going in town, you will always find a bar where the drinks are flowing. APRIL 27 - Today's the day, King's Day! 9:00 AM - Hot breakfast is served to help nurse the hangover. 10:00 AM - We'll start walking to the ferry where the tour begins. Make sure you are wearing everything orange and you have packed as much booze as you can into your Stoke bag! 11:00 AM - The streets start to come alive with massive parties all over the city and canals. Stick to the streets or jump on one of our private canal boat parties with 3 hours of unlimited alcohol and a DJ providing the beats Make sure to reserve your spot and add it to the boat party after booking! 7:00 PM - The streets begin to wind down but don't worry, the party can continue on the ESN after party boat festival with over 600 people! APRIL 28 - We should have well and truly excelled ourselves at partying Dutch-style and we could possibly be broken. - 9:00 AM - We'll struggle our way through goodbyes over breakfast, but not before we've swapped Facebook and photos and planned our next trip with us! - If you have a full day here still, we can organize optional tours to see the tulips, Bols Museum or the windmills.
Frequently Asked Questions
---
How much time does the King's Day Amsterdam take?
How many days in advance I must book King's Day Amsterdam?