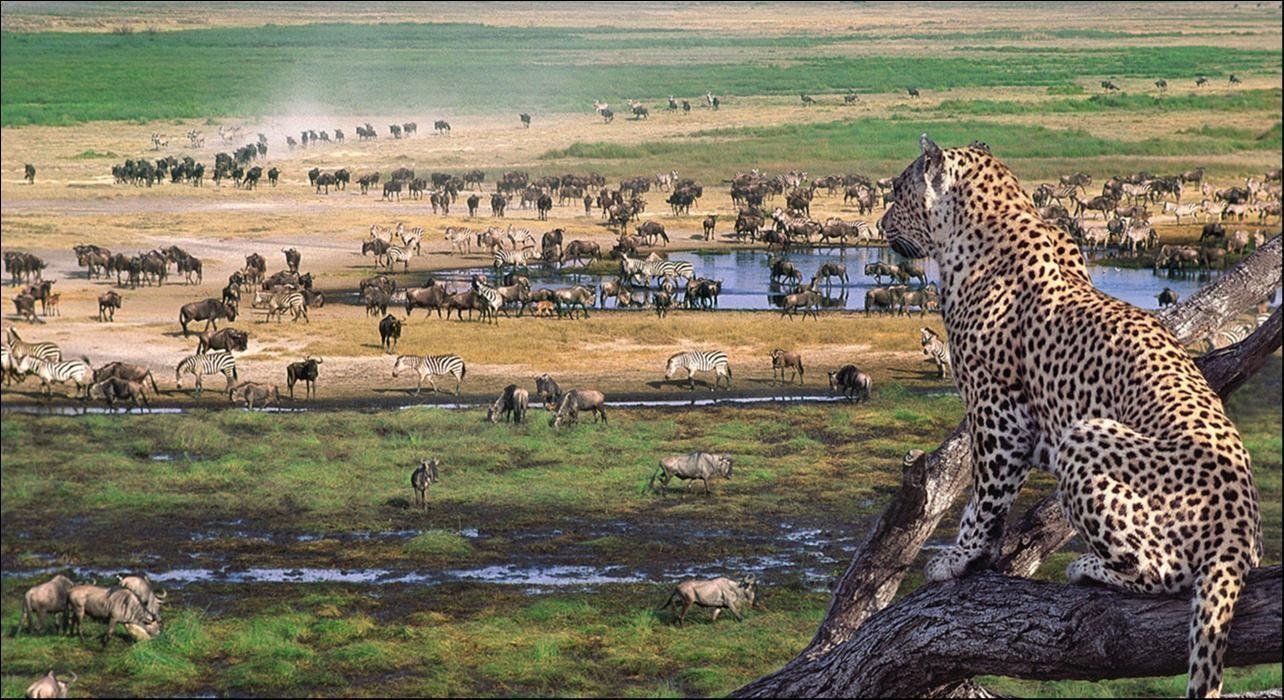 ---
Tanzania Safari Tours Are Easy to Book Now!
---
An African safari is usually high on the travel bucket list of most travellers across the globe and Tanzania definitely tops the list of countries where travellers should consider when booking that dream trip. With such a diverse range of wildlife to spot, amazing landscapes to discover and a fantastic array of trip options to choose from, it is not hard to see why Tanzania safari tours are attracting more and more visitors from around the globe.
Tourist Numbers to Tanzania Steadily Increasing Year on Year
The last ten years have seen a steady increase in the number of foreign visitors making their way to Tanzania. In 2009, this figure was just over 714,000. By 2016 this figure had risen to over 1.2 million tourists. Not only are tourist numbers rising, but the variety of nationalities who choose to come and see Tanzania is also a good mix, with visitors making their way from a myriad of other African nations, such as Kenya, Burundi, Rwanda, South Africa and Uganda, as well as countries much further afield. American tourists top the list of those travelling from outside of Africa, with over 86,000 travellers visiting in 2016; this made them the second most prevalent visitors, beaten only by Tanzania's neighbour Kenya. Other international visitors which topped the visitor rankings in 2016 included India (just under 69,000), the United Kingdom (over 67,000), Germany (over 57,000) and Italy (over 50,000).
Why Have Tourist Numbers to Tanzania Risen?
When booking safari tours, travellers often look for these key ingredients: the animals they can see, the likelihood of these animals being sighted and the type of lodgings the country can offer. When people are researching their safari trip, one country comes up trumps every time when it comes to these three things: Tanzania. Tanzania safari tours offer travellers everything they could wish for from their ideal African safari trip, hence the rise in tourist numbers to Tanzania.
Another reason is the fantastic value for money Tanzania safari tours offer. With trips starting from as little as €625 for a three-day budget safari (as advertised on TripsPoint) including all accommodation, meals and water, camping equipment and park entrances and fees, Tanzania safari tours are now cheaper than ever. Of course, those looking for a little bit more luxury will need to spend more money, but even the luxury trips are of amazing value when you compare the prices with similar trips in other countries.
But the biggest reason why tourist numbers to Tanzania have risen is the ease with which tourists can now book Tanzania safari tours. The 21st century is a great time to be booking holidays, especially Tanzania safari tours, as the internet has opened up the entire market.
Why Are Tanzania Safari Tours So Easy to Book Now?
In the past, making arrangements for safaris was rather complex. In fact, flights between Europe and Tanzania were a long time coming. Prior to this, travellers had to enter Tanzania through a neighbouring country such as Kenya before then making the preparations for their safari trip. Most of the arrangements had to be done independently, but then the arrival of the travel agent changed the market completely. People could simply head to their local travel agents' office, choose their desired trip and they were away.
Nowadays, it has become even simpler to book Tanzania safari tours. While a minority of travellers still prefer to head to a travel agents' office to book their trips, most are making use of the internet to choose their holiday of a lifetime. Booking platformTripsPoint advertise a multitude of trip offers from various tour operators around the globe, giving travellers masses of choice. When travellers have chosen their desired tour package, the process of booking is incredibly easy. They simply fill in the required details, click the 'book now' button and pay their deposit. They are then sent their itinerary by email. It really could not be any easier.
What Makes Tanzania Safari Tours So Special?
There are plenty of reasons why travellers choose to book Tanzania safari tours over others. Almost 38% of the country's land is dedicated to protected areas, one of the biggest percentages in the entire world. There are 16 national parks in total, two of which are classified as UNESCO World Heritage Sites, along with a number of game reserves and conservation areas, giving visitors plenty of opportunities to spot some of the world's greatest wildlife in awe-inspiring surroundings.
The Range of Wildlife Is the Biggest Reason Why Many Head to Tanzania
Of course, the main reason why so many book Tanzania safari tours are the vast array of wildlife which the country and its national parks have to offer. The north of the country is where visitors will find the most well known of Tanzania's wildlife attractions. The Serengeti National Park is where most travellers head-on Tanzania safari tours as it is famous for its annual migration of over 1.5 million white-bearded wildebeest and 250,000 zebra. It is also one of the best places to see the Big Five – the lion, African leopard, African buffalo, Eastern black rhinoceros and African bush elephant – which is the main reason why any traveller sets out on a safari tour in Africa. Visitors also get the chance to spot an abundance of other animals, including cheetah, hyena, various primates, reptiles such as the Nile monitor, Nile crocodile and African python, along with over 500 species of bird.
The Ngorongoro Conservation Area is also extremely popular with tourists booking Tanzania safari tours. The area includes the Ngorongoro Crater, formed from an extinct volcano, which is home to numerous species, including elephants, lions, hippos, antelope, black rhino, wildebeest and zebra. In addition to the wildlife, the Ngorongoro Conservation Area is of great interest to tourists as it is the location of the Olduvai Gorge, which is considered to be the seat of humanity; the earliest known specimens of the specimens belonging to the human genus were discovered here.
While these two areas offer amazing opportunities for wildlife spotting – Ngorongoro Conservation Area especially so, as it has the biggest density of animals, increasing the chances of visitors spotting the more elusive of the wildlife that lives in Tanzania – all of the national parks, game reserves and conservation areas are abundant with magnificent creatures. This means that whichever of the national parks travellers choose for their Tanzania safari tours, it is guaranteed that they will have an amazing experience.
The Guides and Rangers Are of a Phenomenal Standard
One thing that is particularly noted about Tanzania safari tours is the level of expertise and service from the guides and rangers who run them. Guides and Rangers play an incredibly important role in safari adventures. They are there to help visitors get the most out of their safari and to do so, they need to have an exceptional knowledge about the wildlife they are taking travellers out to spots, such as their habits and their favourite places to congregate. On top of this, the guides and rangers also do their best to make their guests feel welcome and attend to their every need; their attentiveness and friendliness are definitely one of the high points of Tanzania safari tours.
Tanzania Safari Tours Are About More Than Just Game Drives
When some people picture Tanzania safari tours, they probably immediately think of driving through the parks in the regular jeeps that they see on TV. However, there is far more to safari trips than just driving around. Tanzania safari tours offer a wide range of activities to add that little extra something to their trip. If visitors want a break from the car, there are a number of ways they can get around and still see a wide variety of wildlife. These include canoe safaris, which offer a unique perspective; walking safaris, which are only available in certain areas of Tanzania because of safety issues; and hot air balloon safaris, the most extravagant of all safaris.
The Range of Accommodation Options Is Unlimited
Gone are the days when people needed to camp or stay in basic lodges when participating in Tanzania safari tours. Of course, these options are still available to those who want them, but over the years the safari industry has developed so much that those wanting more luxury certainly will not be disappointed. Some of the lodges now could only be described as opulent, complete with all the luxuries one may expect to find in a hotel, such as swimming pools, hot tubs and fitness centres. Many of these lodges have been specifically designed to cater to honeymooners and couples, so exceptional standards are to be expected.
While many travellers like to stay in luxury accommodation when on Tanzania safari tours, the travel trend which is popular at the moment is old-style safaris. Reminiscent of the safaris which took place in the 1930s, these are traditional jeep safaris where visitors camp rather than stay in lodges. They also cook and eat their meals outside before sleeping under the stars.
Tanzania Safari Tours Can Easily Be Combined With Other Amazing Attractions and Destinations
One of the best things about Tanzania safari tours – aside from the obvious wildlife watching – is that they can easily be combined with a swathe of amazing attractions and destinations. Tanzania safari tours may be the ultimate dream for many, but that dream can be extended with just a small amount of what Tanzania has to offer. Because Tanzania is not just about safaris; there are so many things in the country that can make that dream trip complete.
The Serengeti National Park and Ngorongoro Conservation Area may be high on the list of every visitor who travels to Tanzania, but they only make up two of a mighty triad – the third one is, of course, Mount Kilimanjaro. Commonly referred to as the 'roof of Africa', Mount Kilimanjaro is the highest peak in Africa and a popular climbing destination, with approximately 75,000 people making the ascent every year. Mount Kilimanjaro can be seen even from Kenya, so it is easy to imagine what an awe-inspiring sight it is to behold. While some may think that climbing the mountain is only for the brave of heart, Mount Kilimanjaro is actually the easiest of the Seven Summits, with no mountaineering equipment or even experience necessary. That is not to say that climbing Mount Kilimanjaro is extremely easy – it certainly does come with some risk, like all mountaineering does – but it is not on the same scale as Mount Everest, for example. Climbing Mount Kilimanjaro takes around five to nine days to reach the top, and those that do are rewarded with the most spectacular views.
Most travellers end their Tanzania safari tours with a visit to the tropical dream island of Zanzibar. Known as 'Spice Island', Zanzibar has been attracting people from around the globe since time immemorial, including the Arabs, the Persians, the Chinese and the Indians, and it is really not hard to understand why. This stunningly beautiful island has some of the most pristine and scenic beaches the world has to offer, sparkling turquoise sea, a great selection of museums and galleries for visitors to enjoy and vibrant island culture.
Zanzibar offers travellers the perfect mix of the tropical island and cultural destination. It is Stone Town, known as the cultural heart of Zanzibar, is an extremely interesting place to visit, with its winding alleyways, colourful bazaars and ancient houses and mosques. Tourists can easily spend many hours wandering the Stone Town's streets and absorbing the amazing atmosphere. However, it is not the only thing to do in Zanzibar. Spice tours are also popular; the spices and cloves grown on the island are of significant wealth to the local people. If that all gets a bit tiring, visitors can also take dhow safari – a safari on a traditional Zanzibari sailboat – as well as take advantage of the many opportunities for water sports, such as scuba diving, sailing and swimming. Many tours operators offer packages which combine Tanzania safari tours with trips to Zanzibar; check TripsPoint to see what is on offer.
For those visitors who are interested in history, there are a number of sites and destinations in Tanzania that would be of great interest. First, on the list are the Kondoa Irangi rock paintings offer an excellent insight into past times. This series of cave paintings show elongated people, animals and hunting scenes, some of which are believed to date back as far as 50,000 years. Isimila Gorge is another Stone Age site. A site of great archaeological importance, ancient tools have been found here dating back between 60,000 to 100,000 years. The site is filled with small canyons and eroded pillars. Visitors can begin a tour here at the museum before strolling through the site to see where archaeological digs have unearthed various Stone Age artefacts. As visitors then approach the massive sandstone pillars, a guide will explain exactly how they were formed.
The list of places to add to Tanzania safari tours is endless; for example, TripsPoint offers day trips such as Chemka hot springs, Lake Chala and Materuni Waterfalls which would complement a safari tour perfectly.
Ecotourism Is at Its Best in Tanzania
Ecotourism is a massive trend in travel right now and Tanzania has also caught on. While Africa may have gained a reputation in the media for poaching, the reality is that African nations truly understand how important their indigenous wildlife is and how it can help their tourism industries to boom. The national parks all have strict regulations on what can and cannot happen within the parks, which is advantageous to the wildlife and the tourists who visit. The animals and birds have their habitat disrupted as little as possible, whereas the tourists know that they can still see these magnificent animals in their natural home while safe in the knowledge that their visit will have an as little ecological impact as possible.
There has also been an increase in travellers wishing to take part in cultural tours of Tanzania, which are often combined with Tanzania safari tours. These tours offer an authentic opportunity to see the cultural sights and traditions of those living in rural areas, often giving visitors the chance to participate in local village life, while at the same time promoting social and environmental responsibility.
Tanzania Safari Tours Offer the Ultimate Experience in Wildlife Tourism
While it has been long known that Tanzania is one of the best destinations worldwide for safari adventures, some people still think that it is difficult to arrange that dream trip. However, with the internet offering all kinds of trips to suit every budget, booking Tanzania safari tours have never been easier. This ease of booking trips combined with the increase in infrastructure and the development of the safari industry has really helped make Tanzania an exciting prospect for those looking to book their perfect safari trip. And with TripsPoint having multitudes of trips to choose from, there really is no surprise why so many people are taking the plunge and heading to this fascinating country.