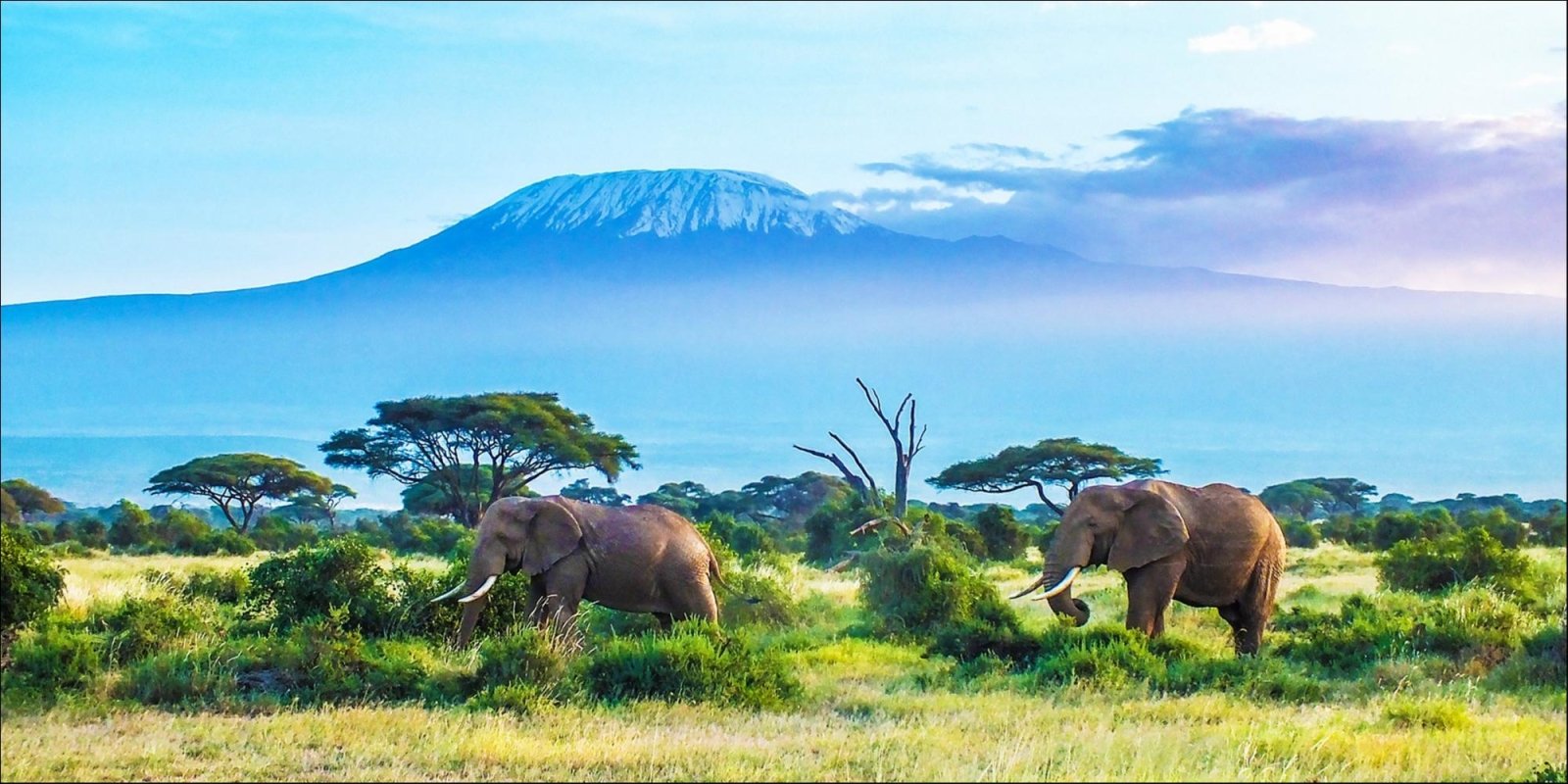 ---
Tanzania Safari Travel Guide
---
Home to three of Africa's seven wonders of the world and the largest concentration and widest diversity of wildlife in Africa, Tanzania makes a fantastic holiday destination for those wanting to experience the best of what Africa has to offer. In just one country you have majestic wildlife, long sandy beaches, chaotic markets, fascinating historical sites, awe-inspiring nature and a vast array of exciting and fun activities to enjoy.
Where to go in Tanzania
Dar es Salaam
Although most people do not tend to stay too long in Dar es Salaam, choosing instead to head straight for their Tanzania safari or to the tropical island of Zanzibar, Tanzania's largest city is also definitely worth a visit. Once a small fishing village, Dar es Salaam has grown into the country's financial and political centre, and there is plenty to captivate visitors here for weeks. Here you have a wonderful mix of harbour, beach and historic buildings, with influences taken from African, South Asian and Muslim cultures. Due to the city's historical and cultural significance, Dar es Salaam has plenty of attractions, sights and museums to keep you occupied, such as the National Museum, the Makumbusho Village Museum, St. Joseph's Cathedral, and the Askari Monument.
It is also one of the country's biggest culinary hubs, with a wide variety of restaurants serving different world cuisine to suit every palate. For those looking for culture, there are always events and festivals taking place, including film festivals, dance and music performances and gallery openings. If you need a break from sightseeing and event-going, Dar es Salaam has long stretches of beaches for you to spend time sunbathing or doing water sports.
Arusha
Regarded as the gateway to the Northern Safari Circuit, Arusha is situated at the base of Mount Meru and, due to its altitude, is a lush, green and pleasant city to visit. Located exactly halfway between Cairo and Cape Town, Arusha is the middle of the Old British Empire, with this exact point marked by a monumental clock tower. One of the best things about Arusha is its vibrant cafe culture; there are a number of excellent coffee houses in the city itself, but if you are a real coffee enthusiast, head out to the outskirts where you can take a tour of one of the nearby plantations.
There is a really cool food market here, with an array of spices, nuts, fruit and coffee to choose from. Arusha is also where you will find the Tanzanite Experience, the only museum dedicated to the birthstone of December, Tanzanite, which is mined in Tanzania (hence the name).
Zanzibar
An island paradise off the coast of Tanzania, Zanzibar is the ideal place if you are looking for a tropical dream destination. Zanzibar offers pristine beaches, sparkling turquoise sea and a chilled-out coastal vibe. But beaches are not the only reason to visit Zanzibar. The inner city – known as Stone Town – is a UNESCO World Heritage Site and is one of the most unique cities in the world. You can spend hours – and even days – wandering the town's maze-like streets and alleyways. There are a number of interesting points of interest in Stone Town; highly recommended are the former Slave Market and the Old Fort.
Other cool things to do while visiting Zanzibar are Jozani Forest, the last indigenous forest left on Zanzibar, Prison Island, where you can learn about the island's dark past as a slave detention centre and then a camp where people with deadly diseases were sent, and a spice tour, giving you an insight into Zanzibar's spice industry.
Dodoma
While perhaps not as vibrant as Dar es Salaam, the capital city of Dodoma certainly has its own charms. It is the centre of the Tanzanian wine-growing industry; although Tanzanian wine does not have too much recognition on the international stage, the country is the second largest producer of wine in Sub-Saharan Africa and there are plenty of places to sample some.
There are also some cool places of interest to visit while here, such as the Museum of Geosciences, where you can even touch the archaeological artefacts in exchange for a small fee, and the Bunge, the seat of the Tanzanian parliament. Located ten kilometres out of Dodoma are the Kondoa Irangi paintings, a series of paintings estimated to be around 50,000 years old depicting elongated people, animals and hunting scenes, which make a great day out from the city. Make sure to take a hike up Lion Rock while you are in Dodoma: although it is an exhausting climb up, you will be rewarded with fantastic views over the entire city.
Things to do - Tanzania Safari definitely must be Nr1 on your list
Tanzania Safari
This is the main reason why people travel to the country – Tanzania safari. There are several national parks in the country, and Tanzania safari can generally be split into two circuits: the Northern Circuit, which includes, among others, the Serengeti, Ngorongoro, Taranyara and Manyara, and the Southern Circuit, which includes Mikumi, Selous and Ruaha. Selous Game Reserve is the largest one in the world and is home to more than 2,000 rhinos, 120,000 elephants and 160,000 buffalo, as well as having Africa's biggest concentration of crocodiles and hippos. If you are looking to spot the Big Five, head to Ngorongoro, the world's largest intact crater; in the base of the crater you will find rivers, lakes, mountains, swamps and woodland, all of them filled with an abundance of wildlife. If you can, it is worth trying to coincide your Tanzania safari trip with the wildebeest migration in the Serengeti National Park; this magnificent event has been classed as one of the Seven Natural Wonders of the World and is an amazing sight to see as the wildebeest gallop across the open plains, joined by some 200,000 zebras and 300,000 gazelles.
Safari types range from the budget camping and self-catering safaris to those with luxury lodges and tents which include all your meals. Although in some parks it is possible to rent your own 4x4 and do a self-safari, others require you to have a guide.
There are many benefits to using a guide rather than doing it yourself; the vehicles used on guided safari tours are open-top, making it easier to spot the wildlife you have gone on your Tanzania safari to see, plus the guides also know the parks extremely well, meaning your chances of seeing those elusive creatures such as lions and leopards increase exponentially. There are hundreds of Tanzania safari tours to choose from; you can book excellent multi-day safari tours in Tanzania through TripsPoint.
Hiking and trekking in Tanzania
Tanzania is home to Africa's highest mountain, Mount Kilimanjaro, one of the country's most popular tourist attractions. Standing at almost 6,000 metres above sea level, Kilimanjaro is both an awe-inspiring sight and a challenge for those hikers looking to ascend one of the world's highest peaks.
However, Mount Kilimanjaro is not just for the most experienced hikers and trekkers. Due to its size, there are many different trails you can follow, from the easy to the super difficult. If you are looking for a challenging Mount Kilimanjaro climb, check out the Kilimanjaro Rongai Route tour through TripsPoint. Looking for the easiest way to the peak of Kilimanjaro, look for the Kilimanjaro Trek via Machame Route.
Although most hikers associate trekking in Tanzania with Mount Kilimanjaro, there are plenty of other mountains offering a range of difficulty levels. Ngorongoro National Park has a few peaks, such as Olmoti Crater, Empakai Crater and Ol Doinyo Lengai, and if you are visiting Arusha, the country's second highest peak, Mount Meru, is just as much of a challenge for experienced hikers as Mount Kilimanjaro.
Water sports
Being an island, Zanzibar offers many opportunities to participate in water sports. Scuba diving and snorkelling are particularly popular, especially in Paje, which has various dive sites suitable for all levels of divers.
Scuba diving and snorkelling in Zanzibar give you the chance to swim amongst some of the world's most wonderful marine life, including snappers, barracudas, rays, moray eels, groupers, and crustaceans. You might even spot whale sharks, which congregate off the coastline annually. Scuba diving is also possible in Dar es Salaam.
But water sports in Tanzania are not just restricted to scuba diving. Surfing, kayaking, dhow cruises, windsurfing, parasailing, jet skiing and kitesurfing are all possible when travelling to Tanzania. If you are interested in relaxing in a hot spring while surrounded by stunning nature, consider taking a trip to Chemka Hot Springs; just a one- to two-hour drive from Moshi, a tour is available through TripsPoint.
Beaches
Tanzania has some of the most unspoilt beaches in the entire world; it really is no exaggeration that the country is a tropical paradise when it comes to its coastline.
As was mentioned previously, you can find beautiful beaches in Dar es Salaam and Zanzibar, but if you want to go somewhere a little bit different and less crowded, there are many options to choose from, such as Prison Island, Pemba Island, Sange Beach and Pangani.
Ethno- and cultural tours
As Tanzania is home to over 150 ethnic groups, it makes a fantastic destination for ethno- and cultural tours. Probably the most well-known of the local tribes is the Maasai, the nomadic people who live in the Great Rift Valley, easily recognisable for their distinctive red robes and beaded jewellery.
The Maasai live a traditional lifestyle which is centuries old; they do not have electricity, mobile phones and internet, and their culture centres around their cattle.
It is possible to take tours to visit the Maasai and experience their fascinating culture; they warmly welcome all visitors and are keen to share their ways of life.
Other tribes you can visit include the Hadzabe and the Datoga, from whom you can learn about different aspects of their lives, such as traditional dancing, the art of jewellery-making, and food preparation.
Where to stay in Tanzania
In Tanzania there are many accommodation options available to you, from budget campsites to luxury hotels. The major tourist cities of Dar es Salaam and Arusha have the widest range of options; you can choose between cheap hostels all the way up to 5-star hotels. If you prefer to have your own place when staying in one of Tanzania's cities, it is very easy to find a decently-priced apartment or other self-catering accommodation.
When on a Tanzania safari, you can take your pick from basic campsites to high-end lodges and 'glamping'-style tents.
Rather than arrange your own accommodation, you may want to consider booking a tour through TripsPoint; as well as your activities, the tour operator will sort out where you will sleep as part of your package.
How to get around Tanzania
Bus is the most common way of getting around Tanzania. They are cheap and offer many services, with some long-distance buses even connecting Dar es Salaam with Nairobi and Mombasa in Kenya. Although many of the buses can be quite old, there are some companies which have reasonably comfortable and efficient vehicles, some of which even have air conditioning.
If you can afford it, plane is a good way of getting around the country. There are a number of airlines which operate flights between Dar es Salaam, Zanzibar, Kilimanjaro, Arusha, and several airstrips in the national parks, plus many other destinations. It is a good idea not to schedule any domestic flights too close to the planned departure of your international flight in case of delays or cancellations.
There are two railways which cross Tanzania, but travelling by train is really only recommended for the foolhardy. Although they offer clean bedding and dining cars, the trains themselves tend to be very old and dirty, and thefts are common; you are even given a piece of wood to jam into the doors to prevent anyone coming in who should not. Travelling by bus is by far the better option, but if you insist on travelling by train, make sure you purchase a first class ticket, do not let your belongings out of your sight, and lock and secure your door.
Boat is obviously a good choice if you are travelling to Zanzibar from the mainland. The journey should take between 90 minutes to two hours and is relatively inexpensive.
If you are nervous about travelling around the different areas of Tanzania by yourself, joining a private tour is a good way of getting around this. Here at TripsPoint, we offer many private tours through local operators which include your transportation, making getting around easier and more comfortable.
Although most people come here for Tanzania safari, and this is certainly the one of the main reasons to come, the country has so much more to offer. From intriguing historical sights and indigenous tribes to awe-inspiring peaks and stunning beaches, there is really no reason not to book that holiday to Tanzania right now.