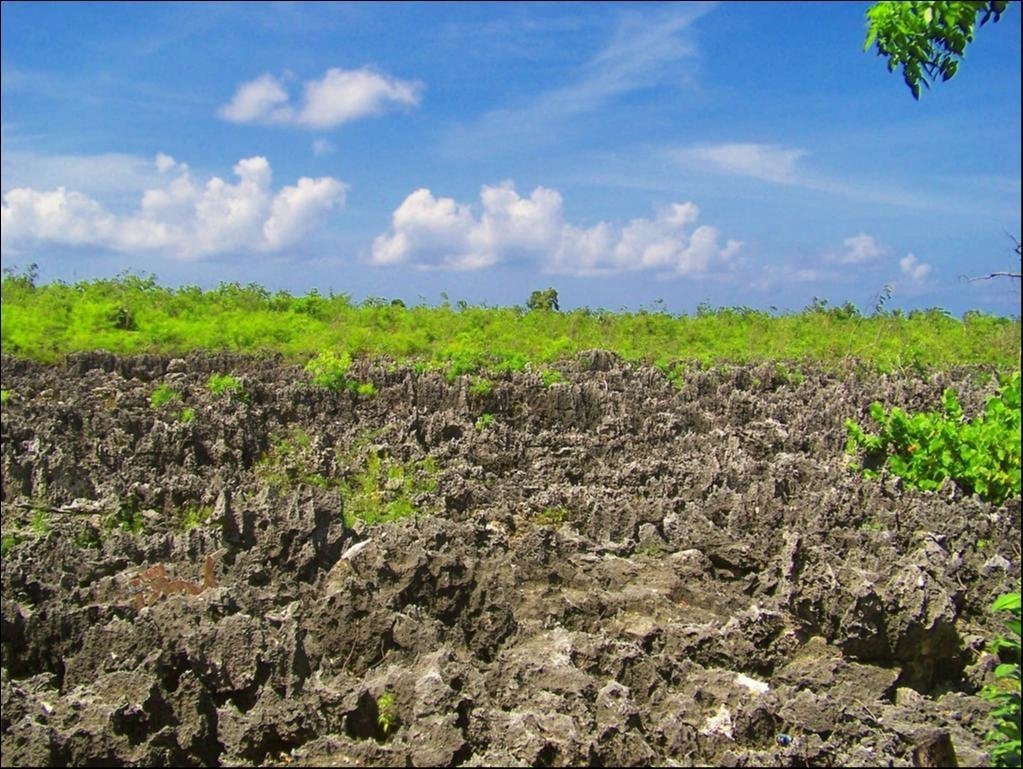 ---
Can You Be Happy in Hell? Yes, If It Is Hell Grand Cayman!
---
Ali Jennings
-
-
Sep 21, 2019
Saying that you are going to visit Hell may seem like a strange thing, but it is absolutely possible if you head off on a trip to the Cayman Islands. If visiting Hell seems like quite a terrifying thing to do, do not be scared! Hell Grand Cayman is one of the island's most visited tourist attractions and is high on the list of being one of the most intriguing and fascinating geological sites in the world. So if you want to show off to your friends about how you have been to Hell and back, you should definitely head to Hell Grand Cayman.
What is Hell Grand Cayman?
Formed over 24 million years, Hell Grand Cayman is a geological wonder to behold. About the size of a half a football field, the site features a large number of short, black limestone formations. These formations are characterized by taking the form of pinnacles which are both jagged and spongy and covered in black limestone. The scientific name given to this kind of formation is phytokarst, which occurs when filamentous algae interact with limestone. The limestone found on the Cayman Islands is known as the iron-shore foundation, a unique feature of the islands which helps to make Hell Grand Cayman so unusual.
To understand more, let us look into the science. To begin with, we should understand the term karst, which is a form of topography formed by the dissolution of rocks with soluble features, including limestone and gypsum. Karst is characterized by specific geological features such as underground drainage systems with caves and sinkholes. Phytokarst is a particular form of karst terrain which results from an unusual kind of biological erosion. Filamentous algae make their way into limestone and react to produce the kind of jagged, black-coated pinnacles we see at Hell Grand Cayman. Within the pinnacles, there is an intricate dissection which seems not to have any gravitational orientation whatsoever. When you consider other kinds of karst – such as rainfall-produced and littoral – which are characterized by vertical flute-like formations or flat-bottomed pans, you can see that the formations at Hell Grand Cayman are very unique indeed.
The special kind of iron-shore karst which we find at Hell Grand Cayman is unusual in both its origin and texture. If we consider its origin, the limestone rock is slowly dissolved by algae, bacteria, and fungi, which collectively are often called karst. These incredibly tiny organisms make their way into the rock and slowly dissolve the calcite crystals; because they are so much denser within a couple of centimeters at the surface, they create the black color that we see on the pinnacles at Hell Grand Cayman. Taking texture into account, Hell Grand Cayman is made of hundred of pointed pinnacles, jagged ridges and a random sponge-work of pits, which has formed just above the tide line. If you were to break a piece off – and of course, we do not recommend this! - you would see that the black that you see on the surface would fade down to grey in the center.
The black spiky rock formations are in stark contrast with the landscape surrounding them. All around Hell is lush green vegetation and then you have the brilliant blue sky above, creating a beautiful scene of different colors.
No one really knows why Hell Grand Cayman has developed and formed the way it has. It is possible that the proximity to the ocean is a key factor in the rock's formation. What is obvious is that being so close to water is what sustains the algae, which needs moisture for its survival.
If you travel around the Caribbean, wherever there is a rocky shoreline made of limestone, you can almost be certain that biokarst may be well-developed there. However, there is nowhere else in the Caribbean – or indeed the world – where biokarst and limestone have come together to form something as magnificent as Hell Grand Cayman.
How did Hell Grand Cayman get its name?
There are many theories as to how Hell Grand Cayman got its name. Most of these theories are based around the fact that this is what many of the islanders consider Hell to look like. Another theory is that if a coin is thrown into the formation, it echoes through the limestone valleys and peaks, as though it were making its way all the way down to Hell itself. One more theory concerns British general hunting in the area, who, when he missed a shot he had taken at a bird, exclaimed 'Oh, Hell!'. However the formations got their name, it certainly stuck in the minds of the locals, and now they take great advantage of this to get tourists to visit Hell Grand Cayman.
What can I do at Hell Grand Cayman?
One of the main things to remember about visiting Hell Grand Cayman is that you cannot walk on the limestone formations. However, you can admire these wonderful geological marvels from a number of viewing platforms dotted around the site. A fun thing to do while you are at the site is to see if you can spot the carved figures depicting devils which are dotted around the limestone landscape.
While the formations are a wonder themselves, one of the main reasons why people head to Hell Grand Cayman is to visit the bright red post office next to the geological site. Here you can send postcards to your friends and family. The best part? The postcards will be stamped with the postmark 'Hell'.
As well as the post office, there are also three gift shops where you can buy souvenirs of your time in Hell. The souvenirs you can buy include hot sauce, sweets, and Caribbean spices among many others. You can even get T-shirts which say 'I've been to Hell and back!'. You will also see men dressed as the Devil himself strolling around the stores who greet visitors with expressions such as 'Where the Hell are you from?' and 'How the Hell are you?'. If you fancy a drink, you can head to Club Inferno, the area's local watering hole.
There are other stores in the area, and if you visit these you will notice various Biblical quotations on their sides. This is because, to the citizens of the Cayman Islands, religion is of high importance and the culture and society is rather pious and conservative. So the Biblical quotes serve as some form of protection against the nearby landmark.
How do I get to Hell Grand Cayman?
Hell Grand Cayman is located in West Bay close to the extremely popular Seven Mile Beach, about a 20-minute drive from the capital of George Town or 25 minutes from Grand Cayman port. The island has a really efficient public minibus service which can take you to all points of the island. You can either jump on at the bus depot in George Town or you can flag them down at the side of the road. There are various colored lines, and to get to Hell you will need to get either Route 1, which is colored yellow or Route 2, which is lime green. When you get on, just tell the driver where you want to go and they will drop you off there; you pay the driver once you get off the bus. To head back, you will need to get the minibus from Hell Service Station.
If you have rented a hire car as part of your trip to Grand Cayman, then, of course, this is a really convenient way of getting to Hell Grand Cayman. Taxis are also a viable option. Alternatively, you could opt to take a Grand Cayman Island Tour of the private West of Grand Cayman Island Tour which includes a visit to Hell Grand Cayman. You can book such tours through TripsPoint.com
Do I have to pay to visit Hell Grand Cayman?
Aside from the amazing views, you can get at Hell Grand Cayman, the next best thing is the cost – the site is completely free to enter! If you want to send a postcard from the post office, it costs around $2 for a postcard; postage will depend on where you are sending the postcards to. The postcard stamp which states 'Hell' is free of charge.
When can I visit Hell Grand Cayman?
The great thing about Hell Grand Cayman is that it is open all year round and is accessible 24 hours a day, seven days a week. Visiting at night can be quite a spooky experience! However, if you also want to visit the post office and gift shops, they are open between 8 am and 5 pm. The bar Club Inferno is open every day of the week except, surprisingly – or perhaps aptly – on Sundays.
When is the best time to visit Hell Grand Cayman?
As was mentioned previously, Hell Grand Cayman is an incredibly popular tourist attraction and receives lots of visitors daily. These visitors are not just tourists who are staying on the islands; there are also many cruise ship guests who make the stop at Grand Cayman who also make their way to Hell. During the daytime, there will usually be plenty of people around, although the cruise ship passengers will usually only stay for a number of minutes before climbing back on their buses and heading off to their next destination on Grand Cayman. Therefore, there should be breaks in the number of people who are at Hell Grand Cayman at any one point. If you really want to miss the crowds, you can opt to visit either very early in the morning or later in the evening, when the cruise passengers have either not arrived or have made their way back onto their ships.
How long should I spend at Hell Grand Cayman?
The vast majority of visitors spend 30 minutes to an hour at Hell Grand Cayman. This includes a visit to the rock formations where you can take amazing photos of this unique topography, a visit to the post office to send off your postcards, and then a look around the various gift shops. If you want to have a drink at Club Inferno, you may wish to spend a little bit more time there.
Is there anything else in the area that I can visit?
A visit to Hell Grand Cayman gives you a great opportunity to explore West Bay. This area of Grand Cayman is very much a local part of the island and a visit here can give tourists an insight into the local way of life. West Bay Beach is also worth a visit. It is one of the quieter beaches, and you may even strike lucky and have this beautiful stretch of white sand completely to yourself. There is even a small reef here where you can observe crabs, urchins, eels, nurse sharks and lots of species of fish. It is definitely a good idea to stick around for sunset at West Bay Beach as it really is one of the most stunning views on the entire island. Cemetery Beach is also located nearby and offers another sedate beach experience. Around both beaches you will find lots of restaurants, bars, shops, and entertainment options, making them the perfect place to spend a day after a visit to Hell Grand Cayman.
If West Bay Beach and Cemetery Beach are too quiet for you, you can instead go to the island's most popular beach, Seven Mile Beach, which is located not too far from Hell Grand Cayman. Known to be one of the best and most beautiful beaches in the whole of the Caribbean, this beach offers a wide variety of activities, such as snorkeling, swimming, scuba diving, and parasailing, as well as being home to lots of bars, hotels, and restaurants.
In terms of attractions and other things to do, you will find plenty in the area surrounding Hell Grand Cayman. Hell is located very close to another of Grand Cayman's most popular attractions, the Cayman Turtle Centre. The island's biggest land-based attraction, the Cayman Turtle Centre offers tourists the chance to swim with these wonderful creatures in the turtle lagoon. Other things to see and do at the centre include: the breeding pond, where the green sea turtles are taken to begin the breeding process; the turtle touch tanks, where you can handle the yearling turtles; Smiley, the American saltwater crocodile; and Breaker's Lagoon, the largest swimming pool on the island. There are also a butterfly garden and a free-flight aviary, along with a recreation of a traditional Cayman Street.
If you are into diving, one of the Cayman Islands' most famous shipwrecks lies off the coast of Seven Mile Beach, not too far from West Bay. Once serving in the US army as a submarine rescue vessel, the USS Kittiwake was scuttled to create an artificial reef in 2011. The USS Kittiwake makes a great spot for divers as the site offers plenty for both the beginner and the more experienced. The vessel sits in the shallow waters only 800 yards away from the shore, and the wreck's depth ranges from 20 feet to 64 feet. Open-water divers can explore the first three decks of the wreck, whereas more advanced divers are able to enter all five decks. A pretty cool thing to do at the wreck is to pose at the captain's wheel. As well as the wreck, you can see all kinds of marine life here, such as barracuda, turtles, grouper, eels, and crabs. If you have never dived before, Grand Cayman and the USS Kittiwake is a fantastic place to learn.
To the east of Hell Grand Canyon is Barker's National Park, another spot where you can see stunning landscapes. This beautiful, secluded area features long pristine beaches and green mangrove trees and is home to a wide variety of birds, so it is an ideal spot for bird enthusiasts.
For those who are fans of the wonderful dolphin, there are two attractions close to Hell Grand Cayman where you can swim with these majestic creatures. Dolphin Cove and Dolphin Discovery both offer programs suitable for all ages where visitors can get up-close and personal to the dolphins. As well as swimming with them, you get the chance to learn more about these wonderful marine animals, including their anatomy, how they interact with each other, and what they eat. And who knows, you may even get kisses, hugs, belly rides and foot pushes from them.
Hell Grand Cayman really is one of the most unique tourist attractions in the entire world. While it may not be a big enough sight to keep you occupied for the whole day, it is a light-hearted, fun visit to a site of immense natural beauty which makes a really nice addition to all the other activities and attractions Grand Cayman has to offer. Plus, what could make your vacation to the Cayman Islands more complete than being able to say to your friends and family back home that you have been to Hell and back?