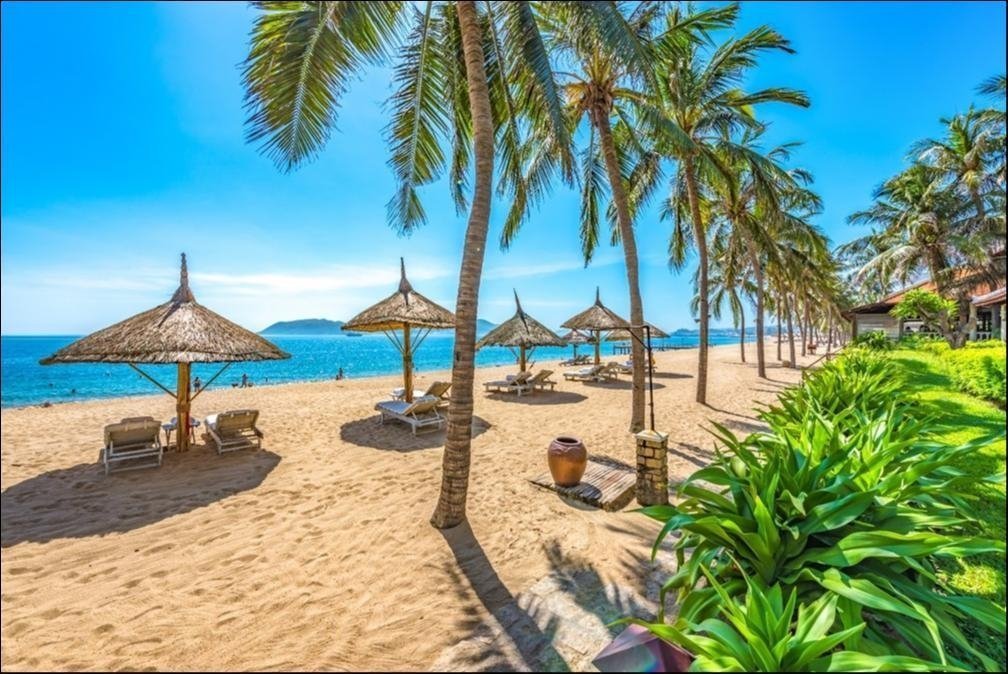 ---
Things to Do in Vietnam - a South-East Asian Paradise
---
One of South-East Asia's most popular destinations, Vietnam has been a haven for backpackers and luxury travellers alike for many years, for very good reason. Vietnam is one of those countries that seemingly has it all: picturesque nature, a rich history with plenty of historical sites to explore, thrilling activities on offer, and arguably one of the best cuisines you will ever taste. While it may look deceptively small on a map, Vietnam is a pretty large country and you could easily spend a month or two here and not see everything. So if you are planning a trip to Vietnam and do not know where to start, take a look at this guide to things to do in Vietnam so you know all about the fabulous things you can get up to there.
Sightseeing Things to Do in Vietnam
Hanoi City Tour
As the capital of Vietnam, Hanoi has plenty to offer visitors. It is a charming city whose atmosphere harks back to its colonial days, and there is certainly much to discover here. To make the most of your stay here and to ensure you see everything of value, consider taking this Hanoi City Tour which you can book through TripsPoint.com. You will be joined by an experienced guide who will not only take you to the main attractions, but also the hidden-away places that tourists rarely venture to.
You will start your day by visiting the Ho Chi Minh Mausoleum and Museum. Ho Chi Minh was a 20th century Vietnamese revolutionary and politician, and was one of the key figures in Vietnam gaining its independence, so he is held in high regard throughout the country. The man himself is entombed in the mausoleum, embalmed in the same way as Lenin – funnily enough, against Minh's wishes – and it is possible to view his body as well as marvel at the magnificent architecture of the exterior. The museum itself is a fascinating insight into the life and career of this major Vietnamese figure.
Next on your itinerary is Ho Chi Minh's former residence, which is located quite close to the mausoleum and museum, followed by the One Pillar Pagoda, an extremely important temple in Hanoi. Later on, you will head to the Literature Temple and Quoc Tu Giam, the first high school to be founded in Vietnam in 1070. Here you will stroll its beautiful gardens and ancient buildings, which will make you feel like you have been transported back in time. After visiting all these places, you will be ready for some lunch, so your guide will take you to a local restaurant where you can sample all kinds of delicious traditional dishes.
After lunch, you will start your afternoon at the Vietnam Museum of Ethnology where you can see exhibits on the 54 different ethnic groups in the country before heading over to Hoan Kiem Lake, the perfect place to enjoy some peace and quiet away from the busyness of the urban parts of the city. Your final destination of the day will be Ngoc Son Temple, another of the most important temples in Hanoi.
The tour takes around eight hours and includes pick up and drop off at your hotel in Hanoi's old quarter, as well as your entry tickets and lunch. In terms of sightseeing, this is certainly one of the things to do in Vietnam that should definitely be on your itinerary.
Hue Private City Tour
Hue may not get as many tourists as other Vietnam destinations, but it is definitely worth visiting, especially if you love history. Before the French colonised Vietnam, Hue was the capital and it is still possible to see the grand imperial buildings from days gone by. However, it is not just in the city where you can see ancient treasures; the countryside surrounding Hue also has its fair share of gems. The best way of exploring the city and area is to take this Hue Private City Tour as you will get to experience the best of all the sights plus learn something about the local culture.
First, you will make your way to Dong Ba Market, where you can see local life first-hand, before setting off by boat to Thien Mu Pagoda. Standing on the banks of the Perfume River, this temple is of huge historical significance and also offers amazing views of the surrounding scenery. Then you will head back to Hue to continue your sightseeing.
Your next stop is one of Hue's most famous sights, the Imperial City. From the early 19th century to Vietnam's forming of a communist government in 1945, the Imperial City is where the Nguyen dynasty lived and ruled from. Here you will find a sprawling complex of buildings, pavilions, walls, gates, and gardens, and although it is just a shadow of its former impressive self, it is still a stunning sight to walk around. While you are here, you will also visit the Museum of Royal Antiquities, which is included in the ticket price of the Imperial City. Here you can see all kinds of artefacts relating to the Nguyen dynasty.
After a stop for lunch, you will continue your tour to the Minh Mang Tomb. This beautiful temple is the resting place of one of the Nguyen dynasty's most important and staunchest Confucians, and is completely unique in design compared with other building complexes of its time in the city. You will then visit the final destination on your private tour, the Khai Dinh Tomb. Located in the nearby Chau Chu Mountain, the tomb houses the body of Emperor Khai Dinh and is a stunning blend of western and eastern architecture.
As this is a private tour, everything is included in the price, from your entrance fees and transportation to lunch and drinking water.
DMZ Tour from Hue
While in Hue, if you want to explore a completely different side to Vietnam's history, you should take this DMZ – demilitarised zone – tour. The tour will take you to the former border between North and South Vietnam, a thin stretch of land running from the Laos border to the shore, and you will visit lot of historical sites, monuments and relics.
You will start your day driving to the town of Dong, stopping at the Dakrong Bridge on the way. You also have the option of meeting the Pacoh people, a local ethnic minority group, and seeing the Khe Sanh Combat Base. After lunch, you will then head to numerous war sites, including Hien Luong Bridge, Ben Hai River, Doc Mieu Base, Vinh Moc Tunnels, and the Tunnel Museum. Your guide and driver will then drop you back in Hue. If you are into modern history, this is one of the essential things to do in Vietnam.
Saigon Interactive City Tour
One of the coolest things to do in Vietnam, the Saigon Interactive city tour is perfect for those who want to add an extra element to their sightseeing. A cross between an investigation, city tour, and treasure hunt, this interactive city tour will see you attempt to solve a murder which has taken place in Cholon, one of the most popular quarters in Ho Chi Minh city. Rather than be led by a guide, this tour has been specifically designed for independent travellers to explore the city from a different perspective.
Your tour will start at Dr. Lam's apartment, who has just been murdered. His apartment is located in an old-style block, the kind of which travellers rarely get the chance to see, so it is a great way for you to see typical Vietnamese life. Your host will explain the concept of the game and give you general information about the area so you have everything you need to begin. After examining the crime scene and gathering your first clues, you will be given an illustrated map as well as a simple mobile phone so you can get into contact with your host in case you need a few extra clues, and then you will head into Cholon. You will race through the streets of the neighbourhood, visiting old traditional medicine shops and ancient temples, relying purely on your intuition to solve the crime. Along the way, you will meet actors who will give you advice to help you.
Explore Hoi An's Ancient Town
Hoi An is one of Vietnam's best-loved destinations and while there are many reasons why so many visitors flock here, it is the ancient town which is the biggest attraction. A UNESCO World Heritage Site since 1999, the incredibly well-preserved old town looks exactly as it did 200 years ago, and there is so much to see here you could easily wander its streets for days.
As Hoi An is a port city and was extremely important as such from the 15th to 19 century, the city has always welcomed a wide variety of nationalities, and this is evident from the architectural styles you see as you make your way around the old town. Here you can see influences from Vietnam, China, Japan, and even France. The main highlight is the Japanese Covered Bridge, built in the 16th century to link the Japanese community to the Chinese quarter. There are also a number of museums of interest here, including Hoi An Museum and the Museum of Folk Culture. However, the greatest joy is just strolling its street and soaking up the atmosphere. Do not forget to head down to the river after dark to see all the colourful lanterns. You can explore Hoi An in many ways. with a day tours ot tour packages like the Da Nang tour package.
Active Things to Do in Vietnam
Private Snorkelling Tour at Hon Mun Island
If you are into water sports, this private snorkelling tour of Hon Mun Island is definitely one of the most fabulous things to do in Vietnam. Hon Mun Island is considered to be one of the most beautiful islands in Nha Trang Bay and offers plentiful snorkelling opportunities.
You will visit two snorkelling sites where you can see colourful coral reefs and a multitude of fish before having lunch on a private mini beach, where you can relax and swim.
Hue Adventure Tour with Hot Springs, Zip Line and High Wire
For those of you who want to add a little bit of excitement to all the sightseeing you will be doing in Hue, why not opt to take this Hue Adventure Tour with Hot Springs, Zip Line and High Wire. Zip lining has become an incredibly popular activity in recent years, with many people choosing to whiz down these lines for a thrilling experience. The high wire is an equally fun activity; on this you will have to overcome various obstacles, such as walking on wooden planks, swinging on ropes, and moving along a wire rope bridge, in order to finish the course. Of course, all that energetic activity will mean you need to relax a while afterwards, and the best way of doing that is by spending some time in the hot springs, with massage and spa facilities available for those who want them. However, if you still feel like you could do a little bit more exercise, there are trekking opportunities available in the area too.
Please be aware that this tour requires a good level of physical health. If you have any major illness or disease, such as cardiovascular disease or blood pressure issues, then you should consult a doctor before undertaking this kind of physical activity.
Caving in the World's Largest Cave
Not many people know that Vietnam is home to the world's largest natural cave. Hang Son Doong, located in Quang Binh province, was only discovered in 1991 by a local man, but it was in 2009 when the cave gained international attention when a group of cavers conducted a survey in the area. It has since been confirmed that the cave is so large it would be possible to fit a skyscraper inside. If you head to the town of Phong Nha, you will be able hire guides and equipment so you can explore this epic cave for yourself.
If you do not fancy heading underground, the area is known for its outstanding natural beauty and its trekking opportunities; if you are lucky, you may spot some of the region's most interesting wildlife, including flying foxes and monkeys.
Culinary Things to Do in Vietnam
Cooking Class of Local Cuisine in Nha Trang
We all know that Vietnamese food is amazing, so why not learn how to make it yourself? Nha Trang is known for its excellent cuisine, so this is definitely one of the best things to do in Vietnam. You will, of course, need some ingredients before you start cooking, so you will begin your half-day cooking class at the Xom Moi Market so you can buy everything necessary for the dishes you are going to make. Then you will head to a traditional Vietnamese house where you will start your cooking. On the menu are Vietnamese spring rolls, chicken simmered with ginger, fish deep-fried in tomato sauce, and vegetable soup with shrimp. And let's not forget the cocktails to go with your food!
You will also get a complimentary cup of coffee once you have finished cooking and are finally sampling your tasty offerings.
Relaxing Things to Do in Vietnam
Private Mud Bath Tour in Nha Trang
As well as cooking and sightseeing, Nha Trang has made a name for itself as a wellness destination. While you will find all the usual spa establishments here, if you want to try something a little bit more unusual but also relaxing, take this Private Mud Bath Tour through TripsPoint.com. As Nha Trang has some amazing sights to see, you will also combine your mud bath with some of the city's most beautiful attractions.
First you will visit Long Son Pagoda, a stunning Buddhist temple, before making your way to Po Nagar Temple, also known as Cham Towers, a temple complex whose construction began in the 8th century and is still used for worship today. You will then continue your trip to the I-Resort Mud Bath Centre where you will receive your swimsuit and towel from the reception before soaking yourself in the hot mud bath, with a temperature of 34°C. As well as the mud bath, you also have access to a hot mineral waterfall. A visit here is a wonderful way to relax after all the sightseeing and activities you will inevitably do in Nha Trang, making it one of the best things to do in Vietnam.
Take a Boat Trip to Bai Tu Long Bay
Everyone has heard of Halong Bay, one of Vietnam's most stunning natural landscapes, but its popularity means that the area gets completely packed with tourists – not exactly conducive to a peaceful day out. However, that does not mean there is nothing for you to enjoy in the region without sharing it with hundreds of other tourists. Just a few miles away from Halong Bay is Bai Tu Long Bay, which offers the same breathtaking views but with a fraction of the tourists. To get there, you take the boat from Halong City, just like you would if you were going to Halong Bay, but you will head in the opposite direction towards much quieter caves, secluded beaches, and the chance to sample some absolutely delicious seafood.
When it comes to enjoying some of the country's most unspoiled scenery, this is one of the most relaxing things to do in Vietnam.
Vietnam truly is one of the world's greatest gems. There are so many things to do in Vietnam that you will be spoiled for choice as to what to do, but you can be sure that you will have a fabulous time whatever activities you choose.