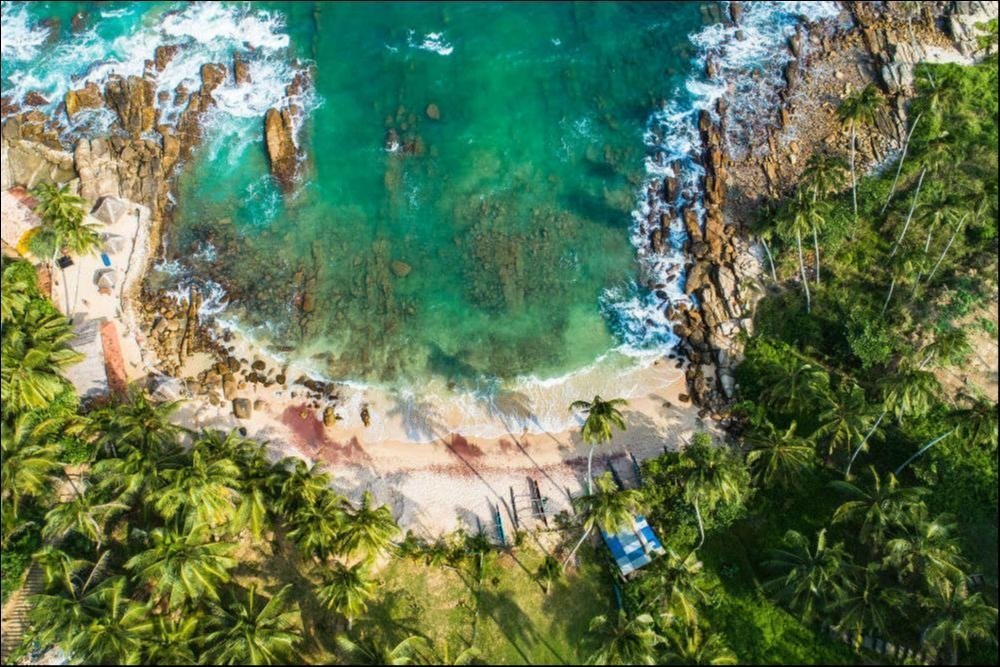 ---
The Ultimate Guide to Things to Do in Sri Lanka
---
A country which has something for everyone, Sri Lanka might not get the same attention as its much bigger neighbour, India, but for a relatively small island, the Pearl of the Indian Ocean certainly packs a lot into a small space. From its glorious climate and beautiful scenery to amazing wildlife and lots of activities to enjoy, it is hard to find anything wrong with the country. And it seems that many people are waking up to the fact that Sri Lanka is a fantastic place to take a vacation. Over the last decade, tourist numbers have almost trebled and are set to keep increasing. In order to keep up with tourist demand, the country has seen a huge boost in its travel accommodation sector, with options ranging from the ultra-budget to the super luxurious, meaning Sri Lanka has an option to suit everyone.
If you have decided to add Sri Lanka onto your travel bucket list, here is the ultimate guide to things to do in Sri Lanka to help you plan your perfect itinerary.
Sightseeing Things to Do in Sri Lanka
Historical City of Kandy
Before Colombo became the capital of Sri Lanka in 1815, the seat of the ancient kings lay in the historic city of Kandy. Located at the very heart of the country, Kandy is still seen as the cultural centre of Sri Lanka and remains a popular destination, with travellers coming here for the combination of historical sites, vibrant atmosphere and cooler temperatures.
One of Kandy's biggest draws is the Temple of the Sacred Tooth Relic. Housing a relic which has caused numerous wars – a tooth of Buddha himself – this temple is considered to be one of the most important in the whole country. According to legend, the tooth was bequeathed to the Sri Lankan monarchy in ancient times and then was subsequently passed down the lineage of kings and holy men who were responsible for its safety. Over the years, they hid and moved the tooth many times, and has finally come to rest in this temple which was specifically constructed to house the important relic. Nowadays, worshippers and travellers can visit the relic, which is stored in a golden stupa. The two-storey temple itself is wonderful to see, with its opulent gold and moonstone decoration and Buddhist carvings.
Elsewhere in Kandy, there is much to see and do. Right at the centre of the city is Kandy Lake, an artificial lake constructed at the beginning of the 19th century, which makes for a pleasant stroll on a lazy afternoon. Other interesting things to do in the historical centre of Kandy include the Commonwealth War Cemetery, New Ranweli Spice Garden, and lots of temples and examples of colonial architecture. Kandy really should be high on your list of things to do in Sri Lanka.
Sigiriya
When it comes to sightseeing, Sigiriya is one of those things to do in Sri Lanka which pretty much everyone wants to see. One of seven UNESCO World Heritage Sites in Sri Lanka, Sigiriya is an ancient rock fortress sitting high above the ground on a massive column of rock. The site is of huge archaeological and historical significance, having been built with the intention of being the new capital back in the 5th century AD by King Kashyapa; prior to this, a monastery had been here for two centuries. The palace he built was beautiful and vast, a combination of elegant royal home and impressive fortress. Unfortunately, after his death, the city was abandoned and was subsequently used as a Buddhist monastery up until the 14th century.
Nowadays, exploring the remains of this ancient stronghold is one of the must-do things to do in Sri Lanka. Considered to be one of the best examples of ancient urban planning that has ever been discovered, you could easily spend hours making your way around the extensive network of buildings, fortifications, alleys, and fountains. Sigiriya is also known for having one of the oldest landscaped gardens in the world, with its water gardens, cave and boulder gardens, and terraced gardens, as well as a complex hydraulic system with locks, canals, dams, bridges, lakes, and a number of surfaces and underground pumps.
Every single bit of Sigiriya is impressive, but there are a couple of things which you should make sure you definitely do not miss. The Mirror Wall was once so polished the king could see his own reflection as he walked past; over the years, visitors wrote inscriptions into the white plaster which coated the wall. It is still possible to see these inscriptions, some of them dating as far back as the 8th century. There are also a number of beautiful frescoes to see here. The western wall was once completely covered in frescoes. Today 18 remain, mostly depicting nude women who are presumed to have been the king's wives and/or concubines or priestesses conducting religious rituals.
Tea Plantations in Nuwara Eliya
Asia, in general, is well-known for tea production, and if you are hoping to visit a tea plantation as part of your things to do in Sri Lanka, you will not be disappointed. One of the best places to head to is Nuwara Eliya, a sleepy colonial town nicknamed 'Little England' which nestles in among the mountains, making it the perfect base to explore the local plantations. A popular one to visit is Hill Country's Haputale Mountains, which is where Sir Thomas Lipton – of Lipton's Tea fame – began his epic tea empire. As well as being able to see the tea pickers at work, you can make your way up to Lipton's Seat, which is where Sir Lipton used to sit and look over his huge estate. Of course, this is not the only tea plantation in the area, and you could easily spend a few days visiting them all, walking the trails through the leaves and enjoying the spectacular scenery and temperate climate. Do not forget to visit at least one plantation in the early hours of the morning when the landscape is covered in a thick layer of mist, creating a rather eerie atmosphere.
In addition to the tea plantations, there are a number of other attractions and things to do in Nuwara Eliya which are worthy of your attention, such as Hortons Plains National Park and Hakgala Botanical Gardens.
Colombo City Tour – Shore Excursion
If you happen to be taking a cruise and one of your stops in Colombo, to make the most of your day off the boat you can book this Colombo City Tour for your shore excursion, available to book through TripsPoint.com. Once your cruise docks in Colombo harbour, you will be picked up by your guide and taken to discover and explore the best the capital has to offer. Highlights of the tour include Galle Face Green, Colombo Lighthouse, Colombo Port, the prison cell of the last Sri Lankan king, Beira Lake, the Public Library, National Museum, and Colombo Town Hall, among many others. You will also get the chance to see lots of religious buildings as well as some great examples of Dutch, Portuguese and British architecture.
While not included in the price, there is also the option of having a buffet lunch at the Galle Face Hotel, one of the city's heritage hotels. If you only have one day in Colombo, this is one of the best things to do in Sri Lanka.
Wildlife Things to Do in Sri Lanka
Yala National Park
Sri Lanka is well-known for being Asia's wildlife hotspot, so a visit to one of the country's national parks is an absolute must. Easily the best national park in the country and high on most travellers' things to do in Sri Lanka, Yala National Park is home to an abundance of mammal, bird and reptile species. Of course, what you see on any given day is largely down to chance, but due to the huge numbers of animals and birds that live within the park, what is guaranteed is that you will at least something worthy of your attention. Mammal species you will have the chance to see include the Sri Lankan elephant, Sri Lankan sloth bear, water buffalo, and Toque macaque. Out of the 47 reptile species that live in Yala National Park, six of them are endemic to Sri Lanka; these include the Sri Lankan flying snake, Sri Lankan krait and Bahir's fan-throated lizard. Other reptile species to look out for include all five globally endangered sea turtles, the saltwater crocodile, and Indian cobra. When it comes to bird species, seven of the 215 species here are endemic, including the Sri Lanka grey hornbill and Sri Lanka wood pigeon.
Yala National Park is also known for having the highest density of leopards in the world, although as they are known for being a rather shy animal, it is not easy to spot them. For a glimpse of these elusive creatures, taking one of Yala's night safaris is one of the most brilliant things to do in Sri Lanka. Alternatively, you can visit in the early hours of the morning for a chance to see these wonderful animals in their natural habitat.
Uda Walawe National Park
Elephants are one of the main reasons why so many people flock to Sri Lanka, and for the best chance of seeing them in their natural habitat, head to Uda Walawe National Park. While not as popular as Yala National Park, it is believed that around 250 elephants live in Uda Wawale, making the likelihood of spotting one of these magnificent beasts pretty high. However, elephants are not the only reason for making the trip here. The park is also an important area for waterbirds, plus a vast array of other birds, mammals, and reptiles make their home here.
Coming back to elephants, you may hear much about Pinnawala Elephant Sanctuary and that this is the best place to see and interact with wild elephants. However, according to a Born Free study conducted in recent years, there are big concerns about the welfare of the elephants housed there. A much better option is to see them roam freely in Uda Walawe National Park.
Whale Watching
It might not seem like the most obvious destination for whale watching, but Sri Lanka is actually located extremely close to the continental shelf, an area which is incredibly popular with all kinds of marine life. Along the south of the island are a number of places which are ideal for the activity, such as Mirissa and Dondra Head, although there are also some places in other parts of the island where whale watching is also possible.
When taking a whale watching trip here, it is possible to see numerous types of whale, including sperm, blue, Bryde's, killer, and minke, as well as plenty of dolphin species. In terms of things to do in Sri Lanka, this is definitely one of the most magical.
Fun Things to Do in Sri Lanka
Hot Air Ballooning
Sri Lanka's scenery is always glorious to look at, but there is something really special about seeing it from the air. Hot air ballooning has become an incredibly popular activity here in recent years, with lots of tourists opting to take the early morning flight so they can marvel at the splendid views as the sun begins to rise over the mist-covered mountains and jungle. The best place to take a hot air balloon trip is Dambulla, a city right at the heart of the Cultural Triangle.
There are a few reputable companies here which offer a one-hour ride, breakfast, champagne toast on landing, and your transfers from your hotel and back for approximately $200.
Surfing
Another activity you may not instantly associate with Sri Lanka is surfing, but the tiny island nation is making a name for itself as a top surfing destination. Arugam Bay has become particularly popular in the surfing world, with plenty of surfers making their way there; the town even hosts a number of international competitions, including Red Bull Ride My Wave. Arugam Bay attracts surfers with its fantastic swells and the fact that any level of surfer, from beginner to advanced, can find something for them here.
Another popular surf spot is Hikkaduwa, and there are a number of smaller coastal towns which may not have the same infrastructure but do have some facilities for surfing.
Shopping
If you are interested in traditional handicrafts and souvenirs, Sri Lanka certainly will not leave you empty-handed. There is a huge variety of products you can buy here, such as wood carvings, masks, leather items, metalwork, and batik. But it is not just handicrafts that are on offer here. Due to the massive trade in tea and spices, you can also buy these products at much cheaper prices than you would back home. You can buy these items pretty much everywhere you go in Sri Lanka, but many travellers claim that the capital Colombo is the best place for shopping.
There are lots of markets here – Pettah is definitely one to check out – but Colombo also has a plethora of boutique stores and galleries to browse.
Multi-Day Things to Do in Sri Lanka
Sri Lanka Local Tour Package – Exclusive Private 10-Day Trip
Sometimes organising your own vacation is too much of a hassle, so why not book an organised tour and let someone else do all the hard work? This exclusive private ten-day tour will allow you to discover and explore the best that Sri Lanka has to offer. During your time on the tour, you will visit ruined kingdoms, mountains, tea plantations, pristine sandy beaches, and even head out on a wildlife safari.
On the day of your arrival, you will be picked up from Colombo Airport and taken to Negombo Beach, where you can spend the rest of the day relaxing and recovering from your long flight. Over the next few days, you will visit Pinnawala Elephant Sanctuary, Dambulla Cave Monastery, Sigiriya, Kandy, Nuwara Eliya, Ella, Yala National Park, and Bentota, before finishing your trip back in the capital of Colombo. Due to the amazing places, you will visit, you will gain a wonderful insight into the different sides of this beautiful country.
As this is a private tour, you do not need to worry about sharing your Sri Lanka experience with lots of people you do not know; it will just be you, your travel companions and your guide. Included in your holiday package are nine nights' four-star accommodation with breakfast, airport transfers, private transportation, a complimentary SIM card topped up with 200 LKR to save you money on your phone calls and keep you in close contact with your guide, a one-litre bottle of water per day, and the possibility of arranging meals in local restaurants. If you are looking for the full Sri Lanka experience, this tour is one of the best things to do in Sri Lanka.
As you can see, Sri Lanka may be small but it definitely makes up for it. Here you can enjoy unique wildlife experiences, stunning natural scenery, excellent cuisine, and oodles of history, all within one small island. Sri Lanka is fun, interesting, and compact, making it the perfect holiday destination.