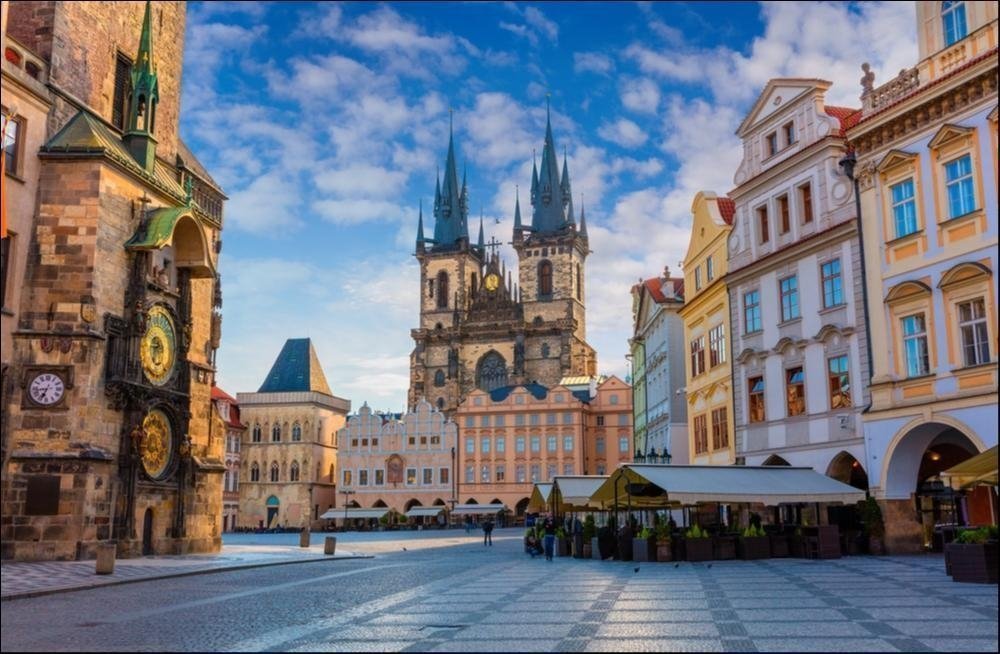 ---
The Ultimate Guide to Things to Do in Prague
---
Prague is one of those cities that everyone raves about for being stunningly beautiful, but is it really all it is cracked up to be? You will be pleased to know that actually, yes it is, and not just because it is pleasing to the eye. There are plenty of things to do in Prague which will satisfy every kind of traveler. Of course, there are historical sights all over the city, but there are also lots of other activities to enjoy. To help you plan that perfect trip, here is a comprehensive guide to things to do in Prague.
Historical Things to Do in Prague
Charles Bridge
One of Prague's most iconic sights, Charles Bridge is a highlight of all the things to do in Prague. Built-in the 14th century to replace a bridge that had washed away in a flood, Charles Bridge is one of the oldest European bridges still in use today. It was completed in the early 15th century, but there have been a number of additions throughout the years, such as the 30 statues which line the bridge, originally added in the 17th century; the statues we see today – which depict saints venerated at the time of erection – are replicas. Nowadays, as you walk across the bridge you will come across souvenir sellers and caricature artists, as well as being able to enjoy some of the most spectacular views of Prague Castle and the Vltava River.
Prague Castle
As the largest ancient castle in the world – covering an impressive 17 acres – a visit to Prague Castle is usually top of everyone's list of things to do in Prague. Most visitors begin at the Old Royal Palace which, although the site itself can be traced back to the 9th century, the building we see today began construction in the 14th century when Emperor Charles IV commissioned the building of a Gothic palace; further extensions were then made by his son Wenceslas. The highlight of any visit to the Old Royal Palace is Vladislav Hall, a huge 16th-century room built for functions such as banquets, coronations, markets, and even jousting tournaments. There is even a Rider's Staircase large enough to allow horses which knights used when entering competitions, while the observation gallery lets you gaze out at the beautiful palace gardens. As the castle is still the official residence of the leader of the Czech Republic, Vladislav Hall is still used for official state functions, so make sure you check before you visit to see if the hall is open.
Next on the list of things to do in Prague Castle is St. Vitus Cathedral, the country's biggest Christian church. Building work on the cathedral began in the 14th century and took well over half a millennia to complete; not because of its size, but because of problems affecting the city at particular points in history, such as wars and plague epidemics. It is due to this lengthy construction process that we see the cathedral as it is today – an eclectic mix of Gothic, neo-Gothic, Baroque, and Renaissance styles. Do not forget to visit St. Wenceslas Chapel to admire its jewel-covered altar and the Treasury, which houses an impressive collection of priceless artifacts, some of them dating back to the Middle Ages.
Other highlights of Prague Castle include the Story of Prague Castle, an interesting display detailing the 1,000-year-old history of the complex; Golden Lane, a small cobblestone lane whose houses were once occupied by castle goldsmiths; and the Basilica of St. George, the oldest religious building within the castle complex.
Astronomical Clock
Astronomical clocks are a common feature around Central Europe, but the one in Prague really is a sight to behold. Located in the Old Town Hall, the clock has stood the test of time, having been modified, changed, destroyed, and repaired multiple times since its installation in 1410. As its name suggests, the astronomical clock does not just tell the time, but also gives the months of the year and marks the positions of the sun and moon.
As well as having a very practical function, the clock is also a stunning piece of art, with numerous Gothic sculptures adorning the front. If you happen to stop by the clock on the hour, you will get the chance to see the four figures flanking the clock – each depicting something which was feared or despised during the Middle Ages – come to life, as well as see the twelve apostles appear at the doorways above.
Old Town Square
Due to the city thankfully escaping the bombings which befell other European cities during World War II, Prague's Old Town has remained relatively unchanged since the 10th century. Its focal point is the Old Town Square and there are plenty of beautiful buildings to see here. Most people's first port of call is the astronomical clock, but the Old Town Hall is also worthy of a visit. Unique in that it is not so much one building but a collection of connecting structures, all of which date back to medieval times, the tower was once the tallest structure in the city and still offers wonderful views across Prague from its observation deck.
Other top sights in the Old Town Square include the Kinsky Palace, the Stone Bell House, and the Jan Hus Memorial.
Lennon Wall
When people think about historical things to do in Prague, their thoughts generally turn to the city's history dating back centuries. However, there are some sights here that reflect times not so long past. One of these is the Lennon Wall, located in a small square just across from the French Embassy. While it may seem odd that there is a wall dedicated to British singer John Lennon, the Beatles icon actually became a symbol of freedom, western culture and pacifism to many Czech residents during the 1980s. It was during this decade that locals began to graffiti the wall with anti-Communist sentiments.
Over the years, the authorities have tried to repaint the wall, only for people to continue adding etchings and writings, so eventually, it was agreed that it could be continued for this use. Nowadays, the Lennon Wall is known for its artistic tributes to the man himself as well as its comments on current affairs and politics.
Museum of Communism
Being a capital city, Prague has plenty of museums to visit, but if you only visit one during your trip, it should be the Museum of Communism. One of the most informative things to do in Prague, this museum delves into every aspect of life in the Czech Republic under Communist rule, including politics, history, economics, education, the military, and art, plus many more. Through a variety of displays of artifacts, photographs, artwork, documents, and other installations, the Museum of Communism takes you on a journey through this turbulent time in the country's history, focusing on the regime's influence and effect on Prague.
Architectural Things to Do in Prague
Dancing House
Alternatively known as the Fred and Ginger building, the Dancing House is one of the most unique structures in the whole of Prague. Constructed in the mid-1990s, the building was designed to resemble a ballroom-dancing couple and looks incredibly striking, especially as it is the only modern building amongst an area filled with historical ones.
Most people come here just to admire the exterior – and it is certainly worth making the trip to do so – but if you do want to enter, the only part of the building which is accessible to the public is the Ginger and Fred Restaurant, located on the top floor with an excellent international menu and perfect views over the river.
Tower Park Prague
Located in the super-cool district of Zizkov, the TV Tower has often been named as one of the ugliest buildings in the world, but that only adds to its appeal. An example of Structural Expressionism, it has a lot of accolades to its name: not only is it the tallest building in Prague, but it is also the tallest tower and the highest viewing platform in the entire country. However, this is not the main reason why people come to visit the TV tower. David Cerny is an incredibly popular artist in the Czech Republic and his work can be found in several locations around Prague. In 2000, he made ten sculptures of what best can be described as alien babies which were used to adorn the tower's pillars. They have since been replaced with replicas, but they are still cool to check out.
Nature Things to Do in Prague
Petrin Hill
Located on the left bank of the River Vltava, Petrin Hill is one of the greenest places in the whole of Prague, so it is a great place to come if you need some peace and quiet. Strolling the beautiful trail to the summit is a pleasant way to spend an afternoon and if you get tired along the way, there are lots of benches where you can take a rest. Alternatively, you can take the funicular up to the top.
As well as being a lovely spot to get away from the crowds in the city, there are a number of interesting sights to see here, such as the Petrin lookout tower, whose design was based on Paris's Eiffel Tower; a Rose Garden; a Memorial to the Victims of Communism; an observatory; and a wooden church relocated to Petrin Hill from what is now modern-day Ukraine.
Prague Zoo
One of the best things to do in Prague, especially if you are traveling with children, Prague Zoo has regularly been voted into the top ten zoos in the world and it is not hard to see why. While the zoo houses many animals which you can see at pretty much every zoo around the globe, Prague Zoo has a few unique creatures which cannot be easily spotted anywhere else. The zoo was, for many years, a leading breeder of Przewalski's horse, and is considered to have been a significant contributor to the increase in numbers of the species. You can also see a pavilion housing 33 critically endangered Chinese giant salamanders, the largest group of its kind in Europe, and also a breeding pair of the Lesser Antillean iguana. In total, there are over 700 different species living in Prague Zoo, with 133 of these being endangered species, plus there are plenty of exhibits explaining the lives of the animals and what the zoo does to help them.
Culinary Things to Do in Prague
Prague Medieval Dinner and Show
As an incredibly old city, Prague has lots of restaurants and pubs whose buildings date back quite a number of years. However, if you want a taste of what life was like during Medieval times, you should consider the Prague Medieval Dinner and Show, available to book via TripsPoint.com. One of the most unique things to do in Prague, an evening here will see you sample some traditional medieval dishes, such as cheese plates with sausages, a wide variety of grilled meat, baked potatoes, and an unlimited supply of beer, wine, and soft drinks; in-keeping with the spirit of the age, dining is done by hand.
While you are enjoying your meal, you will be entertained by a variety of actors, musicians, dancers, swordsmen, and jousters. To add to the special atmosphere, everything is done by candlelight and open fire, just as it would have been done during the Middle Ages.
Prague Food and Drink Tours
Food is a huge part of any trip and the best way of really getting to know a city's cuisine is by taking a food tour. Lots of these tours take place throughout Prague – in fact, in recent years they have become one of the most popular things to do in Prague – so you have plenty of opportunities to join one. These tours range from those focusing on the traditional dishes and drinks of the country to those taking you around the more modern establishments of Prague so you can see how the culinary scene has changed to move with the times.
As a country particularly well-known for its lager, you will not be surprised that lots of beer tours take place throughout the city. However, wine production is also abundant in the neighboring region of Moravia and it is possible to take wine tours featuring the best wines the country has to offer.
Health and Wellness Things to Do in Prague
Relaxing Massage
While it may not seem like the most obvious destination for wellness travel, Prague actually has lots of excellent spas where you can enjoy being pampered. Through TripsPoint, you can book a 30-minute relaxing massage treatment, perfect for getting rid of the aches and pains which can occur after hours on your feet sightseeing. It is a classical dry massage which not only helps to relieve tension and stress from the physical body but also brings mental well-being.
Beer Spa Prague Tour must be on your list of things to do in Prague
One of the increasingly popular things to do in Prague in recent years, the Beer Spa Prague Tour is a great way to spend an afternoon or evening with your family or friends. During your one-hour experience, you will get to enjoy a 30-minute beer bath along with unlimited consumption of Bernard beer during this time, followed by a rest in a heated bed to fully enhance the effect of the beer bath.
As a souvenir of your time here, you also get an E-Photo included in the price.
Luxury Wine Wellness
The Czech Republic is best known for its beer, but those who try their wine will also not be disappointed. For the ultimate in Czech wine luxury, you should definitely consider taking a luxury wine wellness tour as part of your things to do in Prague. Based on the idea that wine, in moderate amounts, is hugely beneficial to the body, taking this tour will allow you to have the benefits of wine-both inside and outside the body. The wine bath takes place in a jacuzzi which is filled with water mixed with red wine, grape extract, aromatic oils, wine salt, and grape seeds, which helps to promote muscle relaxation and blood circulation. You will also get a bottle of wine to drink while you are in the jacuzzi. Afterward, you get full access to the Finnish sauna, plus a gift of original wine cosmetics.
Special Things to Do in Prague
Prague Air Tour
If you want to add something extra special to your Prague trip, this Prague Air Tour is just the thing for you. This amazing trip will take you to nearby sights within easy reach of Prague, giving you a wonderful bird's eye view over some of the most beautiful landscapes in the Czech Republic.
Departing from Letnany Airport, your plane will fly over one of the most visited attractions in the Czech Republic, Karlstejn Castle. Founded in the 14th century, Karlstejn Castle is an impressive Gothic building that once housed the Bohemian crown jewels as well as other royal treasures and holy relics. The castle is located about 40 kilometers from Prague and the ride also takes in the picturesque landscapes around the city. Once you have enjoyed the flight, there is also a small aircraft museum in which you can take a look around.
With So Many Things to Do in Prague, You Will Not Want to Leave!
Prague really is such a delightful city and although many travelers tend to only book a short city break to the Czech capital, as you can probably see, it is definitely worth extending your trip to make sure you experience everything the city has to offer.