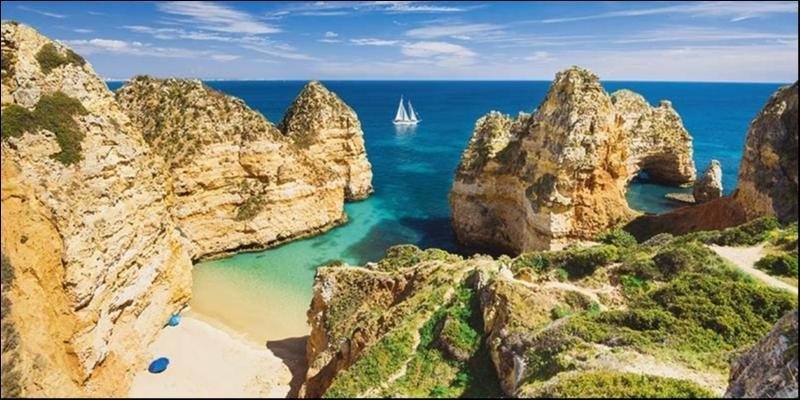 ---
Things to Do in Portugal, Western Europe's Cheapest Destination
---
A balmy paradise all year-round, there is much to attract travellers to Portugal. Here you can discover historic cities, stunning natural landscapes, amazing cuisine, and some of the world's most beautiful beaches. Despite its relatively small size, especially in comparison with other European countries, you can certainly find enough things to do in Portugal to keep you entertained during your time here. Whether you are looking to broaden your understanding of a new culture, are on a foodie expedition, or simply want to take a relaxing beach holiday, check out this list of things to do in Portugal to help you plan that perfect getaway.
Sightseeing Things to Do in Portugal
Private Lisbon City Tour
As Portugal's capital, Lisbon tends to be a major destination for many people travelling to the country, even if they only spend a few days there before heading to other regions. Lisbon is bursting with historical sights, excellent cafes and restaurants, and shopping opportunities, and one of its biggest high points is that it is considered to be the best value destination in western Europe, meaning you can holiday here for less.
With so much to see and do in Lisbon, it is highly recommended that you take a guided tour to help you fit everything in, such as this Private Lisbon City Tour, available through TripsPoint.com. This eight-hour tour allows you to see the best Lisbon has to offer, from its most famous sights to its trendiest districts. Highlights of the tour include Belem Tower, Jeronimos Monastery, the Monument to the Discoveries, Lisbon Cathedral, Sao Jorge Castle, and visits to two of the most popular districts in the city, Baixa and Alfama. Although your tour guide will recommend an itinerary for your day's sightseeing, as this is a private tour you do have the option of customising your tour to your own specifications.
Private City Tour of Porto
Portugal's second city, Porto has become an increasingly popular travel destination in recent years, and it is easy to see why. The city is exceptionally beautiful and has a hip, vibrant atmosphere, making it a cool place to spend a few days. If you are visiting Porto and want to make sure you see everything worth seeing, take this Private City Tour of Porto through TripsPoint.com. You will start your day by being picked up from your hotel and driven to Gaia, a city located on the opposite side of the river to Porto. Here you will have a wonderful vantage point to admire Porto from afar, giving you fantastic photo opportunities. You will then head back to Porto where your guide will take you on the grand tour of the best places to visit in the city, such as Bolsa Palace, St. Francisco Church, D. Luis I Bridge, St. Bento Station, Lello Bookstore, and Clerigos Tower. You will even get the chance to sample some of the local port at a traditional cellar.
As a private tour, you will have your guide and transportation to yourself rather than sharing with other travellers. Also included in the price is your hotel pick-up and drop-off, and bottled water, although you will need to pay extra for any museum and attraction entrances.
Evora
For those of you who love history, Evora should definitely be high on your list of things to do in Portugal. This UNESCO-listed city is steeped in history, having been founded during Roman times and reaching its golden age in the 1400s when the Portuguese monarchy decided to make the city its seat. There are a number of well-preserved historical remains here, the most famous being the Temple of Evora, also known as the Temple of Diana. Built-in the 1st century AD, the temple has managed to stand the test of time by having its walls filled in during medieval times when it was used as a small fortress, and despite being slightly ruined, it still cuts an impressive figure on its hilltop location.
Another magnificent sight is Evora Cathedral, a delightful building of a mixture of architectural styles. Noted for its wide towers and conical spires, the cathedral is predominantly built with pink granite which looks splendid in the dazzling sunlight. Other must-sees in Evora include the old town, noble houses, city walls, and the Agua de Prata aqueduct, a 16th-century structure which apparently follows the same path as the original Roman aqueduct once took.
Private Day Tour to Sintra, Cabo da Roca and Cascais
When you have seen everything there is to see in Lisbon, the capital is perfectly situated to explore other places in the region, and there are certainly many to choose from. Three of the most popular excursions from Lisbon are Sintra, Cabo da Roca and Cascais, and you can see all of these beautiful places in one day if you take a Private Day Tour through TripsPoint.com.
You will begin your trip by heading to the picturesque village of Sintra via the National Palace of Queluz, stopping along the way if you so wish. If you have already visited Queluz on a previous trip, you can opt to visit another of Sintra's emblematic palaces instead. This will be followed by a leisurely stroll through Sintra and a chance to sample a typical cake from the village, Quijada.
After lunch, you will continue to the most westerly point of mainland Europe, Cabo da Roca, a rugged and wild headland which provides you with wonderful views and photo opportunities. On your journey back to Lisbon, you will stop at various points along the way, including the quaint fishing village of Cascais, Guincho Beach, Estoril, and Carcavelos, before being dropped back at your hotel.
Batalha Monastery
One of the more lesser-known sightseeing spots to visitors in Portugal, Batalha Monastery is famous within the country for being one of the most architecturally beautiful buildings here. Built-in the 14th century to celebrate King Joao I's victory at the Battle of Aljubarrota, despite housing his tomb the monastery is probably more famous for being the final resting place of his son, Henry the Navigator. Within the monastery complex are a number of distinctive chapels and cloisters which boast differing architectural styles and features. The Founder's Chapel is where you will find King Joao, his wife and his sons' tombs. The Unfinished Chapels are considered to be the most impressive part of the monastery, with its huge octagonal rotunda and seven smaller chapels leading off it.
Other highlights of Batalha Monastery include the Chapterhouse, home to the Portuguese Tomb of the Unknown Soldier, and the Royal Cloister, with its intricately carved arches and columns featuring shells, flowers, pearls, and spirals.
Oceanario de Lisboa
Possibly the most family-friendly of things to do in Portugal, Lisbon's Oceanarium is one of Europe's largest aquariums, housing a vast array of marine species. The main aquarium is split into four sections recreating the four major oceans – the Atlantic, Pacific, Indian and Antarctic – which surrounds a central aquarium; all of the tanks are separated by transparent acrylic to give the illusion of one great big area.
Obviously, you can expect to see a wide variety of marine life here, including sharks, rays, seahorses, octopuses, penguins, sea otters, jellyfish, and many kinds of sea bird, plus it is one of the few aquariums in the world to house a sunfish.
Cultural Things to Do in Portugal
Catch a Traditional Portuguese Folk Music Performance
If you want to do something different from spending your holiday evenings drinking in a bar, you should try and catch a performance of traditional Portuguese folk music as part of your things to do in Portugal. The traditional music here is called fado and there are two distinct types named after the cities where they originated: Lisbon style, which tends to be mournful and sombre, and Coimbra style, characterised by being more upbeat and joyful. If possible, try and see both types while you are in Portugal so you can see the differences between the two.
Many bars hold performances, and it is easy to book your place; just go into the bar and reserve a table for that evening.
Culinary Things to Do in Portugal
Port Wine Tasting must be among your things to do in Portugal
One of Portugal's most famous exports is port, named after the city of Porto where the product comes from, but you really have not truly experienced port until you try the multitude of varieties which are on offer in the wine's home country. When in Porto, you will find many tour operators which run port tasting sessions as well as the chance to tour the wine cellars themselves and learn more about the history and production of port. But even if Porto is not on your Portugal itinerary, there is still no need to miss out. Lisbon's Solar da Vinho da Porto tasting room also offers port wine tasting, plus you will be able to grab a bottle wherever you go in the country.
As Portugal's most famous product, trying port at least once during your trip should be on your list of things to do in Portugal.
Eat Uniquely Shaped Pastries in Amarante
You would be completely forgiven for never having heard of Amarante, but this small town is actually pretty well-known in Portugal. As well as having an incredibly long history – the town's area has been inhabited since the Stone Age – Amarante is especially renowned for its uniquely shaped pastries. Taking a phallic form, these cakes are traditionally eaten during the Feast of Sao Goncalo and were first created as part of a pre-pagan fertility ritual.
If you have a sweet tooth and fancy indulging, a visit to Amarante should be on your list of things to do in Portugal.
Nature Things to Do in Portugal
Ria Formosa Natural Park
The Algarve is primarily known as a beach resort destination, but it is also home to the Ria Formosa Natural Park, created to preserve the unique ecosystem of the area and now considered to be one of the seven natural wonders of Portugal. Consisting of a lagoon and coastline which stretches for an astonishing 60 kilometres, here you will find a wide variety of landscapes, from sand dunes and salt pans to wetland and lakes. The park is well set-up to be explored, with a number of hiking trails leading all over the area and plenty of viewing platforms so you can enjoy some wildlife spotting.
A great place to start your exploration is at the Environmental Education Centre of Marim, which will give you a good overview of the ecosystem and the animals and birds that live within it.
Douro Valley
Porto may be where port is aged, bottled and stored, but it is in the Douro Valley where the all-important grapes are grown. The Douro Valley here has quite significant historical importance as it is the oldest demarcated wine region in the world. To learn more about this, you should head to the Museu do Douro, which houses a collection of items relating to the history of the port. But wine is not the only reason to come here. The Douro Valley is home to some of Portugal's most outstanding scenery and is also extremely accessible; the views can be enjoyed either from the road, from a train, or even from a river cruise.
Plus its short distance from Porto makes a day out to the Douro Valley one of the best things to do in Portugal.
Furnas Lake
Sometimes people forget that Portugal does not just exist in mainland Europe. There are a number of islands belonging to Portugal, some of which make up the Azores Islands, considered to be one of the most beautiful places in Portugal. If you do manage to make it out to the Azores, Furnas Lake should definitely be high on your itinerary of things to do in Portugal. This crater lake is well-known for its blue-green waters and stunning surrounding scenery of mud volcanoes and hot springs.
The area is fantastic for both relaxing and getting active; here you can participate in sports such as hiking, cycling, and canoeing, and then you can relax in the many geothermal pools which stay warm all year-round
Mira de Aire Caves
Another one of Portugal's seven natural wonders, the caves of Mira de Aire are the largest of their kind in the country and offer a different nature sightseeing experience to add to your list of things to do in Portugal. Covering a staggering 11 kilometres, of which 600 metres can be explored, you will descend down 683 steps into the caves; this may sound like a lot, but there is no need to be put off as the steps are spread over different levels. Your tour begins with a video detailing the history of and interesting facts about the caves, then you will make your way through the various galleries, stopping to marvel at the amazing rock formations.
Your guide will also give you plenty of information about the elements within the cave which have enabled the rocks to form as they have. Once you have visited the caves, there is a small water park, restaurants, and a bar so you can relax afterwards.
Active Things to Do in Portugal
Combine Surfing and Skiing
There are not many places in the world where you can combine a typical summer sport and a typical winter one, but in Portugal's Serra da Estrela you can do just that. The Serra da Estrela is mainland Portugal's highest mountain range and is only a couple of hours' drive from the nearest beach, so not too far if you have access to your own vehicle or have rented a hire car.
An ideal day is driving to the beach in the morning to enjoy the surf there before heading back to the mountains where you can indulge in an afternoon's skiing at the Vodafone Ski Resort, which offers slopes for all levels of skier.
Zip Line Between Two Countries
Zip lining has become an incredibly popular activity in recent years, and the company Limite Zero offers a one-of-a-kind experience – to travel between Spain and Portugal on a zip line. As the only company in the world to offer such an activity, this really is one of the most unique things to do in Portugal. Beginning in Sanlucar de Guadiana, this 720-metre zip line will whiz you across the Guadiana River, finishing in Alcoutim, Portugal.
If you happen to be staying in Spain, there is a ferry service which will take you back; depending on your zip line package, this can be included in the price of the activity.
Canyoning
One of the most exciting things to do in Portugal, canyoning is the perfect activity if you are looking for that adrenaline rush. Generally referring to a variety of activities done in order to travel through canyons, such as scrambling, jumping, swimming, climbing, and abseiling, the best canyoning spots in Portugal are in the Azores Islands. If you are experienced in canyoning, the island of Flores is a great choice as it offers the most extreme canyoning opportunities.
However, if you are a beginner and are looking for an introductory course in the activity, you are better off heading to Sao Miguel or Sao Jorge.
While it may not get as much attention as its bigger neighbour Spain, Portugal has just as much packed into its small size to ensure you have a fantastic holiday. And with all these things to do in Portugal, you can guarantee that you will be in for the trip of a lifetime.