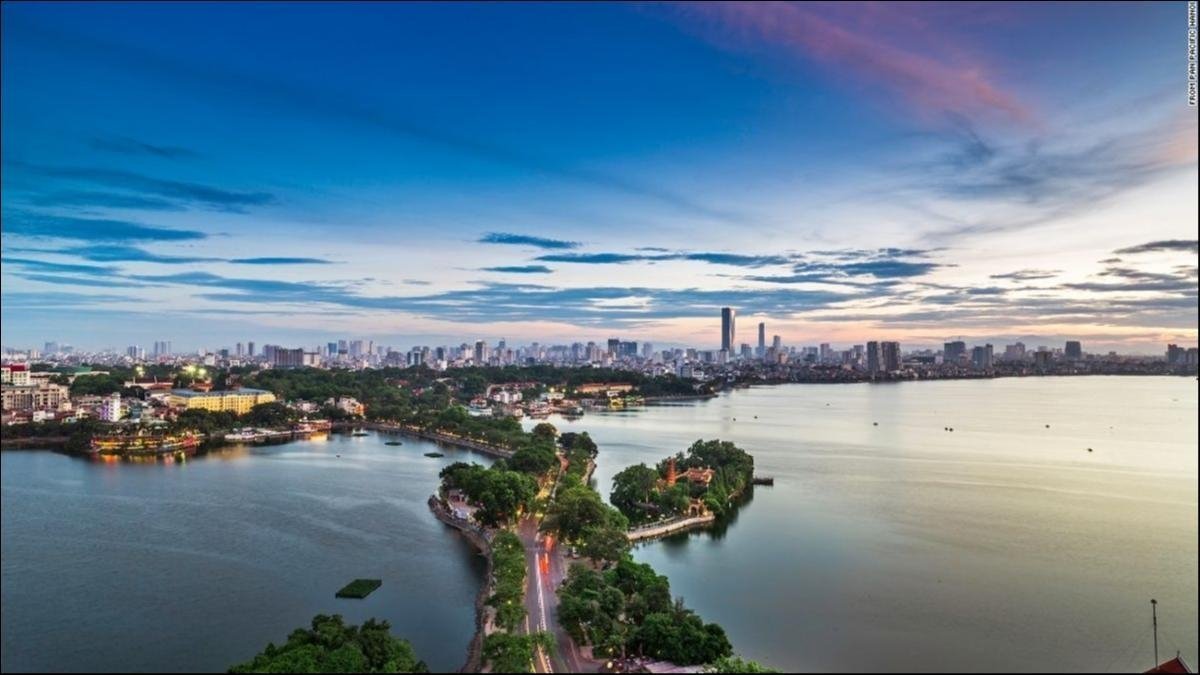 ---
Things to Do in Hanoi - Travel Guide to the amazing Capital of Vietnam
---
If you are currently planning a trip to Hanoi, you have made an excellent choice. A vibrant and exciting city, Hanoi is the capital of Vietnam and an extremely cool mix of traditional Vietnamese culture and architecture and a French flair which still remains from Vietnam's time as part of French Indochina. With its fascinating historical sights and museums, some of the most delicious cuisine in the entire world and a pulsing nightlife, Hanoi is definitely one of the hottest destinations to visit right now. But if you are yet to consider a vacation to Hanoi, you may be wondering what there is to see and do; you will be pleased to find out that the amount of things to do in Hanoi would keep you occupied for weeks, if not months.
To make the most of your time in this fantastic city, we at TripsPoint have compiled this comprehensive guide to things to do in Hanoi.
Things to do in Hanoi - Hanoi Old Quarter
This is the probably the first part of the city that you will head to. The Old Quarter is the historic and commercial heart of Hanoi and is filled with a plethora of interesting museums, attractions, temples and shops for you to enjoy. It also has some of the best architecture in the city; even if you decided not to visit any of the attractions the area has to offer, you could easily spend days just wandering around and taking in the atmosphere. It is also the place where you will find some of the best street food and restaurants. The Old Quarter is where most city tours will start, such as the Hanoi city tour you can book through TripsPoint.
Hanoi Museums
Hanoi has a vast array of museums to enjoy; you can guarantee that whatever you are interested in or whatever you want from your museum visit, you will find something for you here. It is good to remember that a lot of museums close either on Mondays or Fridays, so it is best to check before visiting.
Ho Chi Minh Mausoleum
The city in the south – actually the largest in the country – may have taken the name of this important and popular politician and revolutionary, but it is Hanoi that has his body. Ho Chi Minh did not actually want his body on display; he vehemently expressed a wish to be cremated. However, due to his significance during the Vietnam War, he is now entombed in this magnificent mausoleum which was modelled on that of Lenin in Moscow. As it is the resting place of such a great figure in Vietnam's history, there are really strict rules to follow: no photography inside, respectful clothing must be worn and your bags will be searched on your way in. It should also be noted that the mausoleum is only open for approximately the first ten months of the year; for around two months of the year, Ho Chi Minh's body is taken abroad for necessary maintenance of the embalming process.
Ho Chi Minh Museum
Located next to the Ho Chi Minh Mausoleum is the museum dedicated to the great leader. It is worth a visit here just for the exterior alone; it is a stunning white building which is meant to resemble a white lotus. Inside you will find a number of intriguing exhibitions, such as a cave hideaway which has been designed to represent the inside of Ho Chi Minh's brain, cars crashing through the walls as a depiction of the chaos of post-war American capitalism, and many examples of ham-fisted iconography. The museum is split into three sections: a biography of Ho Chi Minh from childhood right up until his death; the life, struggle and victory of the Vietnamese people; and the main events from the 19th century onwards which influenced Ho Chi Minh's politics and activities. It is a fascinating museum and one of the most interesting things to do in Hanoi.
Vietnamese Women's Museum
This is an often overlooked museum, which is a shame as it really is one of the best things to do in Hanoi. Covering all aspects of female life in Vietnam, here you will learn about famous women in history who have helped shape the country as we see it today, women's role within the family and even about women's fashion. Of particular interest is the exhibition on teeth lacquering, a tradition of some natives tribes where women lacquer their teeth with black resin, a sign of beauty within these groups.
Hoa Lo Prison in definitely to place on your list of things to do in Hanoi
Famously nicknamed the 'Hanoi Hilton', Hoa Lo Prison was built by the French at the turn of the 20th century and housed political prisoners the French colonial government deemed dangerous, before then being used by North Vietnam to incarcerate American prisoners of war, this being the time the building got its nickname. The prison now houses a museum dedicated to telling the story of the struggle the Vietnamese prisoners went through while locked up here; very little is devoted to the Americans who were kept here besides some photographs showing prisoners being treated well and playing sport and games. You will also see a French guillotine used to execute Vietnamese prisoners and you will surely have a visit to Hoa Lo Prison with the Hanoi & Halong Bay Tour Package that takes you to explore well these amazing places.
Museum of Ethnology
Vietnam is a country with a huge amount of ethnic groups and this museum celebrates them in the most fabulous way. The highlight of this museum is definitely the open-air exhibition where you can wander around a variety of traditional homes of some of the ethnic groups and you may even come across some inhabitants in their traditional costumes. It is a great place to learn about the different cultural practices of these fascinating groups of people, making it one of the best things to do in Hanoi. If that was not enough, there is even a fantastic baguette and chocolate cafe so you can enjoy a delicious treat at the end of your visit.
Memorial House
Known for being one of the best-restored buildings in the Old Quarter, Memorial House would have originally been the home of a merchant. Beautifully decorated in the traditional style, you will have the chance to explore the series of rooms here set around two courtyards. It is filled with antique furniture and there is also the possibility of purchasing a number of crafts and trinkets which are on display.
Imperial Citadel
Definitely one of the most wonderful things to do in Hanoi, this citadel was once the political centre of the city and an important spot during the Vietnam War. Now a UNESCO World Heritage Site, the site dates back over 1,000 years and has plenty for you to discover. Here you can see the foundations of ancient palaces that were once located on the site, the impressive gates to the complex, collections of weaponry and bunkers from the Vietnamese War.
St. Joseph's Cathedral
A stunning Gothic Revival cathedral in the centre of Hanoi, St. Joseph's Cathedral was one of the first structures built by the French colonial government in the late 1880s and is now the oldest church in Hanoi. Those who visit comment how the twin bell towers are reminiscent of Notre Dame in Paris, with good reason; the architects meant to emulate the French capital's famous building. St. Joseph's is just as beautiful inside as it is out, with its rib-vaulted ceiling and imported French stained glass.
Temples of Hanoi
Temple of Literature
Founded in 1070 and dedicated to Confucius, the Temple of Literature holds major importance in Vietnamese culture as it was established as the country's first university six years later. Nearly destroyed during the Vietnam War, it has been lovingly restored to its former glory and it really is splendid to walk around, with its citadel, courtyards and large lake. One of the highlights is the Stele of Doctors, 82 carved blue stone turtles – considered to be a holy animal in Vietnam – with the names of graduates from over the centuries. If you happen to be a budding writer, make sure you pray at the temple; it is believed that if you pray here, you will go on to publish a masterpiece.
Bach Ma Temple
Built in the 9th century to guard the east of the city, Bach Ma Temple is one of four sacred temples in Hanoi and is dedicated to a white horse which allegedly led Emperor Ly Thai To to the site of the building. It is also considered to be the place where the emperor decided to construct the walls of the city. The temple you see nowadays mostly dates back to the 18th century after extensive renovation work, but it is still one of the most exquisite sites you will see in Hanoi, with its beautiful red and gold decoration and many sculptures and statues of white horses.
One Pillar Pagoda
Located between the Ho Chi Minh Mausoleum and Museum, the One Pillar Pagoda is considered to be one of Hanoi's most revered temples. Built from wood on a stone pillar, the pagoda is shaped in the form of a lotus flower, the Buddhist symbol for purity as the lotus flower blooms in muddy ponds. Although it was destroyed by the French just before they withdrew from Vietnam, it has been rebuilt in exactly the same style. If you manage to time your visit right, you can find the surroundings of the pagoda extremely peaceful, but be warned that you are far more likely to be sharing the space with dozens of groups of other tourists.
You will visit temples of Hanoi and much more exciting locations booking the 9 days long North Vietnam Tour Package to dive deeply into the traditions and culture of Vietnam.
Hanoi Tours
Street Food Tour
Of course, one of the greatest things to do in Hanoi is sample some of the amazing cuisine the city has to offer, so what could be better than taking a street food tour to make sure you are getting the best of the best? Street food is a massive staple of most Asian countries and Vietnam is no different. If you decide to take a street food tour, not only will you be getting to taste some of the best dishes, but you will also learn about how the dishes are made, get an insight into Vietnamese culinary culture and be given some handy tips on how to pick a good street food vendor over those which do not hit the mark.
City Tours
If you are short on time when you are in Hanoi, you might want to consider taking a city tour. They are a great way of getting around the must-see sights, with the added bonus that you will be given a heap of interesting information about each site you visit. There are many companies to choose from, so you should have no problem finding a tour, even at short notice; we highly recommend the city tours available on TripsPoint.
River Cruises
If you want to see Hanoi from a completely different viewpoint, take to the water on a city river cruise. On one of these cruises you will get the chance to explore some of the sights which are located outside of the city limits, pass swathes of beautiful farmland and visit traditional manufacturing villages. Some of the river cruises go as far as Halong Bay if you want to make a full day trip of it. To discover and relax at Halong Bay it's highly recommended to take the 3-Days Halong Bay Cruise from Hanoi.
Hanoi Parks and Lakes
Hoan Kiem Lake
Possibly the most famous sight in Hanoi's Old Quarter, Hoan Kiem Lake offers fantastic respite from the busy streets of the city. According to legend, King Le Loi was given a magical sword by the gods which he used to dispel the invading Chinese forces. Later, he was boating on the lake and came across a giant turtle, who retrieved the sword from the king and took it down to the bottom of the lake to pass back onto the gods. Some still believe that giant turtles live in the lake, although animal experts have determined that the species is now extinct.
Hoan Kiem Lake is a favourite leisure spot of locals in the area and it is not unusual to see people practising tai chi in the morning or families picnicking in the afternoon. It is also the location of the Temple of the Jade Mountain, which can be accessed by the Welcoming Morning Sunlight Bridge.
West Lake
Although West Lake is primarily known as a residential and hotel area, there are a number of reasons why a visit here is one of the coolest things to do in Hanoi. West Lake has a great variety of entertainment options, including some top-class restaurants, incredibly cool bars and high-end shops. It is also a great place to get active; you can see many people on bikes cycling or just strolling around the lake. The wonderful Tran Quoc Temple is located on an island in the middle of the lake, accessible via a small causeway. This 6th century temple's claim to fame is that it is the oldest Buddhist temple in Hanoi.
If you want to see more of traditional Hanoi, there are many ancient villages surrounding the area of West Lake, such as Nhat Tan, one of the famous flower-growing villages, and Quater, known for its silkworm mulberry cultivation.
Shopping & Hanoi Night Markets
Of all the things to do in Hanoi, shopping should be top of everyone's list. Whether you are looking to buy some new clothes, traditional handicrafts or pick up some souvenirs for friends and family back home, you will find everything and more in Hanoi.
Night markets are extremely popular in Asia and Hanoi certainly has its fair share. One of the most famous of these is the Old Quarter's night market; it is a lot of fun to walk around and you should definitely visit at least once, but just be mindful that because this market attracts more tourists than some of the others, you will find that prices are much higher here. For lower prices, you should head to either Dich Vong – Cau Giay or Phung Khoang – Thanh Xuan night markets, which are primarily aimed at students. At both of these markets you can buy an assortment of goods, such as clothing, accessories and footwear, all at extremely reasonable prices.
For specialist items, there are certain areas dotted around the city and where you go will depend on exactly what you want. Hang Gai Street is known for its array of silk shops, Hang Dau Street is filled with shoe sellers and makers, and Bat Trang Ceramic Village is where you should go for any pottery, especially beautifully crafted tea sets.
Theatre and the Arts
Vietnam has a long history of traditional arts and Hanoi is certainly one of the best places to check these out.
Thang Long Water Puppet Theatre
Water puppetry has a long tradition in Vietnam. Conceived as a way of making use of disused, waterlogged paddy fields, rural Vietnamese people used them to stage highly impressive puppet shows, with the puppets looking like they were dancing on the water. Of course, there is a significant lack of rice paddies in the centre of Hanoi, so a theatre was built specially for water puppetry. The shows tell the stories of various local legends, including the tale of King Le Loi and the giant turtle in Hoan Kiem Lake, and are a magnificent sight to behold.
National Tuong Theatre
If you are looking to enjoy some traditional Vietnamese music, dance and acting, the National Tuong Theatre is definitely the place you should head to. Founded in 1959 by the Vietnamese government to help preserve these wonderful arts, it is one of the best places to see Nha Nhac, a form of Vietnamese court music which was recognised as a UNESCO cultural heritage item in 2003.
Hanoi Opera House
This grand opera house was originally built by the French under colonial rule but was subsequently left to the elements for decades before being renovated in 1997. However, it has consistently held a wide variety of performances ranging from traditional Vietnamese plays and musicals to popular Western ballets and operas, such as Swan Lake. It is currently home to the National Symphony Orchestra and the National Ballet and it is possible to see amazing works of opera, ballet and classical music for extraordinarily low prices, so if you are a fan of the high arts but find them too expensive to indulge in when you are in your home town, a visit here should be high on your things to do in Hanoi.
Cookery Classes in Hanoi
Of course, we all know that Vietnamese food is fantastic and a major part of your trip to Hanoi will be sampling as many traditional dishes as possible. But how would you like to continue your enjoyment of Vietnamese cuisine once you get back from your vacation? Sure, you can visit Vietnamese restaurants back in your home country, but surely a better idea would be to cook your own? Luckily, there are plenty of places where you can take cookery classes in Hanoi so you can learn first-hand how to prepare your favourite dishes from a qualified Vietnamese chef. As part of your cookery class, you will also get the chance to visit a local market to buy the ingredients for what you will be making; this wonderful glimpse into Vietnamese culture makes taking a cookery class one of the best things to do in Hanoi.
As you can see, the list of things to do in Hanoi is extensive, with something for everyone, no matter what do you like and interests. And with so many things to do in Hanoi, you can be sure that a trip here will be one of the best vacations you will ever take.