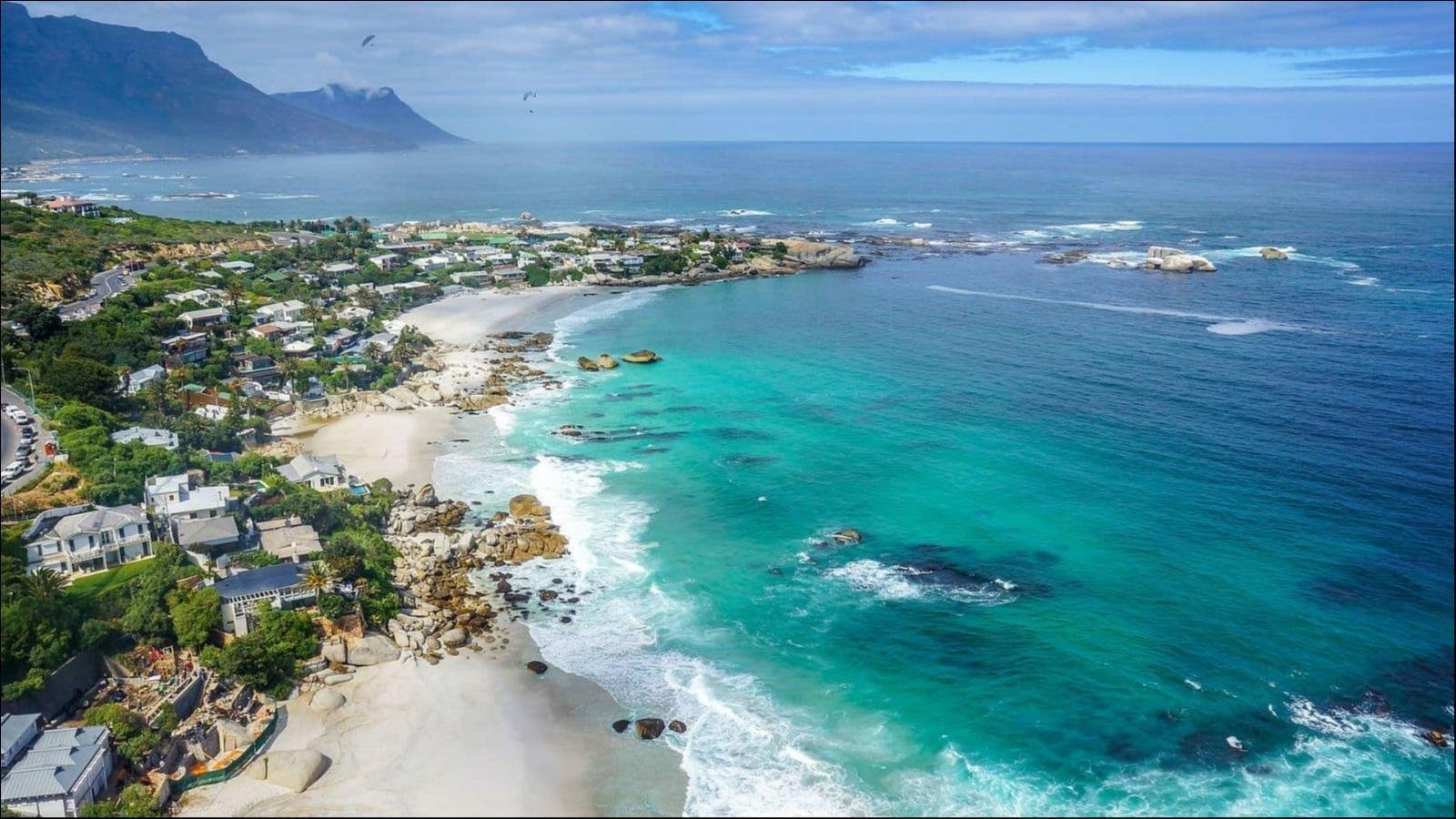 ---
Things to Do in Cape Town, the World's Adventure Capital
---
Ali Jennings
-
-
Feb 11, 2020
Considered to be one of the most adventurous cities in the world, Cape Town is the place to go if you are looking for thrilling activities. But while Cape Town certainly has a huge reputation for being an adventure playground, this is not the only reason for taking a vacation here. Cape Town is home to some of the most beautiful scenery the world has to offer, you can see magnificent wildlife roaming free not too far from the centre, some of the world's best wine is produced here, and the city has a long and varied history. If you are planning a trip to South Africa's most cosmopolitan city, here is a guide to things to do in Cape Town.
Sightseeing Things to Do in Cape Town
Robben Island
South Africa's apartheid history is something which is still fresh in many people's minds in the country, and there are plenty of opportunities to learn more about this era when visiting Cape Town. One of the most famous sights connected with apartheid – and also one of the most famous things to do in Cape Town – is Robben Island. Located just a few kilometres off the coast of Cape Town, Robben Island was fortified in the late 17th century and subsequently used as a prison right up until 1996. Many of the prisoners who were incarcerated here were political, most famously Nelson Mandela, who spent 18 of the 27 years he spent in prison on Robben Island.
Tours run from Cape Town Harbour three to four times a day and take around three-and-a-half hours. As well as the prison itself, you will be shown many other important historical sites on the island, such as the leper graveyard, the disused lime quarry, and the army and navy bunkers. You will, of course, get to enter the maximum-security prison, with the tour culminating with a viewing of Nelson Mandela's cell.
Township Tour
Another of Cape Town's apartheid-related sightseeing options, Township Tours have become increasingly popular in recent years, particularly by those travellers who wish to give something back to the local communities. During the apartheid era, it was declared that white and non-white people were not allowed to live in the same residential areas as each other, with non-whites being forced out of formal housing areas into less-developed settlements on the edges of the city. These informal settlements were called townships and were especially known for being poverty-stricken. Despite the fall of apartheid in the early 1990s, these townships still exist today and poverty levels have not decreased that much.
Taking a township tour gives you the chance to experience this side of Cape Town life and understand more about the struggles non-white people have faced in the city over the last few decades. Make sure that you book with a reputable company so you know that your money is going back into the local communities.
Bo-Kaap
Apart from the centre of Cape Town, Bo-Kaap is possibly the city's most famous district. Known for its colourful houses, Bo-Kaap is officially called the Malay Quarter and has a long and rich multicultural history. Predominantly due to the number of immigrant slaves which were brought over in the 16th and 17th centuries, Bo-Kaap has been influenced by many different nationalities and cultures, including Malaysian, Indian, Sri Lankan and other African nations. Nowadays it is still known for its incredible history and a visit here is one of the must-do things to do in Cape Town.
To get a feel for Bo-Kaap, various companies run free walking tours of the area. On these tours, you will be able to get an overview of the area's best-known landmarks, including the colourful houses, various religious buildings, and the restaurants and bars with a historical story to tell. It is a great way just to get your bearings and understand a little bit more about this iconic neighbourhood. Once you have done that, you can then visit Bo-Kaap Museum, a small establishment which has been set out to resemble a 19th-century Muslim home. Other Bo-Kaap highlights you should definitely check out include the Noon Day Gun, Auwal Mosque, and the cool independent boutiques here selling locally-made products.
Kirstenbosch Botanical Gardens
An idyllic oasis in the middle of Cape Town, Kirstenbosch Botanical Gardens is arguably one of the most stunning botanical gardens on the planet. Situated at the bottom of Table Mountain, the gardens do a fantastic job of showing off the huge biodiversity Cape Town – and indeed South Africa – has. Here you will find a vast number of plants, flowers, and trees, many of them endemic to the country, and it is easy to spend a whole day just strolling the gardens, enjoying a picnic on the beautifully manicured lawns, and admiring the picturesque scenery.
If you are also a fan of birdwatching, Kirstenbosch Botanical Gardens give you the chance to spot some of the native species that live here, such as the orange-breasted sunbird and the Cape sugarbird.
Explore the Cape Winelands
The Cape Winelands is one of the most well-known parts of South Africa, and it is definitely worth heading out for a couple of days from Cape Town to explore what this area has to offer. There are two main reasons why so many travellers add the Cape Winelands onto their list of things to do in Cape Town: the spectacular scenery and the fantastic wine. The best vineyards are located around Stellenbosch, Paarl, and Franschhoek, and pretty much all of the vineyards offer wine tastings, cellar tours, and even gourmet farmhouse meals.
If you want to do something different rather than the standard road trip, consider taking a tour on the hop-on, hop-off Franschhoek Wine Tram. This vintage-style open-top tram is considered to be the best way of seeing the Franschhoek Valley, allowing you to get off and get on wherever you like along the route, be it for sightseeing, a wine tasting, or a spot of lunch. In addition to this, there is a commentary on the bus about the history of Franschhoek and how the wine industry began, grew and developed here, so you will get to learn more about the area than you would if you were self-driving.
Active Things to Do in Cape Town
Climb Table Mountain
Table Mountain could definitely be described as being one of Cape Town's most iconic sights, but it is also fair to say that is one of the most recognisable sights in the entire world. Hiking Table Mountain is not an activity for the faint-hearted, but it is certainly rewarding, especially when it comes to the amazing views you will get when you reach the peak. There are a few walking trails which you can take up the mountain, the most popular being the Platteklip Gorge Trail. This is the most direct route and therefore the fastest, although be warned it is rather steep; rather than zigzagging its way up Table Mountain, the trail proceeds in a straight line. The trail with the best views is the India Venster Trail, although this is also the most challenging, taking between two and four hours each way; this trail is definitely only for those with high levels of fitness.
The Skeleton Gorge Trail is also pretty long but is much more leisurely and is great for those who are interested in flora and fauna. For those who are still seeking a little bit of a thrill once they have reached the top of Table Mountain, it is also possible to abseil your way back down; a number of companies offer the chance to do this.
If you do not fancy climbing Table Mountain, there is also the option of taking the cable car up to the peak instead. While certainly not as active as hiking, taking the cable car is just as exciting and you will get to enjoy the views in relaxation.
Paragliding
As we all know, Cape Town is home to some stunning natural scenery, and what better way to experience it than from the air? Paragliding is one of the most amazing things to do in Cape Town; as well as being a fun activity, you will also get breathtaking views across the city's beaches, cliffs and promenades.
If you want to add a paragliding adventure to your Cape Town trip, book this package through TripsPoint.com. This one-hour activity includes all your equipment and safety training in addition to your own personal pilot, so even if you have never done any paragliding before, this activity is for you. You will begin your flight at the top of Signal Hill then land at Sea Point after an exciting ride.
The flight is both exhilarating and gentle, and will certainly be an experience you never forget.
Shark Cage Diving
Possibly the activity which Cape Town is most famous for, there is no activity more thrilling than shark cage diving and is definitely one of the quintessential things to do in Cape Town. It might seem like an insane idea to lower yourself down into the sea in a cage where great white sharks are swimming, but it really is the best – and for many people around the world, the only – way of seeing these mighty creatures in their natural habitat.
The most popular places to go shark cage diving in Cape Town are Gansbaai, known for having the densest great white shark population in the world, and False Bay. Gansbaai is more of a trek to get there – being approximately a two-and-a-half-hour drive outside of Cape Town – but as you get better spotting opportunities, it is definitely worth the trip. Because the activity is so popular, there are lots of companies which will include transportation to shark sites. You also do not need to worry about what time of year you are travelling to Cape Town; shark cage diving is available throughout the year.
Wildlife Things to Do in Cape Town
Whale Watching
Great white sharks are not the only marine animal that Cape Town is famous for; the city is also a prime location for whale watching. The most common animal you will most likely see is the southern right whale, but there is also a chance to see humpback whales, Bryde's whales, and bottlenose dolphins. For the ultimate spotting opportunities, the best time for whale and dolphin watching is between May and November. It is possible to see Bryde's whales throughout the whole year, but they tend to be rather elusive creatures, diving for long periods and only resurfacing for a short time.
While there are many spots along the southern coast where it is possible to observe these magnificent beasts, the destination which is considered to be the best is Hermanus, rated as one of the top 12 whale watching spots in the world by the World Wildlife Fund. One of the great things about Hermanus is that you do not even need to take to the sea to see the whales as they often swim within metres of the shoreline. However, if you do want to go out onto a boat to see them more close-up, there is an abundance of tour companies in Cape Town which offer whale and dolphin watching boat tours, some of which will include transfers to and from your accommodation.
Penguin Colony at Boulders Beach
If you prefer to do your wildlife watching on land, head over to Boulders Beach where you can watch the hundreds of penguins that make their home here. Located around an hour's drive from the centre of Cape Town, it is possible to observe this colony of African penguins close up. There is a boardwalk which allows visitors to walk through the nesting ground with no disturbance to the birds whatsoever, plus the observation deck by the beach gives you the chance to see these wonderful birds as they go about their daily business fishing, playing, squabbling, and sleeping.
There are not many places in the world where you can see penguins up close in the wild, making this one of the most unique things to do in Cape Town.
Seal Island
They may not get as much attention as the penguins, whales, and sharks, but the seals that live around Cape Town are just as glorious to witness. Located in False Bay, this small island is used by the Cape fur seal as a breeding ground; some 20,000 pups are born here in November and December. Taking a boat trip out here to see the huge amounts of seals is one of the loveliest things to do in Cape Town. However, it is also during winter that the great white sharks are most active, and at times they form a circle around the island known as the Ring of Death. Any seal that happens to venture too far out into the water could find themselves snatched up by the jaws of a great white.
Whether you would enjoy seeing something like this is down to personal preference, but there is no doubt that spotting such a momentous natural event would be a once-in-a-lifetime experience.
Shopping in Cape Town
V&A Waterfront
As a major city, Cape Town, of course, has plenty of shopping opportunities for those who need to scratch a retail therapy itch. However, many people think that the V&A Waterfront is the absolute pinnacle of shopping in the city. Located, as the name might suggest, by the harbour, this pedestrianised shopping and entertainment complex houses all kinds of retail and culinary establishments, so you can guarantee there will be something for everyone in your travel group. Highly recommended is the Water Shed, where you will find dozens of different vendors selling a variety of artisan crafts and fashion. Elsewhere in the complex, you will find over 450 boutiques and stores selling everything you could possibly imagine. Also worth checking out is the V&A Food Market, which has more than 40 stalls serving cuisine from around the world.
Once you have got your retail fix, there are a couple of interesting attractions nearby, the Cape Town Diamond Museum and the Two Oceans Aquarium, if you want to continue your day in the area.
Multi-Day Things to Do in Cape Town
Garden Route Tour – Five-Day Christmas Package
If you happen to be travelling to Cape Town during the Christmas period, you should definitely take advantage of this Garden Route Tour, which you can book through TripsPoint.com. Starting on 23rd December, you will begin your trip by exploring Cape Town, specifically its waterfront. Over the next few days, you will visit some of the best destinations along the Garden Route, including George, Wilderness, Knysna, and Port Elizabeth, and do all kinds of sightseeing in these wonderful places. Your trip also includes a visit to Tsitsikamma to participate in some bungee jumping – if you are feeling brave enough!. On Christmas Day itself, you will enjoy a delicious Christmas dinner at one of the best hotels along the Garden Route.
As a package tour, your airport transfers, transportation, bed and breakfast accommodation, dinner, and sightseeing trips are all included in the price. Of all the things to do in Cape Town, this Garden Route tour gives you a fantastic opportunity to experience a real South African Christmas.
When it comes to destinations which really have it all, from fascinating sightseeing to fun ways to spend your time, Cape Town comes extremely high on the list. As you can see from this list of things to do in Cape Town, you really are in for a fabulous treat when you spend your vacation here.