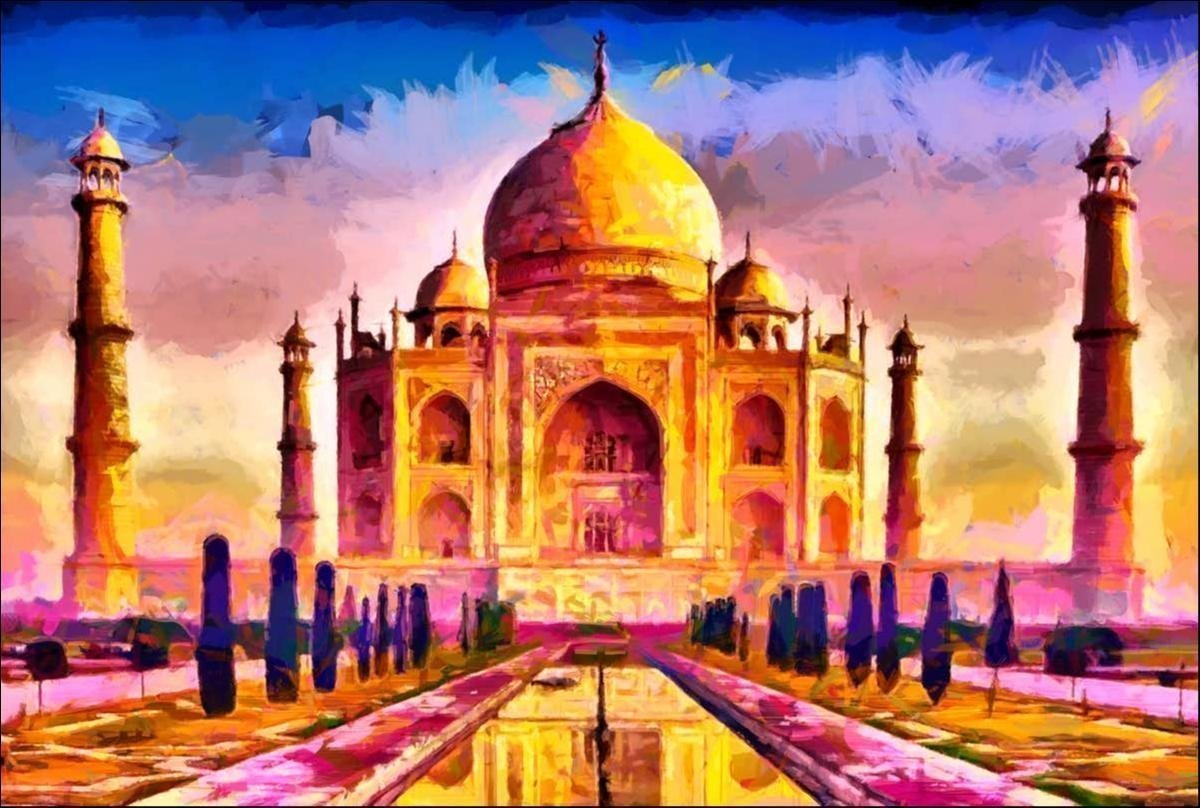 ---
Taj tours from Delhi to Agra - true delight for History Buffs!
---
India is a melange of religions, cultures, traditions and beliefs. The diverse experience that India can offer to global travellers is unparalleled. India can be aptly described as a colourful, fun loving, traditional and a cultured nation offering a sensory overload to anyone who visits us. India was ruled for 400 years my Mughals followed by two centuries of British rule post which India became a democracy in 1947.
The foreign rulers have left prominent marks on the Indian culture and landscape. North India offers insights in the Mughal era. The monuments built by mogul kings give travellers a sneak peek to the opulent, majestic lifestyle of these kings.
The crown monument built by the moguls is the Taj Mahal, the then mark of a husband's undying love for his wife and today one of the seven wonders of the world. A visit to North India is incomplete without visiting Agra, the city in which Taj Mahal is located. While a Taj Tour is something you shouldn't miss on your next visit to India, Agra has a lot more to offer in addition to the Taj. Here the top 6 things to do in Agra.
Poetry carved in marble: Taj Mahal
Taj Mahal: this name, the vision of this monument evokes tones of memories for me. I was 10 years old when my parents took me for my first of Taj tours. The kid in me found this white marble mausoleum to be grand, magnificent and overwhelming. I fell in love with the grandeur of Taj and since my first visit, I have been fortunate enough to visit it once again.
A decade later on my second visit to Taj Mahal, I fell in love with it again. It was on my second visit that I could understand the historic, emotional and architectural value of this wonder. The intricate carvings, the detailing in design, the focus on aesthetics is mind-boggling. The impact of Taj's beauty and superior technical strength are magnified when you realise that Taj Mahal was constructed in the mid-17th century.
Technical strength and superiority of the structure can be noticed in each and every aspect of Taj. One simple example of the technical superiority of design is that all the religious inscriptions inside the Taj complex are carved in a way that the size of the writings increase as they go up. This results in uniform size writings for viewers when they see it from the complex floor. Another notable one is Taj Mahal has four minarets or pillars surrounding the central complex, these are designed in such a way that in the case on an earthquake they will fall towards the gardens and not the main structure, thus safeguarding the tombs and the central structure of the complex. While buildings built merely 50 years back are falling apart, Taj Mahal stands tall and proud for almost 4 centuries with a promise of many more centuries to come.
Taj Mahal was built by Mogul Emperor Shah Jahan to mark his eternal love for his wife. Mumtaz Mahal, a Persian princess and empress of India died while giving birth to their 14th child. Shah Jahan built the Taj to house Mumtaz Mahal's tomb. It also houses Shah Jahan's tomb, but Mumtaz's tomb is the centrepiece of this 42-acre campus. Taj Mahal is built in the Persian and Mughal architectural style and is one of the finest monuments built by the moguls across the globe. Around 7 million people from around the world take a Taj tour every year to witness this grand display of love.
While a Taj tour defines the city of Agra, it has a lot more to offer, so let's see what are the other adventures waiting for you here.
From Taj to Baby Taj
The tomb of Itimad-ud-Daulah often referred to as a 'Jewel Box' or 'Baby Taj' is one monument that you should definitely see on your visit to Agra. This tomb was built before the Taj Mahal and in fact, has served as a draft complex and inspiration for Taj's design. The walls of Baby Taj are endowed with intricate floral carvings inlaid with colourful semi-precious stones.
This monument witnesses the Mogul architecture's transition from using the red sandstone to white marble. While not being as big as Taj, it is no less in terms of attention to the details and grandeur. The best part about Baby Taj is, it hardly gets any tourists, thus you can the tomb to yourself and see it in peace.
This is the best place to click Instagram worthy pictures because this place is well maintained, is surrounded by manicured gardens and doesn't have a lot of tourists to disturb your frame. Grab your camera and head to the Baby Taj for the historic photo shoot you were longing for.
Red Fort of Agra
The Agra Red Fort can aptly be described as a walled city and covers a huge area of around 94 acres. A visit to the fort that served as the primary residence to Mogul Kings till 1638 gives an insight into the opulent lives of these rulers. This red sandstone structure has changed many hands over the course of centuries and the evidence of various rulers and cultures is evident in the fort structure.
Red Fort complex consists of various halls, rooms, and specially decorated chambers and each of these unique, beautiful structure has a story behind its development. For me, the most interesting and aesthetically appealing chamber is the 'Sheesh Mahal'. This is a chamber made entirely made of high-quality mirror and glass mosaic. The artistic display for colours and light reflection is mesmerizing.
To know about the history of the fort and get information about all the details behind a particular chamber and its architectural style it is advisable that you see the Red Fort with a tour guide. One tip to optimize your visit to the Red Fort is; this place tends to crowd so click your pictures fast, don't wait for the perfect pose or the frame to become clear, this will never happen here.
Akbar's Tomb
Mughal's were a grand dynasty who loved expressing things in style. Their way of expression for birth, death, love and respect was elegant, grand and bold. You can witness this throughout your Agra tour as you go from one monument to another. Agra perhaps has the most number of prominent Mughal monuments and Akbar's Tomb located a few kilometres away from Agra is a fine example of the Mughal style of architecture.
As the name suggests this mausoleum houses Akbar and his wives' tombs and is surrounded by acres of exceptionally well-maintained gardens. The gardens have peacocks, deer, monkeys and other such animals and these animals especially the Monkeys are hilarious at mimicking people.
These Monkeys have learnt the art of posing for pictures and so as soon as you pull out your camera to click a picture they will perfectly imitate the way a girl poses for a picture by making their hair, applying lip makeup and then giving a picture-perfect smile. Watching these monkeys imitating humans is funny and I suggest you click a video of this because this is something I have never witnessed before.
Akbar's tomb is a little away from the hustle and bustle of the city and thus does not attract tourists in large numbers like the Taj Mahal and the Agra Red Fort. This place is best to enjoy some quiet time in the company of history and click some great pictures to show off your travel escapades on your social media platform.
Fatehpur Sikri
The historic scene in Agra is divided equally between Forts and Mausoleums. This city will surely give you the Game of Thrones and especially King's landing vibes when you visit the Agra Fort and Fatehpur Sikri. Just like the Agra Red Fort, Fatehpur Sikri is also a walled city and has stunning aesthetics. The main attraction here is the imposing entrance gate. 'Buland Darwaza' or the 'Gate of Victory' was built by Akbar to mark the Mughal empire's victory over Gujarat.
This is the highest gateway in the world and to me, this looks similar to the entrance gate of King's Landing from Game of Thrones. So people enjoy this example of Indo-Islamic architecture and relish your GOT memories.
Dayal Bagh Temple
This temple is perhaps a modern day marvel and an unexplored gem in the city of Agra. Dayal Bagh Temple meaning the Temple of kindness is a temple being built by the Dayal Bagh Sect some 15 km away from Agra. This temple gained its legendary status owing to its amazing carvings and the fact that it is under construction for more than a century now.
The temple development is slow because they believe in using the organic way of construction and thus all the carvings are done by hand and usage of machinery is avoided in construction. In addition to this, the Dayal Bagh sect is a self-sustaining community and only excepts donations from its followers and thus funding troubles also hamper the construction process.
This place is worth a visit for the detailed carvings and to observe the process of the carvings. Dayal Bagh is history in making and while we couldn't witness the making of Moghul monuments for obvious reasons, we can witness the making of history here and imagine how it will look when it is completed.
Taj Tours to Agra
Agra is a delightful city and a once in a lifetime treat for history buffs. Head to this city in northern India and take the Taj tours from Delhi to relish the Indian history and culture and while you are here also witness how history, tradition and culture co-habits with technology and development.
The best way to do this is to interact with locals and you can do this by visiting the local markets and tasting local food like Samosas, Chats and famous Agra Petha. Break your busy sightseeing with some lip-smacking food at a local eatery and some local marble shopping from the numerous souvenir stores located in the city.