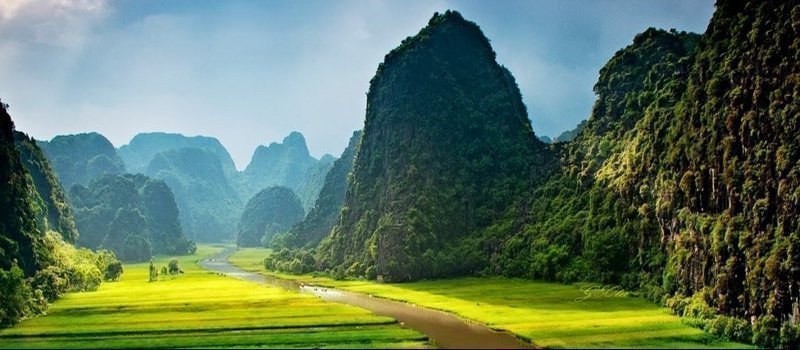 ---
Vietnam Tours become extremely popular among American Travellers
---
Vietnam, along with the rest of South East Asia, has long been a feature on many backpacker's lists of places to see before they die. For those wanting to find themselves and experience life in a completely different culture, Vietnam seems to do just that. However, in recent years the tourism industry has started to change in this fascinating country. Just last year Vietnam was named 'Asia's Leading Destination' for the first time at the 2018 World Travel Awards because of the wide variety of options this wonderful country can offer. And tourists seem to be agreeing with the experts. Since 2010, tourist numbers have been increasing year on year, jumping from just over five million in that year to a staggering 15 and a half million in 2018. Judging by the rate of tourists that have already travelled to Vietnam this year – the number was recorded at over nine and a half million in July 2019 – it seems that the 2018 record is on the way to being surpassed as well.
American Tourist Numbers Increase
Out of all the tourists that visit Vietnam, US citizens rank very highly. In terms of tourist numbers, the USA comes fifth in the rankings, beaten only by China, South Korea, Japan and Taiwan. From the western world, American travellers are the highest in numbers, with almost half a million already having visited in 2019. And with these numbers creeping up and up as the years go by, it seems to be a trend which has no intent on slowing down. With Vietnam tours evidently becoming extremely popular among Americans, what exactly is attracting them to this South East Asian nation?
Why Are More and More American Tourists Travelling to Vietnam?
It is not hard to see why Vietnam has become so popular with American tourists. It is a cheap destination which offers so much to the regular American traveller. It is a country which offers a variety of options for tourists wanting to travel there, such as adventure tours, eco-tours, cultural and historical tours, sea-based tours as well as luxurious options for those who prefer not to leave behind their creature comforts. Vietnam has 21 national tourism areas, an abundance of World Heritage Sites, eight zones which are classed as world biosphere reserves, and 31 national parks, meaning there is plenty here for American tourists to enjoy.
Vietnam's cities also get a lot of media attention. The capital city of Hanoi is regularly listed among the top 10 destinations worldwide on travel websites, with Ho Chi Minh City and Hoi An also making appearances on lists specifically for Asia. With so much media attention, it is easy to understand why Vietnam might be at the forefront of people's minds when they are thinking about booking their next holiday.
Military History Draws in American Tourists
A major factor which seems to be attracting Americans to Vietnam is the rise of military tourism. The Vietnam War, also known as the Second Indochina War or in Vietnam as the Resistance War Against America, was a conflict between the states of Vietnam, Laos and Cambodia which lasted from 1 November 1955 to the fall of Saigon (now Ho Chi Minh City) on 30 April 1975. Considered a Cold War-era proxy war by some, the US featured heavily as allies of South Vietnam during these 19 years, although their direct involvement ended in 1973. Nowadays, many Americans – some 51% of them – feel that the USA should have stayed out of the conflict. However, the fact remains that the Vietnam War was a significant part of American history, so it is understandable that US citizens would be interested in seeing the country where so many of their men – among those from other nations – either were injured or lost their lives.
For travellers who come to Vietnam for military history, many interesting sites await them. Top of the list is the Cu Chi Tunnels, an immense network located in the Cu Chi district of what is now Ho Chi Minh City which forms part of a much larger network which expands across the entire country. These tunnels were the location of a number of military campaigns during the Vietnam War and were used by the Viet Cong soldiers as hideouts during combat as well as hospitals, communications and supply routes, storage for food and weapons, and living quarters for a huge number of North Vietnamese fighters. They were of great significance to the Viet Cong and were of tremendous help in their resistance against the American forces. Of course, the US military knew about the tunnels and launched a number of campaigns designed to flush the Viet Cong out of them and to destroy the tunnel system. Most of these campaigns were unsuccessful until the year 1969 when the Americans started carpet bombing Cu Chi and the rest of the Iron Triangle. Nowadays, the Cu Chi Tunnels have been preserved as a monument and turned into a war memorial park. Here tourists can crawl around in the tunnels which are still safe to use and see displays of the different kinds of booby traps that were used. Underground conference rooms where campaigns would have been planned, such as the Tet Offensive, have been restored, and visitors can even sample a simple meal which the Viet Cong fighters would have eaten. This helps to bring to life the conditions the Viet Cong would have faced when fighting against the US Army, something which would greatly interest the majority of American visitors.
Another top military history attraction for Americans is Hoa Lo Prison in the capital of Hanoi. Although originally used by French colonists to house political prisoners during their rule over Vietnam, it was then used for American prisoners of war during the Vietnam War, who gave the building the sarcastic nickname 'the Hanoi Hilton'. A number of notable Americans were imprisoned here and endured harsh and miserable conditions, such as bad sanitation and insufficient, poor quality food. Visiting Hoa Lo Prison makes for an interesting experience for the majority of Americans; the museum which is now housed in the building claims that the Americans were treated well during their prison stay, citing the famous nickname as proof that they viewed the prison in the same way as a hotel. This is, of course, refuted by many sources, but for American tourists, the museum can be a fascinating insight into war propaganda.
But Vietnam's Ancient History is Also of Interest
Of course, Vietnam's history goes back way further than the Vietnam War. The country has a plethora of sites dating back all the way to ancient times. For American tourists, these can also be a source of intrigue and wonder. While the USA's history is also long, its sites do not date as far back as those in Vietnam. Some of Vietnam's temples were built in the 4th century and American tourists are often astounded that these buildings have stood the test of time.
Not only are there sites of incredible historical importance, but there are entire cities which have been declared UNESCO World Heritage Sites. American tourists flock to the cities of Hoi An and Hue for this specific reason. Hoi An was once an important trading port from the 15th to the 19th century and is now considered to be one of the most well-preserved examples of architecture from this time, with its street planning and buildings reflecting a curious blend of indigenous and foreign influences. Hue also has great historical significance; it is the location of a vast citadel which encompasses the Imperial City, the Forbidden Purple City and a replica of the Royal Theatre. Here, in Hue took place the Battle of Hue which is among the hardest actions during the Vietnam War.
These are only two examples of places which attract a huge number of American tourists. Dotted around the country are a myriad of temples, pagodas, archaeological sites and other examples of ancient architecture which continue to astonish everyone who visits them.
Vietnam Has Some of the Most Beautiful Natural Landscapes on Earth
History is not the only reason why Americans are booking more and more Vietnam tours. The country is well known for having some of the most breathtaking scenery in the entire world. With landscapes which encompass pristine beaches, turquoise sea, lush green jungle, imposing mountains and stunning rock formations, it is not hard to see why Vietnam regularly tops visitor polls as one of the most beautiful countries.
The natural wonder which seems to attract the majority of American tourists in Ha Long Bay. Located in northern Vietnam and boasting over 1,600 limestone islands and islets, while it is a fantastic place to observe the wide range of biodiversity that exists in the area, many Americans are drawn to the spot as it is easily recognisable from many Hollywood movies, such as Kong: Skull Island, Bond film Tomorrow Never Dies and Pan.
Although trips to Ha Long Bay have long been a fixture on a lot of visitor's itineraries when travelling in Vietnam, the boom in the tourism industry has meant that lots of natural places previously not easily accessible for tourists, apart from the most fool-hardy and adventurous, have been opened up by the increase in Vietnam tours. This means that many more American tourists are beginning to take excursions to these more secluded and off the beaten track sights, simply because the infrastructure has improved in the country to allow for these types of Vietnam tours. These include excursions to Tram Chim National Park, Thac Bac Waterfalls and the Sand Dunes of Mui Ne.
Flights Are Becoming Cheaper
Along with everything that Vietnam has to offer, another reason why Americans are heading to Vietnam is the cheap flights which are now available. Deals can be found for as little as $400 one way. This is probably due to the general decrease in flight prices over the last few years and also that there are currently not so many direct flights between the two countries despite the huge market for tourism among American citizens. However, this is set to change. At the beginning of the year, it was reported that Vietnamese airlines could soon be providing direct flights after the US Federal Aviation Administration declared the country had satisfied international safety standards, giving them the opportunity to fly to the US and code-share with American carriers.
Vietnam is Incredibly Affordable For American Tourists
Of course, Vietnam is well known for being an exceptionally cheap destination, especially for western tourists. Excluding international flights, it is estimated that the cost of a 45-day trip to Vietnam is around $1010; this includes all tours, domestic flights, souvenirs, accommodation, food and drink, entrance fees and tips.
For many Americans, they could not live off this amount of money for a month in their home country but can last over this amount of time living in relative luxury when travelling to Vietnam. Although how much a trip costs is a subjective thing – some people are extremely frugal, whereas others like to splash the cash – as many Americans tend to only spend two or three weeks travelling in Vietnam, there is still the potential there to bring the cost of their trip to well under $1000. For those who are looking to have an amazing holiday but for as little as possible, Vietnam tours are a great choice for American tourists.
Vietnam Tours Offer Everything an American Visitor Needs
Vietnam tours come with a wide range of advantages for the average American traveller. When booking trips through agents like TripsPoint, everything is included in the price. If these are day tours, hotel pick-up and drop-off, personal tour guide, entry tickets, lunch and all activities are included in the price. For longer tours, accommodation with breakfast, transportation – including domestic flights where appropriate – and meals on day tours are also included.
Not only do travellers who opt for these Vietnam tours get to see the most wonderful parts of the country, but they do it in style and with the aid of personal guides, who not only help them get from one destination to another but can also provide a wealth of information relating to the places and sights they are visiting.
But Why Do Americans Specifically Book Vietnam Tours?
Obviously, planning a trip like one to Vietnam needs a lot of preparation. It is a country which, despite its massive increase in tourism and the accompanying improvements in infrastructure, Vietnam is still a difficult country to navigate if you are travelling independently. You have to contend with transport delays, confusion is huge, busy bus and train stations, and then there is the negotiation of prices on top of that – Vietnam is, after all, still predominantly a country where you haggle.
Booking Vietnam tours rather than travelling independently appeal to the vast majority of American travellers and this is easy to explain. To begin with, Vietnam tours are a much more convenient way of travelling the country. The current flight time between the US and Vietnam is approximately 20 hours non-stop. If passengers travel non-direct, this could potentially increase the journey time to over 40 hours. After travelling for such an extended period of time, who then wants to have to navigate a country which is significantly different from their own, spend time negotiating with taxi drivers and try and find their hotel? Surely it is better to pay for someone else to do that for it? This is the main reason why Americans prefer to book Vietnam tours; it takes all the hassle out of travelling, giving them more opportunity to enjoy their vacation.
Another advantage of Vietnam tours is the vast amount of options available to American tourists. Although all the standard trips to the major tourist attractions are on offer, other trips that travellers can take advantage of can show the more traditional side of the country. For example, the Village and Crafts Day Tour which can be booked via TripsPoint takes visitors to the surrounding areas of Hanoi and gives them the chance to observe two villages which specialise in the craft trades of pottery and folk painting. On top of that, visitors also have the opportunity to buy some of these unique souvenirs to remember their trip by. These are experiences which travellers may miss out on if they are travelling independently, either because they do not get to hear about these kinds of tours or because there are not easy to organise. However, by booking Vietnam tours, these kinds of activities become extremely simple to arrange at TripsPoint.
Statistics prove that Americans are becoming more and more interested in visiting Vietnam and this article has gone some way in explaining why: it is a country with a rich history, top-class activities and, most of all, offers an excellent exchange rate when compared with the dollar. That being said, as wonderful as Vietnam is as a destination, for visitors not used to travelling in countries which differ largely from the western world, it can be a pretty difficult and daunting country to get around. By booking Vietnam tours at TripsPoint, whether they be one-day trips or something much longer, American tourists get all the best that Vietnam has to offer while not having to worry about all the practicalities and arrangements that go with it.