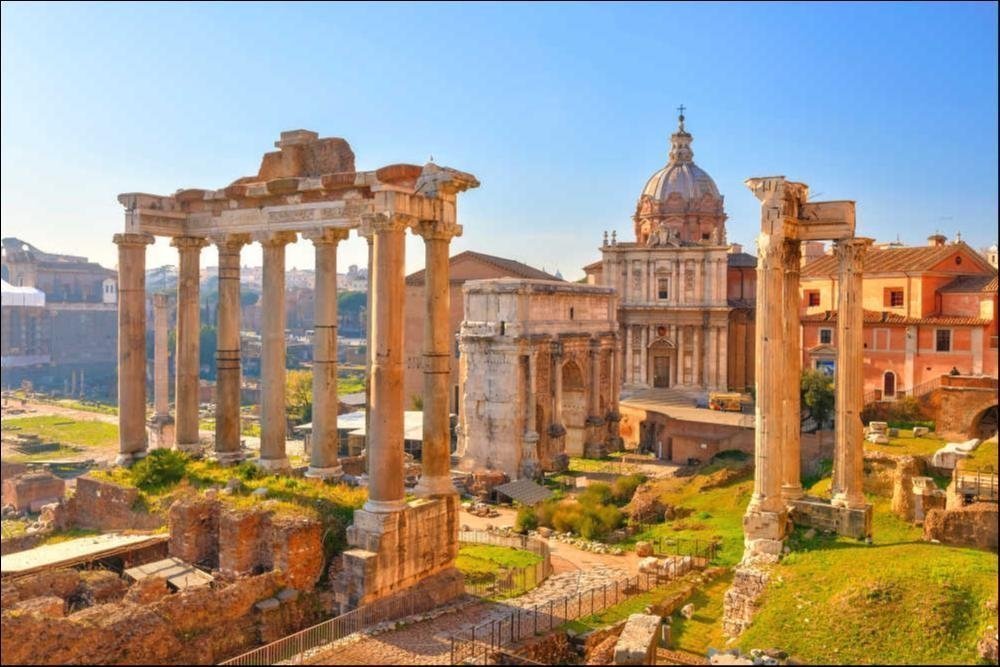 ---
Things to Do in Rome - The Ultimate Guide
---
For all the history buffs and culture vultures out there, there can be no greater travel destination than Rome. The Italian capital was the birthplace of one of the oldest civilizations on Earth and is filled with splendid architecture, interesting museums, and well-preserved historical sites. On top of this, there are not many places where you can indulge in some of the world's best food and wine – but you can do just this on a trip to Rome. Add in fantastic shopping, great weather, and a whole host of unique things to see and do, and you can understand why Rome is one of the hottest destinations on the planet. To help you to plan that perfect holiday, check out this guide to things to do in Rome.
Sightseeing Things to Do in Rome
Colosseum, Roman Forum and Palatine Hill
As the most recognizable icon of the city, the Colosseum will definitely be top of your list of things to do in Rome. Built between 72 AD and 80 AD, this magnificent structure has gone through many uses and transformations throughout the centuries, from its beginnings as an arena staging gladiatorial events and naval battles through medieval times when it was used as a church, cemetery, housing, workshops, and eventually a castle, to more recent centuries where the building was scouted for materials for use on other structures in the city, such as St. Peter's Basilica in the Vatican. After finally being handed over to archaeologists, the Colosseum is the most popular tourist attraction in Rome, wowing visitors with its immensity and sense of history.
Close to the Colosseum and within the same archaeological park are the Roman Forum and Palatine Hill, the perfect attraction if you want to see where the ancient city of Rome first began. While the two areas are in ruins, it is still possible to see how grand and opulent the city would have been almost 2,000 years ago. The Roman Forum was once the political center of the city and was where all the important affairs were debated; over the years, other types of buildings were added to the area, such as market halls. Highlights in the Roman Forum include the Temple of Antoninus Pius, the Temple of Saturn, and the Arch of Septimius Severus. Palatine Hill has been inhabited for an incredibly long time: early humans lived in the area long before Roman rulers and aristocrats built their palaces there. Here you can see the House of Livia, Domus Flavia, and the Baths of Septimius Severus, along with the remains of many other grand buildings.
It is possible to purchase tickets for all three of these sights which are valid for two consecutive days. However, if you want a more personalized experience, you could opt to take the Palatine Hill and Colosseum Guided Tour, available through TripsPoint.com. This three-hour tour takes you all around the sites as well as having express entry, meaning you get to skip the inevitable long queues which form at such popular attractions. Your guide will also give you lots of fascinating facts about how Rome began as well as being incredibly useful when it comes to navigating the huge site of the Roman Forum.
Pantheon
Dating all the way back to 125 AD, the Pantheon is the oldest complete building in Rome and is often praised for being such a marvelous feat of ancient engineering; its domed roof is a perfect sphere which sits in a cylinder and until the 20th century was the largest concrete building in the world. Despite its ripe age, the Pantheon we see today is actually the third to sit on the site – the previous two, dating from approximately 25-27 AD and 80 AD respectively, were destroyed by fire. While the ancient building is fascinating enough to see, especially with its large oculus and innovative drainage system, it is the ornate decoration inside which people really come to marvel at. The Pantheon also houses the tombs of a number of important Italian figures, including the artist Rafael and the first two kings of unified Italy, Vittorio Emanuele II and his son Umberto I, the latter of whom is buried with his wife Margherita of Savoy, who gave her name to one of the country's signature dishes – pizza Margherita.
Although it was originally used as a Roman temple, since the 7th century the Pantheon has been used as a church dedicated to St. Mary and the Martyrs. You can visit the Parthenon any day of the week, although it may be closed on certain national holidays and when masses are being conducted.
Trevi Fountain
One of the most unmissable things to do in Rome, the Trevi Fountain is easily the most iconic fountain in the entire city. The fountain is unusual in that it is actually fairly modern in comparison with many of the other structures around the city. Completed in 1762, Trevi Fountain is just as much a work of art as it is a fountain. This stunning Baroque fountain stands at 85 feet high and features a facade and sea reef composed of travertine, a form of limestone formed within mineral springs, and statues carved from Carrara marble which tell a story. Each of the statues which have been included in Trevi Fountain symbolizes or represents a particular concept, such as the central statue of Oceanus who is pulled along by two horses, one wild and one tame, representing the two opposing moods of the sea.
Seeing Trevi Fountain is definitely a must, but if you really want to get into the tourist spirit, you can follow in the steps of many travelers before you and throw a coin into the fountain's waters. It is said that if you throw one coin over your left shoulder into Trevi Fountain, you will guarantee your return to Rome. If you do it twice, you will fall in love with an Italian, and some even say that if you do it three times, you will marry an Italian! Whether this is true or not, what is certain is that a visit to Trevi Fountain is one of the things to do in Rome that you cannot miss.
Spanish Steps
Some steps might not seem to be one of the most exciting things to do in Rome, but the Spanish Steps may just change your mind. Another 18th-century structure, the Spanish Steps connect Piazza di Spagna at the bottom with Piazza Trinita Dei Monti and were initially built to link the church in the top square with the one down below. There are 138 steps altogether which are quite a climb, but if you want to take a break, you can do as the locals and other tourists do and sit down and rest on the steps as you make your way up. The Spanish Steps are particularly pretty when they have their displays of flowers – which is often how you see the steps in promotional photos - but you need to visit in spring to see these.
As well as the steps themselves, the area around is perfect for people-spotting, so it is worth just taking a stop for a while to soak up the atmosphere.
Vatican City
There are not many cities that can claim to have an entire country located right within its city limits. In fact, Rome is the only one as the city completely surrounds the independent state of Vatican City. The center of the Catholic Church, the Vatican is famous not just for its religious importance but also for its abundance of exquisite artwork and architecture. So despite being the smallest city on the planet, there is actually much to see here. Highlights of Vatican City include:
St. Peter's Square: one of the most spectacular squares in the city, if not the world, St. Peter's Square is an impressive sight due to the 284 columns and 88 pilasters flanking the square on which 140 statues of saints sit atop. Right in the middle of St. Peter's Square are two fountains and an obelisk, the latter of which was brought from Egypt in 1586.
St. Peter's Basilica: the largest Christian basilica in the entire world, St. Peter's Basilica is an incredible sight both for its size and beauty. Capable of accommodating 20,000 people, the Basilica really is huge; in fact, it would be possible to fit the Statue of Liberty underneath its dome with even some room to spare. Inside you can see the impressive dome and a number of works of art, including pieces by Bernini and Michelangelo. Make sure you climb the dome for fantastic views of St. Peter's Square and Rome.
Swiss Guard: one of the smallest and oldest standing armies in the world, the Swiss Guard's job is to protect the Pontiff. You will recognize them instantly by their colorful uniforms which resemble those worn by soldiers of the Renaissance era. The tradition of the Swiss Guard is incredibly old, dating back to the early 16th century, and there are strict regulations on who can join. One of the fun things to do in Rome when you are visiting the Vatican is taking a selfie with these colorful guards.
Vatican Museums: housing a staggering 14.5 kilometers of art, the Vatican Museums really is one of the most splendid things to do in Rome. Of course, the thing which most people come to see is the world-famous Sistine Chapel, painted by Michelangelo in the 16th century; the ceiling frescoes and The Last Judgement here really do have to be seen to be believed. Other top things to see here include: the Spiral Staircase, Giuseppe Momo's replica of the original by Bramante; the Pio-Clementine Museums, housing fantastic examples of ancient Greek and Roman sculptures; the Maps Gallery, containing the largest collection of geographical paintings in the world; and the Papal Apartments, where the Pope once lived.
Castel Sant'Angelo: if you are a fan of the Dan Brown novel and film Angels and Demons, you will definitely recognize the Castel Sant'Angelo. Originally built as a mausoleum for Emperor Hadrian, Castel Sant'Angelo does not actually lie within Vatican City itself, but it was acquired by the Vatican due to its strategic location. Over the years, Castel Sant'Angelo has had many uses in addition to being a mausoleum, including a fortress, prison, and museum. As you approach the castle, you will see the Bridge of Angels with its statues of Peter, Paul, and ten other angels. Inside is a wonderful museum with all kinds of interesting exhibits, such as military memorabilia, medieval weaponry, paintings, and sculptures.
As you can imagine, Vatican City gets incredibly busy whenever you go and you will face long queues. However, if you want to skip these, you can take one of the three Vatican tours available through TripsPoint.com. You can choose from the Skip the Line Vatican Group Tour, Skip the Line Vatican Museum and Sistine Chapel Tickets or if you really want to push the boat out, the Vatican Museum Private Guided VIP Tour.
Fun Things to Do in Rome
Discover Rome's Street Art
Like many major cities, Rome has its fair share of really cool street art, so making time in your schedule to check some out should definitely be on your list of things to do in Rome. There are a few neighborhoods that have some truly amazing street art, but the two most well-known are Ostiense and Quadraro. Ostiense was once a run-down and neglected part of the city before it was regenerated; nowadays, you can see many street art pieces by renowned artists such as Ron English, Sten&Lex, and Jim Avignon. Quadraro was once known for being one of the most anti-fascist districts of Rome during the Second World War, but now attracts many visitors who come to admire the many murals here.
The district hosts the Museo di Urban Art di Roma which is focussed on working with locals to enhance the spirit of the neighborhood; the project will celebrate its tenth year next year.
Vespa Tour
The ultimate in Roman transport, the Vespa is just as synonymous with the city as the Colosseum and Trevi Fountain. It is possible to rent a Vespa and take to the streets by yourself, but if you are an inexperienced rider, you may find that Rome's traffic is just a bit too much for you. For those of you who fall into this latter category, you should consider taking a Vespa tour.
There are many different routes to choose from and your driver will then take you on an exciting journey through the city.
Watch a Football Match
Football is an important part of Italian culture and catching a live game in Rome should definitely be high on your list of things to do in Rome, even if you are not a big fan of the sport. Rome has two teams – SS Lazio and AS Roma – who share a stadium, so who you get to see will depend on which weekend you happen to be visiting Rome. Whoever you see, the atmosphere in the stadium will be electric, so it is worth grabbing a ticket if you can. If you do not manage to get tickets for a live AS Roma or SS Lazio game, it does not mean you have to miss out. Whenever the team play, there will be a multitude of bars across the city who will be screening the match, so just pop into any one of them and enjoy the atmosphere that way instead.
Fiat 500 Tour
While it may not have the same iconic status as the Vespa, the Fiat 500 has also been a significant feature of Rome's transport culture. This cute vintage car is a great way to get around Rome – people may even mistake you for being a celebrity! Like with the Vespa, you can choose between hiring one for yourself – you will need to check whether you are allowed to drive in Italy with your current driver's license – or you can opt to take a tour with a driver who also doubles up as your guide.
As well as taking in some of the most famous sights of the city, such as the Colosseum and Arch of Constantine, you will also get to see all the hidden corners which, because of their size, the tour buses miss out on.
Ghost Tour
As we all know, Rome is an incredibly old city, so it should come as no surprise that a number of ghost stories and legends have popped up over the years. While many of the stories you will have heard about Rome tell of heroic deeds and powerful emperors, there are just as many stories about torture, murder, executions, and hauntings. There are lots of ghost walks which take place throughout the city, all of which take place in the late evening so you can experience a really spooky atmosphere during your tour.
Your guide will regale you with tales of intriguing characters who once roamed the city, including the so-called female Pope who tried to escape with Rome's treasures and the city's most notorious murderer. It is obviously not for the faint-hearted, but taking a ghost tour can be one of the most fascinating and fun things to do in Rome.
The Eternal City Offers So Much More Than Just Art and Architecture
Of course, the vast amount of art, architecture, and history is what attracts the majority of visitors to the Eternal City. But if you decide to travel to this fabulous destination, you will find so many other fun things to do in Rome that your view of the city will be changed forever.