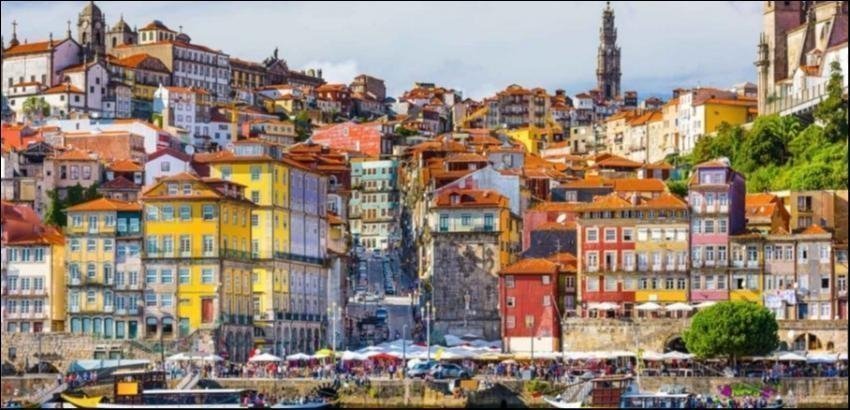 ---
Things to Do in Porto - Portugal's Second City
---
Home of port wine, Porto has become an incredibly popular destination among travelers in recent years. With its beautiful UNESCO historical center, masses of green space, and amazing cuisine, there is a lot here to tempt travelers and, as Portugal is one of Europe's cheaper destinations, you can live like a king on a relatively low budget for the duration of your stay. Despite its new-found popularity, many people still do not know what makes a trip here worthwhile. If you class yourself among one of these people, take a look at this guide on things to do in Porto so you can see why you should make Portugal's second city your next city break.
Sightseeing Things to Do in Porto
Cais da Ribeira
One of the most popular neighborhoods in the city, a visit to the Cais da Ribeira has to be on your list of things to do in Porto. Located on the banks of the Douro River, Ribeiro – a UNESCO World Heritage Site – is a delightful area to walk around, with its colorful houses, winding medieval streets and hidden-away cobblestoned backstreets. While it is worth coming to the neighborhood just to soak up the charming atmosphere, there are a few points of interest you may want to see as well. There is a cute little church – Capela da Lada – which may seem pretty unassuming, but its ornate interior is worth checking out. There are also a couple of memorials: the Alminhas da Ponte commemorates those who lost their lives in the collapse of one of Ribeiro's bridges in the early 19th century, and the Alminhas da Boa Fortuna is supposed to bring luck to any tourists who stop by the monument.
Ribeira is also a lively neighborhood and is a fantastic place to come if you are looking for excellent options for restaurants and bars, especially in the evenings. On a warm evening, nothing beats sitting on one of the many terraces enjoying some delicious traditional Portuguese cuisine and taking in the beautiful views across the river.
Ponte de D. Louis I Bridge
While you are strolling along the river in the Cais da Ribeiro, a magnificent steel structure will definitely catch your eye. Stretching across the Douro River is the Ponte de D. Luis I Bridge, one of the most iconic things to do in Porto. As well as being a monumental piece of engineering, it is fun to take the city's light railway which goes along the top of the structure, giving you breathtaking views of the Cais da Ribeiro.
You can also opt to take the pedestrian walkway which runs underneath the railway line; the vantage point here gives you dramatic views of neighboring Vila Nova de Gaia.
Clerigos Church
Clerigos Church is one of the most popular things to do in Porto due to its one distinguishing feature – its bell tower. While the church was built in the mid-1700s, the tower was not completed until 1763. The whole structure was one of the first Baroque churches in the entire country and influence for the bell tower's design was taken from Tuscan campaniles. Standing at 75.6 meters high, the bell tower has been a dominant feature of Porto's skyline since its construction and can be seen from many miles around. It is worth heading up the 240 steps to reach the top and look out for panoramic views of the city. Since 2015, it has been possible to visit the church and tower during the night, so you can also experience these panoramic views from the top of the tower when the city is all lit up.
As well as the church and tower, there is also a small museum here where you can learn more about the Brotherhood of Clerics, the clergymen who the church was built for, and how their daily lives have looked over the centuries.
Porto Cathedral
One of the most impressive buildings in the entire city, Porto Cathedral took an astonishing six centuries to complete. As a result of this, the cathedral is an eclectic mix of architectural styles, such as Romanesque, Gothic and Baroque.
While it looks rather stern from the outside – when it was first built, the cathedral would have had a secondary role as a defensive building which is evident from its buttresses, arrow loops, and crenellations – its interior is outstandingly beautiful, with its rose window, ornate altar, and murals.
Church of Santa Clara
While Porto Cathedral might be the most important church in the city, the Church of Santa Clara certainly wins the award for the most impressive religious building in Porto. Built-in the mid-15th century to replace a former convent, the church – along with most other religious buildings in the city – went through a major renovation in the first half of the 18th century, turning it into the extravagant church we see today.
The entire interior of the Church of Santa Clara is covered in gold, red marble and polychrome, and features gilded moldings and wooden carvings to create incredibly detailed religious scenes. It does not have the scale of other churches in the city, or indeed in Portugal, but the interior is so spectacular that you will definitely agree that visiting the Church of Santa Clara is one of the best things to do in Porto.
Sao Bento Station
A train station might not seem like one of the most obvious things to do in Porto, but Sao Bento Station is definitely in the running as one of the most beautiful stations in the world. In fact, the station was voted number ten in Travel+Leisure magazine's list of the World's Most Beautiful Train Stations. Known for its thousands of decorative tiles, if you look closely at these you will see many detailed scenes of Portuguese daily life, history, and transportation. The scenes were so delicately and intricately designed and painted that Jorge Colaco, the painter responsible for the artworks, took 11 years to finish them all. So even if you are not planning on catching a train out of Porto, these wonderful tile paintings still make a trip to Sao Bento Station worthwhile.
You should also be aware that Sao Bento Station is not the only place to see these amazing tiles in Porto. You can spot them pretty much wherever you go in Porto; they may not be as well-maintained as the ones in the station, but they still have their own charm.
Private City Tour
With all the amazing things to do in Porto, it can seem like there is too much to do in one day. However, it is perfectly possible to see the best of what Porto has to offer in one day with this Private City Tour of Porto, available through TripsPoint.com. It is the perfect way of getting a good overview of Porto and learning more about its culture.
During the first hour of your private tour, you will head to the neighboring city of Vila Nova de Gaia so you can enjoy spectacular views over Porto. You will then make your way back to the city so you can visit the most important landmarks, such as St. Francisco Church, Bolsa Palace, Infante House, Louis I Bridge, Sao Bento Station, Clerigos Tower, and many, many more. As it is a private tour, you will be able to explore the city at a pace suitable for you, making it one of the best things to do in Porto.
Outdoor Things to Do in Porto
Douro River Cruise
Of course, you will get splendid views of the river when you visit the Cais da Ribeiro, but one of the most wonderful things to do in Porto is taking to the water yourself by joining a Douro River cruise.
Many companies offer these tours, which usually take around one hour and cost approximately €15, and in addition to enjoying the views from the river, your guide will give you lots of interesting information about the sights you sail past.
Porto Bridge Climb
You would be forgiven for thinking that bridge climbs only really take place on some of the world's most famous bridges, such as the Sydney Harbour Bridge. But did you know that the only bridge which it is possible to climb in Europe is in Porto? At the time of its opening in 1963, the Arrabida Bridge was the largest concrete arch in the world. While this record has long since been surpassed, the Arrabida Bridge is still awe-inspiring to see and offers travelers one of the most unique things to do in Porto – the Porto Bridge Climb. If you are a little bit worried about whether you will be able to manage such a feat, you will be glad to know that there are steps all the way to the summit, totaling 262 altogether. When you consider that you will be fitted with a safety harness and lifeline and that there are also handrails to hold onto, you can see that it is a perfectly safe activity.
And when you make it to the top, you will realize the climb is definitely worth it when you look out over the city and admire the spectacular views.
Foz do Douro
Often described as a mini-city within a bigger one, Foz do Douro, a district in the west of Porto has been popular with both local and foreign tourists since the 19th century – particularly those from well-heeled backgrounds – for its sandy beaches, palm-lined promenade, and exclusive mansions. Nowadays, it is still a rather sophisticated neighborhood and one of the most expensive parts of the city to live in. If the weather is good – and it often is in Porto – heading out to Foz do Douro makes a splendid day out. As well as the beaches (many of which are blue flag ones), there are a couple of historical sites here which can be interesting to visit. These are two fortresses: Sao Joao Baptista da Foz, built in the 16th century to secure the mouth of the Douro River, and Sao Francisco do Queijo, often referred to as the Castle of the Cheese, which dates back to the 15th century.
There is also a lighthouse and a wander around Old Foz is also worthwhile. When you have had your fill of exploring and/or enjoying the sunshine, you can relax in one of the many seafront cafes and restaurants.
Shopping in Porto
Livraria Lello
Book lovers will adore this bookshop, and even if you are not a fan of reading, it is still worth paying a visit to Livraria Lello or Lello Bookstore – often shortened to just Lello – to admire the exquisite décor. Opened in 1906 in its current location, the business itself actually goes back to 1881 and is one of the oldest bookshops in Portugal. The books are displayed in Art Nouveau surroundings with hints of Gothic and Art Deco styles. One of the bookshop's impressive features is its forked staircase which sweeps between the two floors, plus there is a beautiful stained glass skylight to marvel at.
If you do happen to fall in love with Livraria Lello, you will be in good company – the bookshop was a favorite of J. K. Rowling's – author of the Harry Potter novels – when she lived in the city.
Culinary Things to Do in Porto
Port Tasting
As was mentioned previously, the port is the traditional drink of Porto, so it makes sense that you have to try some when you are in town. Most of the city's biggest and best producers have premises in the neighboring city of Vila Nova de Gaia, located just across the river from Porto, and many of them offer tours and tastings where you can sample some of their fine tipples. One of the most famous ones is Caves Ferreira; it is the only producer that has stayed in Portuguese hands since its founding in the 18th century. Usually, a tasting will include samples of the different varieties of port – white, tawny, rose and ruby – giving you the chance to see the subtle differences between the types.
If you want to continue your port education after you have done a tasting, head over to Vinologia, a wine bar specializing in port appreciation. They offer both vertical tastings, where you try different vintages and styles, and horizontal tastings, which is when you try different producers of the same port style.
Try a Francesinha
Of all the tasty things to eat in Porto, the Francesinha is the most famous. This decadent sandwich is something you certainly have to try at least once – just try not to think too much about the calorie content! Consisting of various types of meat such as ham, chipolata, linguica, and steak between two slices of bread and then smothered in melted cheese and a hot, thick tomato and beer sauce, a Francesinha is filling enough on its own, although it is also likely to be served with French fries as well. Because they are such a hearty meal, it is often suggested that you should order one between two, but if you are traveling alone – or if your travel companion just does not fancy it – in some restaurants, it is possible to order a half portion.
As one of the city's best-loved dishes, you can get a Francesinha pretty much anywhere in the city, but Cafe Santiago is considered to be one of the best.
Head to Matosinhos for Seafood
Matosinhos maybe only eight kilometers away from Porto, but it is a city in its own right, despite what many other people think to the contrary. Because the two cities are so close to each other, it can feel that Matosinhos is a neighborhood of Porto and it certainly does attract many visitors from Porto for a couple of big reasons. Firstly, Matosinhos has one of the most beautiful stretches of beach in this part of the country, so it is common to see many locals and tourists heading out there on particularly sunny days. The second reason is the seafood. Because of its coastal location and its harbor, there is an abundance of seafood and fish coming in every day, and the fish restaurants here have become renowned throughout the area. The best restaurants can be found around the back of the harbor along Rua Herois de Franca.
Here you will see lots of restaurants with open-air grills so you can see your meal being cooked right before your very eyes. While you will find many seafood staples on the menus here, such as octopus, cod, and sardines, there are also some more unusual options if you are feeling adventurous, such as goose barnacles.
Porto Has Everything You Need For a Wonderful Vacation
The capital of Lisbon might attract most of the visitors who make Portugal their holiday destination, there is really quite a lot of stuff here which can make a trip to Portugal's second city a vacation of a lifetime. Whether you are looking to explore some historical sights, enjoy the natural beauty of the area, or simply sample the best cuisine the city has to offer, you can be sure that a trip to Porto will remain in your memories with all the things to do in Porto you've experienced for many years to come.