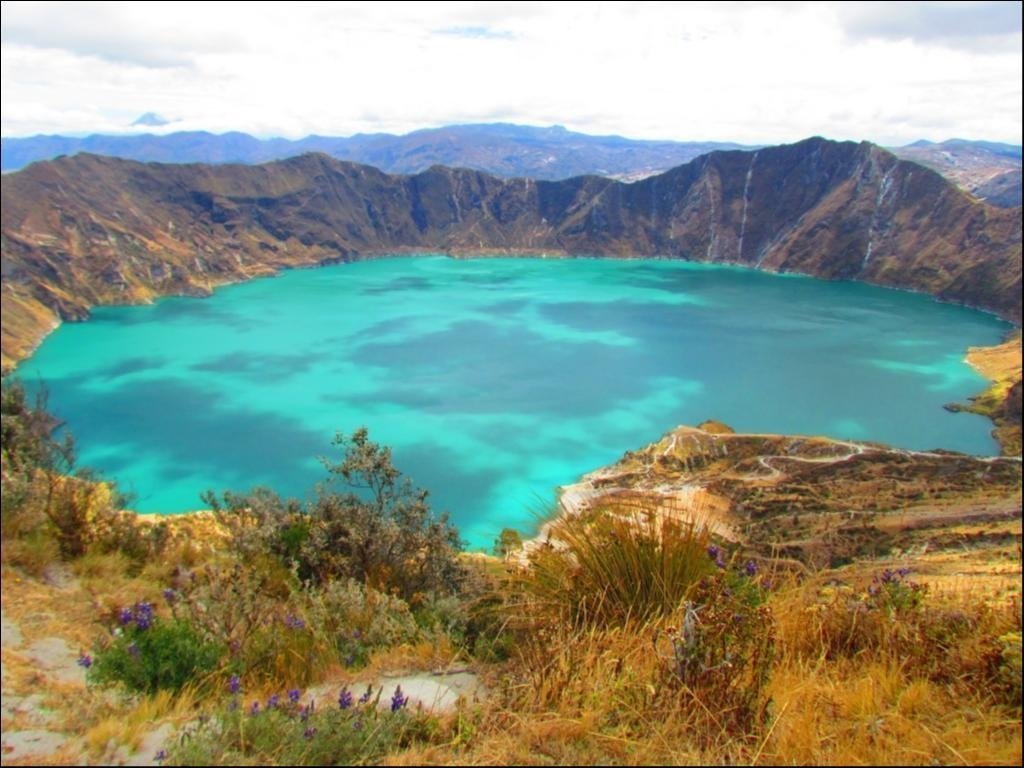 ---
Things to do in Ecuador That Will Help You Understand the Country
---
One of the main reasons why people travel is to try and gain some understanding of the different cultures that make our planet a vibrant and interesting place it is. For many travelers, South America is a continent rich in a colorful, splendid culture which dates back more years than we can imagine. Ecuador is a fine example of this; it is a country which has lots to offer visitors, from fascinating historical sites to a modern society which still manages to incorporate its traditional customs into everyday life. Despite being a small country, especially in comparison with some of its South American neighbors, Ecuador packs in lots into its small surface area, meaning tourists could spend months here and still not see everything. However, you do not need to spend a lot of time here to be able to begin to understand Ecuador's culture and see for yourself what a wonderful country it is.
So if you are planning a trip to Ecuador soon and are wondering what you can do to get under the skin of this intriguing country, here is a guide on things to do in Ecuador that will help you understand the country better.
Visit the Museo Nacional del Banco Central
Most travelers begin their Ecuador adventure in the capital city Quito and the Museo Nacional del Banco Central is usually high on the list of places to visit. As the city's most popular museum, the Central Bank Museum might not sound like the most interesting of places to see, but once you get inside you will see why it receives so many visitors. The museum combines amazing archaeological finds and cultural artifacts with the latest technology to give visitors a fascinating view into the country's past. Here you can admire the largest collection of Ecuadorian art dating all the way back to pre-Colombian times right up to the present day.
There are many things to see, including beautiful collections of pre-Colombian ceramics and goldwork, Chorrera whistle-bottles carved into the forms of different animals, and the Gigantes de Bahia, various statues of traditional men and women of the Bahia culture. There is so much to see here that you can easily spend three to four hours wandering around and marveling at the skill and talent of Ecuadorians past and present. Even if you do not go to any other museum on your trip, the Central Bank Museum is one of the things to do in Ecuador that is an absolute must.
Take the Spirit of Quito Historical and Cultural Tour
Taking a local Spirit of Quito Historical & Cultural Tour is one of the best things to do in Ecuador that will give you an insight into the cultural fabric of Quito. This local tour, which is available through TripsPoint.com, gives visitors the opportunity to see lots of sights and attractions where you can discover the richness of this wonderful city. The tour begins with you boarding a trolley bus which will take you on your Quito adventure; this trolley bus is an exact replica of the trams which operated in Quito last century. You will then be taken to the historic heart of the city where you will visit the Basilica del Voto Nacional before heading to the Plaza de la Independencia. This plaza is flanked by the cathedral and the La Compania Church, the latter of which is included in the tour price. After reaching the 17th century Church of San Francisco, you will head to the Mercado San Francisco where you can refresh yourself with a freshly squeezed juice while observing the practices of traditional Andean herbal medicine. You will then get the chance to learn about pre-Colombian art and Ecuadorian archaeology with a visit to the museum Casa del Alabado.
This tour is the perfect mix of the historical, traditional and artistic, giving travelers a glimpse of the various facets that make up Quito's culture. It is also run by a local tour operator, meaning your guide will be able to give you lots of interesting facts about the places you visit and the city itself. It really is one of the most splendid things to do in Ecuador and is highly recommended.
Explore La Floresta
If you want to discover a different side of Quito away from the usual tourist hangouts, you should head over to the trendy neighborhood of La Floresta. Named after the abundance of wildflowers which grow in the area, La Floresta started to flourish in the early 20th century when prosperous landowners began building neoclassical mansions here to reflect the architectural fashion of the time. Nowadays, it has turned into quite an arty area, with street murals sitting alongside the classical homes.
There are a number of art galleries here, as well as a great selection of restaurants, bakeries, cafes, and shops. It is also a particularly vibrant place to hang out in the evening; lots of jazz clubs can be found here if you are into music, or you can choose to watch a film at the Ocho y Medio, an indie cinema. La Floresta is a neighborhood where you can see local Quito residents and how they live, making it one of the most authentic things to do in Ecuador.
Try the local food
Ecuador has a number of dishes which you will definitely not see on many western menus, so trying the local food is one of the greatest things to do in Ecuador to really understand its culinary culture. Probably the best-known Ecuadorian food is cuy – guinea pig in the English language – and while some travelers may have a problem with eating something which is kept as a pet in many countries around the world, for others it is a rite of passage when traveling in Ecuador. If you are a bit nervous about trying it, it is good to remember that guinea pigs in Ecuador are bred for this specific purpose, are generally kept in clean surroundings and are looked after well prior to being killed for their meat. For many local Ecuadorian people, cuy is relatively expensive meat – a whole one costs around $20 – so it is only eaten during special festivities. However, in restaurants, you can buy guinea pig by the slice or quarter to have as a meal. A whole guinea pig is too much for one person, so unless you are planning on sharing it with someone else, bear this in mind when you are ordering.
Guinea pig is not the only local food you should try when in Ecuador. Seco is also a popular option. Consisting of stewed meat often served with rice, gravy and occasionally salad, it is a favorite of locals around the country. You can choose from chicken, beef, lamb, goat, and even tripe. Other popular dishes you should definitely try when in Ecuador include: llapingachos, potato, and cheese patties often served as an accompaniment to pork or chorizo along with a fried egg and salad; librillo, the chopped and cooked stomach lining of a cow; and ceviche, a seafood and shellfish mix, often consisting of prawns, white fish, clams and squid, cooked in citrus juice.
Visit the local markets
Apart from cuisine, another fantastic way of getting a look at local life in a country is by visiting the local markets. Markets are the perfect place to see the locals going about their daily business, as well as see all the kinds of products that are produced in that specific country. In Ecuador, travelers are spoiled for choice when it comes to local markets. Mercado San Francisco in Quito has already been mentioned previously; this market has been around since 1897, making it the oldest operating closed market in the city, and sells a wide variety of fruit and vegetables as well as having a great food court. However, there are plenty of other markets which you should definitely check out while in Ecuador.
Also in Quito is the Santa Clara Market, which is always packed with locals buying their groceries. However, if you are more interested in seeing the indigenous markets, you will need to head out of the capital. Otavalo Market, one of the best-known in the country, is a two-hour drive north of Quito and is where you can buy all kinds of handicrafts from all around Ecuador; it is definitely one of the more touristy markets, but travelers seem to love it all the same. Pujili Market is a two-hour drive south of the capital and is located in a town particularly famed for its ceramics. If you want to see locals trading in livestock, Zumbahua Market is a great choice; here you can see locals trading llamas and horses in addition to their local produce. Plaza de Las Flores Flower Market in Cuenca is a beautiful sight to behold with all the colorful flowers on sale. If you have managed to venture to the Galapagos Islands, the fish market in Puerto Ayora on Santa Cruz Island is a fun thing to see, as the pelicans and sea lions come up and squabble with each other for the leftover scraps!
You should keep in mind that some markets only operate on specific days of the week, so it is a good idea to ask a local person, such as your local guide if you are traveling as part of an organized tour or a member of your hotel staff, to make sure that you visit on the correct day.
Catch a football game at Atahualpa Olympic Stadium
It is probably true that to understand a culture completely, you should go and see the locals when they are watching a match of their favorite sport. Similar to many countries around the world, football is the most popular sport in Ecuador and there is no better place to watch a game than at Quito's Atahualpa Olympic Stadium. It is not just the local Quito residents that come to support their team; Ecuadorians from all over the country travel to the capital to watch their teams play.
Watching a football game here is a noisy affair, with both sides chanting their teams' anthems for the whole duration of the match, as well as waving banners. When either team scores, the stadium erupts, so you may want to bring some earplugs! For a taste of how Ecuadorians feel about football, this is one of the most insightful things to do in Ecuador.
Discover the country's colonial past
Quito may be the capital and the largest city in the country, but Ecuador has plenty of other cities you should visit to learn about its colonial past. Cuenca is the third-largest city and also a UNESCO World Heritage Trust Site, where you can explore nearby Ingapirca, the most significant and largest Inca ruins in the entire country. Cuenca is also famous for being the best place in Ecuador to sample guinea pig.
Loja is the oldest city in Ecuador and has lots of colonial architecture to admire. There are also various museums here where you can delve into different aspects of the city's culture, such as the Pio Jaramillo Alvarado Museum of Music of the Central Culture, which houses exhibits on Lojano music and composers, and the Museum of the Central Bank in Ecuador, which focuses on the colonial history of the city.
Attend a Carnaval
If you are hoping to visit Ecuador when there are festivities taking place, there are two cities which should be on your itinerary. Ambato may not have the colonial charm of other Ecuadorian cities – it was flattened during an earthquake in 1949 and was subsequently rebuilt extremely quickly in a more modern style – but it still receives visitors because of the festival which takes place just before Lent, the Fiesta de la Fruta y de las Flores. During this carnival, you can see lots of floats decked out with flowers and enjoy live music and dancing.
Carnaval is celebrated all over Ecuador prior to Lent in Ecuador, but there are not many festivities which are as spectacular as the one held in the provincial Andean town of Guaranda. It is considered to be the best carnival celebration in the whole country and involves lots of parades, mask-wearing, dancing, live music, and poetry. Water throwing is also a feature of the Carnaval in Ecuador, so prepare to get wet!
Go wild in Cuyabeno Wildlife Reserve
Visiting the Amazon rainforest is high on many travelers' list of places to see, and it is possible to do just that while on a trip to Ecuador. Cuyabeno Wildlife Reserve is actually one of the more unique Amazon territories; situated at the foothills of the Andes mountains, the area consists of a poorly-drained plain surrounded by a network of lakes, creeks, and forests, a topography which is seldom seen in mountainous areas. Due to the amount of water found here, water sports are a popular activity, notably canoeing, swimming and sport fishing. Fans of wildlife will not be disappointed as Cuyabeno Wildlife Reserve offers both daytime and nocturnal wildlife spotting. Many species of the animal make their home here, including both Amazon dolphin species, manatees, ten species of monkey, capybaras, giant otters, Amazon crocodiles, and a variety of big cats. You can also see nearly 600 species of bird as well as countless butterflies, snakes, and fish. If it is flora you are interested in, Cuyabeno Wildlife Reserve boasts thousands of plant, tree and flower species, such as orchids and palms.
A visit to Cuyabeno Wildlife Reserve is a great way not only to see some amazing flora and fauna but to also observe the three indigenous tribes which live within the reserve: the Cofans, the Secoyas, and the Sionas. It is possible to visit these indigenous peoples, see how they live and even buy handicrafts from them. For those of you interested in meeting native tribes, this can be one of the most wonderful things to do in Ecuador.
Explore the Galapagos Islands
The Galapagos Islands are world-renowned for their unique biodiversity, which helps to make them one of the best things to do in Ecuador. A dream destination for many travelers, the Galapagos Islands are home to some of the most magnificent wildlife, such as the Galapagos tortoise, the Galapagos sea lion, the Galapagos land iguana, and the blue-footed booby, as well as having landscapes so stunning you have to see them to believe them, and the opportunity to take part in all kinds of adventure activities. As the Galapagos Islands have developed separately from Ecuador, it is also a good chance to get to know the locals on the main islands and see how their daily lives compared with those back on the mainland.
A visit to the Galapagos Islands really is a once-in-a-lifetime experience and should be added to all Ecuador itineraries. If you are interested in heading off on a Galapagos adventure, TripsPoint.com offer lots of day Galapagos tours; check out the website for more details.
With all these things to do in Ecuador, you will come home with far more understanding of this wonderful country
Whether you are seeking to learn more about the history of Ecuador, want to discover how the indigenous people live, or simply wish to sample some of the country's culinary and social scenes, you can bet that with all these things to do in Ecuador, you will soon have more knowledge about this amazing country's culture.