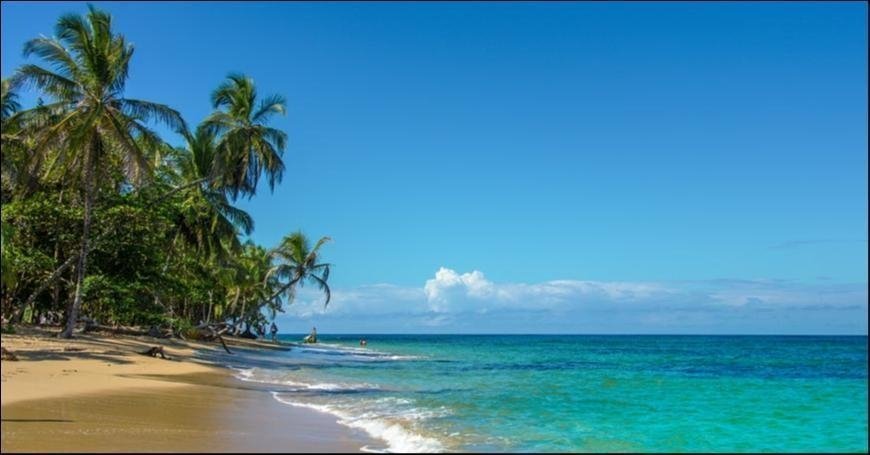 ---
The Best Things to Do in Costa Rica for First-Timers
---
Ali Jennings
-
-
Sep 22, 2019
The things to do in Costa Rica for the first-timers travel guide is for if you are searching for a destination which combines some of the most exquisite natural beauty in the world with lots of adventure thrown in - a trip to Costa Rica is definitely in order. From lush green rainforests and imposing volcanoes to pristine sandy beaches and crystal clear sea, the natural landscapes that can be found all over Costa Rica are enough to make anyone's jaw drop in awe. The country is also home to over 150 wildlife parks and reserves, making it a wonderful destination for those who enjoy wildlife spotting. Couple this with fantastic weather, delicious cuisine and some of the friendliest locals you will ever come across, and traveling to Costa Rica becomes an even more attractive option.
If it is your first time in the country, you are probably wondering what you can do there. The simple answer is plenty! In fact, there is so much that you may have trouble deciding what to do – or at least what to do first. So to help you plan that perfect trip, here is a guide to things to do in Costa Rica for first-timers.
Arenal Volcano National Park
By far the most popular attraction among visitors to Costa Rica is Arenal Volcano National Park, which has everything travelers could want when it comes to natural beauty and adrenaline activities. The volcano itself has a perfectly symmetrical shape and sits imposingly within the lush landscape that surrounds it. Also within the park are numerous mountain biking, hiking, and horse riding trails, hot springs, butterfly gardens, zip-lining tours, and lots of picturesque waterfalls. The park is also home to an abundance of wildlife and plant life. If you are a birder, Arenal Volcano National Park is a great place to come; most of the bird species identified as living in Costa Rica – a staggering 850 – can be spotted here, including the resplendent quetzal, one of the country's most elusive species.
As you make your way around the park you should also be able to see white-faced capuchin monkeys, deer, and jaguar, as well as beautiful plants and trees such as orchids, palms, and strangler figs. For first-time visitors, Arenal Volcano Day Tour should be way up on the list of things to do in Costa Rica.
La Fortuna Waterfall
Not too far away from Arenal Volcano National Park is La Fortuna Waterfall, one of the most beautiful waterfalls in the whole country. Located in the town of the same name which acts as the gateway to Arenal Volcano, this waterfall drops from a height of 230 feet and is set within the stunning lush green forest. There are a couple of ways to get to the waterfall – either hiking or horse riding – but both methods involve an arduous climb down 500 steps cut into the hillside. Once you get down to the waterfall's base, you can take a swim in the crystal clear water; for those who are nervous about swimming in a natural pool, there is a lifeguard on duty to make sure nothing untoward happens.
At the top of the cliff, there is a restaurant, some restrooms and showers, and a gift shop, so the site is well-equipped with everything you need for a day out at the waterfall.
Poas Volcano National Park
It may not be as universally known around the world as Arenal Volcano National Park, but Poas Volcano National Park is also an excellent natural area to visit and one of the most popular attractions in the Central Valley region. Poas is the most active volcano in the country; in fact, the national park was closed for around one-and-a-half years from 2017 to 2018 due to the volcano erupting so violently that rocks spewed out and damaged roads and buildings within the park. Thankfully, Poas's activity has decreased significantly and the park is open once again, although some attractions are still closed. However, it is still a worthwhile trip to make so you can view one of the world's biggest geyser craters.
Because of government restrictions, visitors are only allowed to spend 40 minutes in the park, which gives you time to head to the geyser, spend some time admiring it and take some photos, and then go back. Despite the short time you get to spend there, the view from the platform is one of the most impressive things to do in Costa Rica.
Monteverde Cloud Forest Reserve
Costa Rica is well-known for its cloud forests – wet tropical forests which are covered in persistent low-lying mist – and Monteverde Cloud Forest Reserve has been described as the best of all of them. The reserve is split into six ecological zones, with virgin forest covering 90% of them. Visitors are always amazed by the high biodiversity; here you can find over 2,500 plant species, including the largest number of orchid species in one area, 400 species of bird, 120 different kinds of reptile and amphibian, and around 100 mammal species. There are lots of trails within the reserve so you can venture out and explore the area for yourself, plus there are also zip lines and suspension bridges. The great thing about the trails is that they are not too long – the longest one is two kilometers – so it is a fantastic place for first-timers to experience the cloud forest environment without having to spend days trekking and being too taxing.
If you want to learn more about the creatures that live within the reserve, you can head to the Monteverde Nature Centre, which is adjacent to the park. Here you will find lots of educational exhibits representing three of the reserve's distinct habitats. The center also houses a number of butterfly species along with examples of arachnids and insects, such as tarantulas, giant caterpillars, and rhinoceros beetles.
Beaches
Costa Rica is well-known for being home to some of the most sublime beaches the world has to offer, so it should come as no surprise that this is a major feature on any Costa Rica itinerary. You can find excellent beaches all around the coast of the country, each of them offering something that little bit different for visitors. Here is a selection of some of the beaches you should definitely check out:
Montezuma – located on the Nicoya Peninsula, Montezuma Beach is the most bohemian of all the beaches in Costa Rica and is where you will find all the distinct characters, such as laid-back surfers and dreadlocked Rastafarians. As well as being a beautiful beach, you can also enjoy the surrounding scenery of forest, waterfalls and tide pools, and the local wildlife.
Mal Pais – also found on the Nicoya Peninsula, while Mal Pais mostly attracts surfers there is so much more to this beach than just taking to the waves. Looking like it should belong in a Hollywood movie, this picturesque beach is perfect for sunbathing and enjoying the beautiful scenery. If you do want to get a bit active, you can take a boat tour and hopefully see some dolphins swimming in the waters.
Corcovado – the main beach on the Osa Peninsula, here you can find stretches of black sand and swaying palm trees with classic Costa Rican rainforest as a backdrop. Aside from the beach, what really attracts travelers to Corcovado is the chance to take a boat trip to Isla del Cano, which is famous for its ancient stone spheres which are evidence of pre-Colombian human activity on the island.
Playa Grande – lots of travelers head to Playa Grande to see a large number of leatherback turtles which congregate here. Locals take a lot of pride in the turtle nesting site here, which is why the beach is not open during the evening; make sure to plan your trip so you arrive in the morning to make the most of this beautiful beach. You can take turtle tours to see if you can spot these shy creatures, which is a really good deal as you only pay if the turtles actually appear.
Manuel Antonio – it has been said that Manuel Antonio is not only one of the most stunning beaches in Costa Rica, but in the entire world. Situated in the national park of the same name, it is the ideal place to combine both beachside relaxation and fun activities such as zip-lining, kayaking, hiking, and snorkeling.
While there are many beaches to discover and explore, these are the ones which first-timers should definitely consider as some of their things to do in Costa Rica.
Surfing
Heading to the beach does not just mean sunbathing and reading a book; as one of the adventure capitals of the world, Costa Rica has plenty of water sports opportunities for visitors to take part in. Surfing is one of the most popular things to do in Costa Rica and the country certainly has plenty of spots where you can ride the waves, regardless of whether you are a beginner or a more advanced surfer.
If you head to the tip of the Peninsula de Nicoya, you will find a pair of beaches, Playa Santa Teresa and Mal Pais, both of which offer some of the best surfing in the entire country. It is a good idea to base yourself in Santa Teresa, which is a cool, laid-back town with plenty of surf camps, school, and stores, then it is only a 20-minute drive down to Mal Pais if you want to head off to a different surf spot for the day.
If you are looking to combine your surf break with a yoga retreat, Playa Guiones in Nosara is an excellent option. For complete beginners who want to learn the basics, Playa Tamarindo on the Pacific coast is a good option as it has a sand bottom which makes the waves less critical; there are also lots of surf schools and camps located here. If you are a more experienced surfer and are looking for some really big waves, head to Witch's Rock, a world-famous break only accessible by boat or a really perilous drive, or Playa Hermosa close to the town of Jaco, where it is possible to do tube riding if you have the skills.
Scuba diving and snorkeling
Scuba diving is another popular activity in Costa Rica and it is not hard to see why: the amazing natural scenery and plethora of wildlife that can be seen on land can also be found in the waters surrounding it. There are plenty of dive spots perfect for all abilities, with each one offering a completely different experience. For those who have yet to pass their PADI certification, there are also a number of excellent dive schools. Many of the schools also conduct advanced scuba courses if you want to expand your diving skills even further.
For the super adventurous divers, the Bat Islands in the Gulf de Papagayo offer some of the most exciting diving in the whole country. The reason? This marine park is home to a huge population of bull sharks, one of the most feared sharks on the planet. A dive here can see you get up-close and personal with these creatures, as well as being able to see a plethora of other marine species such as manta rays and whale sharks. Other diving spot favourites include: Cocos Island, famous for its population of hammerhead sharks; Cano Island, where you can swim among some of the ocean's giants, such as dolphins, orcas, pilot, and humpback whales as well as manta rays; the Catalina Islands, one of the best cave dives with an amazing array of coral; and the Tortuga Islands, where the wrecks of coastguard vessels the Franklin Chang Diaz and Coronel Alfonso Monge lie on the seabed.
If you have not got your PADI certificate and you do not fancy learning, you can still enjoy the marine life in Costa Rica by opting to go snorkeling instead. Playa Conchal is a particularly excellent spot for snorkeling as the waters are calm, warm and clear. Here you can see an abundance of fish and black urchins as well as the beautiful ecosystem they live in.
White water rafting
The sea is not the only place where you can get out onto the water in Costa Rica. It is a little known fact that the country boasts more rivers per square kilometer than anywhere else in the world, which in turn makes it one of the best destinations for white water rafting. The Arenal Volcano area has become extremely popular for white water rafting in recent years. La Fortuna, the gateway to the Arenal Volcano National Park, is known as Costa Rica's adventure capital and has a multitude of options for those wanting to raft down its nearby rivers. The La Fortuna rapids offer a variety of classes, making a great place for everyone, from those who have never rafted before to those who want break-neck adrenaline fun. The Rio Balsa is located quite close to La Fortuna – about a 45-minute drive – and has rapids of classes II and III to enjoy.
If you want more of a sedate river ride, the Penas Blancas River is a good choice; its class I and II rapids make it an ideal way of admiring the glorious forest surroundings and you may even spot some of the unique wildlife in the area. For those looking for a bit more of a bumpy ride, Pacuare River was rated as one of the top five places in the entire world for white water rafting by National Geographic; with rapids rated between classes III and IV, you can be sure of an exhilarating trip.
National Theatre
San Jose, Costa Rica's capital, is emerging on the travel scene as one of the trendiest places to see, with its abundance of museums, cafes, and restaurants. It is also a city filled with cultural icons, the biggest of which is the National Theatre. The building itself is absolutely stunning both inside and out, built in the European neoclassical style. Inside you can see amazing murals and decoration.
If you want to learn more about the National Theatre, it is possible to take a tour, although if you can score tickets to one of the many shows which are performed there – ranging from concerts to theatrical plays – this is also a wonderful experience and one of the best things to do in Costa Rica.
National Museum of Costa Rica
Housed in the Bellavista Fortress in San Jose, the building itself is enough of a reason to visit. Built-in 1917, the fortress was once a military barracks at a time when the country still had an operating army, and you can still see bullets lodged within the exterior walls, evidence of the civil war which took place in 1948. However, inside is just as fascinating, with huge collections of artifacts relating to various themes such as archaeology, geology, religion, colonial past, and modern-day history.
There is also a section dedicated to Oscar Arias, Costa Rica's only Nobel Peace Prize winner, as well as a butterfly garden. If you want to understand more about Costa Rica's history and culture, this is one of the best things to do in Costa Rica.
The things to do in Costa Rica will stay in your memories forever
A trip to Costa Rica offers travelers so many things: the chance to explore some of the world's splendid natural scenery, to learn about this wonderful country's fascinating history, and to participate in some action-packed sports. With so many things to do in Costa Rica, it is no wonder that so many travelers are choosing it as their next travel destination.