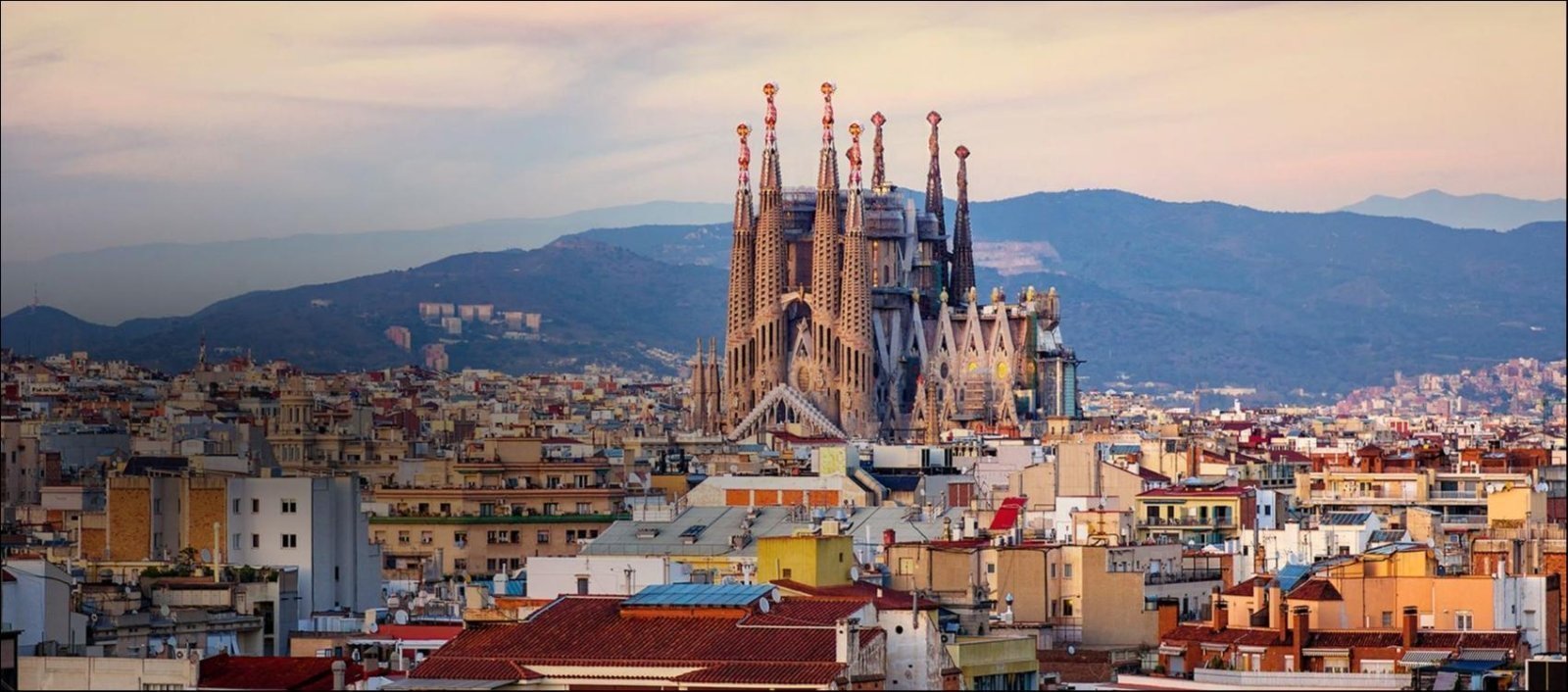 ---
Amazing Things to Do in Barcelona
---
Known worldwide as the home of Gaudi, Barcelona has long been a firm fixture on travelers' bucket list of city breaks. But while Gaudi's unique architecture is reason enough to visit, there is much more to this popular Spanish city than this. Barcelona easily combines the vibrant city with a beach destination, has amazing cuisine and a hip nightlife scene which will keep you up late into the night. If you are planning a trip to Barcelona and are wondering what you can do while you are there, here is a guide to the most amazing things to do in Barcelona.
Sightseeing Things to Do in Barcelona
Sagrada Familia
If there is one sight that everyone comes to Barcelona to see, it is the Sagrada Familia. This iconic cathedral has been years in the making; in fact, construction began in 1882 and it is not expected to be completed until 2026. While the Spanish architect Antoni Gaudi did not get involved in the project until a year after building began, he certainly put his stamp on it and the minor basilica is now considered to be one of his most impressive architectural triumphs.
Unlike any other cathedral you have seen before in your life, the Sagrada Familia mixes Catalan Modernism, Art Nouveau, and Spanish Late-Gothic styles and is just as much a work of art as it is a religious building. The Nativity Facade is particularly revered as the artistic high point of the building, but the Passion Facade is also stunningly beautiful, as the Glory Facade will also be when it is completed. Below ground level, you can visit the Museu Gaudi, which has a number of interesting exhibits on the architect's life and the structures he brought to life. As the country's top attraction, the Sagrada Familia is definitely one of the best things to do in Barcelona.
Las Ramblas
As the city's most famous promenade, Las Ramblas is high on the list of things to do in Barcelona. Running for over one kilometer from Port Vell to Placa de Catalunya, Las Ramblas stretches through the heart of the city and has plenty to keep you occupied for a number of hours. There are dozens of restaurants, shops and bars lining the promenade, plus there is the iconic La Boqueria market which is definitely worth popping into (more on that later).
Las Ramblas is also famous for its street performers, in particular, the human statues; although they can seem to be a little touristy, they are really cool to watch. When you get to the end of Las Ramblas, be sure to check out the impressive Columbus Monument.
Casa Mila
The final residential building to be designed by Gaudi, Casa Mila was designed as a family home for industrialist Pere Mila I Camps and is often referred to as 'the stone quarry' due to the building's rough exterior.
If you decide to head inside, you will be able to view the iconic Warrior rooftop with its various chimneys and stairwell covers, the Tenant's Apartment, which recreates how people of the bourgeois lived in the early half of the 20th century, the Whale Attic which hosts an exhibition on Gaudi, and the Flower and Butterfly Courtyards.
Casa Batllo
Another creation of Gaudi's, Casa Batllo was once a regular townhouse until the architect reformed the building for the Batllo family, completely transforming the facade. Known locally as the House of Bones, Casa Batllo is known for its skeletal appearance, but architecture lovers will also its curved lines, stained glass, and ceramic mosaics. Inside you can check out the loft, noble floor, and roof terrace; the roof terrace, in particular, is amazing to see as it is designed to resemble the spine of a dragon.
Museums in Barcelona
Picasso Museum
While Picasso was born in the southern Spanish city of Malaga, he moved to Barcelona when he was a child, so it makes sense that this pioneer of Cubism should be celebrated here. Housing over 4,000 works of art, the Picasso Museum is one of the most extensive and complete permanent collections of the artist's in the world.
Most of these pieces are from Picasso's early years as an artist and it is really interesting to see how his work matured over the years.
Camp Nou
Fans of football will know Camp Nou as the home of the FC Barcelona football club and have the highest capacity of any stadium in Europe with seating for nearly 100,000 spectators. OK, so Camp Nou is a stadium rather than a museum in its own right, but there is a museum within the grounds where you can see trophies, examples of football shirts from various periods in history, and other memorabilia. It is also possible to take a tour of the stadium and learn about the history of the club; even if you are not particularly a fan of football, the tour is still a really great way to spend an afternoon. These tours are incredibly popular, so make sure you book ahead.
Of course, taking a guided tour is not the only thing you can do at Camp Nou. If you book well in advance, nothing beats getting the chance to watch a live game at one of the most famous stadiums in the world.
Museum of the History of Barcelona
As you already know, Barcelona has a long and rich history dating all the way back to Roman times, and if you want to discover more about the origins of this wonderful city, a trip to the Museum of the History of Barcelona should be on your list of things to do in Barcelona. The museum has various sites throughout the city, all of which are fascinating to see. The museum's headquarters, MUHBA Placa del Rei, has an underground exhibition of the remains of an entire quarter of the ancient Roman city of Barcino where you can see a variety of buildings, including Roman houses, a laundry, a salted fish and garum shop, a winery, and a number of walls and streets. There are also the remains of an early Christian architectural complex, including a church, bishop's palace, and baptistery.
Other sites belonging to the Museum of the History of Barcelona include: the Temple of Augustus, a Roman Temple dedicated to the Emperor of the same name; the Roman funeral way, a burial area which also has a small exhibition on Roman burial traditions; and the Maritime Gate of the Roman Walls, behind which the remains of a thermal baths lie.
Barcelona Chocolate Museum
Belgium and Switzerland may get the top prizes for the best chocolate in Europe, but Barcelona actually has strong links with the history of our favorite sweet. It was the Spanish who brought cacao back from Central America, and it is believed that in the 18th century, soldiers of the Bourbon army were given a ration of chocolate for breakfast.
On a visit to the Barcelona Chocolate Museum, you will learn about the history of Barcelona and Spain's relationship with chocolate, from how it was brought back from the Americas to how the sweet confectionery has impacted baking and the culinary industry.
Outdoor Things to Do in Barcelona
City Beaches
There are not many cities in the world where you can enjoy some of the world's most exciting and monumental sights and then hit the beach to relax afterward, but in Barcelona, you can do just that. The beachfront here stretches for miles with a variety of beaches to suit all tastes. Barceloneta Beach is located close to the city center and is a lovely spot if you do not fancy venturing too far. As well as swimming, you can also participate in windsurfing and kitesurfing here.
Sant Sebastia and Sant Miquel are the westernmost beaches and are particularly popular, so they tend to get pretty busy, but they have the advantage of being close to the infrastructure of Barceloneta with its huge number of shops and bars. The beaches to the east of the Olympic Port tend to be quieter and are therefore more popular with locals; if you are looking for a more chilled Barcelona beach experience, these are the ones to go to.
Park Guell
Nowadays Park Guell is known as one of the top outdoor things to do in Barcelona, but what many are not aware of is that it was first conceived as a residential estate. When Gaudi and his patron Eusebi Guell acquired the land, they began building a model home, but when there was no interest in the project, it was abandoned and eventually the area was turned into a park. This has been to tourists' gain as it really is a splendid park to visit. The park itself is one of the largest green spaces in the whole of Barcelona and is free to enter.
To see the monumental area which is where Gaudi's architectonic elements are located, you need to reserve a ticket online; only 800 visitors are allowed to enter within one hour. If you do buy a ticket for the monumental area, you will not be disappointed; you will get to see a vast array of colonnades, fountains, sculptures, and serpentine benches, many of them decorated with exquisite mosaics, and you will also get to enjoy beautiful panoramic views across the city.
Parc de la Ciutadella
Parc de la Ciutadella is Barcelona's most centrally located green space and has been at the heart of the city's recreational life since the mid-1800s. If the heat of the day gets a bit too much for you, it is the perfect place to take a stroll, row a boat on the lake, and have a picnic. You should also check out some of the sculptures and monuments which are dotted around the park, such as the monumental waterfall, whose decoration has been attributed to a young Gaudi who was assistant to the park's architect, Joan Roig Soler's sculpture Woman with Umbrella, and a stone mammoth.
There are also a number of attractions situated within the park which are worthy of a visit. A few of the extant buildings of the Citadel from which the park gets its name: the military chapel, the Governor's Chapel, and the arsenal, which now serves as the Catalan Parliament. However, possibly the most fun attraction in the park is Barcelona Zoo, which houses a variety of animals from around the globe. You can also visit the Museum of Natural Sciences of Barcelona, the Museum of Modern Art, the Zoological Museum, and the Umbracle, a tropical greenhouse, here. With all these things to keep you entertained, Parc de la Ciutadella is one of the top things to do in Barcelona.
Culinary Things to Do in Barcelona
Mercado de La Boqueria
Food is an integral part of the culture of Barcelona and a great place to really delve into this side of the city is Mercado de La Boqueria, often referred to as just La Boqueria. There has been a Boqueria market in Barcelona since the 13th century but the one which we see today has only existed on its particular site for approximately 200 years. There is a wide variety of products on sale here, including fresh fruit and vegetables, cold meats, cheeses, fish, and olive products.
Even if you are not planning on buying anything, a visit to La Boqueria is wonderful just to take in the sights, sounds, and smells of the market. If you do fancy grabbing a snack, there are a number of bars within the market that serve tapas and cold beer.
Cooking Classes
We all love Spanish cuisine, so what could be better than taking a cooking class as part of your Barcelona trip? There are many classes to choose from around the city, but it is highly recommended that you take one which includes a visit to a local market so you can pick your ingredients yourself and learn more about the products which go into each dish. Example dishes you will learn to cook include paella, Spanish tortilla, and gazpacho. This is one of the most fun things to do in Barcelona and a great way of connecting with Spanish culture, plus you will be able to impress all your friends when you get home with your newly-honed cooking skills!
Fun Things to Do in Barcelona
Barcelona Boat Parties
Barcelona definitely has a reputation for being a party city, but if you want to begin your night out in a completely unique style, you can choose to go on one of the Barcelona boat parties which take place throughout the week. The Original Barcelona Boat Party takes place on Thursdays at 7:30 pm and Saturdays at 5 pm and 7:30 pm, this stunning catamaran offers a live DJ and dance floor, amazing views across the water, plenty of games, fun, and shenanigans and, of course, lots of drinks.
If you prefer your nights out to be a little more classy, the Champagne and Sunset Boat Party on Fridays is the one for you. After getting dressed up to the nines, you will step aboard the beautiful catamaran where you will be served cava cocktails by the waitresses and traditional paella by the boat's onboard chef. For those who enjoy a casual atmosphere and drinking during the day, the BBQ and Party Boat offers Saturday afternoon trips with a barbecue lunch, a swim stop, and live DJs and acoustic musicians.
All of the Barcelona boat parties include free guestlist entry to a beach club once your tour on the boat has finished; the name of the club is announced on board and you must enter the club before 12am. It really is one of the most fun things to do in Barcelona.
See a Flamenco Performance
Flamenco dancing has long been a tradition in Spain, making taking in a performance one of the quintessential things to do in Barcelona. Flamenco is rooted in Spanish folk music, taking its influences from Spanish, Moorish, and gypsy styles and instruments. There are a number of places where you catch a flamenco performance, with some of the top venues putting on two or three shows per evening. Some of the most popular venues also include dinner and drinks in the price of the ticket, so it can be a really fun evening out.
Enjoy a concert at Palau de la Musica Catalana
You cannot get a much more sublime venue for enjoying a concert than the Palau de la Musica Catalana. Designed by Gaudi's contemporary Lluis Domenech I Montaner, the Palace of Catalan Music, as it translates into English, was built in order to promote Catalan artists and designers and to help create a sense of Catalan identity. It really is a stunning building, particularly the auditorium with its sumptuous decoration, and provides the perfect setting for the performances which take place here.
You can choose from opera, folk music, and orchestral performances, and the palace has even hosted contemporary artists. If you want to see a performance while you are in town, make sure you book your tickets in advance as the Palau de la Musica Catalana is a popular venue.
With so many things to do in Barcelona, you are sure to have a great trip
It really is not hard to understand why so many people flock to Barcelona every year. Here you can have the traditional sun, sea, and sand of a beach holiday as well as being in one of the most historic and beautiful cities in the entire world. On top of this, there are so many great things to do in Barcelona that you will want to return again and again.