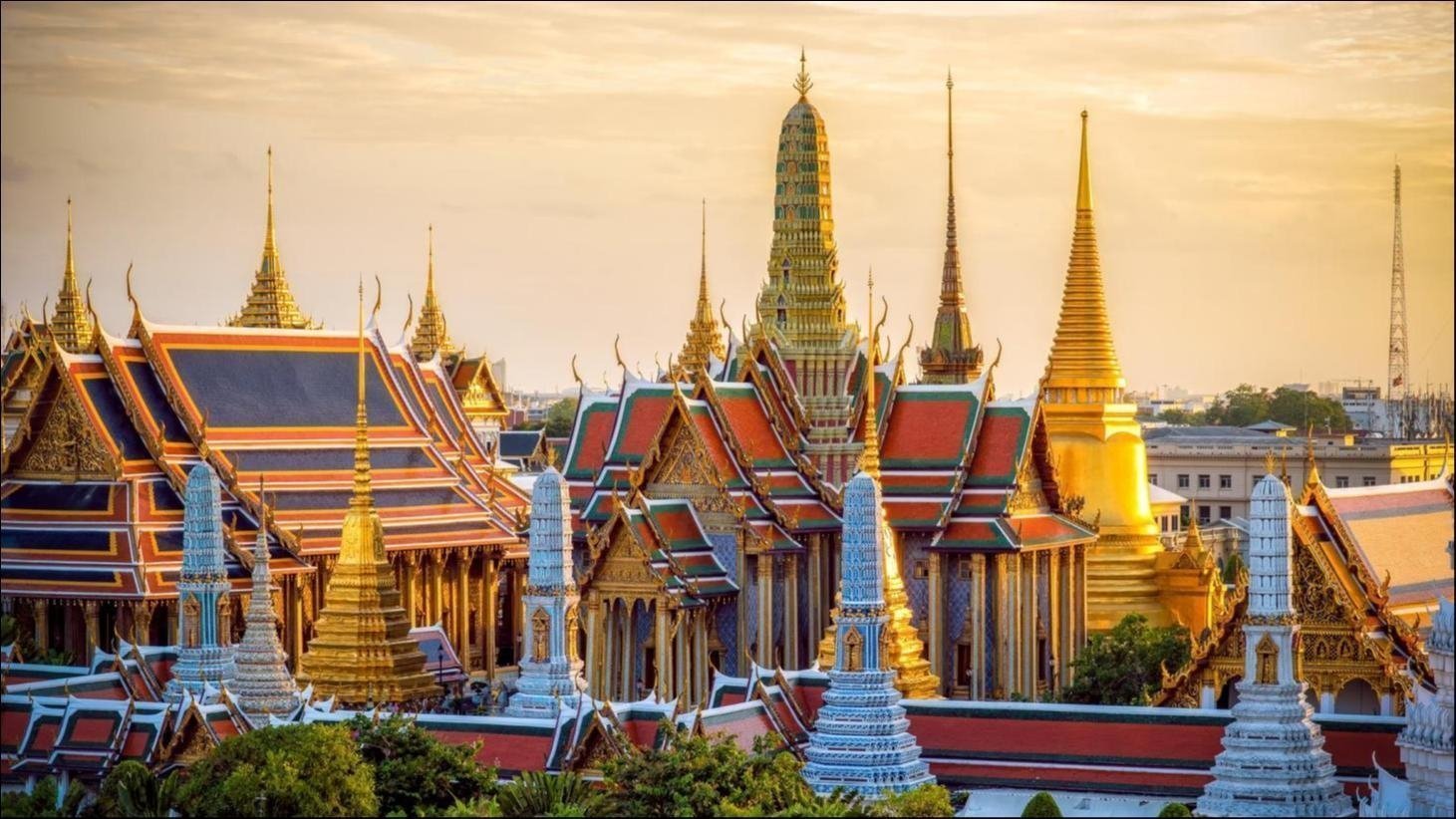 ---
Amazing things to do in Bangkok
---
There are many good reasons why Bangkok is one of the most popular cities in the whole of South-East Asia, if not the entire continent. A buzzing mix of the traditional and modern, Bangkok has long been attracting travelers of all ages with its abundance of temples and historical sights, fantastic street food culture and raucous nightlife, the likes of which you probably would not see in any western city. However, Bangkok is such a sprawling metropolis that it can be hard to know where to start. For those of you who are currently planning your next vacation to the Thai capital and are looking for some inspiration, here is the ultimate guide to amazing things to do in Bangkok.
Sightseeing Things to Do in Bangkok
Grand Palace
Top of the list of all the things to do in Bangkok, the Grand Palace is the most famous landmark in the entire city. This vast complex of buildings has been the official residence of the Thai royal family since the 18th century and is still used for royal ceremonies and state functions, even though the country's kings have not lived here since 1925. As such a huge complex, there is much to see in the Grand Palace, so it is important to plan your visit well. The complex can be split into three areas:
Outer Court: it is here that you will find one of the Grand Palace's highlights, Wat Phra Kaew, or the Temple of the Emerald Buddha, the most sacred temple in the whole of Thailand. Discovered in Chiang Rai in the 15th century, this majestic Buddha seated in the meditating position is actually made of jade or jasper rather than emerald but still cuts an impressive figure draped in gold. You can also explore the Pavilion of Regalia, Royal Decorations and Coins, and the Grand Palace's headquarters and several royal buildings.
Middle Court: as the largest and most central part of the Grand Palace, the Middle Court is where you will find the most important residential and state buildings. This part of the complex comprises of three Throne Halls – two of which are open to the public – and the Siwalai Garden.
Inner Court: located in the southernmost area, the Inner Court is exclusively reserved for the use of the royal family.
To really get to know the Grand Palace, it is worth taking a guided tour. This way, you will learn more information about this wonderful site while you are marveling at the astounding architecture. As you will be visiting one of the holiest sites in the whole country, make sure that you follow the dress code: no shorts, mini skirts, tight trousers, or anything else too casual or tight-fitting, no sleeveless T-shirts, and no sandals or flip flops.
Wat Pho
Located just to the south of the Grand Palace is Wat Pho, one of the most impressive temples in the city. The fact that it is one of the oldest and largest temples in the country is only one reason why you should add Wat Pho to your list of things to do in Bangkok. The main reason is that the temple is home to the Reclining Buddha, a huge figure of Buddha lying down, measuring 15 meters tall and 46 meters long and entirely covered in gold leaf. You can also see the largest collection of Buddha images in Thailand at Wat Pho.
An interesting fact about Wat Pho is that it was the first public university in Thailand which specialized in science, religion, and literature, although nowadays it is more known for being a center of traditional massage and medicine. It is considered to be one of the best places to receive a massage in Bangkok and it makes a lovely way to end your visit here.
Bangkok National Museum
If you only visit one museum during your time in Bangkok, the Bangkok National Museum should be it. Opened in 1874, it houses the largest collection of Thai art and historical artifacts in Thailand, making it one of the top things to do in Bangkok if you are interested in history and how the country has developed. Some of the museum's highlights:
a display of ceremonial chariots used in royal cremations;
the Red House, a beautiful teak building once used as the living quarters for a Thai princess;
King Ramkamhaeng's inscribed stone pillar, believed to be the oldest example of Thai writing.
Of course, there is much more to see here and you can be guaranteed a fascinating and educational few hours if you make the Bangkok National Museum one of your things to do in Bangkok.
Wat Arun
Alternatively known as the Temple of Dawn, Wat Arun is definitely one of the most stunning temples in Bangkok due to its unique design. Covered in approximately one million colored porcelain tiles, it is the origin of these tiles which make the temple so unique; broken pieces of Chinese porcelain were salvaged from a British shipwreck and then carved into flower petals to decorate the building.
The central prang – a Khmer-style tower – represents the mythical Hindu and Buddhist Mount Meru, a sacred five-peaked mountain said to be the center of all the physical, metaphysical and spiritual universes. It is best to visit Wat Arun either very early in the morning when the rising sun reflects off the surface of the temple, or at night when it is stunningly lit up.
Erawan Shrine
One of the most popular religious sites in downtown Bangkok, the Erawan Shrine has an interesting back story. Located in front of the Grand Hyatt Erawan Hotel, it was during the construction of a prior hotel of the same name, but government-owned, in the 1950s that an astrologer recommended building a shrine to counteract the negative karma which seemed to be plaguing the site. Construction workers had noticed a variety of problems with the project, including several delays caused by cost overruns, the loss of a shipment of Italian marble intended for use on the building, and injuries to workers, believed to have been caused by unhappy spirits. A Brahma statue was designed and enshrined in 1956, and the project went ahead with no further mishaps.
Nowadays, at any given time of day or night, you will see local Thais paying respects to the statue.
Relaxing Things to Do in Bangkok
Thai Massage
Definitely the quintessential Thai experience, a Thai massage has to be on your list of things to do in Bangkok. This ancient practice goes back some 2,500 years, possibly originating in India before heading over to Thailand along with the Buddhist religion. The traditional Thai technique consists of pulling, stretching, and rocking, and is certainly not of the gentle kind, although if you walk into any Thai massage parlour, especially the more exclusive ones, you will find all kinds of massage on offer. While there has been no definitive research done on the health benefits of Thai massage, it is certainly true that they are excellent at relieving stress and tension, both physical and mental, so if you are feeling sore after carrying your backpack or suitcase for an extended period of time, having a Thai massage is the perfect solution.
If you are worried about finding a Thai massage parlour, do not worry; they are pretty much on every street in the city, ranging from the very basic to five-star spas.
Lumpini Park
As exciting and fun Bangkok can be, it is also true that it is an incredibly hectic place, so having a peaceful spot in the center of the city to get away from it for a while is necessary, both for locals and travelers. The best place to go is Lumpini Park, the oldest and largest of Bangkok's parks, having been created in the 1920s and covering a massive 142 acres. As well as being a wonderful place for a stroll and a picnic, Lumpini Park is famous for its plentiful flora and fauna which can be found here. 30 species of birds make their home here and there are lots of beautiful flowers and trees to admire. There is an artificial lake where you can rent a boat and cycling is permitted between 10 am and 3 pm. During winter, you can also catch concerts of classical and other music genres in one of the park's gardens.
If you need to relax during your time in the Thai capital, a visit to Lumpini Park is one of the best things to do in Bangkok.
Unique Things to Do in Bangkok
Bangkok Puppet Show
One of the most unusual things to do in Bangkok – and one which gives you a wonderful insight into Thai culture – is taking in a traditional puppet show. This art form dating back to the 17th century uses meter-long puppets to tell the stories of Thai legend, with each puppet needing three people to control its movements. The stories are accompanied by music and a narrator, although it is the puppets that take center-stage.
The puppeteers working them are exceptionally skilled, having trained from a young age, and do a magical job of bringing the puppets to life.
Sathorn Unique Tower
During the economic boom in Thailand in the 1990s, many ambitious building projects began to take place. One of these was the Sathorn Unique Tower, intended to be a high-rise residential complex. However, disaster struck in 1997 when the Asian financial crisis hit and the tower, along with many others, was abandoned. Only 80% completed, it is now referred to as the Ghost Tower, looming ominously over the city. In recent years, the Sathorn Unique Tower has become a popular site for urban exploration, with many people entering the building to explore it. Keep in mind that although this has become a popular activity and it is possible to pay workers there to get into the building, it is not exactly clear if it is legal to do so; that being said, it is highly unlikely anyone is going to object to you entering.
If you do decide to head inside, be careful as some parts of the structure are unstable. However, the Sathorn Unique Tower is just as impressive seen from the outside, so if you do not fancy being too adventurous, this would be the best option for you.
Shopping in Bangkok
Chatuchak Weekend Market
Once only popular with wholesalers and traders, Chatuchak Weekend Market has become the largest of its kind in the world with both locals and travelers descending on the market every weekend in their thousands. With over 15,000 stalls split into 27 different sections, if you do not find what you are looking for here, you have no hope of finding it anywhere! Market sections include clothing and accessories, ceramics, home furnishings, books, and handicrafts, and, of course, there are the usual food and drinks stalls which Asian markets are so famous for.
The whole market opens on Saturdays and Sundays from 9 am to 6 pm. However, Chatuchak is also open on Friday nights from 6 pm to midnight, and this is generally when the best deals can be found. If you are interested in plants, the plant section of the market opens all day on Wednesdays and Thursdays; be aware that the rest of the market is closed on these days.
Siam Paragon
While everyone raves about the markets in Asia, sometimes only a shopping center will do to satisfy your retail needs. If this is the case, Siam Paragon is your best choice in Bangkok. More upmarket than other shopping centers in the city, here you will find stores such as Chanel, Prada, Louis Vuitton, and Dior alongside more affordable high-street brands, including H&M and Zara. If you love luxury cars, there are even showrooms of Bentley, Ferrari, and Lamborghini among others within the center.
But Siam Paragon is not just about shopping. As well as the usual food court and restaurants that you would normally expect to find in such a shopping center, Siam Paragon also houses Sea Life Ocean World, the largest aquarium in South-East Asia, in addition to a multiplex cinema, bowling alley, and the Royal Paragon Exhibition Hall.
Patpong Night Market
Traditionally known as an entertainment district, Patpong is Bangkok's famous red-light district and allegedly where Thai go-go dancing originated. However, although the area has had a pretty seedy past, in recent years it has cleaned up its act and become slightly more palatable. This has largely been down to the establishment of the Patpong Night Market, mostly targeted at travelers and ex-pats. It is the perfect place to go to snag some ultimate bargains and you can literally find everything here, including clothing, DVDs, fake designer accessories, and even ninja-style knives – just be mindful to check your home country's customs regulations before taking something like that home! A key thing to keep in mind while you are at Patpong Night Market is that you need to bargain and haggle for whatever you want to purchase. Most people who come to the market are not aware of the price they should be paying for something and vendors will take every opportunity to increase the price tenfold to take advantage of this.
When it comes to food, there is all the usual Thai street food that you would expect from such a market, plus there are also a number of international options nearby – including a surprising number of Italian restaurants – if you need a taste of home. The market takes place daily between 6 pm and approximately midnight.
Culinary and Nightlife Things to Do in Bangkok
Chinatown Food Tour
Believed to be one of the largest Chinatown's in the world, Bangkok's Chinatown – known as Yaowarat – has been the main centre of the city's Chinese community for some 200 years now, ever since they had to move to the area from their previous site to make way for the building of Wat Phra Kaew. While there is plenty to make a visit here worthwhile, such as temples, markets, and bars, it is the food which is the biggest draw. To experience the best food that Chinatown has to offer, you should take a Chinatown Food Tour, available through TripsPoint.com. This three-hour tour will take you to explore Bangkok's finest food artisans of Thai-Chinese cuisine and give you chance to sample some fantastic dishes, such as the best-selling spicy basil chicken, Thai satay and fishcake, and home-made pork rice.
Your guide will even take you to try the local's favorite dish which earned a Michelin star and a century-old Chinese dessert! In between your seven food stops, you will get to explore the exotic backstreets and alleyways usually hidden from tourists as well as make a stop at Wat Traimit Temple, the Temple of the Golden Buddha.
Khao San Road
Love it or hate it, Khao San Road is notorious all around the world for its hedonistic nightlife. If you are hoping to stay up all night and dance and drink the night away, this is the place to come. It is on Khao San Road that you will find many of the city's hippest bars and restaurants as well as being the center of local life; it is one part of Bangkok where you will see a massively diverse mix of people, from Thai locals and Bangkok ladyboys to ex-pats and travelers. If you stay up long enough, you may even get the chance to see local monks wandering about. While Khao San Road may get mixed reviews, there is no denying that it is one of the essential things to do in Bangkok.
But Khao San Road is not just about drinking and dancing, although this is the main reason why people come here. Along the one-kilometer road you will find massage parlours, souvenir stalls, tattoo parlours, bookshops, and even a few tourist sights, such as temples and the October 14th Memorial.
Bangkok is not just about partying and hedonism
While the city may have a reputation for its fun-loving party lifestyle, there is much more to Bangkok than this. With such a multitude of things to do in Bangkok, you should be prepared to fall in love with the Thai capital.