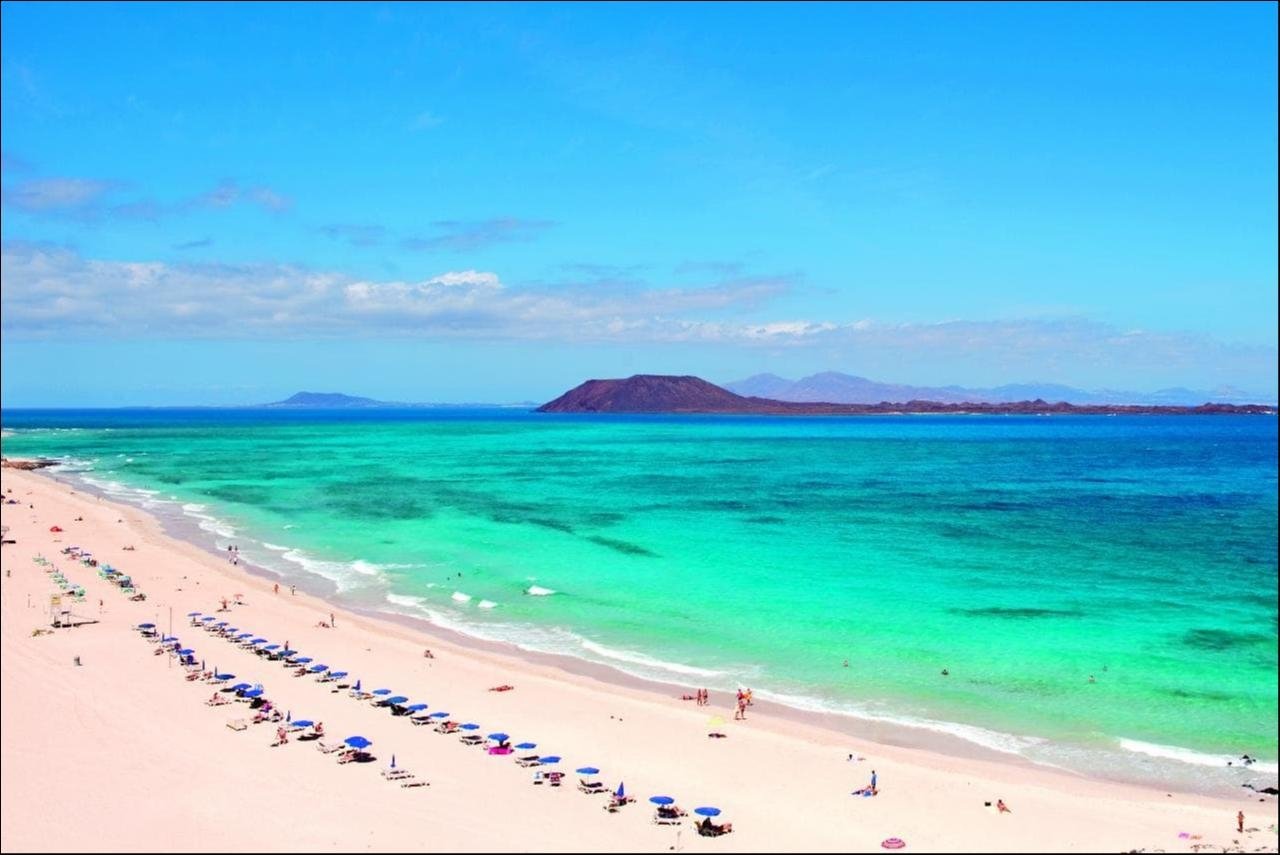 ---
Fuerteventura Things to Do - Trip of a Lifetime
---
For those seeking the perfect sun, sea and sand getaway, Fuerteventura is the ideal choice. As one of the Canary Islands, it is guaranteed that you will have amazing weather all-year-round, so even if you take your Fuerteventura vacation during winter, you will still be able to walk around in just shorts and a T-shirt. The temperate weather is perfect for all kinds of activities, plus the beaches are some of the best in the world. But if you are thinking that Fuerteventura is just for people seeking a beach holiday, you will be pleasantly surprised as there are many Fuerteventura things to do to suit travellers of all kinds. Here is a guide to exactly what you can expect if you decide to make Fuerteventura your next holiday destination.
Sightseeing Fuerteventura Things to Do
Sightseeing Fuerteventura – Day Tour by Bus
To make the most of your time in Fuerteventura, you should consider taking this Sightseeing Fuerteventura bus tour which you can book through TripsPoint.com. On this seven-hour tour, you will get to see half of the island, giving you the chance to learn about its fascinating history and to see its wonderful landscapes. Your first stop will be the famous Aloe Vera Museum of Tiscamanita, where you will be shown the process of extraction and learn all about the amazing properties and benefits of this miraculous plant.
Next, you will head to the traditional village of Pajara where you will visit the 18th century Church of Virgen de la Regla with its mysterious porch, before moving onto the island's former capital of Betancuria, a city with cobbled stone streets and traditional Canarian architecture. Afterwards, you will get a photo stop in El Cotillo, a small fishing village well-known for having one of the best beaches on the island. Your final stop on the tour is a visit to Fuerteventura's volcanoes and the beautiful sandy beaches of the natural park.
In addition to your transportation for the day, your professional guide and entrance to the Aloe Vera are included in the price. As a way of seeing the best of what the island has to offer, this tour is one of the best Fuerteventura things to do.
Salt Museum
Fuerteventura might not seem like the kind of place you would expect to find museums. However, the island has a long and varied history and it actually has a few museums which detail this. One museum which you should definitely add to your list of Fuerteventura things to do is the Salt Museum, located next to Caleta de Fusta in Salinas del Carmen. Caleta de Fuste was where the first salt fields on the island were formed many centuries ago. At this museum, you can learn all about how salt was extracted from the seawater in order to be turned into the common kitchen ingredient we all know.
The museum is divided into two sections. The first section is an indoor exhibition full of interesting information boards outlining the industry's history. You will then be lead outside to the original salt fields themselves so you can see these traditional methods with your eyes. There is also a shop on site where you can purchase some of the salt made in the museum itself.
Majorero Cheese Museum
Another fantastic museum to visit while you are on vacation in Fuerteventura is the Majorero Cheese Museum. Majorero is a popular cheese in the Canary Islands made from goat's milk and known for its milky, nutty flavour. It is an incredibly versatile cheese which goes with a variety of foods, such as pasta, potatoes and vegetables.
At the Majorero Cheese Museum, you can learn all about the production of this cherished Canarian product and how it has influenced life on Fuerteventura. But the museum is not just for those who love this fine dairy product. The museum is a brilliant insight into the island's past; some of the exhibits take you back to prehistoric times with a number of archaeological finds on display from nearby caves. The cute little windmill on-site is worthy of the visit alone, plus there is also a pretty garden with a wide variety of plants to see and a gift shop where you can buy traditional Canarian handicrafts. Once you have enjoyed all the museum has to offer, you can then relax in the Majorero Cafe which, of course, has dishes with the island's top product.
Puerto del Rosario Sculpture Park
While Puerto del Rosario, the capital of Fuerteventura, tends not to get too many visitors, with travellers preferring to make their way directly to the island's resorts, there are a number of reasons why a visit here is worthwhile. One of these reasons is the Puerto del Rosario Sculpture Park. Rather than being set within one particular area, the entire centre of the town serves as the sculpture park, with around 100 different pieces dotted around the Puerto del Rosario. A pleasant way to spend the day is strolling around and discovering these amazing artworks.
You will find many unique pieces and be astonished by the creativity of the artists. When it comes to Fuerteventura things to do, this is one of the more original ones.
Ajuy Caves
For the geological fans among you, a visit to Ajuy Caves has to be on your list of Fuerteventura things to do. Located in a small village of the same name, the caves formed around 70 million years ago, even further back in time than the formation of Fuerteventura itself, which occurred centuries later. These amazing caves are wonderful to explore; you can easily imagine yourself as one of the pirates who sought shelter in the caves many years ago. As well as the caves, you can also visit a four-million-year-old fossilised beach and the star monument, a basal complex believed to be the oldest set of rocks on the island.
When you are making your way back to the village, you may be able to catch a glimpse of the famous American Star shipwreck. Initially known as the SS American, the American Star ran aground at Playa de Garcey after encountering problems during a storm in 1994. When the sea is at low tide, it is still possible to see the wreck and it makes for a foreboding sight. The village of Ajuy is also worth spending a little bit of time in, especially the restaurants which serve absolutely delicious seafood.
Betancuria
There are many delightful villages in Fuerteventura, but if you only visit one during your stay, you should head to Betancuria. Betancuria was once the capital of the island, founded in the early 15th century. Initially, the town was built as it was believed to be in the ideal location to hide from invading forces but was unfortunately completely destroyed by a pirate named Jaban in 1593. However, the villagers were resilient folk and began rebuilding the town almost immediately, and Betancuria remained Fuerteventura's capital until 1834.
To this day, Betancuria remains one of the most picturesque of Fuerteventura's towns. Its white stone houses and palm trees sit amongst a backdrop of beautiful mountains and it really is just a lovely town to walk around. However, here you can also visit the Artisans Museum and the Betancuria Archaeological Museum, plus the town is the home of the prettiest church on the island, the Iglesia de Santa Maria. There is also an abundance of handicraft and souvenir shops as well as a number of excellent restaurants and cafes. You can either visit Betancuria independently or you can join a tour, such as the Sightseeing Fuerteventura tour detailed above.
Day Tour of Lanzarote
Once you have seen the most wonderful sights of Fuerteventura, it is time to extend your visit of the Canary Islands and head over to the neighbouring island of Lanzarote. Lanzarote is approximately half an hour by ferry from Fuerteventura, meaning you can easily make the journey in one day. TripsPoint.com advertise three different tours offering this kind of trip, giving you a good choice of the tour depending on what your preferences are.
Highly recommended is the Lanzarote Grand Tour from Fuerteventura, which will see you visit the beautiful Bay of El Golfo, the rugged coastline of Los Hervideros, the salt flats of Janubio, and the famous Timanfaya National Park, home to Fire Mountain. You will also get a three-course lunch included before spending your afternoon exploring other delights Lanzarote has to offer, such as La Geria, home to the most unusual vineyards in the world, and the spectacular views of Guinate. The tour takes nine hours in total; if you think you would prefer a shorter excursion, you can opt for the Lanzarote Island Tour or Day Trip to Lanzarote tour, both taking seven hours.
Fun Fuerteventura Things to Do
Oasis Wildlife Fuerteventura
Everyone loves a zoo and Oasis Wildlife Fuerteventura is certainly one to visit. The park is home to over 3,000 animals of 250 different species, including various types of monkey, meerkat, marmot, giraffe, hippo, Nile crocodile, and many species of bird. In addition to the exhibitions, there is also the chance to see some of the zoo's animals in action, such as the Sea Lions Show, Birds of Prey Show and Parrots Show. If you want to extend your experience even further, you can opt for one of the zoo experiences.
The Lemur Experience gives you the chance to handle these wonderful creatures, the Sea Lion Experience involves you swimming with these magnificent animals, and the Safari Experience is an exciting ride on the back of the beast of the desert, the camel. There is also the chance to have your photo taken with your favourite animal. All in all, Oasis Wildlife Fuerteventura provides you with everything you need for a fun-packed day, making the zoo one of the best Fuerteventura things to do.
Acua Water Park
As the only water park on the whole island, there is no doubt that you will visit Acua Water Park at least once during your stay in Fuerteventura. Located in the tourist town of Corralejo, the water park offers lots of fun and a number of attractions for all ages. You will find all the usual water park rides and slides, such as rapids, kamikaze, splash lagoon, slow river, and jacuzzis, plus there are also fun and exciting slides, including the pitch-black dark cave. If you are travelling with children, they have their own versions of the big slides, including a mini kamikaze and mini soft slides, and they also have their own play area so they can splash and play in safety.
Despite the Canary Islands is an all-year-round destination, you should note that Acua Water Park is not open during the winter months.
Water Activities and Sports in Fuerteventura
Fuerteventura Atlantida Experience from Corralejo
Water sports are one of the main attractions of Fuerteventura and there is no better way of experiencing some of the best of them than on the Fuerteventura Atlantida Experience excursion available through TripsPoint.com, making it one of the best Fuerteventura things to do. Your trip will begin with an hour at the harbour of Caleta de Fuste where the kids are free to play with inflatables and the adults can spend their time shopping or relax in one of the many bars and restaurants. Then you will board a glass-bottomed boat for a half-an-hour trip to discover the ocean bed and the creatures that live beneath the surface of the water.
Finally, you will embark on a catamaran which will take you to a popular snorkelling spot so you can get up-close and personal with the many fish and other marine creatures. It is a fantastic way for people of all ages to spend the day and one of the most wonderful Fuerteventura things to do.
Water Sports
As was mentioned above, water sports are incredibly popular in Fuerteventura and there are certainly many to take your pick from. The ones you will see most people participating in are surfing and windsurfing; the strong winds help to form big waves, giving water sports enthusiasts plenty of opportunities to take to the water. The most popular surfing and windsurfing spots can be found on the western and northern coasts of the island, with Corralejo and Playa de Sotavento being the most highly recommended.
If it is diving which is your water sports passion, you can take advantage of a number of diving opportunities when in Fuerteventura. The Canary Islands, in general, are world-renowned for their crystal clear quality and warm temperatures of the waters surrounding them, with the sea bed being a rich source of marine life. There are three dive sites which you can take excursions to from the island. The first one is Veril Grande, a site suitable for all levels of diver. Here you can see species such as angel sharks, black eels, stingrays, bream, and – if you are very lucky – large deep-sea fish such as giant devil rays and whale sharks. A dive down in Bajon del Rio will see you explore unusually shaped volcanic crags which are known for their hugely unique biodiversity; this site is also good for all levels depending on the tide and current conditions. Finally, El Jablito is the perfect dive site for beginners and those looking for a calm and sedate diving experience. You can see a wide variety of marine life close up here, including sea bream, parrotfish, spider crabs, barracudas, and damselfish. It may not have the same number of diving opportunities as other destinations around the world, but diving here is still one of the most amazing Fuerteventura things to do.
Thrilling Fuerteventura Things to Do
Enduro Fuerteventura Off-Road Motorbike Tour
If you love the speed of two wheels, a motorbike tour of Fuerteventura would be the perfect addition to your vacation. The Enduro Fuerteventura Off-Road Motorbike Tour, which you can book through TripsPoint.com, will see you explore the northern side of the island, from its secret beaches to its majestic desert interior. There are a number of routes available, so your highly-qualified and experienced guides are able to take you on one which suits your riding ability perfectly; your route is planned by your guide after consulting with you prior to your trip.
Everything is included in the price, such as your drinks and snacks, full equipment and a full petrol tank.
Fuerteventura Buggy and Catamaran Combo Experience
For the ultimate in excitement, this Fuerteventura Buggy and Catamaran Experience is a great choice. Your trip will start by boarding a catamaran for a sail down the River, a two-kilometre stretch of water connecting Fuerteventura and Lobos Island. You will then anchor down near La Concha Beach where you can enjoy a range of activities, including snorkelling, kayaking and paddleboarding.
Once you have sailed back, the next part of your trip will see you riding beach buggies across the off-road routes of northern Fuerteventura and the Corralejo Natural Park where you will pass huge sand dunes and imposing mountains. As well as the thrilling activities, you will get your drinks, equipment and even underwater photos included.
As you can see, Fuerteventura has plenty to offer visitors away from the beaches, even if the beaches are a fabulous reason to take a holiday on this wonderful island. If you are looking to have a vacation which can easily combine relaxation and excitement, Fuerteventura is the place for you. And with all these Fuerteventura things to do, you can be sure you will have the trip of a lifetime.