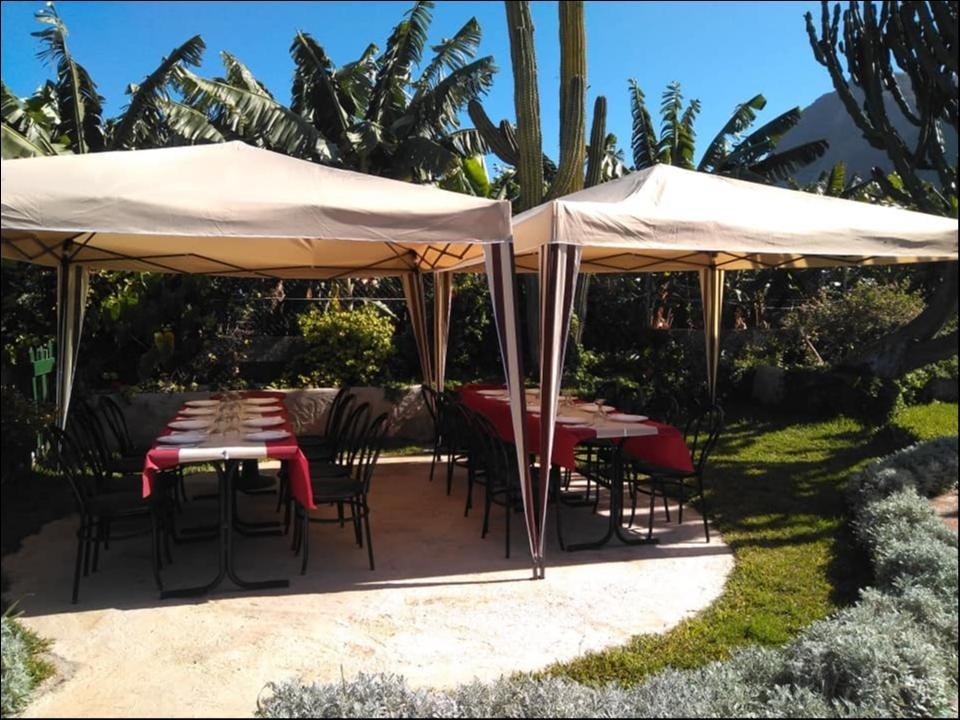 ---
Restaurant Brisas de Teno
---
Location:
Phone:
+34 922 84 07 35
Website:
https://www.facebook.com/BrisasdeTenoBuenavistadelNorte
---
Restaurant Brisas de Teno - cozy local place to eat in Tenerife!
Gregory Lucky
-
-
Jun 30, 2019
Cozy local Restaurant Brisas de Teno is located on the less visited by tourists Western part of Tenerife island in San Bernardo village, right after the westernmost town Buenavista del Norte and by the foot of Los Silos volcano. Our customers are mostly local people and neighbours from San Bernardo, Los Silos and Buenavista, but are very happy to let the island's visitors find their way to the Canary cooking traditions.
Taste authentic local dishes in the Restaurant Brisas de Teno
Here, in the Restaurant Brisas de Teno you can not just enjoy tasty local dishes, but can also relax in our beautiful garden surrounded by banana plantations. The garden founded by Fidel, the restaurant founder, and he keeping and improving it already last 30 years. It creates a really peaceful and relaxing authentic Canarian atmosphere far away from the crowds and rush on the South of Tenerife, where most of tourists stay. We don't accept big tour groups coming with regular coach tours in order to keep the quality and tranquil ambience of our cozy restaurant.
Here you can try a very traditional Canarian dishes like Goat Meat, Rabbit mean in Garlic sauce, grilled fish or try probably the best Barraquito Coffee on the island. It because we do Barraquito using traditional way that's a bit of time absorbing, but as result can taste a perfect and unique local coffee drink available only in Tenerife and La Gomera island.
Our Restaurant Brisas de Teno is also a perfect stop, if you are going from Masca village to Garachico. Even, if you are visiting Garachico with rental car, it worth to drive to San Bernardo village to relax in our restaurant's garden and feel how authentic local restaurant looks like and how really local food taste. It because in touristy places most of the restaurants are having too many customers, so they simply have no time to care about traditions.
That's also explaining why in the Restaurant Brisas de Teno you pay for an average meal half a price of a similar meal in a touristic zones - it because we serve mainly locals and we keep affordable prices, so we have a lot of loyal customers that having lunches and dinners here on a daily basis.
The Restaurant Brisas de Teno located at:
Ctra. Gral. Buenavista-Icod Nr 50,
Buenavista Del Norte, Tenerife, Canary Islands
Our Opening Hours:
Daily from 10:00 AM to 10:00 PM, except Tuesdays (closed on Tuesdays).