Climbing Mount Teide Peak - Private Tour with Permits
On the tour page:
Duration - 8 hours

Trekking, Hiking & Riding Tours

What's this? After you book the Tour or Activity we send you your Tour Voucher.
The Voucher is your booking confirmation and tour providers can accept e-Voucher, printed Voucher or both Voucher types.

e-Voucher means that's enough, if you save received Voucher to your phone and show on the tour beginning.

Printed Voucher means after receiving the Voucher you have to print it and take with you to give it printed to the tour provovider at the tour beginning.

e-Voucher

Cancellation Policy Strict Cancellation Policy means that:

Deposit is not refundable. No matter when you cancelled a booking, 100 percent of the paid deposit is charged as the cancellation fee.

Strict

Guide options If the tour is guided here you can see available tour languages. Usually it means along the tour you have a professional tour guide guiding the tour in one or a few specified languages.

Some tours or Activities doesn't require the guide and have a pilots, instructors or simply provider's team member who take care of you along the tour. In this case it's marked as "Not Guided" tour, because it doesn't require a professional tour guide.

Language: German, English

Santa Cruz de Tenerife, Costa Adeje
---
Climbing Mount Teide Peak - Pico del Teide Private Tour is absolutely private Mount Teide hike exclusively for you with the Teide National Park permit to the Mount Teide peak guaranteed, hotel pick-up and experienced licensed Teide hiking guide.
---
Conquer the highest point of Atlantic and third highest volcano on the island!
Explore the largest single crater in the world!
Get a special permit allowing you climbing Mount Teide to the Pico del Teide!
Be accompanied by a highly experienced licensed hiking guide!
Exclusive and unique Mount Teide tour with the Pico del Teide access permit privately for you!
Hotel Pick-Up and drop off in Tenerife South!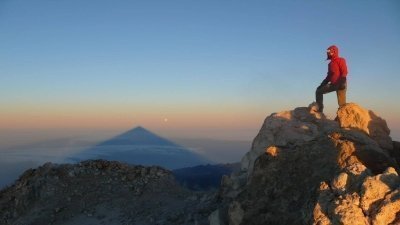 ---
Climbing Mount Teide Peak - Private Tour with Permits
Climbing Mount Teide Pealk on the private Mount Teide tour takes your hiking adventures to a whole new level. Think big: we start the hike at 2100m elevation and finish after 10km distance in the thin air at 3718m. How long the hike will take, depends largely on you, the duration can be anywhere between 3 and 6 hours.
The landscape is that of a high volcanic desert, life is quite sparse in this area, except May and June when the desert is in full bloom. Mount Teide is one of the biggest volcanoes in the world and it's a unique experience to climb Mount Teide hiking from the volcano base.
Mount Teide summit or, as it called in Spanish - Pico del Teide reaches an altitude of 3718 meters above the sea level. So, it is also the most elevated point of Atlantic Ocean and the highest mountain in Spain and, obviously climbing Mount Teide is on the bucket list of experienced hikers and Mount Teide peak permit is required to the Pico del Teide.
On a good day, visibility from the summit can range up to 250 km, bringing each one of the Canary Islands insight. This route touches the Pico Viejo crater and runs along the western crest of the mountain, so there is a huge variety of views on the route of Mount Teide hike. Mount Teide hike is also the most challenging hike to do in Tenerife if you want to have a unique life long memory after visiting Tenerife.
If you are considering a Mount Teide tour to reach the Pico del Teide you must know that climbing Mount Teide requires the Mount Teide permit and it makes difference because most of the Teide tours are just sightseeing and not including hiking and even the most of hiking tours don't including climb Mount Teide and Pico del Teide access permit. And that makes the Climbing Mount Teide Peak - Pico del Teide Private Tour unique, because of you are not just having absolutely private experience with professional and knowledgable licensed tour guide, but as a part of the trip to Mount Teide, you are granted with exclusive Teide permit allowing you to walk up to the Teide Peak!
Like the most of Mount Teide trips from Costa Adeje the Climbing Mount Teide peak - Pico del Teide Private Tour starts with picking you up directly from your hotel located anywhere along the coastal area from El Medano to Los Gigantes, so the Hotel Pick-Up and transportation is included if your hotel is located in any of the following resorts and towns:
- El Medano
- Golf del Sur
- Costa del Silencio
- Las Galletas
- Palm Mar
- Los Cristianos
- Playa de Las Americas
- Costa Adeje - La Caleta
- Playa Paraiso
- Callao Salvaje
- Abama
- Playa de San Juan
- Alacala
- Los Gigantes
Alternatively, if you have rented a car and want to explore more by yourself before or after the tour, we can meet at the meeting point - Hotel Parador de Canadas del Teide, this is the only hotel in the Teide National Park and it is located nearby the start point of our trail.
At the point where we start our climbing Mount Teide, you will find a café that opens from 10:00h to 18:00h so you are able to get a cup of coffee, drinks, and snacks if you haven't taken it with you. At the end of Mount Teide tour by the cable car base station, there is also a cafeteria where you can relax a bit and a drink or a meal after walking up Mount Teide.
Mount Teide possesses two peaks - the Pico Viejo or Old Peak and the Pico del Teide, the highest peak and our route to the summit lays through the Old Peak, so you will conquer both peaks in the same day. Basically, Mount Teide is located inside of the enormous pre-historic volcanic caldera and this crater is known as one of the largest single craters in the world. Because of its unique micro-climate and location on the territory of the Teide National Park, you will witness exceptionally unusual landscapes and rock formations. Many of them are looking like from another planet while you are climbing Teide and you will also find tens of kinds of different bushes and plants that are completely endemic - that means you would find them nowhere else in the world. More than a half of the pre-historic caldera is surrounded by the gigantic crater's rim and as higher you are hiking toward the Pico del Teide as more and more you realize how big the crater is.
Once reaching the Teide Summit you will clearly see the whole caldera formed about 190 000 years ago. On the way to Pico del Teide, you will also hike across the crater of the Pico Viejo (lower Old Peak of Teide). After climbing Mount Teide to the summit area (from 3500m up) we enter the area protected and restricted for reasons of nature conservation. In order to get to the area, you need a special Permit. To obtain a Teide National Park permit, you need to provide us following information right after the tour was booked:
- Name (as in the passport).
- Surname (as in the passport).
- Passport nr (or national ID-card nr for EU, Norway, Switzerland, Ukraine and Iceland nationalities).
- Date of Birth
- Sex.
- Passport or ID-card issuing country.
Once you've sent us the information required to apply and get the permit allowing you access the Mount Teide summit, we will get the Teide National Park permit especially for you, because of licensed guides as your guide have own pool of permits they can receive and these permits are not available for the general visitors or guides. Please, remember, you will need to present your ID or passport on-site together with the Pico del Teide access permit. Your guide will hold your Mt Teide permit, so you just need to take your passport or ID-card with you. Mount Teide permits may not be obtainable on certain days, so in this case, you will be offered an alternative tour date within the period of your stay in Tenerife.
You are hiking in a company of a highly experienced guide and it's the guide who decides what route is taken to climb Mount Teide on a certain day. As you already know the Mount Teide possesses two peaks - the Pico Viejo or Old Peak and the Pico del Teide, the highest peak. There are two Teide walking routes and our route to the summit lays through the Old Peak, so you will conquer both peaks on the same day. This is quite a nonstandard route because the majority of hikers going up from the Northside through the Montana Blanca which is shorter but offers fewer views. In most of the cases, we hike the route through the Old Peak, if weather conditions allow us. The only cases the guide could decide to resign from the Mount Teide hike, is if the weather conditions are not good enough and too dangerous. The route through the Old Peak offers better visibility and better weather.
Booking the Climbing Mount Teide Peak Private Tour you must be prepared for a very specific climate and weather conditions. The air is extremely dry in the Teide National Park and most of the time the air humidity is close to just a 5%. Combined with the low air pressure and tricky weather it creates quite hard hiking conditions and that's why the hiking Mount Teide is so challenging. If about the weather here it's important to understand that the weather is completely different at the base of Mount Teide on the altitudes of 2000m above the sea level and at the summit. Moreover, the weather and average temperatures are different on every single month. Here you can check what kind of minimal and maximal temperatures you can expect on the summit of Mount Teide depend on what month you are climbing Teide:
- In January: Min. -7C (19F) and Max. -1C (30F).
- In February: Min. -7C (19F) and Max. 0C (32F).
- In March: Min. -6C (21F) and Max. 1C (34F).
- In April: Min. -5C (23F) and Max. 3C (37F).
- In May: Min. -2C (28F) and Max. 6C (43F).
- In June: Min. 1C (34F) and Max. 10C (50F).
- In July: Min. 5C (23F) and Max. 14C (57F).
- In August: Min. 5C (41F) and Max. 14C (57F).
- In September: Min. 2C (36F) and Max. 10C (50F).
- In October: Min. -1C (30F) and Max. 6C (43F).
- In November: Min. -4C (25F) and Max. 2C (36F).
- In December: Min. -6C (21F) and Max. 0C (32F).
We descend with the cable car generally. The descent one-way ticket cost is €21. Descent tickets can be bought on-site and you do not pre-book it. The last cabin down starts at 16:50. From the cable car base station, we have to get back to the starting point and we will use there is a public bus at 15:45. The bus ticket cost per person is €2. In case we miss the bus, if you arrived in your car, your guide will drive your car to the cable car station. Walking distance from the cable car station to the starting point is 5km with a 200m descent along the hiking trail nr 19.
Finally, after we conquered both the peaks of Mount Teide, your guide will take you back to your hotel or you drive back by yourself if you arrived with your car to the meeting point. You can be sure you will always keep in your memory the Pico del Teide Private Tour as one of the best tours you ever had in your life!
Inclusions:
Special Permit - Pico del Teide access permit allowing you to hike to the Teide summit.
Private hiking tour guide.
Pick-up directly from your accommodation anywhere along the Tenerife South coast.
Exclusions:
Food and drinks.
One-way cable car tickets to get down: 21 Eur per person.
Bus tickets, taxi, to get back to the start point after descent by cable car: 2.00 Eur per person.
Visited Places:
Teide National Park
Mount Teide
Preliminary requirements for climbing Mount Teide are:
- Air pressure is significantly lower than that on sea level. Anyone with a serious heart or cardiovascular disease is not allowed to ascend the summit.
- Pregnancy is also a prohibitive condition for the ascent.
- Weather conditions can be prohibitive for the ascent. Your tour guide's decision upon weather conditions is final.
- Climbing Teide is a strenuous exercise. Your physical conditions must be excellent in order not to put yourself in danger.
The outfit you will likely need for climbing Mount Teide peak:
- Trail running shoes are preferred to hiking boots, though both are acceptable. Trail conditions are mostly dry, with a rough rocky surface. Close to the Pico del Teide, the trail is steeper with high steps.
- Hiking poles can be of great advantage to the ascent.
- Along the winter season temperatures are mostly expected to be around zero, a strong wind is often present, the air is usually extremely dry. At the starting point, however, the weather can be scorching hot.
- Neck/arm/knee warmers and gloves are easily changed with rapidly changing temperatures.
- You must carry seriously warm backup clothing in case the weather turning bad or if there is a delay in movement.
- Solar radiation is mostly quite extreme. You will need to cover your skin and use 50-factor suncream. Headwear is essential.
- You will need something to eat and to drink. The air is very dry on most days so you might need to drink more than usual. We don't plan a picnic stop on the way, rather, we will have energy snacks while on the move. Drinking water is available on the summit.
- Low air pressure can cause slight dizziness. Popular remedies are energy drinks containing caffeine.
Please, make sure you are in good physical shape before booking the Climbing Mount Teide Peak - Pico del Teide Private Tour.
Frequently Asked Questions
---
How much time does the Climbing Mount Teide Peak - Private Tour with Permits take?
How many days in advance I must book Climbing Mount Teide Peak - Private Tour with Permits?