8 Days Peru Express
On the tour page:
Duration - 8 days

Multi-Day Tours & Cruises

What's this? After you book the Tour or Activity we send you your Tour Voucher or a Ticket(s).
The Voucher is your booking confirmation and tour providers can accept e-Voucher, printed Voucher or both Voucher types.

e-Voucher means that's enough, if you save received Voucher to your phone and show on the tour beginning.

Printed Voucher means after receiving the Voucher you have to print it and take with you to give it printed to the tour provovider at the tour beginning.

e-Voucher, Printed Voucher

Cancellation Policy Standard Cancellation Policy means that:

If you cancel this tour booking at least 14 days in advance of the scheduled departure, there is no cancellation fee.

If you cancel between 13 and 3 days in advance of the scheduled departure, there is a 50 percent cancellation fee charged from the paid deposit.

If you cancel within 2 day(s) of the scheduled departure, or don't show up at the meeting point on time there is a 100 percent cancellation fee charged from the paid deposit.

Standard

Guide options If the tour is guided here you can see available tour languages. Usually it means along the tour you have a professional tour guide guiding the tour in one or a few specified languages.

Some tours or Activities doesn't require the guide and have a pilots, instructors or simply provider's team member who take care of you along the tour. In this case it's marked as "Not Guided" tour, because it doesn't require a professional tour guide.

Language: English

Jorge Chávez International Airport is Peru's main international and domestic airport. It is located in Callao, 11 kilometers northwest from Lima
---
Discover Peru's main highlights on this 8-day private tour to Lima, the Sacred Valley, Machu Picchu and Cusco. Visit unique attractions in these important regions. Enjoy experiencing the local culture and discovering the history of Peru during your 8-day adventure.
---
Start Location : Lima, Peru
Finish Location : Cusco, Peru
Trip Style : Comfort, Short Breaks,
Country : Peru
Group Size : 2 to 16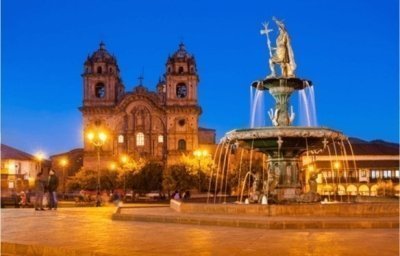 ---
8 Days Peru
8 Days Peru Express, Think Peru, think history – the ancient Inca Trail, the mysterious Machu Picchu, Spanish Conquistadors, colourful markets, traditional costumes, sweeping vistas of farmland stretching towards the rugged Andean Mountains. Balance just the right amount of time on these and other enduring sites as you discover the best the country has to offer.
It is not possible to guarantee inca trail tickets without a purchase in advanced, any cancellation will have a fee of US$ 200 as a non-refundable expense from the deposit
Inclusions:
Accommodations - 7 Night twin share hotel
Activities - Walking Tour in Miraflores, Flight to Cusco, Half Day Biking at the Sacred Valley,
Inca Trail Trek, Machu Picchu Ruins, Expedition Train to Cusco, Cusco Walking Tour, Cooking Class
Airport Transfer - Arrival & Departure transfer included
Local Tipping - Tipping for accommodation, activities and transport
Meals - 7 Breakfasts 2 Lunches
Transportation - Private bus, Train, Private vehicle, Plane
Visited Places:
DAY 01: Lima
Hello and welcome to Lima! Our representative will be keeping an eye out for you at the airport and assist you on arrival. Once you've reached your accommodation, unwind at the hotel itself or grab a towel and head for the beach, but make sure you keep that 6 pm appointment with your tour leader.
DAY 02: Sacred Valley
Start the morning with a stroll through Kennedy Park, that houses amongst other things, the Virgen Milagrosa Catholic Church built in 1939. Skim your eyes across the flowerbeds that lie manicured within the park premises. Take in the painters who dab at their easels and if you're lucky, linger around for an occasional show that happens at the amphitheatre located here. Cats! Friendly cats! Plenty of them to stroke and adopt one if you're up for it! Sample some of the famous street food before heading to Parque Del Amor or Love Park, marked by its beautiful mosaics, a statue of a couple locked in an embrace, and a stunning view of the Pacific Ocean. Later in the afternoon take a flight out of Lima and touchdown at Cusco.
DAY 03: Sacred Valley
Take a deep breath of that crisp, clear air that hangs about in the Sacred Valley located at approximately 2450 metres. Your adventure proper starts today. Swing onto your saddles and turn up the gravel as you ride from Pisac to Calca dissecting the trail through some epic mountain landscape, lush farmlands, ancient Incan ruins and some artisanal villages.
DAY 04: Machu Picchu
Start early this morning and board your train with designs of walking the historic Inca Trail. Chase the Urubamba River, coming face-to-face with it as you alight at the desolate Aguascalientes Station and further down to the famed landmark, kilometre 104, the starting point of your trek. Step into history – literally – as you follow the 13 kms trail, marked by dense jungles and cobbled pathways, in turn punctuated by the temple ruins of Winay Wayna and the Sun Gate that sits amongst grassy terraces.
DAY 05: Machu Picchu
Discover the mysteries of Machu Picchu as you slip in amongst the ruins and listen to the stories that unfold. Wonder in equal measure at the spectacular scenery that acts as added ornamentation to its justifiably rich reputation. Contemplate, hypothesise or just embrace the scene, lingering just a little longer before you finally descend to catch the train to Cusco.
DAY 06: Cusco
After having clawed yourself away from the remote beauty of Machu Picchu, get a crash course in Quechua culture and Inca history as you step onto the cobbled pathways of Cusco's main square, the Plaza de Armas. Wander through the collage of ancient and modern as you take in the Coricancha or Sun Temple built by the Incas around 1200 AD or head just north from there to the equally impressive 15th century Cathedral Basilica of the Assumption of the Virgin. Hunker down for some local flavour at the San Pedro market and run your eyes over traditional textiles, vegetable vendors and flower sellers and then move onto the more souvenir friendly artisanal market.
DAY 07: Cusco
Spend the last day of your tour cooking up a tasty, traditional Peruvian storm. You eat what you cook so take care to follow the instructions lest you should have to eat more than humble pie for lunch! The rest of the day is free so you might want to go back to Plaza de Armas to uncover sections that you may have missed. Later in the evening, perhaps rejoin your travel mates for a last hurrah and farewell dinner (not included) before closing the night out on a wonderful journey.
DAY 08: Cusco
It's time now to bid farewell to your group leader and new friends but not without a backpack full of memories. Departure Transfers are included on the day. It is not possible to guarantee inca trail tickets without a purchase in advanced, any cancellation will have a fee of US$ 200 as a non-refundable expense from the deposit.
Frequently Asked Questions
---
How much time does the 8 Days Peru Express take?
How many days in advance I must book 8 Days Peru Express?