Lake 69 & Lake Llanganuco 2d/1n - Camping in Private
On the tour page:
Duration - 2 days

Trekking, Hiking & Riding Tours

What's this? After you book the Tour or Activity we send you your Tour Voucher.
The Voucher is your booking confirmation and tour providers can accept e-Voucher, printed Voucher or both Voucher types.

e-Voucher means that's enough, if you save received Voucher to your phone and show on the tour beginning.

Printed Voucher means after receiving the Voucher you have to print it and take with you to give it printed to the tour provovider at the tour beginning.

e-Voucher

Cancellation Policy Standard Cancellation Policy means that:

If you cancel this tour booking at least 14 days in advance of the scheduled departure, there is no cancellation fee.

If you cancel between 13 and 3 days in advance of the scheduled departure, there is a 50 percent cancellation fee charged from the paid deposit.

If you cancel within 2 day(s) of the scheduled departure, or don't show up at the meeting point on time there is a 100 percent cancellation fee charged from the paid deposit.

Standard

Guide options If the tour is guided here you can see available tour languages. Usually it means along the tour you have a professional tour guide guiding the tour in one or a few specified languages.

Some tours or Activities doesn't require the guide and have a pilots, instructors or simply provider's team member who take care of you along the tour. In this case it's marked as "Not Guided" tour, because it doesn't require a professional tour guide.

Language: English

Huaraz
---
Lake 69 & Lake Llanganuco 2d/1n - Camping in Private the most beautiful trekking with just one night camping in the ake of Llanganuco and Hike to Lake 69, full nature for adventure lovers, the hiking with two lakes combines the perfect adventure travel to the hearth of the CordilleraBlanca
---
trekking
hiking in the mountains in the peruvian andes
trekking by the nicest path up to lake 69
trekking in the Huascaran National Park
lake 69
laguna 69 la mas hermosa de la Cordillera Blanc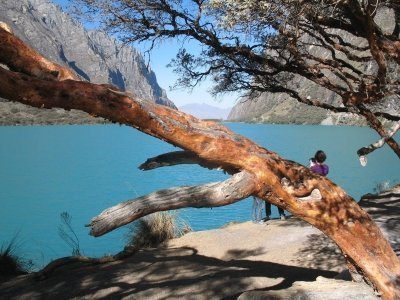 ---
Lake 69 & Lake Llanganuco 2d/1n - Camping in Private
Lake 69 (1 day)
Distance: 6 km
Altitude: 3900m to 4600m
Rating: moderate
Lake 69 is the most beautiful lake in the Cordillera Blanca and become popular by its easy reach in just a one day hike. We offer one day hiking services including a hiking guide and transfer from Huaraz with daily departures. Hiking the 69 lake from the trail, you will enjoy the wonderful mountain views of Pisco 5752masl Chacraraju 6112masl, Yanapacha 5460masl, and Huascaran 6678masl northern and southern peaks.
The Llanganuco Lakes (1 day)
are situated in the Cordillera Blanca, in the Andes of Peru, located at 3850masl, the turquoise water from the glaciers of Huascaran and Huandoy, these lakes are visited by lots of tourists having easy access on it.
Inclusions:
Transfer with touristic bus, conditioned air
Trekking local Guide in English
Huascaran National Park entrance fees
Group tent for dinning
Cooking Tent
Sleeping Tent
Sleeping Mattress
Kitechen Utensils
hot water for washing purpose
complete food 1dinner 2Lunches 1Dinner
Exclusions:
mineral water
alcoholic drinks
tips
additional expenses
personal expenses
hiking clothes and gears
sleeping Bag
Visited Places:
Huascarán National Park
Lake 69
Llanganuco Lakes
1 Day - Huaraz - Llanganuco Lakes camping
Depart at 9am, depart north direction to Llanganuco Lakes, which are located between the mountains of Huascaran and Huandoy, tour starts in Huaraz. Passing by several typical villages appreciating the beautiful white mountains of Huandoy, Huascaran, Hualcan, Copa and others. You can make a photo-stop from the various viewing points on the way. continue to Carhuaz 2650masl, Yungay the buried city holds history; a 7-degree earthquake took place in 31 May 1970 at 3:20pm, destroyed Yungay province. arrive to Huascaran National Park control and then start Hiking up the along the nicest trail of Maria Josefa full of vegetation, where at the end afteer two hours hiking we find the Llanganuco Lakes we will have lunch here and walk around shore of the lake continue to Next Lake in the Afternoon and get the second Lake of Llanganuco and find our camp site in Yuracorral at 4200masl. dinner and overnight camping
2 Day - Lake 69 hiking and return to Huaraz
Early morning breakfast is at camp site, then start hiking at Cebollapampa. It will take three hours approximately. You then begin on a moderate slope for about 3 hours before you reach lake 69. When you get to lake 69 you will have enough time to discover its beauty making for many unforgettable pictures. You can walk around the lake and take it all in. After a couple of hours you will come back the same trail at Cebollapampa where our bus will be waiting for you. Board the bus and return to Huaraz, arriving at around 7pm.
Frequently Asked Questions
---
How much time does the Lake 69 & Lake Llanganuco 2d/1n - Camping in Private take?
How many days in advance I must book Lake 69 & Lake Llanganuco 2d/1n - Camping in Private?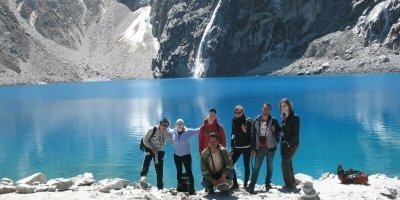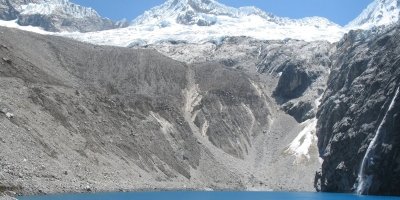 Lake 69 full day hiking tour in Group
Lake 69 full day hiking tour in group Distance: 6 km Altitude: 3900m to 4600m Rating: moderate Lake 69 is the most beautiful lake in the Cordillera Blanca and become popular by its easy reach in just a one day hike. We Read more ➤
---