Salsa Dance and Bachata Night Classes and Live Concert
social immersion with native dancers learning to dance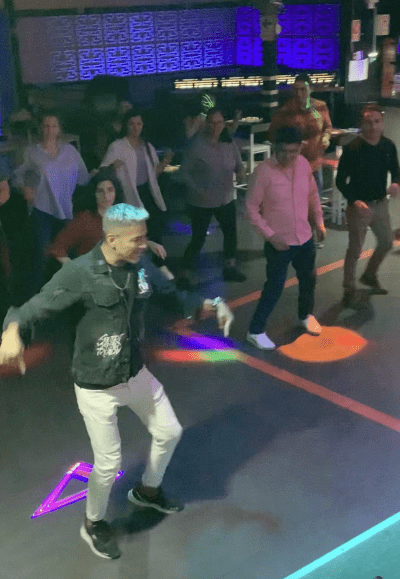 Salsa Dance and Bachata Night Classes and Live Concert
Learn to dance salsa and bachata and then live concert (salsa or bachata covers depending on the day).
We have professional salsa and bachata teachers who will give the classes in Spanish (if you only speak another language contact us to coordinate).
On Tuesdays we are in Miraflores (discotheque) and on Thursdays in San Borja (Javier Prado, 15 minutes from Keneddy Park by cab).
You will be sent the address when you purchase the experience.
What we will do:
If you come as a couple you can learn together and if you come alone you can also join other people to form couples.
We also exchange partners in the activities to make the experience interactive.
We have 3 classes in a row.
We will start with a salsa class* for beginners.
Then a bachata class*.
And we will finish with a Cuban Salsa class*.
When you have finished the classes there will be live music with a professional singer dedicated to the salsa or bachata rhythm.
What's included:
1 hour salsa class
1 hour of bachata class
1 hour of Cuban salsa class
Videos and photos of the experience
Live concert
Free Disco
* Each class lasts approximately 45 minutes.
** The venues are a discotheque and a convention center.
Inclusions:
Salsa classes
Bachata classes
Cuban salsa classes
Concert
Visited Places:
Miraflores
San Borja
The first salsa class will start at 6:30 pm.
Bachata class at 7:30 pm
and will end with the Cuban Salsa class at 8:30 pm.
We will have a social time where you will be able to buy some drinks and snacks.
The concert or live music will start at 11:10 pm.
Frequently Asked Questions
---
How much time does the Salsa Dance and Bachata Night Classes and Live Concert take?
How many days in advance I must book Salsa Dance and Bachata Night Classes and Live Concert?
Share your impression about
Salsa Dance and Bachata Night Classes and Live Concert