12 Days Morocco Highlights
On the tour page:
Duration - 12 days

Multi-Day Tours & Cruises

What's this? After you book the Tour or Activity we send you your Tour Voucher.
The Voucher is your booking confirmation and tour providers can accept e-Voucher, printed Voucher or both Voucher types.

e-Voucher means that's enough, if you save received Voucher to your phone and show on the tour beginning.

Printed Voucher means after receiving the Voucher you have to print it and take with you to give it printed to the tour provovider at the tour beginning.

e-Voucher, Printed Voucher

Cancellation Policy Standard Cancellation Policy means that:

If you cancel this tour booking at least 14 days in advance of the scheduled departure, there is no cancellation fee.

If you cancel between 13 and 3 days in advance of the scheduled departure, there is a 50 percent cancellation fee charged from the paid deposit.

If you cancel within 2 day(s) of the scheduled departure, or don't show up at the meeting point on time there is a 100 percent cancellation fee charged from the paid deposit.

Standard

Guide options If the tour is guided here you can see available tour languages. Usually it means along the tour you have a professional tour guide guiding the tour in one or a few specified languages.

Some tours or Activities doesn't require the guide and have a pilots, instructors or simply provider's team member who take care of you along the tour. In this case it's marked as "Not Guided" tour, because it doesn't require a professional tour guide.

Language: English

Mohammed V International Airport is an international airport serving Casablanca, Morocco. Located in Nouaceur Province, it is operated by ONDA........
---
Take our 12 day trip to Morocco to experience this fascinating country at its very best. Travel from Casablanca to Meknes, Fes, Midelt, Sahara desert camping (Merzouga), Tineghir, Skoura- Ait Benhaddou and Marrakesh. A twelve-day, small group tour, starting in Tangiers and ending in Marak.
---
Start Location : Casablanca Morocco
Finish Location : Marrakesh Morocco
Trip Style : Comfort, Long Haul,
Country : Morocco
Group Size : 2 to 16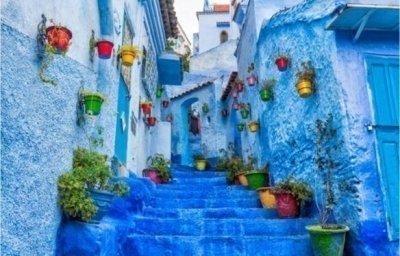 ---
12 Days Morocco
12 Days Morocco Highlights, Popular attractions, closely guarded secrets, the sensational and the cultured; from the cosmopolitan spirit of Casablanca to the mystic mood of Fes, and from the tranquil sands of Erg Chebbi dunes to the frantic, energetic beats of Marrakesh, the Highlights of Morocco twists, twirls and spins you around in experiences that range from the magical to the surreal. If you're in your 30s to 40s and looking for group travel in Morocco, we say, pack your bags and cash your chips in on this one!
Inclusions:
Accommodations - 4 Night twin share hotel 1 Desert Camp 6 Nights Riad
Activities - Hassan II mosque, Rabat Kasbah Des Oudayas, Hassan Tower, Mausoleum Mohammed V
Mausoleum Hassan II, Meknes Walking Tour, Volubilis World Heritage Site, Chefchaouen Walking Tour,
Medina Walking Tour, Funduq al-Najjarin, Al-Attarine Mederessa, Marinid Tombs,
Midelt Orientation Walk, Hike, Camel Ride, Khamila Village, Dades and Todra Gorges Walking Tour,
Skoura Oasis visit, Ait Benhaddou - Leader-led Ksar walk, Marrakesh Cycle Tour, Food Tour.
Airport Transfer - Arrival & Departure transfer included
Local Tipping - Tipping for accommodation, activities and transport
Meals - 12 Breakfasts 1 Lunches 4 Dinners
Transportation - Private bus Private vehicle Camel
Visited Places:
DAY 01: Casablanca
Hello and welcome to Casablanca! Upon touchdown at the airport our representative will facilitate your transfer to the hotel. Loosen up and relax until you're meeting with the tour leader at 6 pm. After getting all the inside story of what the tour entails, chomp down on first impressions and some Moroccan fare at your welcome dinner.
DAY 02: Casablanca- rabat- Meknes
Start the day by delving into the highlights of Casablanca capped by the spectacular Hassan II Mosque riding the edges of ocean waves, encased in intricate carvings, and boasting of the tallest minaret in the world. Head for Rabat thereafter, and lose yourself in the winding alleys of Kasbah des Oudayas marked by blue streaked houses, cobbled pathways, and a fusion of the old order and new. Try some mint tea as you progress along these hidden quarters until you find yourself gazing at the striking 12th century Hassan Tower and indeed its premises strung along with the distinctive mausoleums of Mohammed V and Hassan II. As the day stretches into late afternoon, drive onward to Meknes where you'll be spending the night.
DAY 03: volubilis-Chefchaouen
Get a load of history today as you slap the soles of your footwear on the cobbled streets of Meknes, stopping occasionally to contemplate upon its highlights that consist of the grand imperial gate or Bab Mansour, the royal granary, and of course the old Medina that meanders its way into the Jewish quarters. Visit the 18th century mausoleum of this city's founder and then dig even deeper into the past as you make your way to Volubilis, the ancient Roman city now marked by ruins and beautiful mosaics that ornament some of the houses that remain a little less marred than others by time. After flitting between the ruins here, hunker down for a 4 hour-long drive to Chefchaouen.
DAY 04: Fes
Spend the morning wandering through the Medina of Chefchaouen, amongst the soft blues and whites that brush the walls and the red tiled roofs off the houses there. Learn more about the Andalusian influences that characterise the area and while your time away at the Plaza Uta El Hamman where the cobbled streets stretch sideways to support cafes, restaurants and souks that display a distinctly Arabic ambience. Take a walk around the old Kasbah and later in the afternoon, head onward towards Fes where a delightful Pastilla dinner awaits you at a local Riad.
DAY 05: Fes
Step into the land of Fes el Bali or the Old City this morning where the true Arabian character spoken of in fables and legends reside – of traders, craftsmen, tanneries, souks, mosques, all meshed together in a hive of activity, and occasionally punctuated by the muezzin's call to prayer. Caper through the afternoon as you visit some of the most famous sites including a delectable 18th century caravanserai and recall the stories of a medieval past. Uncover more of Fes' past as well as present and finally round off your tour by visiting the Marinid Tombs under whose gaze the old city lies splayed resplendent.
DAY 06: Midelt
Enter a change of scenery, atmosphere and space as you leave the frenzied pulse of Fes and drop anchor at Midelt, a relatively small town squeezed between the Middle Atlas and High Atlas mountain ranges. Almost entirely populated by the Berber people, make the best of an opportunity to interact with them this afternoon as you embark on a soft hike, passing through tiny villages with the Ayachi Mountain keeping a constant vigil on your progress.
DAY 07: Sahara desert camping (Merzouga)
Spend a lazy morning exploring more of Midelt and if the vastness of the landscape here made an impression on you, there's more on the cards today as you drive to the Erg Chebbi desert in the afternoon and prepare for that quintessential Moroccan adventure – a camel ride amongst the golden dunes. Watch the sand here move, shift and wear the hourly change of light like an attire and when the day is done, camp in the desert itself, Bedouin style! Note: You will be taking only a daypack with the barest essentials for the camel safari. The rest of your luggage will be kept at a Riad in Merzouga village, and can be collected the next morning.
DAY 08: Tineghir
Rise early to catch the sun spreading itself stealthy and crimson on the Erg Chebbi and then make your way to Merzouga village for breakfast. Fortified with some food here at the Riad, trace your way to the Khamila village to learn about the Gnawa tribe and their cultural practices before charting the limestone expanse of the Dades and Todra Gorges, its brick red cliffs – some as high as 150 metres – scrambling to reach the skies!
DAY 09: Skoura- Ait Benhaddou
Strike for Ait Benhaddou this morning and tag along with your tour leader as he/she leads you to the Skoura Oasis peopled by date palm, almond, fig and olive trees that lend a spot of colour to the rust red tone of the region. Take a walk along its most famous Kasbah, the Amridil, which preserves both tradition and day-to-day articles alike employed during the 18th century. Drag yourself away from this treasure trove and then drive to Ait Benhaddou. Continue your process of discovery as you walk along and inside the Ksar (fortified wall), snaking your way through its most iconic sights to finally crest a hill and take in the sensational views of the surrounding areas.
DAY 10: Marrakesh
Leaving Ait Benhaddou, drive for an approximate hour and a half to arrive at the gates of a place that epitomises and even fuels the worldview of Morocco. If all the medinas you've visited whetted your appetite for more, the one at Marrakesh is a banger! Hold on to your horses though before letting yourself loose on Marrakesh. Tag along with your tour leader for an orientation walk to test the waters, learn the ropes a bit and then discover the place at your own pace. The rest of the day is free but make sure you take recommendations from your tour leader who'll be happy to oblige.
DAY 11: Marrakesh
Grab your bikes this morning and weave your way through the highlights of Marrakesh. Negotiate your way along the mazes of the old Medina and end up at Djemaa El Fna, the main square where humanity occupies centre stage displaying their wares and occupations as numerous as the warp and weft fitted into the designs of hand woven carpets – dancers doing a neat pirouette, contortionists bending their backs, snake charmers thrusting out their wriggly companions with nonchalance and potion sellers vending elixirs of purported empirical formulas. Pedal across to a public bakery and a public bath next; catch some of the city highlights such as the Adgal Gardens, the 12th century Koutoubia Mosque and the Kasbah, and even sneak up on some of the lesser known areas in the vicinity. Take a break at a local café, jump headlong into an enormous hand-me-down goods market and cap it off by a visit to the 17th century mausoleum of Zaouia de Sidi Bel Abbès, the city's own Sufi saint. The tour doesn't end here however, follow the food trail after you're done with the sights, stepping into hidden corners, sampling some of the tastiest Moroccan msemen pancakes and sfenj donuts at this café or chewing on some juicy tanjia on that stall. Get the taste buds crackling over the course of the afternoon and if you're still up for it, grab a rooftop dinner to close out your Moroccan adventure with a bang!
DAY 12: Marrakesh
It's time now to bid farewell to your Tour leader and new friends but not without a backpack full of memories. Departure transfers are included on the day. Check out time in most hotels is 12 pm. Please confirm with your Tour Leader or the hotel reception.
Frequently Asked Questions
---
How much time does the 12 Days Morocco Highlights take?
How many days in advance I must book 12 Days Morocco Highlights?