Private Day Tour to Curonian Spit from Klaipeda
On the tour page:
Duration - 6 hours

Private Tours

What's this? After you book the Tour or Activity we send you your Tour Voucher or a Ticket(s).
The Voucher is your booking confirmation and tour providers can accept e-Voucher, printed Voucher or both Voucher types.

e-Voucher means that's enough, if you save received Voucher to your phone and show on the tour beginning.

Printed Voucher means after receiving the Voucher you have to print it and take with you to give it printed to the tour provovider at the tour beginning.

e-Voucher

Cancellation Policy Standard Cancellation Policy means that:

If you cancel this tour booking at least 14 days in advance of the scheduled departure, there is no cancellation fee.

If you cancel between 13 and 3 days in advance of the scheduled departure, there is a 50 percent cancellation fee charged from the paid deposit.

If you cancel within 2 day(s) of the scheduled departure, or don't show up at the meeting point on time there is a 100 percent cancellation fee charged from the paid deposit.

Standard

Guide options If the tour is guided here you can see available tour languages. Usually it means along the tour you have a professional tour guide guiding the tour in one or a few specified languages.

Some tours or Activities doesn't require the guide and have a pilots, instructors or simply provider's team member who take care of you along the tour. In this case it's marked as "Not Guided" tour, because it doesn't require a professional tour guide.

Language: English, German

We meet at the Amberton Hotel Klaipėda.
---
Spend a day discovering the land of amazing beauty that has been created by the sea, wind, and man on this Curonian Spit National Park tour. The Curonian Spit is a 97 km long peninsula, which separates the freshwater Curonian Lagoon from the Baltic Sea.
---
Very good price!
Visit the main settlements of the Curonian Spit, including Nida and Juodkrantė!
Go to Witch Mountain to marvel at the oak sculptures of fairytale characters!
Learn more about the German writer Thomas Mann at his former summer residence!
Choose your language, our guides speak: English, Russian, German!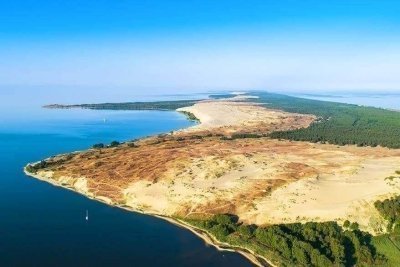 ---
Private Day Tour to Curonian Spit
Kursiu Nerija is a part of the Neringa region and it belongs to the national park of Kursiu Nerija. It is the greenest area in Lithuania – forests cover even 83% of its territory. Neringa has the sunniest days in Lithuania. In 2000, Kursiu Nerija was included in the UNESCO World Heritage list as having a unique cultural landscape and exceptional value territory. The biggest cities are Nida, Juodkrante, and Preila.
The journey will start from Smiltyne – ferry sailed into one of the most beautiful Lithuanian places between two waters, tourists named it "the corner of the world". A short stop in Juodkrante. This is one of the most beautiful areas in it all year round. Nida is one of the oldest settlements of the Kursiu Nerija, known since 1429. Now tourists in Nida are fascinated by the tranquility, the unique nature and spectacular fishing lodges and stylish villas, and their architecture.
Attend Witch Mountain which is on one of the most beautiful sand dunes located in Juodkrante. It's an old wooden sculpture exhibition. Currently, there are about 80 oak sculptures that formed a huge impressive ensemble (witches, demons, dragons, and other fairy characters).
Nida village was known from the 1676. At that time, a current Nida area, which is considered an exclusive fishing museum under the sky is the oldest and best known of the Kursiu Nerija area, famous for the impressive Great Dune, where famous German writer Thomas Mann was spending his summers. Nida can admire for its stylish architecture of the lodges, their bright décor, carvings, and ancient fishing boats. Nida had preserved the old cemetery with distinctive headstones.
Parnidzio dune. This semi-shifting dune is one of the most unique and popular Kursiu Nerija's objects. Its height is 52 meters, although previously it was 17meters higher. There is also an observation deck overlooking fabulous views on top of the dune.
Thomas Mann Memorial Museum*. The famous writer was fascinated by the lagoon and the fishing village beauty in 1930. He built a vacation home. Since 1995 summer house is a museum and cultural center where concerts, poetry meetings are held.
Getting back to Klaipeda.
Inclusions:
Hotel pick-up and drop off in Klaipeda
Transportation by air-conditioned vehicle
Ferry tickets (Klaipeda - Kuršių Nerija - Klaipeda)
English, German, Russian or Lithuanian-speaking guide
Environmental fee to enter the Curonian Spit
Documentation for travel
Exclusions:
Entrance fee to the Thomas Mann Memorial Museum
Entrance fee to the Amber Museum-Gallery
Meals and drinks
Medical insurance
Personal expenses
(*) - optional selected objects
Visited Places:
Please, read the tour description to understand the tour itinerary.
- Bring comfortable shoes and an umbrella.
- During the summer you can go for a swim or pleasant beach walk on the sandy beaches of the Curonian Spit.
- The Thomas Mann Memorial Museum is open from 10:00 AM to 5:00 PM.
- Starting time 9:30 AM.
- For an extra payment, we can pick you up from a different city.
Frequently Asked Questions
---
How much time does the Private Day Tour to Curonian Spit from Klaipeda take?
How many days in advance I must book Private Day Tour to Curonian Spit from Klaipeda?