8 Days Discover Jordan
On the tour page:
Duration - 8 days

Multi-Day Tours & Cruises

What's this? After you book the Tour or Activity we send you your Tour Voucher or a Ticket(s).
The Voucher is your booking confirmation and tour providers can accept e-Voucher, printed Voucher or both Voucher types.

e-Voucher means that's enough, if you save received Voucher to your phone and show on the tour beginning.

Printed Voucher means after receiving the Voucher you have to print it and take with you to give it printed to the tour provovider at the tour beginning.

e-Voucher, Printed Voucher

Cancellation Policy Standard Cancellation Policy means that:

If you cancel this tour booking at least 14 days in advance of the scheduled departure, there is no cancellation fee.

If you cancel between 13 and 3 days in advance of the scheduled departure, there is a 50 percent cancellation fee charged from the paid deposit.

If you cancel within 2 day(s) of the scheduled departure, or don't show up at the meeting point on time there is a 100 percent cancellation fee charged from the paid deposit.

Standard

Guide options If the tour is guided here you can see available tour languages. Usually it means along the tour you have a professional tour guide guiding the tour in one or a few specified languages.

Some tours or Activities doesn't require the guide and have a pilots, instructors or simply provider's team member who take care of you along the tour. In this case it's marked as "Not Guided" tour, because it doesn't require a professional tour guide.

Language: English

Amman
---
Our 8-day discover Jordan tour package combines history, culture, and adventure, showing you the very best of Jordan. Travel from North to South to explore the country's diversity and natural beauty. Join our small group tours of Jordan to see ancient monuments.
---
Start Location : Amman Jordan
Finish Location : Dead Sea
Trip Style : Comfort,
Country : Jordan
Group Size : 2 to 16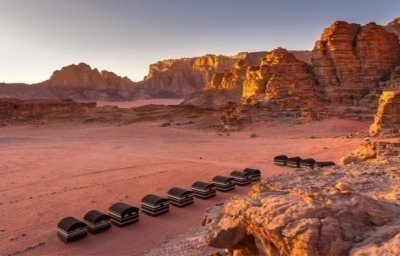 ---
8 Days Discover Jordan
Our 8-day discover Jordan tour package combines culture, history and adventure, showing you the very best of Jordan. Travel from North to South to explore the country's diversity and natural beauty. Join our small group tours of Jordan to see ancient monuments.
Slipping through the narrow passage that allows ingress to the Petra is very much a metaphor for the country itself – a little door left ajar; a soul willing to seek- shall find! As much as its most famous site, the reputation is justified, the desert with its unique colours, landmarks, history and the fascinating tales of humans who inhabit and traverse it, captivates in equal measure. If wide, open spaces, millennia of culture and delicious food get your attention, this is a tour ear marked for you.
Inclusions:
Accommodations: 5 Night twin share hotel 2 Night Desert Camping
Activities: Mount Nebo, Madaba Greek Orthodox Church, Petra Day Visit, 4WD Tour Wadi Rum,
Walk through Barrah Siq, Sunset Jeep ride , Kerak Castle, Ruins in Garish
Airport Transfer: Arrival & Departure transfer included
Local Tipping: Tipping for accommodation, activities and transport
Meals: 7 Breakfasts, 7 Dinners
Transportation: Private bus, Private vehicle Jeep
Visited Places:
Amman
Wadi Musa
Wadi Rum Village
Dead Sea
DAY 01: Amman
Welcome to Amman! Our representative will assist you on arrival at the airport and then facilitate your transfer to the hotel. Lay back, take a breather or explore the neighbourhood when you get there but make sure you're at the hotel lobby to meet your tour leader and fellow travellers at 6 pm for that all important first meeting. Once you've threshed out the formalities head out for some mouth watering Jordanian fare.
DAY 02: Petra
Settle down for an hour-long drive after breakfast to get to Mount Nebo and survey – as Moses did – the Dead Sea, the Jordan River valley, Jericho, Bethlehem and the distant hills of Jerusalem from atop a windswept promontory standing approximately 700 metres above sea level. Stride towards the 4th century Moses Memorial Church next and try to find some of the original stone pieces used to fashion this small edifice. Cast your last glance at history here and then proceed on to the Church of St George, Madaba, just 9 kms away. Feast your eyes on the 6th century mosaic map depicting a section of the Middle East as well as the original cartographic illustration of the Holy Land. Walk around this small town and explore its churches. Consider sitting down for lunch or watch the world shifting shades over the scent of coffee. If time permits, get an insight into the creative process of one of Jordan's most exquisite exports at the Carpet City and when you've had your fill, step into your vehicle again and drive through the desert highway en route to Petra, your stop for the night.
DAY 03: Petra
Wake up to a tingling of excited nerves as you get ready to witness one of the most intriguing architectural complexes in the world, which figures on the list of the"Seven Wonders of the World" no less! Step in through the Al Siq, a narrow passage where the sunlight forms shadows, at once revealing and hiding the treasures it holds within its red, pink and ochre hewn sandstone cliffs. Enter a patch of an ancient era – as old as 2000 years ago – and explore some of its highlights that feature the royal tombs, the Nabatean Theatre as well as the inimitable Treasury that adorns this great complex. Spend your time slack jawed until it's time to make use of them at lunch and then spend the remainder of the day at your leisure, milling about in the remains, climbing up to the monastery and other areas to form your own impressions about this marvel.
DAY 04: Wadi Rum
Make your way southwards, after breakfast, towards the famous red dunes of Wadi Rum where you'll be camping Bedouin style. Once you get to your camp, wade deeper into the desert on 4WDs to marvel at some of the most unique natural formations in the world carved out by wind and sun over the centuries. Sink your toes into the yielding sand, all brown, red and pink and run your eyes over the landscape that was once the home of TE Lawrence. Catch the nuances of the Rum as you visit its highlights, perhaps even learning about the Thamudic inscriptions while transporting yourself way back to the 7th century BC.
DAY 05: Wadi Rum
Drive even deeper into the folds of the Rum and watch it reveal its secrets as slowly as the shadows of rocky outcrops and sandstone formations that lengthen across its vast expanse. Take a walk through the Barrah Siq that cleaves the Barrah massif in half, past sheer walls, and cliffs to a promontory that juts out to a broad, silent expanse and gaze far, far out into the distance that's marked by fantastic rock formations. Linger here in the Rum, listening to the silence and at last, waiting for the sun to leave its last touches on the sand before you return to your camp.
DAY 06: Kerak
Leaving the brick red landscape of Wadi Rum travel onwards to Kerak, a now bustling town encased in millennia of Levantine history. Disembark at the largest of all the castles built by the crusaders in the Middle East and walk through the entrance, breezing past various sections, where the walls tease out stories of Saladin, his siege of this castle in the 12th century and many others that lie hidden within its walls. Take a moment to catch your breathe after your visit, fortify yourself with some lunch and then raise some dust as you make for your overnight destination, the Dead Sea.
DAY 07: Jerash
Following breakfast, drive to Jerash and stand gaping at the archeological complex that is home to one of the best persevered ancient Roman cities. Run an appreciative eye over the intricate décor of Hadrian's Arch built to commemorate the Emperor's visit in 129 AD, and then contemplate upon life as it may have been to the ancient populace at the Cardo Maximus, striding through the original pavement which was laid out in the 1st century. Gaze at the city plan from the Sanctuary of Zeus and discover all the other incredible ruins – the Oval Plaza, Hippodrome, the two Theatres and Artemis Temple among others –during the course of your exploration. Retreat for a moment from this era and adjust to the present as you leave the complex and drive back to your accommodation to spend some time at leisure. Later in the evening celebrate your adventures in Jordan by getting together for a final dinner.
DAY 08: Dead Sea
It's time now to bid farewell to your tour leader and new friends but not without a backpack full of memories. Departure Transfers are included on the day. Please consult with your tour leader or the hotel desk to confirm the check-out time.
Frequently Asked Questions
---
How much time does the 8 Days Discover Jordan take?
How many days in advance I must book 8 Days Discover Jordan?