The best of Taj tours - 2 Days Private Taj Mahal Tour
On the tour page:
Duration - 2 days

Private Tours

What's this? After you book the Tour or Activity we send you your Tour Voucher.
The Voucher is your booking confirmation and tour providers can accept e-Voucher, printed Voucher or both Voucher types.

e-Voucher means that's enough, if you save received Voucher to your phone and show on the tour beginning.

Printed Voucher means after receiving the Voucher you have to print it and take with you to give it printed to the tour provovider at the tour beginning.

e-Voucher

Cancellation Policy Standard Cancellation Policy means that:

If you cancel this tour booking at least 14 days in advance of the scheduled departure, there is no cancellation fee.

If you cancel between 13 and 3 days in advance of the scheduled departure, there is a 50 percent cancellation fee charged from the paid deposit.

If you cancel within 2 day(s) of the scheduled departure, or don't show up at the meeting point on time there is a 100 percent cancellation fee charged from the paid deposit.

Standard

Guide options If the tour is guided here you can see available tour languages. Usually it means along the tour you have a professional tour guide guiding the tour in one or a few specified languages.

Some tours or Activities doesn't require the guide and have a pilots, instructors or simply provider's team member who take care of you along the tour. In this case it's marked as "Not Guided" tour, because it doesn't require a professional tour guide.

Language: English, Spanish, Japanese, Italian

We pick you up directly from your hotel anywhere in New Delhi.
---
The best of Taj tours - 2 Days Private Taj Mahal Tour from New Delhi. Tourists from all over the world visit Agra not just to see the Taj Mahal, India's most famous architectural wonder but also to make a visit to the red sandstone fort built by the Mughal emperors.
---
Taj Mahal Visit in Sunrise and Sunset - the diamond experience of all the Taj tours!
Agra Fort and explore the palaces where are royal family used to live!
Agra's Local Market for shopping, if you will wish!
Fatehpur Sikri is yet another beautiful town established by the Mughals!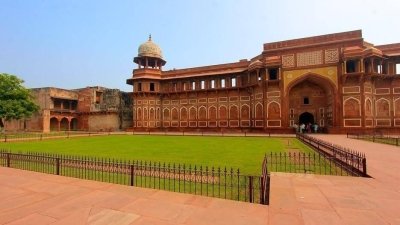 ---
Take the best of Taj tours
There's hard to find Taj tours like 2 Days Private Taj Mahal Tour from New Delhi that allows you to visit famous Taj Mahal and much more including spending night in Agra. Our private guide specialized on Taj tours will collect you directly from your hotel anywhere in New Delhi and you leave Delhi for Agra at about 8 AM after breakfast in a comfortable air-conditioned car with your private Taj tours guide and driver. It will take us 220 Km and 3-4 hours drive via new expressway.
On arrival to Agra you will check in at the hotel. After rest and lunch you visit with your guide Sikandra, Akbar's tomb is the tomb of the Mughal emperor, Akbar and an important Mughal architectural masterpiece. Early morning enjoy amazing sunrise view of Taj Mahal - "the epitome of love".
After the memorable visit to Taj Mahal, visit to Agra Fort - a vast museum of interesting buildings, started by Akbar. Each successive Mughal Emperor right up to Aurangzeb contributed something. Get back to the hotel for breakfast and check out of the Hotel.
Not like on the other Taj tours we will visit not just Taj Mahal, but also Fatehpur Sikri on your way back to Delhi. It is located 40 kms toward the west of Agra and built predominantly in Red Sandstone. It is one of the finest examples of the culmination of Hindu and Muslim architecture. Admire the graceful buildings including the Jama Masjid, Tomb of Chishti, Panch Mahal and other palaces.
Late afternoon we drive back to Delhi directly to your hotel and here we finish our the best of Taj tours - 2 Days Private Taj Mahal Tour.
Inclusions:
1 Night accommodation on Double room in 3 Star Hotel.
Tour guide at Agra and Fatehpur Sikri.
Breakfast at hotel.
Pick-up and drop-off in New Delhi.
Agra Sightseeing - Taj Mahal, Agra Fort, Baby Taj and Mehtab Bagh.
Air-conditioned Private Transport for sightseeing and transfers.
Exclusions:
Food and drinks.
Entry fees.
Insurance and medical care and personal expanses.
Tips for guide, driver (if you are happy).
Visited Places:
Itinerary of the best of Taj tours - 2 Days Private Taj Mahal Tour: DAY 01 Pickup from the airport or from any hotel in Delhi and drive towards Agra by car via Yamuna Expressway in three-four hours. Reach Agra and transfer to your hotel. After refreshing and short relax, we are going to visit Agra Fort. Agra Fort is additionally referred to as 'Red Fort of Agra' and has been declared as UNESCO World Heritage Site. It is a vital Fort in Indian history as several Mughal rulers like Babur, Humayun, Akbar and few others ruled from here so the planning and structure of this Fort could be a typical example of Mughal design. Sometimes remained the seat of power for the Mughal Empire, this fort was later converted into a museum. It houses ample of belongings from the erstwhile rulers. You may wish to enjoy shopping in Agra is known for its fabulous handicrafts, made of marble and softstone inlay work. The Mughals were great patrons of arts and crafts. Empress Nur Jahan took personal interest and was an accomplished artist herself in zari embroidery work. Agra's major handicraft products besides inlay work are: leatherware, brassware, carpets, jewellery and embroidery work. Move to Mehtab Bagh - this park, originally built by Emperor Babur as the last in a series of 11 parks on the Yamuna's east bank (long before the Taj was conceived), fell into disrepair until it was little more than a huge mound of sand. To protect the Taj from the erosive effects of the sand blown across the river, the park was reconstructed and is now one the best places from which to view the great mausoleum. Later, come to the hotel for free time and overnight stay. DAY 2 Before you conclude your journey in Agra, it's time to experience the most beautiful sight in the world, the Sunrise View of Taj Mahal. Early morning, before sunrise, reach Taj Mahal and enjoy the fresh rays of the Sun falling on the crystal white monument called Taj. The soothing atmosphere, the cool breezes and the entire setting takes you back to the days when this monument was built for pure love. Return to hotel for breakfast. Afterwards, check out from the hotel and proceed to New Delhi via visiting Fatehpur Sikri. Fatehpur Sikri is yet another beautiful town established by the Mughals. The town was established with the motive of serving as the capital of the Empire, thus it had everything required to be a world-class city. Ample of monuments, markets, buildings and much more were created. However, a severe draught hit the town that forced the residents to move away and the rulers to shift their capital to Agra. Even today, you may find the ruins of those mesmerizing building. It is believed that the souls of those who died in the town roam in the city, thus, Fatehpur Sikri is also known as a Ghost Town. Later, drive to New Delhi. Reach New Delhi and our driver will drop you off right at your Hotel in New Delhi or at the Airport, up to your wish.
Frequently Asked Questions
---
How much time does the The best of Taj tours - 2 Days Private Taj Mahal Tour take?
How many days in advance I must book The best of Taj tours - 2 Days Private Taj Mahal Tour?