Lalibela Churches and Yimrhanne Kirstos
Lalibela Churches and Yimrhanne Kirstos
On the tour page:
Duration - 3 days

Multi-Day Tours & Cruises

What's this? After you book the Tour or Activity we send you your Tour Voucher or a Ticket(s).
The Voucher is your booking confirmation and tour providers can accept e-Voucher, printed Voucher or both Voucher types.

e-Voucher means that's enough, if you save received Voucher to your phone and show on the tour beginning.

Printed Voucher means after receiving the Voucher you have to print it and take with you to give it printed to the tour provovider at the tour beginning.

Printed Voucher

Cancellation Policy Standard Cancellation Policy means that:

If you cancel this tour booking at least 14 days in advance of the scheduled departure, there is no cancellation fee.

If you cancel between 13 and 3 days in advance of the scheduled departure, there is a 50 percent cancellation fee charged from the paid deposit.

If you cancel within 2 day(s) of the scheduled departure, or don't show up at the meeting point on time there is a 100 percent cancellation fee charged from the paid deposit.

Standard

Guide options If the tour is guided here you can see available tour languages. Usually it means along the tour you have a professional tour guide guiding the tour in one or a few specified languages.

Some tours or Activities doesn't require the guide and have a pilots, instructors or simply provider's team member who take care of you along the tour. In this case it's marked as "Not Guided" tour, because it doesn't require a professional tour guide.

Language: English, Spanish

Lalibela Airport or your hotel.
---
All the eleven churches represent a unique artistic achievement, in their execution, size and the variety and boldness of their form.The King of Lalibela set out to build a symbol of the holy land, when pilgrimages to it were rendered impossible by the historical situation.
---
Historical Tour!
Cultural Tour!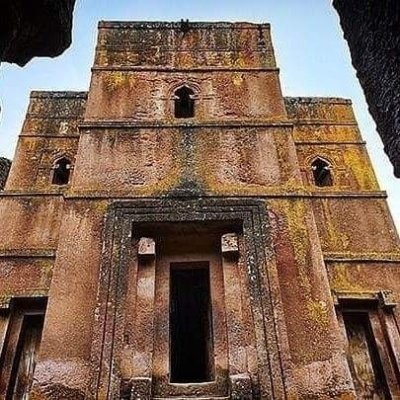 ---
Lalibela Churches and Yimrhanne Kirstos
In a mountainous region in the heart of Ethiopia, some 645 km from Addis Ababa, eleven medieval monolithic churches were carved out of rock. Their building is attributed to King Lalibela who set out to construct in the 12th century a 'New Jerusalem' after Muslim conquests halted Christian pilgrimages to the Holy Land. Lalibela flourished after the decline of the Aksum Empire.
There are two main groups of churches – to the north of the river Jordan: Biete Medhani Alem (House of the Saviour of the World), Biete Mariam (House of Mary), Biete Maskal (House of the Cross), Biete Denagel (House of Virgins), Biete Golgotha Mikael (House of Golgotha Mikael); and to the south of the river, Biete Amanuel (House of Emmanuel), Biete Qeddus Mercoreus (House of St. Mercoreos), Biete Abba Libanos (House of Abbot Libanos), Biete Gabriel Raphael (House of Gabriel Raphael), and Biete Lehem (House of Holy Bread). The eleventh church, Biete Ghiorgis (House of St. George), is isolated from the others but connected by a system of trenches.
The churches were not constructed in a traditional way but rather were hewn from the living rock of monolithic blocks. These blocks were further chiseled out, forming doors, windows, columns, various floors, roofs, etc. This gigantic work was further completed with an extensive system of drainage ditches, trenches, and ceremonial passages, some with openings to hermit caves and catacombs. Biete Medhani Alem, with its five aisles, is believed to be the largest monolithic church in the world, while Biete Ghiorgis has a remarkable cruciform plan. Most were probably used as churches from the outset, but Biete Mercoreos and Biete Gabriel Rafael may formerly have been royal residences. Several of the interiors are decorated with mural paintings.
Near the churches, the village of Lalibela has two-storey round houses, constructed of local red stone, and known as the Lasta Tukuls. These exceptional churches have been the focus of pilgrimage for Coptic Christians since the 12th century.
Inclusions:
Accommodation BB (Bed and Breakfast)
Airport in and out shuttle
Exclusions:
Entrance fee (Lalibela churches and Yimrhanne kirstos)
Lunch and diner
Visited Places:
DAY 1: Visit the Lalibela Churches
Fly to Lalibela and take the airport shuttle transfer to the Town (40minute) and visit the rock-hewn churches of Lalibela. Lalibela is most famous for its churches.
Visit the 12-13th century rock-hewn churches called the ̎Eighth wonder of the world ̋ which are still active places of worship and host many major religious ceremonies. The churches are carved out of solid rock, and each has unique architectural features.
Take a wander through the tunnels and stairways linking the churches together. After lunch will drive to the site where we find a concentration of some of Ethiopians most famous Rock Hewn churches, mostly referred to by many as ʺthe living wonders of the worldʺ these churches are, they have been here for a least 900 years, an active christen shrine, the spiritual center of the counters religious life.
The monolithic churches were carved out of a 2600-sq natural rock terrace in the twelve century AD by King Lalibela. BeteMedhanialem, the largest monolithic Rock hewn churches of the world, Magers 37.7 ft in Height, covers an area of almost 2625 Square ft and has walls that are up to 6 feet thick. A plain building supported by 36 pillars on the inside and another 38 pillars around the outside. Bête Medhanialem modeled on the original st. Merryzion church builds by king Ezana in the 4th century at Axum. The Rock-hewn churches that we will visit today before lunch will be the first group of churches included: BeteMedhanialem, Bete Mariam, BeteMeskel, BeteDenagl, and BeteGolo got Michal.
Accommodation at: Hotel
DAY 2: Lalibela churches and Yimrhanne Kristos
After having breakfast we will continue our journey into Ethiopians long and marvelous past with a visit to other sent Lalibela Remarkable churches.
There architecture and artistry must be seen to be believed. The Rock-Hewn Churches that we will visit this afternoon the second group of churches and St, Gorge it included: BeteGebral, BeteMerquros, BeteEmanule, Betelehiam, Bete Aba Libanos, and BeteGhiorgis.
Once we finished visiting the second group of churches and we will walk to the village so the complex bewildering labyrinth of underground Tunnels to the monastery where the monks and nuns live. After Lunch Drive to YemrehaneKirstos(2hur) visit the marble churches called Yimrhannekirstos, which predates the Lalibela churches and was built using a completely different style of construction involving marble and wood. The church is built inside a cave. Pass through different villages and learn about local crops on different plateaus, specular view till your reach the church. return to Lalibela let in the afternoon for a nice dinner at a restaurant.
Accommodation at: Hotel
DAY 3: Fly back to your next trip
After breakfast will drop you at the airport for your flight.
Frequently Asked Questions
---
How much time does the Lalibela Churches and Yimrhanne Kirstos take?
How many days in advance I must book Lalibela Churches and Yimrhanne Kirstos?