What you can visit In Marrakech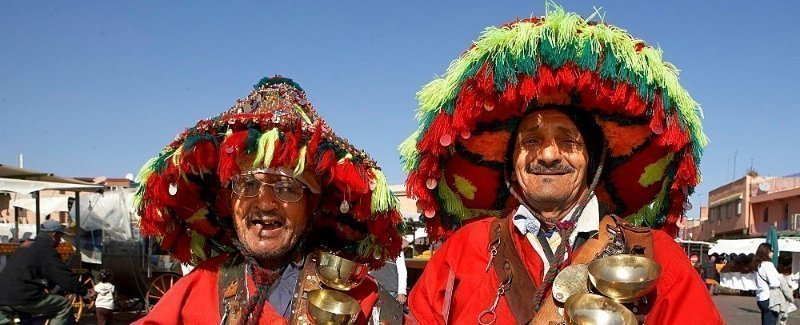 What you can visit In Marrakech?
What should you do in Marrakech? Find out in this article what are the top attractions in Morocco's most iconic city. Here you'll discover where to stay in Marrakech as well as where to eat in the Moroccan city.
Marrakech was the very first city I visited in Morocco, and well, let's just say it wasn't love at first sight. I arrived there super stressed after a long flight didn't speak a word of Moroccan Arabic, and got scammed by a taxi driver right out of the airport.
Marrakesh was a shock to my system. I arrived in square Jemaa el Fna on a busy day.
The square was full of snake charmers, women walking around selling henna tattoos and men holding monkeys on leashes. The air was full of unknown smells and sounds.
Often time I would catch whiffs of incense in the little streets, at other moments it would be the smell of leather that would fill my nose.
The loud call to prayer kept resonating all over the city while street kids were running around me with their extended open hand, begging for a few dirhams.
The loud call to prayer kept resonating all over the city while street kids were running around me with their extended open hand, begging for a few dirhams.
The square was bustling with activity. Left and right I could hear the shouts of people trying to sell Moroccan lamps and fruit juices.
Street performers were bumping into each other trying to attract the attention of a busy crowd. I had never seen so much chaos in my life.
Like many other tourists, I had decided to land in Morocco in the most chaotic city there is in the country instead of taking a flight to calmer cities such as Tangier or Essaouira.
A poor decision that leads to a dire situation. I was pickpocketed on my first day in Morocco and lost my wallet to some petty thieves.
Although my first impression of Marrakech wasn't a good one, I eventually stayed there for a whole month and grew to love the hectic, busy jungle that is this Moroccan city. I would get lost in the little back alleys every day and slowly learned to speak Arabic.
I also decide to explore the rest of the country and eventually completely fell in love with Morocco.
Top things to see and do in Marrakech
Go for an evening visit to square Jemaa el Fna or stop there during the day If you want to truly understand and feel what Marrakesh is about, you should visit its main square. Jemaa el Fna is a place unlike any other. It's where you'll find the best and worst of the city.
You'll find the freshest and cheapest fruit juice served all day in the square, the smell of grilled meat, snake charmers, monkeys who have been captured from the wild to perform for tourists, and ladies jumping on your hands to convince you to get a henna tattoo.
There are horse carriages parked on one corner of the square.
What is so great about visiting the city this way is that you'll have the time to relax while seeing the best attractions of Marrakesh. You'll be able to reach areas that are far from each other rather quickly and you'll see things that would not be accessible by car.
When it starts getting dark the square becomes alive with street performers, musicians, snake charmers, and mouth-watering food stalls.
There are thousands of people filling up the square and an endless amount of captivating street performances and shows.
I would recommend not bringing more money than you need to this square as it's a hub for pickpockets but if you just carry the minimum in a money belt, you'll be able to fully enjoy the square and its busy atmosphere.
Take some cooking classes in Marrakech I don't think there is a better way to discover a city or a country than by learning about the local cuisine.
There are plenty of great chefs in Marrakech offering cooking lessons. We highly recommend booking this cooking class. You'll learn to cook some authentic Moroccan tagines, shops for ingredients at a souk and learn about the uses of different spices and herbs.
This cooking class is really fun and once the tagine is ready, you get to eat the fruit of your labor on top of a roof terrace near the city center.
Visit the leather tanneries in Marrakech
Marrakech, just like Fez has some pretty big leather tanneries. The two cities are known for their production of world-class leather.
The 11th-century tanneries in Fez are much bigger than the one in Marrakech. However, if you aren't heading to Fez, the Marrakech tannery still makes an interesting visit.
In Marrakech, it's better to ask your hotel where the tanneries are located or have a good map of the city. On the way there, many scammers might offer to guide you but they will charge an exorbitant price.
You should walk to the tanneries by yourself and avoid the help of "friendly" strangers offering to show you the way there (this is a common scam in Morocco).
The best way to visit the tanneries in Marrakech is to hire a local guide for 2 to 6 hours for as little as $30 USD to show you the local side of Marrakech including the medina and the tannery
Sip on a healthy fruit juice in Jemaa el Fna square The juice stands in the square are really worth the visit. The juices just cost about $0.50 a cup so they are super cheap but also super healthy.
You can find freshly squeezed juices there made from all the fruits you can imagine.
Visit Jardin Majorelle, a stunning botanical garden
This is probably Morocco's most gorgeous botanical garden. Although Marrakech can be quite hectic, this garden is the best place to escape from the noise and chaos of the city.
This peaceful place stands out so much from the busyness of the streets that surround it that it can truly be called an oasis in the desert.
It was designed by the French painter Jacques Majorelle. He incidentally became more famous because of his botanical garden than because of his paintings.
The garden is home to more cacti and desert plants than any other garden in the world. This beautiful atmosphere is completed by the indigo blue walls of the house snuck between the plants.
This place is a prized location for Instagrammers who line up in front of the blue walls in the afternoon. I would suggest going there as early as possible to avoid crowds of photo bombers pulling up duck faces.
Get lost in the souks and the back alleys of Marrakech and buy souvenirs for friends Marrakech and its tiny back alleys are often compared to a big open-air maze where one can get lost for hours. As much as some people can dread the feeling, I tend to enjoy it. I think getting lost in the streets is always a great way to discover a new city.
As you walk through these back alleys and small markets, you'll find handmade pottery and ceramic, leather products, bags and shoes, and beautiful wood crafts.
Shopping in Marrakesh is almost like a sport. It's a really fun experience but you have to follow a few simple guidelines if you want to avoid paying too much. If you plan to buy something in the markets of Marrakesh, be prepared to haggle and negotiate prices.
Prices generally start really high but don't be scared to haggle and make an offer much lower than the starting price. Moroccans love to haggle and will generally expect you to do the same.
You can generally offer a bit more than half of what the seller was asking and take the negotiations from there. Whatever you do, keep the negotiations friendly and you'll be bringing your friends a beautiful new rug for their living room or a Moroccan lamp for their kitchen.
Visit the Saadian tombs If you've been a follower of this blog for a while now, you'll know that I love cemeteries. In the modern world, we don't often think of death and beauty as compatible. One look at this gorgeous place will convince you of the contrary.
These tombs are one of the only remains of the Saadian dynasty that reigned over the Marrakech between 1524 to 1659. It's a stunning place with great mosaic work.
You don't always know who's tomb you are looking at but it's hard not to be impressed by all the intricate carving and tilework of this stunning place.
The tombs are extremely well-kept. If you want to see the most famous hall there – the Chamber of the Twelve Columns- you may have to wait in a queue but it will be well worth the wait.
Get a good scrub in a traditional hammam
One of the best and most traditional experiences you can have in Morocco is to visit a traditional hammam. The hammams in Marrakesh come in all different styles. Some are almost like spas and expensive while others are a bit cheaper and used mostly by locals.
The ones visited by locals are the establishments I would recommend. Popular local hammams are a great part of the Moroccan culture.
Before you go, you'll need to get some natural Argan soap and a scrubbing cloth. Once you arrive at the hammam, you'll be handed a bucket and you'll undress before going to a closed room. There you'll be in the midst of locals scrubbing each other's back and talking about daily life.
All you need to do is fill your bucket with hot water and scrub yourself in the sauna-like room. These hammams are very cheap and cost around $3USD. they're an important part of Moroccan culture and will make you feel like a local.