St Patrick's Day Festival
St Patrick's Day Festival
Duration - 4 days

Multi-Day Tours & Cruises

What's this? After you book the Tour or Activity we send you your Tour Voucher or a Ticket(s).
The Voucher is your booking confirmation and tour providers can accept e-Voucher, printed Voucher or both Voucher types.

e-Voucher means that's enough, if you save received Voucher to your phone and show on the tour beginning.

Printed Voucher means after receiving the Voucher you have to print it and take with you to give it printed to the tour provovider at the tour beginning.

e-Voucher, Printed Voucher

Cancellation Policy

Standard Cancellation Policy means that:

If you cancel this tour booking at least 14 days in advance of the scheduled departure, there is no cancellation fee.

If you cancel between 13 and 3 days in advance of the scheduled departure, there is a 50 percent cancellation fee charged from the paid deposit.

If you cancel within 2 day(s) of the scheduled departure, or don't show up at the meeting point on time there is a 100 percent cancellation fee charged from the paid deposit.

Standard

Guide options If the tour is guided here you can see available tour languages. Usually it means along the tour you have a professional tour guide guiding the tour in one or a few specified languages.

Some tours or Activities doesn't require the guide and have a pilots, instructors or simply provider's team member who take care of you along the tour. In this case it's marked as "Not Guided" tour, because it doesn't require a professional tour guide.

Language: English

Kilkenny, Ireland
---
Join us and celebrate St Patrick's day the real way in Ireland with Guinness, Guinness and oh more Guinness. This year Stoke will be donning the green and filling up the tastiest Irish whisky in Dublin (the place with the biggest St Patrick's festival parade) and Kilkenny.
---
Celebrate St Patrick's Day 17 March!
Explore one of Ireland's most beautiful medieval towns!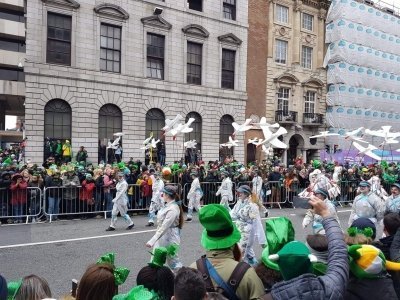 ---
St Patrick's Day Festival
ST PATRICK'S FESTIVAL - KISS US, WE'RE IRISH!
Saint Patrick's Festival takes place in Dublin every year, featuring the famous and fabulous St Patrick's Day parade. It is a celebration of all things Irish, music, art, food and of course throwing your arm around a stranger and belting out a drunken song or 50. Here you'll fiddle with Irish beauties, jig your day away with someone called Paddy, drink too much whiskey and write some emotional poetry. You'll also just get down to the serious and splendid business of partying in the streets and bars, enjoying the Irish hospitality on their biggest day of the year and bearing witness as this creative nation shows you the best it has to offer. The theme of the day is green, so make sure you come clad in your luckiest clover-colored gear, dye your hair red if you really want to fit in, wear one of those little hats that leprechauns sport and get ready to party like the Irish — a lot, drunkenly, and very, very cheerfully.
STAYING WITH US FOR ST PAT'S DAY DUBLIN
It's one of Europe's most famous parties, and as the European festival travel experts, it makes sense that we'd get involved. We are going to make sure that every waking minute of the trip is some kind of celebration, with our festival within a festival-style of party travel. We'll be throwing our own parties, making sure that the whole time we're there you're never too far from a pint of Ireland's famous Guinness.
VISIT DUBLIN WITH US
We'll be based in Kilkenny, a beautiful town, conveniently located between the popular airports of Dublin, Shannon, and Cork. Our main focus for St Patrick's Day is heading into Dublin where'll we will be having all the fun with a side of sightseeing. While there we can visit the world-famous Temple Bar, do a tour of the Guinness storehouse, take a trip to the old Jameson distillery, try and wrap our heads around Gaelic football, search for a four-leaf clover, take in the cities churches, parks and castles, try Irish stew, and basically fulfil all the Irish stereotypes we've heard so much about over the years. With us, you know that you won't be stuck on some boring, bland tours, because we'll constantly be putting you in the good times, and if that means a lot of partying, then so be it.
Inclusions:
Hostel accommodation in the heart of Kilkenny.
Daily Breakfast.
Traditional Irish dinner.
Brewery tour.
Walking tour.
Return shuttles to Dublin for the St Patrick's Day party & parade.
Exclusions:
Leprechaun hunting.
Extra nights.
Visited Places:
15th of MARCH 2021 - Arrival and Check-In - Arrive in Kilkenny. Your guide will be at the hostel waiting for you. - We'll check out some bars tonight on a welcome pub crawl if you choose and check out the best of what Kilkenny has to offer. 16th of MARCH - Explore, Grub, Guinness - Refuel for breakfast and take some free time this morning to explore the city. - This afternoon we'll meet for a late lunch/early dinner at a tavern in Kilkenny with complimentary Guinness and Irish liquor. 17th of MARCH - St Patrick's Day - We'll wake up early for a hearty breakfast before jumping on the private bus to Dublin and claiming a prime spot for the famous parade. - We'll check out some pubs and down some Guinness before jumping on the bus to carry on the party in Kilkenny. - We'll experience some authentic Paddy's Day celebrations at our favorite bars in the town, taking in some of the local St Patrick's Day Music Festival. 18th of MARCH - Guinness, and Goodbyes - Having well and truly excelled ourselves at partying Irish-style, we could possibly be broken. - Struggle our way through our goodbyes, but not before we've swapped Facebook and photos and planned our next trip with us!
Frequently Asked Questions
---
How much time does the St Patrick's Day Festival take?
How many days in advance I must book St Patrick's Day Festival?