Springfest 2020 in Munich
Springfest 2020 in Munich
On the tour page:
Duration - 3 days

Multi-Day Tours & Cruises

What's this? After you book the Tour or Activity we send you your Tour Voucher or a Ticket(s).
The Voucher is your booking confirmation and tour providers can accept e-Voucher, printed Voucher or both Voucher types.

e-Voucher means that's enough, if you save received Voucher to your phone and show on the tour beginning.

Printed Voucher means after receiving the Voucher you have to print it and take with you to give it printed to the tour provovider at the tour beginning.

e-Voucher, Printed Voucher

Cancellation Policy

Standard Cancellation Policy means that:

If you cancel this tour booking at least 14 days in advance of the scheduled departure, there is no cancellation fee.

If you cancel between 13 and 3 days in advance of the scheduled departure, there is a 50 percent cancellation fee charged from the paid deposit.

If you cancel within 2 day(s) of the scheduled departure, or don't show up at the meeting point on time there is a 100 percent cancellation fee charged from the paid deposit.

Standard

Guide options If the tour is guided here you can see available tour languages. Usually it means along the tour you have a professional tour guide guiding the tour in one or a few specified languages.

Some tours or Activities doesn't require the guide and have a pilots, instructors or simply provider's team member who take care of you along the tour. In this case it's marked as "Not Guided" tour, because it doesn't require a professional tour guide.

Language: English

Campingplatz Obermenzing, Lochhausener Str 59 81247, Munich, Bavaria, Germany.
---
Fruhlingsfest, translated to Springfest, is often referred to as "little Oktoberfest", taking place in spring when the weather is nicer and there are far less tourists, making it a more authentic experience in many respects. But the deal is similar, beer halls, big steins, delicious food!
---
Experience the little Oktoberfest in spring!
The Stoke Festival with carnivalesque activities and an international vibe!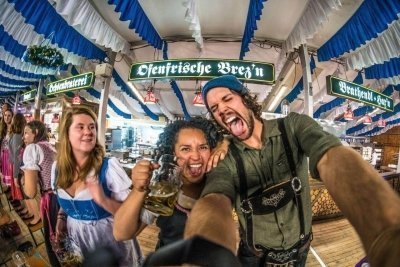 ---
Celebrate Springfest in Munich!
SPRINGFEST 2020: BEERS & BEAUTIFUL PEOPLE
Known as Frühlingsfest in German, Springfest is Munich's other beer festival. Sometimes referred to as "Oktoberfest's Little Sister", Springfest features the same big, strong German beers, delicious food and festive atmosphere – just in April/May, not September/October.
Our all-inclusive Springfest packages include Springfest entry, a stay in pre-erected twin-share tents with mattresses and sleeping bags, a tasty breakfast each morning, a hearty wholesome dinner each evening, awesome Stoke Travel campsite parties, guides to direct you to the beer halls, and an international crowd!
SPRINGFEST: GERMANY'S OTHER BEER FEST
The crowds aren't quite as big as they are for Oktoberfest, but that doesn't mean that Springfest is any less fun. Springfest attracts 100s of thousands of beer-loving partiers – most of them from Munich and Germany, meaning that the crowd is more authentic and with fewer tourists than Oktoberfest. This means the waiting time for beers is drastically shorter, plus the locals will be very happy to party with you. Also, as the party is in Spring we can expect warmer weather, which is why Springfest is more focused on outside, beer-garden style drinking. Sitting in the sun enjoying the world's best beer with your new German friends? Das ist gut!
In addition to the delicious and pure German beer, Springfest also features the world's best beer-drinking food, carnival rides to test your stomach, and some features unique to the party – like the huge flea market, where the beer will help you make some impulse buys, and fireworks displays of an evening.
FRÜHLINGSFEST 2020 WITH US
The Germans call Springfest Frühlingsfest, and we call our campsite Stoketoberfest, the second-best party in Munich. Stoketoberfest is our campsite and party, a festival within a festival located in Munich city and many travellers' favourite part of the event. In addition to being where you sleep, eat and get ready for the beer halls, Stoketoberfest is a wild party, a stage show featuring DJs, an open bar, a place to buy your traditional dirndls and lederhosen, where drinking games are happening during every waking hour and the dancefloor never seems to stop, filled with like-minded travellers from all over the world.
Our packages are all-inclusive, so your tent, sleeping bags and air mattresses are pre-prepared for your arrival, our chefs will cook you a hearty breakfast every morning so your stomach is lined and a healthy, filling dinner every night.
Our crew and guides will show you the party, both at our campsite and in the beer halls, and make sure you enjoy it. Our open and unlimited bar serves up German beer and Spanish sangria – as much as you want for only €10 a day.
Inclusions:
Camping accommodation with pre-erected, twin share tent with mattress & sleeping bag.
Daily Breakfast and dinner every night at camp.
Guides to give you all the handy tips for drinking in the halls with zee germans.
Springfest free entry.
The Stoke festival within atmosphere with an international vibe.
Exclusions:
Unlimited booze, open bar of beer, sangria, wine, soft drink, tea and coffee (10€/day).
Traditional clothes (dirndls 70€ or Lederhosen 90€).
Bike tours (25€).
Solo tent upgrade (20€/day).
Visited Places:
8 am to 10 am - Yummy Breakfast - Hot breakfast to get you all fuelled up for a day of drinking and mayhem at the festival. 9 am onwards - Head to the Beer Halls - Make your way into Springfest. We are there to help with directions, ask the Welcome Crew! 6 pm – 8 pm - Dinner - Dinner is included back at the camp every night. 8 pm onwards - Massive campsite parties begin; the beer and sangria flows and the music starts pumping. 11 pm - Springfest closes for the night and all those who've lasted the day head back to the campsite to join the party.
Frequently Asked Questions
---
How much time does the Springfest 2020 in Munich take?
How many days in advance I must book Springfest 2020 in Munich?