Oktoberfest Glamping 2020
Oktoberfest Glamping 2020
On the tour page:
Duration - 3 days

Multi-Day Tours & Cruises

What's this? After you book the Tour or Activity we send you your Tour Voucher or a Ticket(s).
The Voucher is your booking confirmation and tour providers can accept e-Voucher, printed Voucher or both Voucher types.

e-Voucher means that's enough, if you save received Voucher to your phone and show on the tour beginning.

Printed Voucher means after receiving the Voucher you have to print it and take with you to give it printed to the tour provovider at the tour beginning.

e-Voucher, Printed Voucher

Cancellation Policy

Standard Cancellation Policy means that:

If you cancel this tour booking at least 14 days in advance of the scheduled departure, there is no cancellation fee.

If you cancel between 13 and 3 days in advance of the scheduled departure, there is a 50 percent cancellation fee charged from the paid deposit.

If you cancel within 2 day(s) of the scheduled departure, or don't show up at the meeting point on time there is a 100 percent cancellation fee charged from the paid deposit.

Standard

Guide options If the tour is guided here you can see available tour languages. Usually it means along the tour you have a professional tour guide guiding the tour in one or a few specified languages.

Some tours or Activities doesn't require the guide and have a pilots, instructors or simply provider's team member who take care of you along the tour. In this case it's marked as "Not Guided" tour, because it doesn't require a professional tour guide.

Language: English

Come with your Voucher to the Campingplatz Thalkirchen, Zentralländstraße 49, 81379 Munich, Bavaria, Germany
---
Oktoberfest is the biggest and best traditional beer festival in Europe. Our Oktoberfest glamping packages take the best parts of festival camping and combine it with hotel comforts. Enjoy a cozy place to rest up for whatever chaotic festivities await you during waking hours.
---
Experience the famous Oktoberfest!
Glamping accommodation with pre-erected and spacious glamping tent!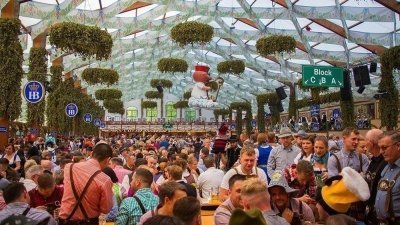 ---
Oktoberfest Glamping 2020
Munich's Oktoberfest is the perfect event to try Glamping. While the evening's are chilly enough to warrant a fitted sheet, triple warmth sleeping bags and hot water bottles, while the dirndls and lederhosen weird enough for you to need the full length mirror to make sure you look cute and hot.
Our Oktoberfest Event Glamping is located in the campsite nearest to the city center, with a river running through it, and enough fellow partiers staying in the same campsite to make sure you're always surrounded by like-minded beer lovers, intrepid travelers, and party animals. The campsite has a cafe, laundry facilities, and a bar on site.
Inclusions:
Unlimited Coffee, Tea, Hot chocolate to help get you started
Access to festival guides with handy trips to Munich and Oktoberfest
Private Festival Glamping Garden Area to relax outside the party
Exclusions:
Oktoberfest table bookings
Walking tours
Bike tours
Buses to Amsterdam, Barcelona, Prague and Italy (Milan & Torin) departing every Sunday
Visited Places:
8-10am - Breakfast Hot breakfast to get you all fuelled up for a day of drinking and mayhem at the festival 9am onwards - Head to the beer halls Make your way to the Oktoberfest beer halls for a day full of antics. Ask the Stoke guides for directions, and meet us at the Augustiner-Festhalle tent! 5pm - 8pm - Dinner Dinner included every night. 8pm onwards - Party time You can either go to your campsite, or join our massive Stoketoberfest at Campingplatz Obermenzing, where our campsite party begins; the beer and sangria will be flowing and the music will start pumping. Expect live bands, DJs and carnivalesque activities. 11pm - After-party time Oktoberfest closes for the night and all those who have lasted the day head back to campsite to join the party
Frequently Asked Questions
---
How much time does the Oktoberfest Glamping 2020 take?
How many days in advance I must book Oktoberfest Glamping 2020?