Kathmandu Valley Highlights Tour
On the tour page:
Duration - 6 days

City Tours

What's this? After you book the Tour or Activity we send you you Tour Voucher.
The Voucher is your booking confirmation and tour providers can accept e-Voucher, printed Voucher or both Voucher types.

e-Voucher means that's enough, if you save received Voucher to your phone and show on the tour beginning.

Printed Voucher means after receiving the Voucher you have to print it and take with you to give it printed to the tour provovider at the tour beginning.

e-Voucher

Cancellation Policy Standard Cancellation Policy means that:

If you cancel this tour booking at least 14 days in advance of the scheduled departure, there is no cancellation fee.

If you cancel between 13 and 3 days in advance of the scheduled departure, there is a 50 percent cancellation fee charged from the paid deposit.

If you cancel within 2 day(s) of the scheduled departure, or don't show up at the meeting point on time there is a 100 percent cancellation fee charged from the paid deposit.

Standard

Guide options If the tour is guided here you can see available tour languages. Usually it means along the tour you have a professional tour guide guiding the tour in one or a few specified languages.

Some tours or Activities doesn't require the guide and have a pilots, instructors or simply provider's team member who take care of you along the tour. In this case it's marked as "Not Guided" tour, because it doesn't require a professional tour guide.

Language: English, German, French, Korean

Gairidhara
---
Kathmandu is the capital city of Nepal, which lies in the central part of Nepal at an altitude of (1345m). The city is famous for historical heritages, vivacious cultures, pagoda temples, and religious sites and bustling streets. Kathmandu is known as the city of Mandir.
---
Guided city tours in Kathmandu Durbar Square, Pashupati Temple and Swyambhu
Sharing the culture with typical Newar family
Guided village tour in Pharping
Guided tour in Historical City Patan
Guided tour in Historical City Bhaktapur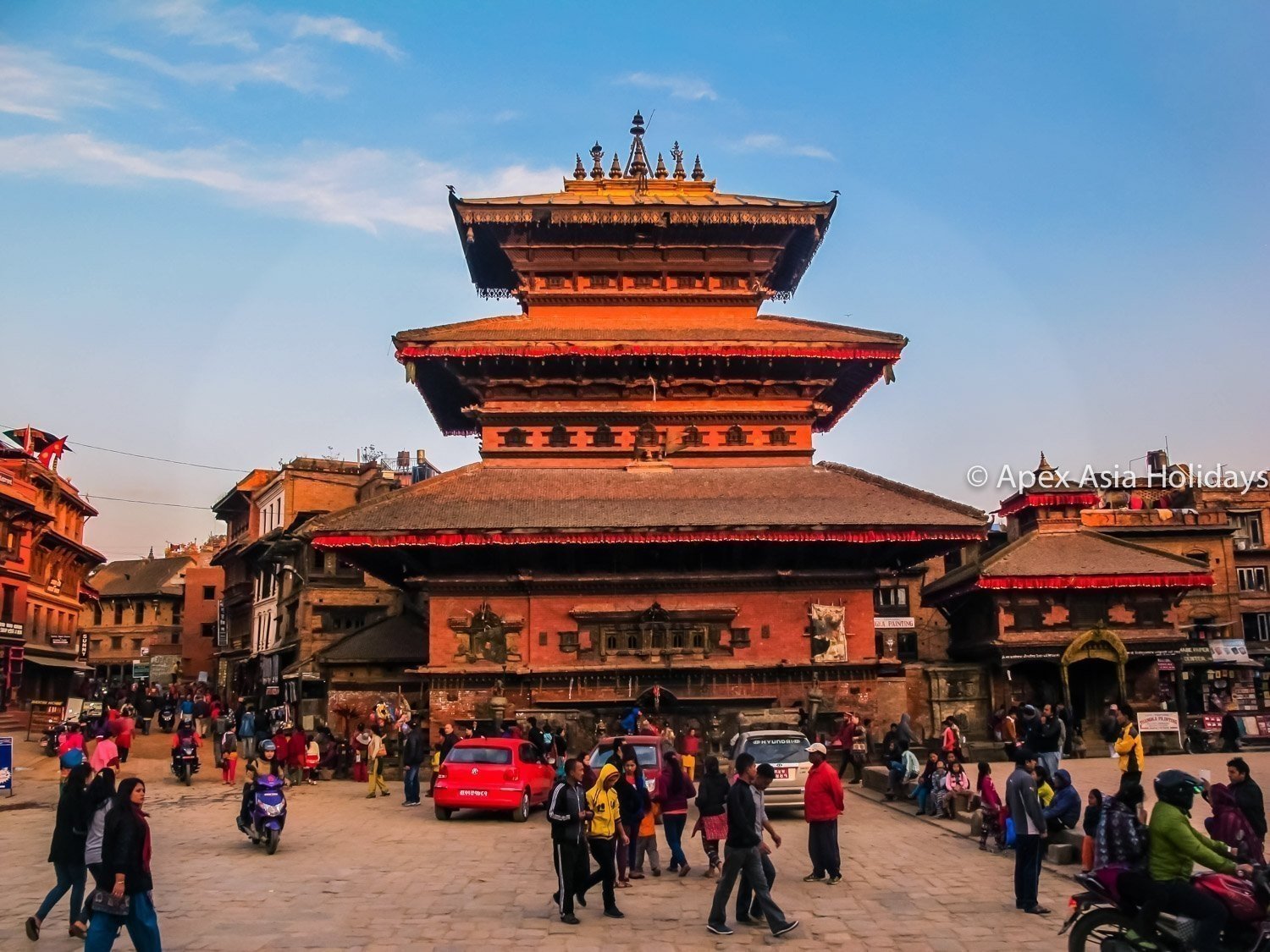 ---
Kathmandu Valley Highlights Tour
Kathmandu is the capital city of Nepal, which lies in the central part of Nepal at an altitude of (1345m). The city is famous for historical heritages, vivacious cultures, pagoda temples, and religious sites and bustling streets.
Kathmandu is known as the city of Mandir. More than thousands of the temple are inside the valley. Valley had made after the unifying three small states: Kantipur, Bhaktapur, and Patan. King Prithivi Narayan Shaha invaded all over Nepal and made a Kingdom- Nepal. Kathmandu valley highlight tour is a tour which covers all history, religion, and culture. The primary settlement of the valley is the Newar community. The tour offers the picturesque valley of Kantipur, ancient temples, and royal palaces.
Kathmandu Durbar Square is a palace where the King Prithivi Narayan had moved the Kingdom from Gorkha. It lies in the center of Kathmandu just nearby touristic town Thamel. Kumari Ghar- a house of the living goddess is also in the square yard. Newar community, especially from the Shakya family choose a girl who has everything in pure. She resembles the goddess and receives the worship from the head of the nation. In the past year, King used to offering to her but now president offering to her.
Bhaktapur Durbar Square is the largest royal palace among the three, Kathmandu, Patan and Bhaktapur inside the valley. Exotic arts, tallest temple, golden temple, 55windows Durbar, and pottery works are the highlights of Bhaktapur. Moreover, Patan Durbar Square is famous for wood carving and Newari culture. Krishna Mandir in Patan is a stone temple which is very much familiar all over Nepal.
Religious sites and also nature view offer the Kathmandu Valley highlights tour till the end. Pashupati, Bouddha, Swyambhu, Daskhinkali, and Chagunarayan are sacred places where we visit. Nagarkot hill station nearby Kathmandu, which is famous for sunrise view over the Himalaya. Kathmandu valley highlights tour covers all major spot of the valley.
Inclusions:
From and to airport transfer to hotel on a private tourist vehicle
All hotel accommodation as per your itinerary in BB Plan
Fullday guided sightseeing in Kathmandu.
English speaking local guide
Accommodation, foods, insurance, salary, equipment, and medicine for field staffs.
Trekking/tour permits, entrance fees.
All ground transportion as per itinerary
Farewell dinner one night before the client's final departure in a typical Nepali Restaurant with cu
All government taxes and official expenses.
Exclusions:
International airfare to and from Nepal.
Visa fees and travel insurance.
All drinks including bottled/boiled water along the trekking route
Lunch and dinner in the city.
Tips for trekking staff (Tipping is expected).
Personal trekking gears/equipment.
Anything not mentioned in the price includes.
Visited Places:
Swayambhu
Kathmandu Durbar Square Tourism Promotion Association
Pashupatinath
Boudha - Jorpati Road
Dakshinkali Temple
Changunarayan Temple
Thamel
Nagarkot
Bhaktapur
Day 1- Arrival at Tribhuwan International Airport
Welcome to Nepal! We will receive you the airport and transport you to hotel.
Day 2 -Pre-trip meeting and sightseeing in Kathmandu (1338m)
After your breakfast we meet at the hotel lobby for a quick pre-trip briefing. You will be introduced to your guide and we provide some general information about the tour. Please bring a copy of your travel insurance document and three passport-size photos.
Sightseeing will start after the meeting and breakfast. The trip includes a tour guide and private tourist vehicle. We will be visiting three World Heritage Sites today:
Swoyambhunath Stupa: Also called the Monkey Temple, Swayambhu is a World Heritage Site, one of the holiest places of Buddhism and also Hinduism. It is perched atop a hillock by the edge of Kathmandu city. The massive stupa is also a famous tourist site for the amazing view of the valley it sports and also the monkeys that flock to the premises, from where it derives its nickname Monkey Temple.
Kathmandu Durbar Square: Another World Heritage Site, Kathmandu Durbar Square was built in the 12th/13th century, where Malla King Dynasty ruled over the city. King Prithvi Narayan Shah of Gorkha district annexed the city almost 300 years ago. The Durbar has many different exotic architectural design, wood carving in windows and doors. The courtyard, temples, Kumari (a Living Goddess) is the main attraction of Durbar Square. Inside the square, there is a museum that belongs to Kings and reflects of his regime period.
Pashupatinath Temple: One of the most sacred Hindu shrines in the world, which is the opulently decorated pagoda. It is a temple of Lord Shiva and his Linga (Phallic Symbol of Lord). Legend has it that the temple was constructed in 400AD. You will be able to witness cremation of the deceased and holy baths that devotees take in the river Bagmati. Pashupatinath is next to a small protected forest, so you will likely encounter monkeys, deer, and other animals.
Day 3 Sightseeing in Pharping (Daksinkali/ Gorakhnath cave) and Patan Durbar Square
Today we tour around the valley covering historical, natural and religious places.
Pharping: Pharping lies south of Kathmandu and is also known as Shikharpuri Mahanagari. The state is accepted as an independent Newari state; there you can see a typical Newari culture.
Dakshinkali Temple: Dakshinkali is 22kms from Kathmandu city via Pharping. It is a temple of Kali, a form Parvati (wife of Lord Shiva). The main goddess of the temple is a Six-armed form of Kali carved on a black stone. Especially on Saturdays and Tuesdays, animal sacrifices are performed here.
Patan Durbar Square: Decorated with artistic courtyard beautiful pagoda temples, Patan Durbar Square is another World Heritage Site that has a noticeable temple built to dedicated to Lord Krishna, made of stone in the 17th century. There is a museum containing bronze statues and religious objects. The trip of Patan also covers the Tibetan Refugee Camp and handicraft center.
Day 4 Guided sightseeing at Boudhanath Stupa, Changunarayan Temple and an evening drive to Nagarkot hillstation
Bouddhanath Stupa: The giant dome monument of Buddha is located on the eastern outskirts of Kathmandu city. It is a sacred pilgrim destination of Buddhists and draws folks in thousands every day for prayers. The Stupa is 36 meters high and presents a captivating specimen of Stupa design.
Changunarayan Temple (World Heritage Site) Chagunarayan Temple is located in the countryside of Bhaktapur. King Hari Dutta Verma built the temple in 323 AD and the structure is richly decorated with sculptures and carvings. The main god of the temple is Lord Vishnu and its architecture is pagoda-style.
Nagarkot: Nagarkot is one of the closest hill stations you can reach from Kathmandu. From here you can see excellent views of snow-capped peaks of the Himalayan Range on the eastern part. Nagarkot is also the best for sunrise view.
Day 5 Drive back to Kathmandu via Bhaktapur Durbar Square after watching the sunrise view from Nagarkot Hill Station.
We wake up early today to witness the sunrise over panoramic views of the Himalayas on the horizon. After breakfast, we drive back to Kathmandu via Bhaktapur Durbar Square, a palace premises with a collection of Shikhara- and Pagoda-style temples and the 55-windows palace made of brick and wood. The main attraction of Bhaktapur is the Lions Gate, Golden Gate, Statue of King Bhupatindra Malla and art galleries among others. After completing the tour, we drive to Kathmandu.
Day 6 Trip conclude
Finally, the entire trip is over.
Frequently Asked Questions
---
How much time does the Kathmandu Valley Highlights Tour take?
How many days in advance I must book Kathmandu Valley Highlights Tour?