Bhutan Fly Fishing Tour Package - 7 Days
On the tour page:
Duration - 7 days

Fishing Tours & Charters

What's this? After you book the Tour or Activity we send you your Tour Voucher or a Ticket(s).
The Voucher is your booking confirmation and tour providers can accept e-Voucher, printed Voucher or both Voucher types.

e-Voucher means that's enough, if you save received Voucher to your phone and show on the tour beginning.

Printed Voucher means after receiving the Voucher you have to print it and take with you to give it printed to the tour provovider at the tour beginning.

e-Voucher, Printed Voucher

Cancellation Policy Standard Cancellation Policy means that:

If you cancel this tour booking at least 14 days in advance of the scheduled departure, there is no cancellation fee.

If you cancel between 13 and 3 days in advance of the scheduled departure, there is a 50 percent cancellation fee charged from the paid deposit.

If you cancel within 2 day(s) of the scheduled departure, or don't show up at the meeting point on time there is a 100 percent cancellation fee charged from the paid deposit.

Standard

Guide options If the tour is guided here you can see available tour languages. Usually it means along the tour you have a professional tour guide guiding the tour in one or a few specified languages.

Some tours or Activities doesn't require the guide and have a pilots, instructors or simply provider's team member who take care of you along the tour. In this case it's marked as "Not Guided" tour, because it doesn't require a professional tour guide.

Language: English, German, French, Chinese - Mandarin, French, Italian, Japanese

We meet you at the arrival gate in the Paro International Airport upon your arrival.
---
Bhutan Fly Fishing Tour is 7 days long package of amazing experiences, fishing trips and sightseeing tours allowing you to enjoy fly fishing in one of the most uncovered and hidden fishing destinations on the planet. Just book this fishing trip package and fly to Bhutan to start adventure!
---
Go fishing in Bhutan - it is on the list of less explored fishing spots in the world!
Fishing in Bhutan is absolutely unique experience!
Every year biologists are discovering new fish species in Bhutan!
Experience an incomparable joy of fishing in the mind-blowing scenery!
Crystal clear waters, incredible landscapes and sure fish - is what every angler dreams!
In addition we combine the Bhutan Fly Fishing Tour with seeing the best historical spots and cultural activities!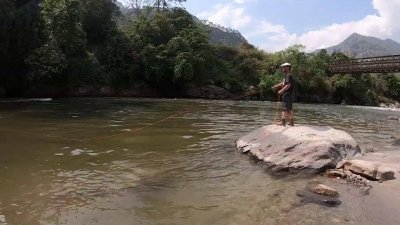 ---
Bhutan Fly Fishing Tour Package
All what you have to do to commence your Bhutan Fly Fishing Tour is to book the package and buy your air tickets to Bhutan. We will meet you in the Paro International Airport and will lead you along these exciting 7 days in this hidden country.
Bhutan belongs to the very last remaining unexplored sport fishing destinations on the planet. For centuries, along with its back turned to the external neighbours, Bhutan had remained a mystery. Sport fishing in Bhutan stays largely under-discovered. As a result of the absence of a comprehensive study, the full list of the kinds of fish in the waters of Nepal is not very clear. Approximately 40 species have been recorded, including a few unique species discovered yearly.
Fishing areas vary starting with large rivers to crystal clear spring-fed streams. Elevations range from a low of 1200 m. to 3000m. The most typical types are the snow trout (belonging to the carp family) and the brown trout (which has thrived since its introduction some decades in the past ).
The most beneficial times when it comes to fishing are in spring season (March to May) and autumn (September to November).
In Bhutan you will experience the special delight of fishing, in which wonderful trout streams, mountain ranges as well as cultural scenery from 8th century mix in harmony. Fishing in the crystal clear rivers facing spectacular landscape is what every single fishermen hopes for.
Our Bhutan Fly Fishing Tour offer a unique combination of fishing in the greatest spots along with cultural activities. To organize a trip for just fishing would be a mistake. With its ancient culture, mystical religion, many historical sites, amazing festivals, and abundant environment, Bhutan possesses many attractions to offer. Please, read detailed itinerary of the Bhutan Fly Fishing Tour below.
Inclusions:
Accommodation on twin/double bed/tent sharing.
All meals – breakfast, lunch and dinner.
Bhutan Visa fees, Tourism Development (TDF) fees, all government taxes.
Entry permits to museum and monuments, to all sights as per the itinerary.
Transport & Sightseeing as per the itinerary listed.
Licensed English speaking tour guide throughout the tour.
Exclusions:
Aerated and alcoholic drinks.
Cost acquired due to change in program and nature.
Tips and gratitude to local staff .
Flight (international and domestic) shall be quoted separately.
Visited Places:
Detailed itinerary of the 7 days of Bhutan Fly Fishing Tour Package: DAY 1 - Landing in Paro to Thimphu - On arrival at Paro International airport, we will extend traditional warm welcome by our team representative that escort you to Thimphu, the capital city of Bhutan. - The ride takes somewhat more than an hour to climb to Thimphu. - In Thimphu, check into our hotel for lunch. - In the afternoon we will visit memorial Chorten, built in the memory of the late 3rd king. - Visit Buddha Point at Kuensel Phodrang which offers breathtaking views of the whole lowland. Ride back to the hotel to get ready for tomorrow's exciting day. - Over night in Thimphu, altitude 2400m. DAY 2 - Thimphu fishing - After our relaxing morning meal, we will travel to the fishing stop and try out our luck. If the flies are appropriate we will get to see a lot of discovered trout and sometimes snow trout and catfish. - Latest private research study on fishes of Bhutan through Fufford Samm Grand shows a report of 183 species of fishes found in Bhutan, predominantly native fishes. - If you desire we can proceed for city sightseeing in the evening. - Overnight in Thimphu. DAY 3 - Thimphu Fishing to Paro - After our early meal, we can perform a bit of cultural sightseeing in Thimphu prior to proceeding to Paro or try fishing in a various spots at different time. Since the country and people are so religious, not much folks do fishing in Bhutan, for that reason fishes is almost people friendly. In some cases we can see it clearly in still water too. - On arriving in Paro, check in your hotel and relax or we are going to explore the tiny Paro town. - Overnight in Paro, elevation 2200m. DAY 4 - Paro to Haa - Haa grants us a fantastic spot to catch and releases fishing; for that reason we will be going to have out the evening at very timeless Haa valley, that was opened up to the tourist a decayed ago. Quite similar type of fishes and catla are spotted quite regularly in Haa river. - En-route we may hike around chelela pass and visit beautiful Kila Gonpa nunnery. - Rest of your time we are exploring the tiny town of Haa. Over night at Haa, elevation 2250m DAY 5 - Haa to Paro - The morning after our relaxing breakfast, we are going to move to the fishing spot and try sometime before proceeding to Paro. - Lunch break at Paro town, after lunch we will visit national museum of Paro, which hold the ranges of religious artefacts of Bhutan and Paro Dzong, the giant citadel built by the founder of Bhutan in the 17th century. - We are going to take a lovely walking downward from the fortress to street head to catch our car crossing beautiful cantilever wooden bridge constructed over Paro river. - Overnight in Paro. DAY 6 - Paro sightseeing - The morning after breakfast, we are going to take a straight drive to the north end of Paro valley and hike to Tiger Nest temple (Taktsang), Taktsang is the greatest adored temple to the Buddhist. This specific marvelous temple clings to a vertical granite cliff 900m over the valley. Legend has it that in the 8th century, Guru Rimpoche, a tantric guru flew here on the back of a tigress and practiced meditation in a cave all around which the temple is established. - The trek to this temple will occupy much of our day (2 hours uphill). - Evening relax at your hotel or get a hot stone bath, Bhutanese traditional bath. - Over night in Paro. DAY 7 - Farewell - Seven days Bhutan Fly Fishing Tour will be finished today morning hours after boarding your flight to back home, anyone will carry a smile on your face, eyes with tears and memories limitless. - Tour personnels will bid you farewell at the airport terminal with the simple prayer of save trip and to see you once again in future.
Frequently Asked Questions
---
How much time does the Bhutan Fly Fishing Tour Package - 7 Days take?
How many days in advance I must book Bhutan Fly Fishing Tour Package - 7 Days?